This character exists primarily or exclusively within the IDW Publishing continuity.

Information in this article may not be canonical to the storyline of the games or any other Sonic continuity.
Beep. Beep. Beep!

— Egg Pawn, Sonic the Hedgehog: Annual 2019
The Egg Pawn[1] is a character that appears in the Sonic the Hedgehog comic series and its spin-offs published by IDW Publishing. It is a mass-produced model of Badniks created by Dr. Eggman that is based on the doctor himself. They serve as Eggman's primary force of workers and weapon robots in his army.
Appearance
The Egg Pawns are humanoid robots based on Dr. Eggman. The typical Egg Pawn is primarily orange in color, with a round body and a dome-shaped head that come together in an egg-like shape. They also have blank light blue eyes, sharp yellow noses, wide glowing panels for mouths, and black lower torso sections. They also have thin black arms with thick orange forearm armor and black four-fingered hands. Their shoulders mostly consist of orange disks with flat white tops. Lastly, they have thin black legs with segmented, boot-like orange feet and yellow soles.
History
Past
During the war between the Eggman Empire and the Resistance, the Egg Pawns were used as soldiers by the former faction. One Egg Pawn in particular nearly killed Silver during the Eggman War, but was sniped in the last moment by Whisper.[2]
After mercenary duo Rough the Skunk and Tumble the Skunk liberated Barricade Town from Badniks and subsequently conquered it for themselves near the end of the Eggman War, Egg Pawns and Death Egg Robot sentinels began stalking Barricade Town.[3]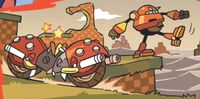 After Sonic the Hedgehog thwarted Dr. Eggman and ended the Eggman War, the doctor disappeared while his Egg Pawns and the rest of his Badnik army remained. Without a leader however, the Egg Pawns were directionless and no longer a unified threat.[4] Even so, they would still randomly attack anyone they came across[1] (although such incidents were more accidental than aggression-based[4]).
Fallout
Eventually, the Egg Pawns came under the control of Neo Metal Sonic, who made them and their fellow Badniks more cohesive.[4][5]
Soon after, the Egg Pawns and some other Badniks launched an attack on a small town. A civilian tried fending off a few Egg Pawns with a Cube Wispon to protect the other locals, but an Egg Pawn easily knocked him down. Before the Egg Pawns could get the civilian however, Sonic arrived and destroyed them. Eventually, the Egg Pawns tried to escape the town when Sonic and Tails began overpowering their troops. As they neared the town's exit gate however, the Egg Pawns got cut off when Tails closed the town's gate, which caused them to crash into the gate and get destroyed.[4] More Egg Pawns soon after attacked the neighboring town from the west while the Death Crab distracted Sonic and Amy. Marching into the town, the first wave of Egg Pawns found Sonic attacking their troops and forced him back through sheer force of numbers, allowing enough of them and some Egg Walkers to enter the town square. There, however, they got gunned down by the town's militia, which had been organized by Amy. Regardless, more Egg Pawns tried advancing into the town, but their numbers soon got so thinned out by Sonic and Amy, who came across and defeated a Blowfish Transporter dropping Egg Pawns, that the town's militia was able to handle them.[1]
Not long after, Knuckles destroyed at least one Death Egg Robot sentinel that was stalking the town Rough and Tumble had conquered. The Egg Pawns that were previously with it were nowhere to be seen however.[3]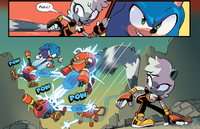 Some time after, a larger-than-average battalion of Egg Pawns onboard a battleship variant of a Buzz Bomber launched an attack on Spiral Hill Village. Sitting in the sky above the village, the battleship would deploy Egg Pawns and giant Moto Bugs into the village. While the Egg Pawns attacked the village, some civilians fought back against them using Wispons. Eventually, Sonic arrived and began attacking Egg Pawns. After disposing of some of them, he came across Tangle the Lemur for the first time, who was taking out Egg Pawns as well. The two joined forces to dispose of more Egg Pawns, but then a giant Moto Bug with a turret on its head and an Egg Pawn at the helm of its turret appeared and began shooting and destroying other Egg Pawns in an attempt to hit both Sonic and Tangle. Then another giant variant of Moto Bug without guns appeared, causing both Sonic and Tangle to be surrounded by the two giant Badniks as well as more Egg Pawns. Just then, Blaze the Cat made an appearance and disposed of some of the Egg Pawns. After some introductions, the three teamed up to defeat all of the surrounding Badniks, including the battleship variant of the Buzz Bomber that was dropping Badniks into the village as well as its load of Egg Pawns.[6]
The Fate of Dr. Eggman
When Neo Metal Sonic made his move to invade Angel Island, he used Egg Pawns to man his numerous Egg Fleet battleships. A number of Egg Pawns were present when Sonic boarded an Egg Fleet battleship with the help of Tails and the Tornado. When he encountered Neo Metal Sonic, a group of Egg Pawns were present with the Badnik ringleader. The two began fighting, and Neo Metal Sonic threw pieces of an Egg Pawn that he had accidentally destroyed at Sonic, which the hedgehog successfully dodged. Neo Metal Sonic then commanded all of his Egg Pawns to attack Sonic, and they did so with Egg Spears and shields in hand, but Sonic disposed of them all and ultimately escaped. Regardless, the rest of the Egg Pawns carried on with the invasion plan under the orders of Neo Metal Sonic.[5]
Battle For Angel Island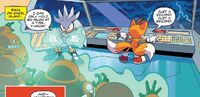 After Neo Metal Sonic conquered Angel Island and turned it into a flying fortress, Egg Pawns were stationed around the island. However, these Egg Pawns soon after came under attack by the Resistance and their allies, who sought to liberate Angel Island.[7] Although the Egg Pawns were no match for the heroes, they were able to slow down their efforts. During the battle, some Egg Pawns also tried to stop Tails from taking control of an Egg Fleet vessel, only to be kept at bay by Silver. When the heroes managed to destroy both of the massive wing units that had been attached to Angel Island, all the Egg Pawns on said wings plummeted down from the sky with them.[8]
Sonic Fan Club
While wandering around on its own in a forest, an Egg Pawn got challenged by a member of the Sonic Fan Club. Turning its attention to the child, the Egg Pawn attacked him. Soon after, the whole Sonic Fan Club joined in on the fight, but were unable to do much damage to the Egg Pawn. The Egg Pawn then met some resistance when Tangle the Lemur showed up and began attacking it, but she ended up tying herself into a knot with her own tail. Fortunately, the Egg Pawn got destroyed by Sonic when he passed by.[9]
Personality
Basically, the Egg Pawns are mindless and silent drones programmed to follow their leader's every command. As such, when left without a leader to follow, they become directionless and only able to cause harm by accident. Under a guiding force however, they are cold and merciless machines who carry out their commands without question.[4]
Powers and abilities
Most Egg Pawns have no special abilities to speak of.[4] Some, however, come equipped with arm cannons that can fire small laser blasts.[1]
Weapons and equipment
The Egg Pawns' standard arsenal include lances named Egg Spears. They also occasionally carry shields.[5]
Variants
Egg Hammer
The Egg Hammer is a giant purple and red Super Badnik variant of the standard Egg Pawn. Being much more heavily armored and stronger than the typical Egg Pawn, these destructive juggernauts get their name from the massive hammers that they wield in battle and can swing around with ease.
Flapper
The Flapper is an aerial variant of the Egg Pawns. They look similar to the Egg Pawns, except that their arms and legs have been replaced with parts suitable for flight.
Relationships
Allies
Enemies
Trivia
See also
References
External links
Community content is available under
CC-BY-SA
unless otherwise noted.