Fire Emblem Warriors: Three Hopes - The Loop
Play Sound
Not to be confused with Knight Pawn.
The Egg Knight (エッグナイト, Eggunaito?) is an enemy that appears in the Sonic the Hedgehog series. It is a mass-produced Pawn Series[1] Badnik model created by Dr. Eggman. They are known to be the leaders and powerful variations of the standard Egg Pawn.
Appearance
Egg Knights have the same base design as an Egg Pawn, but are mostly gold instead. They have cyan eyes, a red nose, red lines on their shoes, purple headlights on their chests and a horn-like spike on the top of their heads. The bottom of their torsos is also black.
Game appearances
Sonic Heroes
In Sonic Heroes, the Egg Knights appear as enemies. They are uncommon and are generally seen in the later-half of the stages (from Frog Forest and onwards).
In gameplay, the Egg Knights behave much like the Egg Pawns, except that they have slightly more health than the Egg Pawns. They can come equipped with a variety of weaponry. These weapons affect their attack patterns and give them a wider attack range. These include:
Egg Spears: Egg Knights armed with long lances. If they detect the playable characters, they will start charging at them. The Egg Spears allow them to increase their range of attack.
Egg Bazookas: Egg Knights armed with heavy laser-firing bazookas. These enemies need some time to load their Egg Bazooka, after which they will fire a laser that will quickly fly towards the playable characters.
Egg Guns: Egg Knights armed with high-speed machine guns. These enemies shoot long series of bullets at the playable characters.
Egg Knights that are not carrying any weapons fight with their fists. If they detect the playable characters, they will start charging at them. Some Egg Knights also wield shields along with their weapons. Those Egg Knights that wield shields can use them to negate the damage they would otherwise receive. While these shields can be destroyed with enough attacks, the player can also use the Tornado Jump or a Homing Attack with three Power Cores to blow them away. These shields come in two different styles:
Smooth shields: Smooth, rectangular shields. These allow the Egg Pawn to block one blow from a Power Type character before they break.
Spiked shields: Spiked shields that can block a number of blows from a Power Type character. The more blows they receive, the more cracks they will display until they are destroyed altogether. They can also deal additional damage if the player runs into the Egg Pawn wielding it or jumps into them with a Homing Attack.
Egg Knights are usually found in positions where it is difficult to reach them without alerting any regular Egg Pawns nearby. They usually patrol their immediate area, with a group of Egg Pawns under them command surrounded it. Destroying an Egg Knight will also destroy all the Egg Pawns nearby that accompanies it. Destroying an Egg Knight awards the player with 400 points.
Egg Knights are rarely seen in large groups; usually, there is only one such Badnik per group of Egg Pawns. The exceptions to this include some of the boss fights in the game (e.g. Robot Carnival, Robot Storm and the Egg Emperor), where they can attack the player in large groups.
Sonic Rivals
In Sonic Rivals, the Egg Knight appears on the 108th collectible card in the game.
Powers and abilities
Compared to most machines Eggman has produced, the Egg Pawns are weak robots, and rely more on the weapons and tools they wield.
Weapons and equipment
The Egg Knights' standard arsenal include lances named Egg Spears, single-shot recoilless rifles named Egg Bazookas, and automatic blasters named Egg Guns. They also occasionally carry shields of varying durability.
In other media
IDW Publishing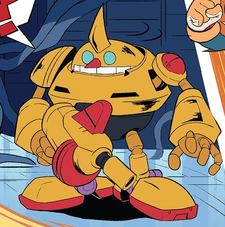 In the Sonic the Hedgehog comic series and its spin-offs published by IDW Publishing, the Egg Knights are Badniks in service to the Eggman Empire. Their past is virtually identical to their game counterparts', up until after the events of Sonic Forces. A group of them guarded one of the Eggnet's hubs, whom Zavok managed to take control of them and use them against Eggman. However, almost all of them were destroyed by Eggman. In the aftermath, only one remained, which Zavok used to retreat to safety. This Egg Knight would subsequently accompany Zavok during an attack on a few towns until it was destroyed in Vista View.
Gallery
References
---
Main article | Scripts (Team Sonic, Team Dark, Team Rose, Team Chaotix, Last) | Staff | Glitches | Beta elements | Gallery
Playable
characters
Team Sonic
Sonic (Super Sonic) | Tails (Super Tails) | Knuckles (Super Knuckles)
Team Dark
Shadow | Rouge | Omega
Team Rose
Amy | Cream | Cheese | Big
Team Chaotix
Espio | Charmy | Vector
Non-playable characters
Dr. Eggman | Metal Sonic (Neo Metal Sonic) | Chocola | Froggy | Shadow Android | Omochao | Dark Chao | Hero Chao
Stages
1P stages
Sea Gate | Seaside Hill | Ocean Palace | Grand Metropolis | Power Plant | Casino Park | BINGO Highway | Rail Canyon | Bullet Station | Frog Forest | Lost Jungle | Hang Castle | Mystic Mansion | Egg Fleet | Final Fortress | Special Stage
2P stages
BINGO Highway | Casino Course | City Course | City Top | Casino Ring | Egg Fleet | Egg Treat | Frog Forest | Grand Metropolis | Hot Elevator | Mad Express | Pinball Match | Rail Canyon | Road Rock | Seaside Course | Seaside Hill | Special Stage | Terror Hall | Turtle Shell
2P Play Mode
Action Race | Battle | Bobsled Race | Expert Race | Quick Race | Ring Race | Special Stage
Enemies
Bomb Flapper | Cameron | Cannon Flapper | E-2000 | E-2000R | Egg Bishop | Egg Hammer | Egg Knight | Egg Magician | Egg Pawn | Egg Pawn (Casino version) | Falco | Flapper | Gold Cameron | Gold Klagen | Gun Flapper | Heavy-Egg Hammer | Klagen | Laser Flapper | Needle Flapper | Pumpkin ghost | Rhinoliner | Search Flapper | Solid Flapper | Solid Pawn
Bosses
Egg Hawk | Team Sonic | Team Dark | Team Rose | Team Chaotix | Robot Carnival | Egg Albatross | Robot Storm | Egg Emperor | Metal Madness | Metal Overlord
Moves/
Techniques
Speed
Homing Attack | Jump Dash | Kick | Light Dash | Lightspeed Attack | Propeller Hammer | Rocket Accel | Shuriken | Spin | Spin Jump | Swinging Hammer Attack | Tornado Jump (Black Tornado, Blue Tornado, Leaf Swirl, Tornado Hammer) | Triangle Jump
Power
Auto Homing | Body Press | Bubblegum Descent | Fire Combination | Fire Dunk | Fire Launcher | Fireball Jump | Forward Power Attack | Hammer Down | Jump Fire Knock | Jump Fireball | Remote Power Attack (Fireball, Fire Knock) | Spin Jump | Triangle Dive | Umbrella Descent | Wide Power Attack (Big Fishing, Omega Arm, Vector Breath, Volcanic Dunk)
Fly
Ascending Flight | Cheese Attack | Dummy Ring Bomb | Spin Jump | Sting Attack | Thunder Shoot | Quick Ascent
Team Blasts
Sonic Overdrive | Chaos Inferno | Flower Festival | Chaotix Recital | Super Sonic Power
Other
Chaos Control | Crouch | Crystal Attack | Grind Step | Grinding
Gimmicks and obstacles
Ball Switch | Bingo | Bobsled | Bomb | Bumper | Bumper wall | Cannon | Check Point | Conveyor Belt | Dash Panel | Dash Rail | Dash Ring | Detonator Switch | Drop Target | Fan | Fireball | Flipper | Flower | Formation Change Gate | Giant Frog | Giant Switch | Grind Rail | Hint Ring | Iron ball | Jump Panel | Kao | Laser field | Mushroom | Orb switch | Pole | Power Gong | Propeller | Pulley | Rainbow Ring | Slot machine | Spring | Target Switch | Trolley | Vine | Warp Flower | Weight | Wide spring
Items
Capsule | Car | Casino chip | Castle Key | Cell Key | Chaos Emerald | Container (Cage, Case, Steel Container, Unbreakable Container, Wooden Container) | Emblem | Engine Core | Floating Item Box | Goal Ring | Hermit crab | Item Box (1 UP, Barrier, Fly Charge, High Speed, Invincible, Rings, Power Core, Team Blast Ring) | Light spider marking | Power Core | Ring | Special Stage Key | Sphere | Torch
Voice actors
English
Ryan Drummond (Sonic, Metal Sonic) | Deem Bristow (Eggman) | William Corkery (Tails) | Scott Drier (Knuckles) | David Humphrey (Shadow) | Lani Minella (Rouge, Omochao) | Jon St. John (Omega, Big) | Jennifer Douillard (Amy) | Sarah Wulfeck (Cream) | Bill Corkery (Espio) | Marc Biagi (Vector) | Emily Corkery (Charmy)
Japanese
Jun'ichi Kanemaru (Sonic, Metal Sonic) | Chikao Ōtsuka (Eggman) | Ryō Hirohashi (Tails) | Nobutoshi Canna (Knuckles) | Kōji Yusa (Shadow) | Rumi Ochiai (Rouge) | Taiten Kusunoki (Omega) | Taeko Kawata (Amy) | Sayaka Aoki (Cream) | Takashi Nagasako (Big) | Yūki Masuda (Espio) | Kenta Miyake (Vector) | Yōko Teppōzuka (Charmy) | Etsuko Kozakura (Omochao)
Music
Songs
"Sonic Heroes" | "We Can" | "This Machine" | "Follow Me" | "Team Chaotix" | "What I'm Made of..."
Albums
Complete Trinity: Sonic Heroes Original Soundtrax | Triple Threat: Sonic Heroes Vocal Trax | Sonic Heroes Official Soundtrack | Sonic Heroes Original Soundtrack 20th Anniversary Edition
Other
Armored train | Chaotix Detective Agency | Dummy Ring | Egg Bazooka | Egg Fleet | Egg Gun | Egg Spear | Fly Type | Health Gauge | HEXAeco | Life | Loop | Moon | Orca | Palm Plants | Power Type | Rank | Sonic Heroes Puzzle | Speed Type | Super Hard Mode | Team Blast Gauge | Tornado 2