The Egg Hammer[1] (エッグハンマー, Eggu Hanmā?) is an enemy in the Sonic the Hedgehog series. It is a large Egg Pawn variant created by Dr. Eggman. While not common, these robots are some of the toughest robots ever produced by Dr. Eggman.
Appearance
On the console games, the standard Egg Hammer looks similar to the Egg Pawn, but is about three times larger and much heavier. They possess purple armor and a round torso with a black lower half and a thick collar around their neck. They also have two red bolts on their underbelly and large cup-shaped shoulders with round red spikes (similar to knobs). They also possess large hands and feet, yet thin and gray upper arms and thighs, with red bands around their ankles and wrists, and purple armor around their forearms and lower legs. Their hands are mainly purple with gray fingers, and their feet are shoe-like and purple with black soles. Lastly, they have dome-shaped heads with menacing green eyes, sharp red noses, and pointy teeth.

On the handheld games, the Egg Hammers possess their bulky build and colors, but are much smaller and slightly different. They possess a round torso with a thick gray upper half and black lower half. They also have large gray and orange round shoulders, thin arms and large blue and white hands with orange wristbands. They have no lower body to speak of, and instead have an orange, blue-and-white striped spike on their pelvis with spikes around it. Lastly, they have a dome-shaped head with a wide smile, a pointy orange nose and blue eyes.
Game appearances
Sonic Heroes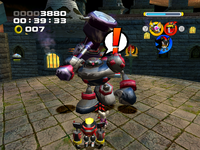 The Egg Hammers first appeared in Sonic Heroes. In this game, they can be encountered in Lost Jungle, Mystic Mansion, Robot Storm and Final Fortress.
In gameplay, Egg Hammers are the slowest-moving enemies the player will encounter. They can only be damaged by attacks from the Power Type characters, although they can also be temporarily stunned with Thunder Shoot. The Egg Hammers have thirty health points and they will always drop one random Power Core not of the leader's type after they are destroyed.
When encountering the player's characters, the Egg Hammers will use two forms of attack. If the player nears them from the front, they will swing their hammers into the ground in front of them a couple of times. If the player is behind them or circling around them, however, they will begin spinning around in one spot with their hammer outstretched. The latter attack tends to make them dizzy and cause them to lose their balance, making them vulnerable to being knocked over with the Thunder Shoot or a Fire Dunk/Fire Launcher/Jump Fireball/Jump Fire Knock. They will eventually get back on their feet if not destroyed.
Sonic Rush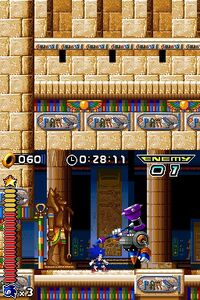 In Sonic Rush, the Egg Hammers were made smaller and given a slight redesign. In this game, they can be encountered in Mirage Road and Dead Line.
In gameplay, Egg Hammers will usually appear in rooms that seal off, where waves of enemies will appear to attack the player once they enter; the Egg Hammers are normally the last of these enemies to appear. They usually appear by themselves, although they will sometimes appear in pairs. For attack patterns, they move back and forth slowly and will attack the player with their hammer (which will cause damage should it hit) when the player approaches them. What makes the Egg Hammers dangerous in this game, however, is that they require three hits to defeat (unlike other enemies) and do not flinch when struck, meaning the player can easily take damage if standing carelessly close to them after attacking them.
Mario & Sonic at the Olympic Winter Games
In Mario & Sonic at the Olympic Winter Games, the Egg Hammer appears as an enemy. In this game, they are encountered during the Dream Alpine event and the Dream Snowboard Cross event. In gameplay, it is the strongest enemy in the game, but also the easiest to avoid. They mainly just stand still but will attack when a character gets too close. Hitting them will cause the player to fall down.
Sonic & Sega All-Stars Racing
In Sonic & Sega All-Stars Racing, the Egg Hammers (referred to here as Egg Pawn Giants) appear during the final mission in the game. To complete the mission, the player has to destroy the local Egg Hammer using power-ups from around Seaside Square.
Sonic Colors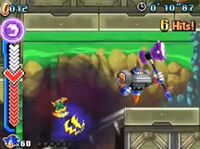 In the Nintendo DS version of Sonic Colors, the Egg Hammers look just like they did in Sonic Rush. In this game, they can be encountered in Sweet Mountain and Asteroid Coaster.
In gameplay, the Egg Hammers' attack patterns and mechanics are the same as those in Sonic Rush. Like in Sonic Rush, they take three hits to be defeated, though they can also be taken out in one swoop using the Violet Void.
Powers and abilities
The Egg Hammers are quite physically strong, carrying their large hammers with just one hand and can create tremors by hammering into the ground. They are likewise highly durable, capable of withstanding a few head-on Boosts/Fire Boosts without flinching before being destroyed.
Weapons
Each Egg Hammer carries a large purple, gray and black hammer with spikes. They use them for basic melee combat by bringing them down on foes or by swinging them around.
Variants
Heavy-Egg Hammer
The Heavy-Egg Hammer is simply a larger and tougher version of the Egg Hammer. It is heavily armored and cannot be hurt by any attack (aside from Team Blast). The player must find a way to knock the robot's helmet off before it will be susceptible to damage.
In other media
Archie Comics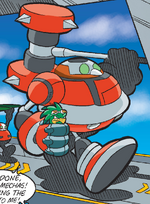 In the Sonic the Hedgehog comic series and its spin-offs published by Archie Comics, the Egg Hammers are Badnik Horde units and giant heavy melee versions of the Egg Pawn. They appeared for a short time, as they were created during the third year of the Second Robotnik War. They were destroyed by Enerjak during Project Enerjak: Reborn.
IDW Publishing
In the Sonic the Hedgehog comic series and its spin-offs published by IDW Publishing, the Egg Hammers are Super Badniks created by Dr. Eggman. Their past is virtually identical to their game counterparts' up until Sonic Forces. After the war, the Egg Hammers began launching coordinated attacks on villages under a guiding force.
References
↑ Guess, Gerald (6 January 2004).

Sonic Heroes: Prima's Official Strategy Guide

. Prima Games. p. 26. ISBN 0761544496.
---
Main article | Gallery | Beta elements | Staff | Glitches
Playable
characters
Team Sonic
Sonic | Tails | Knuckles
Team Rose
Amy | Cream | Cheese | Big
Team Dark
Shadow | Rouge | Omega
Team Chaotix
Espio | Charmy | Vector
Team Super Sonic
Super Sonic | Super Tails | Super Knuckles
Other characters
Eggman | Metal Sonic (Neo Metal Sonic) | Chocola | Froggy | Shadow Android
Enemies
Cameron | Egg Bishop | Egg Hammer | Egg Knight | Egg Magician | Egg Pawn | Egg Pawn (Casino version) | E-2000 | E-2000R | Falco | Flapper | Gold Cameron | Gold Klagen | Heavy-Egg Hammer | Klagen | Rhinoliner | Pumpkin ghost
Stages
1P stages
Sea Gate | Seaside Hill* | Ocean Palace | Grand Metropolis* | Power Plant | Casino Park | BINGO Highway* | Rail Canyon* | Bullet Station | Frog Forest* | Lost Jungle | Hang Castle | Mystic Mansion | Egg Fleet* | Final Fortress | Special Stage*
2P stages
City Top | Casino Ring | Turtle Shell | Egg Treat | Pinball Match | Hot Elevator | Seaside Course | City Course | Casino Course | Road Rock | Mad Express | Terror Hall
2P Play Mode
Action Race | Battle | Bobsled Race | Expert Race | Quick Race | Ring Race | Special Stage
Bosses
Egg Albatross | Egg Emperor | Egg Hawk | Metal Madness | Metal Overlord | Robot Carnival | Robot Storm | Team Chaotix | Team Dark | Team Rose | Team Sonic
Moves/
techniques
Speed
Maneuvers
Homing Attack | Kick | Light Dash | Propeller Hammer | Rocket Accel | Shuriken | Spin | Swinging Hammer Attack | Tornado Jump (Black Tornado, Blue Tornado, Leaf Swirl, Tornado Hammer) | Triangle Jump
Power
Maneuvers
Auto Homing | Body Press | Bubblegum Descent | Fire Combination | Fire Dunk | Fire Launcher | Fireball Jump | Forward Power Attack | Hammer Down | Jump Fire Knock | Jump Fireball | Remote Power Attack (Fireball, Fire Knock) | Triangle Dive | Umbrella Descent | Wide Power Attack (Big Fishing, Omega Arm, Vector Breath, Volcanic Dunk)
Fly
Maneuvers
Ascending Flight | Cheese Attack | Dummy Ring Bomb | Sting Attack | Thunder Shoot | Quick Ascent
Team Blast
Sonic Overdrive | Chaos Inferno | Flower Festival | Chaotix Recital | Super Sonic Power
Misc.
Crouch | Crystal Attack | Grind Step | Grinding | Jump Dash | Lightspeed Attack | Spin Jump
English voice actors
Ryan Drummond (Sonic, Metal Sonic) | Deem Bristow (Eggman) | William Corkery (Tails) | Scott Drier (Knuckles) | David Humphrey (Shadow) | Lani Minella (Rouge, Omochao) | Jon St. John (Omega, Big) | Jennifer Douillard (Amy) | Sarah Wulfeck (Cream) | Bill Corkery (Espio) | Marc Biagi (Vector) | Emily Corkery (Charmy)
Japanese voice actors
Jun'ichi Kanemaru (Sonic the Hedgehog, Metal Sonic) | Chikao Ōtsuka (Eggman) | Ryō Hirohashi (Tails) | Nobutoshi Canna (Knuckles) | Kōji Yusa (Shadow) | Rumi Ochiai (Rouge) | Taiten Kusunoki (Omega) | Taeko Kawata (Amy) | Sayaka Aoki (Cream) | Takashi Nagasako (Big) | Yūki Masuda (Espio) | Kenta Miyake (Vector) | Yōko Teppōzuka (Charmy) | Etsuko Kozakura (Omochao)

OST

/

Vocal Trax

/

Official

/

20th Anniversary

Sonic Heroes | We Can | This Machine | Follow Me | Team Chaotix | What I'm Made of...
Other
Armored train | Ball Switch | Bingo | Bobsled | Bomb | Bumper | Bumper wall | Cannon | Capsule | Car | Casino chip | Castle Key | Cell Key | Chaos Emerald | Check Point | Container (Cage, Case, Steel Container, Unbreakable Container, Wooden Container) | Conveyor Belt | Dash Panel | Dash Rail | Dash Ring | Detonator Switch | Dummy Ring | Egg Bazooka | Egg Fleet | Egg Gun | Egg Spear | Emblem | Engine Core | Fan | Fireball | Flipper | Floating Item Box | Flower | Fly Type | Formation Change Gate | Giant Frog | Giant Switch | Goal Ring | Grind Rail | Haunted Towers | Health Gauge | Hermit crab | HEXAeco | Hint Ring | Iron ball | Item Box (Barrier, Fly Charge, High Speed, Invincible, Rings, Power Core, Team Blast Ring, 1-Up) | Jump Panel | Kao | Laser field | Light spider marking | Mushroom | Orb switch | Palm Plants | Pole | Power Gong | Power Type | Propeller | Pulley | Sonic Heroes Puzzle | Rainbow Ring | Rank | Ring | Shuttle loop | Slot machine | Speed Type | Special Stage Key | Sphere | Super Hard Mode | Switch | Target Switch | Team Blast Gauge | Torch | Trolley | Vine | Warp Flower | Weight | Wide spring

*Stage is also playable in 2P Battle mode.
---
Main article | Gallery | Staff | Glitches
| | |
| --- | --- |
| Characters | Sonic (Super Sonic) | Tails | Knuckles | Amy | Cream | Vanilla | Blaze (Burning Blaze) | Dr. Eggman | Dr. Eggman Nega | Animals (Camel, Cat, Elephant, Gorilla, Koala, Kangaroo, Lion, Mole, Monkey, Parrot, Peacock, Penguin, Rabbit, Seal, Skunk, Swallow) | Flicky | Ricky | Pocky | Wocky |
| Stages | Leaf Storm | Water Palace | Mirage Road | Night Carnival | Huge Crisis | Altitude Limit | Dead Line | Unknown | Exception | Special Stages* |
| Enemies | Battle Flapper | Bomb Hawk | Cannon Flapper | Egg Bishop | Egg Diver | Egg Hammer | Egg Pawn | Egg Pawn (spear) | Egg Pawn Bunny | Egg Pawn Manager (gun) | Egg Pawn Manager (SF gun) | Falco | Flapper | Gun Hunter | Klagen | Laser Flapper | Rhino Spring | Solid Pawn |
| Bosses | Egg Hammer Mega | Egg Turtle | Egg Scarab | Egg Libra | Egg Hammer Fortress | Egg Eagle | Sonic/Blaze | Egg King | Egg Salamander |
| Moves/techniques | Axel Jump | Axel Tornado | Boost Mode | Burning Fire Boost | Burst Dash | Burst Hover | Fire Boost | Homing Attack | Hop Jump | Humming Top | Jump Dash | Jump Step | Spin Dash | Spin Jump | Super Boost | Super Sonic Boost | Trick Action |
| English voice actors | Jason Griffith (Sonic) | Mike Pollock (Eggman, Eggman Nega) | Amy Palant (Tails) | Rebecca Honig (Cream) | Bella Hudson (Blaze) |
| Japanese voice actors | Jun'ichi Kanemaru (Sonic) | Chikao Ōtsuka (Eggman, Eggman Nega) | Ryo Hirohashi (Tails) | Sayaka Aoki (Cream) | Nao Takamori (Blaze) |
| Original Groove Rush | A New Day | Right There, Ride On | Back 2 Back | Ethno Circus | Ska Cha Cha | Jeh Jeh Rocket | Get Edgy | What U Need | Metal Scratchin' | Vela Nova | Bomber Barbara | Wrapped in Black | Raisin' Me Up |
| Other | Air Bubble | Blaze's world | Bungee Rope | Cannon | Chaos Emerald | Checkpoint Marker | Corkscrew loop | Dash Panel | Dash Rail | Dash Ring | Electric Generator | Floating Item Box | Giant Waterwheel | Goal Ring | Hang Glider | Health Gauge | High-speed warp tube | Item Box (Super Ring, Shield, Lightning Shield, Invincibility, Tension Bonus, Max Tension Bonus, Max Tension Bonus (multiplayer), Slow, Attract, Confusion) | Jump Panel | Rainbow Ring | Real-Time Interaction | Ring | Shuttle loop | Sol Emerald | Special Generator* | Spring Pole | Switch | Time Attack | Tension Gauge | Winding Rope | Zip Line |
---
Main article | Gallery | Scripts (Wii, DS) | Credits (Wii, DS) | Glitches
Characters
Sonic | Tails | Dr. Eggman | Yacker | Orbot | Cubot | Cream** | Cheese** | Milk** | Blaze** | Silver** | Knuckles** | Rouge** | Team Chaotix (Vector**, Espio**, Charmy**) | Amy** | Big** | Omega** | Shadow**
Wisps
Regular Wisps
White | Cyan | Yellow | Orange | Blue* | Green* | Pink* | Red**
Nega-Wisps
Purple* | Violet** | Nega-Mother Wisp**
Misc.
Mother Wisp | Yacker
Color Powers
Laser | Drill | Rocket | Cube* | Hover* | Spikes* | Frenzy* | Burst** | Void** | Final Color Blaster
Moves/techniques
Air Boost | Assist* | Boost | Boost Mode** | Crouch* | Double Jump* | Drift* | Grind Step | Grinding | Homing Attack | Hop* | Jump Dash | Kick boost | Slide | Skydiving | Spin Dash | Spin Jump | Stomp | Super Sonic Boost | Ring Dash* | Wall Jump
Locations
Earth | Moon | Dr. Eggman's Incredible Interstellar Amusement Park | Bucket O'Sushi* | Options Satellite* | Egg Shuttle* | Special Stages**
Areas
Tropical Resort | Sweet Mountain | Starlight Carnival | Planet Wisp | Aquarium Park | Asteroid Coaster | Terminal Velocity | Game Land
Enemies
Batbot** | Big Chaser* | Buzzer | Chopper | Crabmeat* | Egg Chaser | Egg Pawn | Egg Hammer** | Flapper** | Jawz | Larva* | Mole | Moto Bug* | Sandworm* | Sea Monster | Spinner (Thunder Spinner, Metal Spinner*) | Spiny* | Sprinkler | Uni Uni**
Bosses
Rotatatron* | Globotron** | Captain Jelly | Frigate Orcan | Refreshinator* | Drillinator** | Admiral Jelly | Frigate Skullian | Asteroid Coaster sub-boss* | Nega-Wisp Armor | Nega-Mother Wisp**
Red Star Rings
Tropical Resort | Sweet Mountain | Starlight Carnival | Planet Wisp | Aquarium Park | Asteroid Coaster
ViViD SOUND X HYBRiD COLORS
Reach for the Stars | Speak with Your Heart
English voice actors
Roger Craig Smith (Sonic) | Mike Pollock (Eggman) | Kate Higgins (Tails) | Travis Willingham** (Knuckles) | Cindy Robinson** (Amy) | Kirk Thornton** (Shadow) | Wally Wingert (Cubot) | Quinton Flynn** (Silver) | Laura Bailey** (Blaze) | Karen Strassman** (Rouge) | Michelle Ruff** (Cream) | Keith Silverstein** (Vector) | Troy Baker** (Espio) | Colleen O'Shaughnessey** (Charmy) | Vic Mignogna** (Omega)
Japanese voice actors
Junichi Kanemaru (Sonic) | Chikao Ōtsuka (Eggman) | Ryo Hirohashi (Tails) | Nobutoshi Canna** (Knuckles) | Taeko Kawata** (Amy) | Koji Yusa** (Shadow) | Rumi Ochiai** (Rouge) | Daisuke Ono** (Silver) | Nao Takamori** (Blaze) | Sayaka Aoki** (Cream) | Kenta Miyake** (Vector) | Yuuki Masuda** (Espio) | Youko Teppozuka** (Charmy) | Taiten Kusunoki** (Omega)
Other
Accelerator Gun | Auto Running | Billiard Ball | Blue Block* | Blue Ring* | Bomb | Boost Gauge | Bottomless pit | Chaos Emerald | Container (Black Mound, Steel Container, Unbreakable Container, Wooden Container) | Dash Panel | Dash Rail | Dash Ring | Egg Gun | Egg Medal* | Egg Spear | Exploding Balloon** | Fan | Fountain | Goal Ring | Grind Rail | Hang Glider | Health Gauge** | Hint Ring* | Item Box** (1-Up**, Exploding Balloon, Invincibility**, Magnetic Shield**, Mine**, Power Sneakers**, Reaper, Shield**, Spring, Steal Boost, Steal Wisp, Super Ring**) | Iron ball* | Jump Panel | Miles Electric | Mind Control Ray | Mobile spring* | Movable box | Moving Crate | Optical cable | Prism | Pulley | Question Capsule* | Rainbow Ring | Rank | Real-Time Interaction** | Red School | Ring | Shuttle loop | Slot machine | Spike Trap | Spring | Special Ring | Spring Pole | Star Post | Switch | Thorn Spring | Time Attack** | Time Bonus | Tractor beam generator | Underground Pipe | Virtual Hedgehog* | Wide spring | Wisp Capsule | Wisp Gauge | Zip Line