Guess they found out I escaped. Oh, well. Time to kiss this yawnfest good-bye!


— Sonic the Hedgehog, Sonic Forces
Egg Gate (エッグゲート, Eggugēto?) is the sixth stage in Sonic Forces, and the third stage in the game to be played as Sonic. This stage is a re-imagining of the Death Egg Zone from Sonic & Knuckles on the Sega Mega Drive.
This stage is set onboard the Death Egg prison facility and around its outline outposts in space. During the events of the game, Sonic made his way through this stage during his search for a way back to Earth after breaking out of Dr. Eggman's prison.
Description
Egg Gate is first and foremost set in the open space above Earth. Here, the Earth can be seen against a black tapestry of stars, with the sun setting behind it. Floating around in space are numerous vessels from the Eggman Fleet and pale asteroids with hexagon-shaped metal plating covering them in several spots. The largest of the aforementioned asteroids even have metallic Eggman Empire complexes built on top of them. These complexes are shaped like trapezoidal prisms and have large spinning disks attached to them. Far in the background on several occasions, one can also spot the Death Egg itself.
The indoor areas in Egg Gate take place inside the metallic complexes and the Death Egg. These areas are set within dimly-lit halls of colossal sizes and narrow corridors, some of which are aligned with ominous-colored sci-fi neon lights. The designs of these places depend on the point of the stage; the very beginning of the stage is designed like a prison facility and the very end is designed like a packed-up shuttle bay. The indoor areas in-between these locations are rather empty, although featured in the background of these areas are flipping metal panels, pipes and several pillars with Red Eyes in them that surveil their designated areas.
Story
After defeating a Zavok replica and the Death Queen, Sonic is free from his imprisonment and begins making his way out of the prison block. As Sonic gets out of the facility however, he discovers that he has been held prisoner in outer space for the last six months since being defeated by Infinite in the City, and on-board the rebuilt Death Egg no less, much to his annoyance and disbelief that Eggman rebuilt the dreaded superweapon. Finding himself unable to get back to Earth as he is, Sonic realizes that he can just grab an Eggman Fleet shuttle from the Death Egg's hangar bay and head back home in that.
After a less-than-safe journey, Sonic arrives on the Death Egg's shuttle deck. There, he finds the frightened Avatar surrounded by Egg Pawns. Dispatching the Egg Pawns, Sonic helps the Avatar back up and learns that they are here to rescue him. The Avatar is then contacted by Knuckles over the radio, prompting Sonic to make his presence known, much to Amy's joy. As Knuckles urges Sonic and the Avatar to get home, the two make their escape off the Death Egg in the shuttle the Avatar has prepped for them.
Back home, Sonic is welcomed back by Knuckles, who is quick to reveal some bad news: Eggman has a weapons factory in Green Hill that is supplying his army with munitions. As long as that remains, the Resistance cannot take out Eggman's HQ. Since the Resistance is spread thin, Knuckles sends a battle-ready Sonic to take the factory out, and has the Avatar come along for backup in spite of Vector's doubts about the Avatar's bravery due to the earlier events on the Death Egg. For Sonic, this was a good first step towards getting six months of well-deserved payback on his arch-enemy.
Gameplay
In Egg Gate, there are places where ceilings slowly come down on the player; if they manage to squeeze Sonic, they have to start the stage again. After coming down however, the ceilings will eventually go up again. There are also sometimes rows of blocks that will suddenly rise up from the ground and protrude a Spring at the top of them when the player approaches, thereby creating stairs for the player to use. In terms of stage hazards, there are cannons on the walls that will charge up for a second before firing damage-inducing laser balls that slowly home in on the player. Egg Gate also holds numerous breakable Containers that hide goodies and gimmicks inside them. It is also worth noting that bottomless pits inside the facilities in Egg Gate are marked with red lights on the edges.
Being a Sonic stage, Egg Gate has numerous Wisp Capsules filled exclusively with White Wisps along the way for the player to charge their Boost Gauge with.
Overview
When Egg Gate begins, the player runs down a corridor in a 2.5D perspective. While running, the ceiling slowly comes down. When not outrunning the ceiling, the player can hide in the space between them or take a lower route. At the end of the corridor, Sonic will pass through a hallway with doors that close behind him. The perspective will then switch to 3D as Sonic emerges into space and lands on a Grind Rail.
At the end of this rail, the player has three Grind Rails to chose from. Regardless of which rail the player picks, all three routes will merge just before the first Star Post. Also, when entering the complex, the perspective switches to 2.5D.
After the Star Post, the player has to scale a corridor. Once at the top, Sonic will bounce off/barge through meteorites before reaching a three-set Grind Rail section in 3D. While grinding, Aero-Chasers will attack. Eventually, the player enters the next complex (with the perspective becoming 2.5D again). Once inside, the player must outrun ceilings, scale walls and descend through breakable Containers. After passing the next Star Post, Sonic will come to a Grind Rail in 3D. While grinding, the player must launch a Homing Attack when a squadron of Eggman Fleet fighters fly by in order to initiate a Real-Time Interaction cinematic. Here, the player has to press

/
/

when the green rings that appear overlap; the better the player times the button presses, the greater the point bonus the player will receive. During the aforementioned cinematic, Sonic jumps from ship to ship at appropriate times to avoid getting shot down by the Death Egg's turrets. At the end of the cinematic, Sonic gets shot down and falls down a shaft. Sonic then enters a brief Skydiving section before landing on a path with the goal at the end within the Death Egg's hangar where numerous Eggman Fleet ships and fighters are docked.
Ranking
The following are the suggested clear points for achieving a high enough score to achieve each Rank:
| S-Rank | A-Rank | B-Rank | C-rank |
| --- | --- | --- | --- |
| 1,200,000 | 675,000 | 455,000 | <455,000 |
Gallery
Music
Video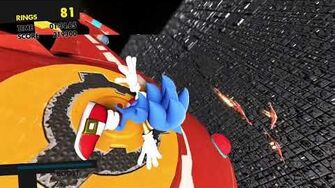 ---
Main article | Script | Staff | Manuals | Beta elements | Gallery
Playable characters
Sonic (Super Sonic) | Classic Sonic (Classic Super Sonic) | Avatar | Shadow (Episode Shadow)
Non-playable
characters
Resistance (Tails, Knuckles, Amy, Team Chaotix (Vector, Espio, Charmy), Silver, Team Dark (Shadow, Rouge, Omega)) | Dr. Eggman | Infinite | Orbot | Cubot | Metal Sonic | Chaos | Zavok | Animals (Cucky, Flicky, Pecky, Picky, Pocky, Ricky, Rocky)
Wisps
Blue Wisp | Green Wisp | Indigo Wisp | Ivory Wisp | Red Wisp | Violet Wisp | White Wisp | Yellow Wisp
World Map regions
Chemical Plant | City | Death Egg | Eggman Empire Fortress | Green Hill | Metropolis | Mystic Jungle
Stages

General

Lost Valley | Spaceport | Ghost Town | Prison Hall | VS. Zavok | Egg Gate | Arsenal Pyramid | Luminous Forest | VS. Infinite | Green Hill | VS. Eggman | Park Avenue | Casino Forest | Aqua Road | Sunset Heights | Capital City | VS. Infinite | Chemical Plant | Red Gate Bridge | Guardian Rock | Network Terminal | Death Egg | Metropolitan Highway | Null Space | Imperial Tower | Mortar Canyon | VS. Infinite | Iron Fortress | Final Judgement | VS. Death Egg Robot

Episode Shadow

Enemy Territory | Eggman's Facility | Virtual Reality
Secret
Fire Cannon 1 | Vanish Panel 1 | Bomb Block 1 | Plasma Cannon 1 | Laser Cannon 1 | Reverse Block 1
Extra
Flying Pod | Bomb Block 2 | Laser Cannon 2 | Reverse Block 2 | Vanish Panel 2 | Fire Cannon 2 | Plasma Cannon 2
Enemies
Aero-Chaser | Buzz Bomber | Chopper | Egg Pawn | Egg Tank | Egg Walker | Galaga Bee | Moto Bug | Missile Pod | Nebula | Sandworm | Sprinkler | Valkeen
Bosses
Death Egg Robot | Eggman | Egg Dragoon | Infinite | Metal Sonic | Zavok
Moves/Techniques
Air Boost | Boost | Crouch | Double Boost | Double Jump | Drop Dash | Grind Step | Grinding | Homing Attack | Side Step/Cartwheel | Skydiving | Slide | Super Sonic Boost | Spin Dash | Spin Jump | Stomp | Triple Boost | V. Maximum Overdrive Attack | Wall Jump | Wire Attack
Gimmicks and obstacles
Balloon | Bottomless pit | Bumper | Capsule | Conveyor Belt | Dash Panel | Dash Rail | Dash Ring | Fan | Flipper | Flywheel | Goal | Goal Plate | Grind Rail | High-speed warp tube | Hint Ring | Iron ball | Jump Panel | Laser field | List of pinball obstacles | Pulley | Rainbow Ring | Ring Shooter | Slot machine | Spikes | Spring | Spring Catapult | Spring Pole | Star Post | Wide spring | Wire Target | Zip Line
Items
General
Air Bubble | Blue Block | Blue Ring | Container (Unbreakable Container, Wooden Container) | Costume | Item Box (Bonus Rings, Invincibility, Power Sneakers, Shield) | Medal | Meteorite | Number Ring | Red Star Ring | Ring | Silver Moon Ring | Wisp Capsule
Wispons
Asteroid | Burst | Cube | Drill | Hover | Lightning | Void
English voice actors
Roger Craig Smith (Sonic) | Mike Pollock (Eggman) | Liam O'Brien (Infinite) | Colleen O'Shaughnessey (Tails, Charmy) | Travis Willingham (Knuckles, Zavok) | Cindy Robinson (Amy) | Kirk Thornton (Shadow, Orbot) | Karen Strassman (Rouge) | Vic Mignogna (Omega) | Quinton Flynn (Silver) | Keith Silverstein (Vector) | Matthew Mercer (Espio) | Wally Wingert (Cubot)
Japanese voice actors
Junichi Kanemaru (Sonic) | Kotaro Nakamura (Eggman) | Takashi Kondō (Infinite) | Ryo Hirohashi (Tails) | Nobutoshi Canna (Knuckles) | Taeko Kawata (Amy) | Kōji Yusa (Shadow) | Rumi Ochiai (Rouge) | Taiten Kusunoki (Omega) | Daisuke Ono (Silver) | Kenta Miyake (Vector) | Yūki Masuda (Espio) | Yōko Teppōzuka (Charmy) | Jōji Nakata (Zavok) | Mitsuo Iwata (Orbot) | Wataru Takagi (Cubot) | Fumihiko Tachiki (Narrator)
Music
Songs
Fading World | Fighting Onward | Fist Bump | Infinite | Justice | Moonlight Battlefield | Nowhere to Run | Rhythm And Balance | Set in Motion | Supporting Me | The Light of Hope | Virtual Enemies
Albums
Sonic Forces Original Soundtrack - A Hero Will Rise | Sonic Forces Vocal Traxx - On The Edge | Sonic Forces Hi-Res Collection | Sonic Forces Original Soundtrack The Vinyl Cutz
Other
Boost Gauge | Chaos Control | Challenge Mission | Daily Mission | Death Crab | Death Egg | Death Egg Robot | Death Egg Robot sentinel | Death Queen | Egg Dragoon | Egg Mobile | Eggman Army | Eggman Empire | Eggman Fleet | Experience | Health Gauge | Jackal Squad | Mega Mack | Miles Electric | Operation Big Wave | Phantom Ruby | Phantom Ruby prototype | Real-Time Interaction | Replica | Resistance HQ | Sandworm | Skill | Sonic Forces digital comic (Moment of Truth, Stress Test, Looming Shadow, Rise of Infinite) | Sonic Forces: Speed Battle | SOS Mission | Time Over | War to Take Back the Planet | Winding Tunnel | Wisp Gauge
Community content is available under
CC-BY-SA
unless otherwise noted.