For other uses of the term, see E-104 Epsilon (disambiguation).
E-104 Epsilon (E-104 "イプシロン", E - 104 "Ipushiron"?), or E104 "ε", is a character that appears in the Sonic the Hedgehog series. He was an animal-powered robot created by Dr. Eggman, and the fourth unit in the Doctor's E-100 Series. Epsilon, along with his "brothers", were created during the Chaos incident to serve as the Egg Carrier's elite crew. After failing his first mission, Epsilon was destroyed by E-102 Gamma.
Appearance
E-104 Epsilon was a humanoid robot colored in orange and white. He possessed no neck, his head and torso coming together in an almost ellipsoid shape. His torso was orange with a wide and white vertical stribe down the middle, and possessed a head light with a hexagonal gray frame on the right side. He also had gray mufflers surrounding the pelvis area, and had the number "104" painted in white on the right of his large vertical stripe and the left side of his rear. His head meanwhile was small and platform-like with a yellow shade and green cylindrical eyes. He also had a Jet Booster hovering behind his neck.
Epsilon's shoulders were black vertical cylinders. Attached to each of them were Epsilon's arms, which were long and designed with two joints; each of Epsilon's forearms were designed as twin STINGER missile launchers. Originally though, his left arm held a black-gray blaster while his right arm had a tri-digited hand with two points of articulation on each digit. Also, Epsilon's upper arms were orange, while the parts between his upper arms and forearms were gray. Epsilon also possessed two long and inverted legs with five points of articulation and large, black feet with two sharp toes and roller wheels on the heels. The upper sections of his legs in particular were orange while the rest of them were gray, except from his calves, which were thick and orange.
History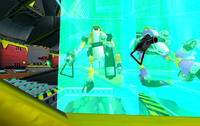 E-104 Epsilon was built by Dr. Eggman to be an elite member of the Egg Carrier's crew during the Chaos incident. Together with his brothers Gamma, Delta and Zeta, Epsilon was sent to look for Froggy. Epsilon, however, did not find the right frog. As punishment, Eggman banished him, along with the other E-100 units that had failed him, from the Egg Carrier. During his banishment, Epsilon received two missile launchers and a Jet Booster.
Gamma later found Epsilon inside a volcano in Red Mountain. There, the two robots fought a heated battle, which ended when Epsilon was destroyed. Afterward, the Swallow powering Epsilon was freed.
Powers and abilities
After being banished from the Egg Carrier, Epsilon was equipped with twin STINGER missile launchers on the arms, which were useful for taking out moving air targets. He also acquired a Jet Booster that granted him the ability to hover in midair.
Battle
E-104 Epsilon is the third boss in E-102 Gamma's storyline in Sonic Adventure and Sonic Adventure DX: Director's Cut. He is fought with E-102 Gamma. To initiate the battle with Epsilon, approach Epsilon when reaching the end of Gamma's version of Red Mountain. The boss battle takes place in an enclosed area with Rings lying around.
Boss guide
Epsilon is a relatively simple boss, using the same attack patterns and movements as E-101 Beta and E-103 Delta. Keep in mind though that Epsilon can shoos missiles much faster than its predecessors. In gameplay, he will either stay in one place and shoot at the player with homing missiles, or fly using his Jet Booster. Using Gamma's Homing Missiles, the player can inflict damage on Epsilon and destroy his rockets.
If Gamma stands too far away, Epsilon continues to fire missiles, which will interfere with player's ability to target the robot. To quickly end the battle with Epsilon, get near him. When scoring a hit, wait just long enough for Epsilon to shake it off, then fire again. After landing five blows on Epsilon, this boss will be defeated.

Music
Video
Relationships
Allies
In other media
Archie Comics
Sonic X
Trivia
Epsilon is the fifth letter of the Greek alphabet and E-104 Epsilon is the fifth E-100 robot made, the numerical descrepency from the model numbers is due to the fact E-100 Alpha, better known as ZERO, is still considered an E-series unit.
Although Epsilon's later weapons are visibly different from Beta and Delta's missile launchers, they function identically.
Despite his lock-on ability in his upgraded form, Epsilon visibly lacks a targetting sight like Gamma.
Although he no longer has a functional forearm due to his missile upgrade, a mirror reflection of Epsilon's original forearm still appears on his front skirt plate. This is due to the fact the reflection is an actual painted image within Epsilon's texture, which was repurposed from Gamma's textures.
His Jet Booster seems to let him fly for a short time, instead of hovering like Gamma's.
Gallery
---
Main article | Scripts (Sonic, Tails, Knuckles, Amy, Big, Gamma, Super Sonic) | Staff | Glitches | Beta elements | Gallery | Re-releases (DX | 2010)
Playable characters
Sonic (Super Sonic) | Tails | Knuckles | Amy | E-102 Gamma | Big | Metal Sonic*
Non-playable characters
Dr. Eggman | Beta (Mark II) | Chao | Chaos (Chaos 1, Chaos 2, Chaos 4, Chaos 6, Perfect Chaos) | Cream* | Delta | Epsilon | Froggy | Grandma | Mr. Know-It-All | Pachacamac | Tikal | Unnamed Sonic robot* | ZERO | Zeta | Animals (Deer, Elephant, Gorilla, Kangaroo, Koala, Lion, Mole, Parrot, Peacock, Penguin, Rabbit, Seal, Sea Otter, Skunk, Swallow)
Adventure Fields
Egg Carrier | Mystic Ruins | Station Square
Action Stages
Emerald Coast | Windy Valley | Casinopolis | IceCap | Twinkle Park | Speed Highway | Red Mountain | Sky Deck | Lost World | Hot Shelter | Final Egg
Sub Games
Sky Chase | Sand Hill | Hedgehog Hammer | Twinkle Circuit | Boss
Enemies
Beat | Bladed Spinner | Boa-Boa | Buyoon | Cart Kiki | Cop Speeder | Egg Keeper | Electro Spinner | Fighter Aircraft A | Fighter Aircraft B | Gola | Ice Ball | Icecap's unnamed aircraft | Kiki | Leon | mechanical fish | Pirate | Rhinotank | Sky Deck's unnamed jet fighter | Spiky Spinner | Sweeper
Bosses
Chaos 0 | Chaos 2 | Chaos 4 | Chaos 6 | E-101 Beta | E-101 Mark II | E-102 Gamma | E-103 Delta | E-104 Epsilon | E-105 Zeta | Egg Carrier | Egg Hornet | Egg Viper | Egg Walker | Knuckles the Echidna | Perfect Chaos | Sonic the Hedgehog | ZERO
Moves/
Techniques
Playable characters
Bolt of lightning | Climb | Dig | Flight Mode | Glide | Hammer Attack | Hammer Jump | Hover | Homing Attack | Homing Missile Launch | Jump Attack | Laser Gun | Light Speed Attack | Light Speed Dash | Lure Attack | Maximum Heat Knuckles Attack | Pick | Propeller Flight | Punch Attack | Rapid Tails Attack | Spin Dash | Spin Hammer Attack | Spin Jump | Tails Attack
NPCs
Arm Punch | Bomb Attack | Bomb Gun Attack | Charge | Double Punch | Earthquake Attack | Electric Arm | Energy Ball Attack | Flame Thrower Attack | Guiding Missiles | Instantaneous Liquefaction | Laser Beam Attack | Homing Tail Slice | Inhale Attack | Marble Attack | Phantom Shadow Move | Punch | Quarter Attack | Scorpion Attack | Shockwave Attack (Chaos 6) | Sonic Boom | Spin Attack | Spinning Spike Attack | Spouting Attack | Squash Roll Attack | Swing Punch
Gimmicks and obstacles
Bumper | Bumper Car | Cannon | Conveyor Belt | Crank | Dash Panel | Dash Ring | Drum Can | Explosion Trap | Fan | Flipper | Fountain | Goal Balloon | Hanging Bell | Helicopter | Hint Box | Hint Orb | Icicle | Iron ball | Jump Panel (plate) | Jump Panel (ramp) | Jump Ramp | Laser field | Lit Panel | Mirror | Monkey Detonation Switch | Orca | Power cube | Rocket | Satellite | Slot machine | Spring | Spring Catapult | Switch | Teleporter | Wide spring | Wind Path | Zip Line

Objects

General
Air Bubble | Capsule | Cart pass | Chao Egg | Chaos Emerald | Doll | Emblem | Emerald Shard | Employee ID Card | Item Box (5 Rings, 10 Rings, Extra Life, High-Speed Shoes, Invincibility, Magnetic Shield, Random Rings, Shield, Smart Bomb) | Key Stone (Gold Statue, Ice Stone, Silver Statue, Wind Stone) | Point Marker | Ring | Sandboard | Snowboard | Sonic Token
Level Up Items
Ancient Light | Crystal Ring | Fighting Gloves | Jet Anklet | Jet Booster | Laser Blaster | Life Belt | Light Speed Shoes | Long Hammer | Lure | Power Rod | Rhythm Badge | Shovel Claw | Warrior Feather
English voice actors
Ryan Drummond (Sonic) | Corey Bringas (Tails) | Michael McGaharn (Knuckles) | Deem Bristow (Eggman) | Jennifer Douillard (Amy) | Jon St. John (Big) | Elara Distler (Tikal, Station Square Train Voice, Default Menu Voice) | Steve Broadie (Gamma, Pachacamac, Mystic Ruins Train Voice) | Tomoko Sasaki (Chao)
Japanese voice actors
Jun'ichi Kanemaru (Sonic) | Kazuki Hayashi (Tails) | Nobutoshi Canna (Knuckles) | Chikao Ōtsuka (Eggman) | Taeko Kawata (Amy) | Shun Yashiro (Big) | Kaori Asoh (Tikal) | Jōji Nakata (Gamma) | Tōru Ōkawa (Pachacamac) | Kaho Kōda (Station Square Train Voice) | Nobutoshi Canna (Mystic Ruins Train Voice) | Elara Distler (Default Menu Voice) | Tomoko Sasaki (Chao)

Music

Songs
Believe In Myself | It Doesn't Matter | Lazy Days | My Sweet Passion | Open Your Heart | Unknown from M.E.
Albums
Sonic Adventure Original Sound Track (Digi-Log Conversation) | Sonic Adventure Remix | Sonic Adventure: Songs With Attitude Vocal Mini-Album | Sonic Adventure Original Soundtrack 20th Anniversary Edition | Passion & Pride: Anthems with Attitude from the Sonic Adventure Era
Other
777 Slots Pinball | Angel Island | Auto Running | Black Market | Card & Pinball | Chao Garden (Station Square Garden, Mystic Ruins Garden, Egg Carrier Island) | Chao Race | Chao Stadium | Chao in Space | Chao Machine | Chao Search* | Corkscrew loop | Debug Mode | E-100 Series | Egg Carrier | Egg Carrier 2 | Emerald Radar | Freeze | Life gauge | Mission Mode | Mystic Ruins | Shrine of Knuckles's race | Shuttle loop | Sonic Adventure (LCD) | Station Square | Station Square Police Department | Tails' Lab | Tornado | Tornado 2 | Transporter Machine

*Exclusive to Sonic Adventure DX: Director's Cut.
Community content is available under
CC-BY-SA
unless otherwise noted.