For the Archie Comics interpretation of this character, see Duke of Soleanna (Archie).

You're a good girl, Elise. Remember, be brave. Don't cry, no matter what happens.

— The Duke of Soleanna,
Sonic the Hedgehog (2006)
The Duke of Soleanna (ソレアナ王, Soreana-ō?, lit. "King of Soleanna") is a fictional character in the Sonic the Hedgehog series. He was a human, one of the former sovereigns of Soleanna, and the father of Princess Elise. The Duke was the chief scientist and leader of the Solaris Project, an experiment to manipulate time with Solaris for the betterment of mankind. However, the project failed with catastrophic results and ultimately led to the Duke's demise.
History
Past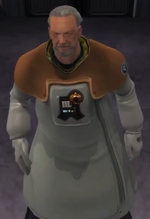 Following the death of Elise's mother, the Duke resolved to use the power of Solaris, the sun god honored by the citizens of Soleanna, to travel through time and see her again, as well as give humanity the chance to correct its past sins. However, the project became unstable when a device they were using exploded, and Solaris split into two villainous entities: Iblis, the raw power, and Mephiles, the conscious mind. The Duke was gravely wounded in the blast while attempting to protect Elise. Upon the arrival of a time-traveling Shadow and Silver, they both split up to pursue and capture Mephiles and Iblis respectively. The Duke, strangely not surprised to see them, gives Shadow the Scepter of Darkness in order to imprison Mephiles.
Once Silver has caught up to Iblis and psychokinetically paralyzed him, the Duke arrives with Elise. Silver shouts at him to leave, but the Duke replies that it is his duty to ensure that Iblis is not released into the world. With no other option, the Duke uses a Chaos Emerald to seal Iblis within Elise's soul during a ritual. When he is successful, he entrusts Silver to take Elise to a safe place, and, while lovingly stroking his daughter's hair, tells her to remain strong and not to cry under any circumstances, as Iblis would be set free if that were to happen. The Duke then dies, leaving Silver alone in the room with an unconscious Elise in his arms.
Due to the actions of Sonic and Elise in the past, which resulted in the permanent destruction of Solaris, it is possible that the Duke either died from another cause, or he may never have died at all. As he was not seen during the game's ending, his exact fate is uncertain.
Personality
The Duke of Soleanna was a seemingly benevolent and selfless humanitarian. He started the Solaris Project for the purpose of helping mankind by controlling time and allow them to correct past mistakes and avoid bitter fates. However, given that he also planned for it to let him and his daughter see his late wife again, it suggests he might have begun the project for his own personal, if not selfish, reasons.
Despite his questionable motives, the Duke had a strong sense of patriotic and kingly duty. Even when on his deathbed, the Duke went through to ensure both Mephiles and Iblis, who were his responsibility, were stopped by giving Shadow the Scepter of Darkness and sealing Iblis inside Elise himself.
The Duke was very compassionate and kind, both as a king and father. He held a great deal of love for his country and its people,[1] and he cared for his daughter dearly, comforting her gently whenever she needed it, even in his last moments. He also believe that a strong ruler would not cry no matter what happened and would often encourage Elise to do so.
In other media
Archie Comics
The Duke of Soleanna is mentioned in the Sonic the Hedgehog comic book series and its spin off comics published by Archie Comics, though he never made an official appearance. Much like in the game, the Duke and his researchers tried to harness Solaris' powers, but ended up splitting it in half. He died after sealing Iblis inside Elise.
Quotes
"When the flame has grown large enough, our world will change. Solaris will allow us to control time and move through history. People will be able to rectify past mistake and avoid bitter fate."
—The Duke of Soleanna explaining their plans for Solaris.
"Eternal Sun! The Living Flame that has been entrusted to the royal family! Fall into slumber with a royal soul!"
—The Duke of Soleanna sealing Iblis.
"That's a good girl, Elise. Remember, Be brave. Don't cry, no matter what happens. Otherwise, your tears will call fourth the flames inside you. Become a strong queen who doesn't cry no matter what happens. And... Live... happily..."
—The Duke of Soleanna's last words to Elise.
Trivia
The "voice" of the Hint Rings in Sonic the Hedgehog (2006) sounds suspiciously similar to the Duke of Soleanna's. They even share the same voice actors in the Japanese cast.
The Duke's use of a Chaos Emerald is the only direct use of a Chaos Emerald by any human so far. Though his daughter used all seven Chaos Emeralds to revive Sonic, Elise was able to transfer the power of the Chaos Emeralds into Sonic to revive him.
Gallery
Concept artwork
Sprites
Models
Screenshots
Wallpapers
References
---
Main article | Script (Sonic, Shadow, Silver, Last) | Staff | Manuals | Glitches | Beta elements | Gallery
Playable characters
Sonic (Super Sonic) | Tails | Knuckles | Shadow (Super Shadow) | Rouge | Omega | Silver (Super Silver) | Blaze | Amy
Non-playable characters
Accordion Player | Adrianna | Alan | Alberto Robert | Alfano | Anna | Antonio | Aristo | Berruni | Bishop | Claudia | Dante | Dr. Eggman | Duchess of Soleanna | Duke of Soleanna | Elkan | Frances | Francesca | GUN Soldier | Galienna | Gina | Hatsun | Herman | Iblis | Ken Williams | Ladies-in-waiting | Liza | Lord Regis | Mancini | Mels | Mephiles (Mephiles's monstrous form) | Mikhail | Monica | Nicolo | Paganini | Parr | Pele | Pinto | Porta | Priest | Princess Elise the Third | Prodi | Pucci (Soleanna Boys) | Puccini | Renzo | Roberta | Rossi | Sabrina | Sandro | Solaris | Soleanna Royal Guards (Alessio, Fabio, Giorgio, Guido, Pietro) | Solomon | Sonic Man | Sophia | Zof
Action Stages
Wave Ocean | Dusty Desert | White Acropolis | Crisis City | Flame Core | Radical Train | Tropical Jungle | Kingdom Valley | Aquatic Base | End of the World
Town Stages
Castle Town | Forest | New City
DLC Stages
Sonic Boss Attack | Shadow Boss Attack | Silver Boss Attack | Team Attack Amigo
Town Missions
Sonic
1 | 2 | 3 | 4 | 5 | 6 | 7 | 8 | 9 | 10 | 11 | 12 | 13 | 14 | 15 | 16 | 17 | 18 | 19 | 20
Shadow
1 | 2 | 3 | 4 | 5 | 6 | 7 | 8 | 9 | 10 | 11 | 12 | 13 | 14 | 15
Silver
1 | 2 | 3 | 4 | 5 | 6 | 7 | 8 | 9 | 10 | 11 | 12 | 13 | 14 | 15 | 16 | 17 | 18
Enemies
Dr. Eggman's mechs
Egg Armor | Egg Bomber | Egg Buster | Egg Buster (Egg Gunner) | Egg Cannon | Egg Chaser | Egg Commander | Egg Flyer | Egg Guardian | Egg Gunner | Egg Hunter | Egg Keeper | Egg Lancer | Egg Liner | Egg Rounder | Egg Searcher | Egg Stinger | Egg Sweeper | Egg Walker
Iblis's Minions
Gazer | Golem | Iblis Biter | Iblis Taker | Iblis Worm | Shadows | Stalker | Titan | Tricker
Bosses
Egg-Cerberus | Egg-Genesis | Egg-Wyvern | Iblis | Mephiles | Shadow | Silver | Solaris | Sonic
Moves/Techniques
Arrow of Light | Accelerator Tornado | Attack | Blast Jump | Bomb | Bomb Snipe | Bound Jump | Chaos Attack | Chaos Boost (Chaos Blast, Chaos Lance, Chaos Snap) | Chaos Spear | Climb | Custom Action (Gun Drive, Homing Smash, Mach Speed, Scale, Slow, Thunder Guard, Tornado) | Crouch | Double Jump | Dummy Ring Blitz | Dummy Ring Bomb | Dummy Ring Snipe | Edge Attack | Fire Claw | Fly | Glide | Grab All | Ground Shaker | Hammer Attack | Heart Mine | Hold Smash | Homing Attack | Hover | Invisibility | Jump Dash | Levitate | Light Dash | Lock-On Shot | Omega Launcher | Omega Shot | Psychokinesis | Psycho Shock | Psycho Smash | Punch Attack | Screwdriver | Shield of Light | Sliding Attack | Spear of Light | Spin Dash | Spin Jump | Spin Kick | Spinning Claw | Teleport Dash | Turbo Boost | Wall Jump | Wings of Light
Vehicles
Bike | Buggy | Hover Craft | Glider
Gimmicks and obstacles
Bungee Rope | Conveyor Belt | Cylinder | Eagle | Eye of Solaris | Hanging Bell | Hint Ring | Horizontal Bar | Jump Panel | Laser field | Lotus | Mechanical Ring | Mirror of Soleanna | Orb statue | Orca | PK mark | Purple orb | Point Marker | Pulley | Rainbow Ring | Silver Sphere | Sphere | Spiked bar | Spotlight | Spring | Switch | Tightrope | Trick Jump Panel | Turtle | Vine | Warp Hole | Wide spring | Wind switch
Items
General
Apple | Barrel | Chaos Drive | Container (Blue crate, Case, Explosive crate, Steel Container, Wooden Container) | Custom Shoes | Dummy Ring | Explosion Trap | Goal Ring | Heart bomb | Item Box (Extra Life, Gauge Up, High Speed, Invincible, Rings) | Key | Light Core | Medal | Minecart | Ring | Snowboard
Level Up Items
Air Chip | Antigravity | Bounce Bracelet | Gem (Blue Gem, Green Gem, Purple Gem, Rainbow Gem, Red Gem, Sky Gem, White Gem, Yellow Gem) | Heart of Wind | Light Chip | Memory Shard (black) | Memory Shard (blue) | Memory Shard (red) | Power Bracelet | Shock Bracelet | Single-Layered Extreme
English voice actors
Jason Griffith (Sonic, Shadow the Hedgehog) | Pete Capella (Silver the Hedgehog) | Lacey Chabert (Princess Elise) | Mike Pollock (Dr. Eggman, Narrator) | Amy Palant | (Tails, Ladies-in-waiting) | Lisa Ortiz (Amy, Ladies-in-waiting) | Bella Hudson (Blaze) | Dan Green (Knuckles, Mephiles, Solaris Project scientists) | Kathleen Delaney (Rouge) | Maddie Blaustein (Omega) | David Wills (Duke, G.U.N communitcator)
Japanese voice actors
Jun'ichi Kanemaru (Sonic) | Kōji Yusa (Shadow) | Daisuke Ono (Silver) | Maaya Sakamoto (Princess Elise) | Chikao Ōtsuka (Dr. Eggman) Kenji Utsumi (Narrator, Duke) | Ryō Hirohashi (Tails) | Hikari Yono (Ladies-in-waiting) | Nao Takamori (Blaze) | Nobutoshi Canna (Knuckles) | Takayuki Sakazume (Mephiles) | Keiji Okuda (Solaris Project scientist, G.U.N. communicator) | Yoshikazu Kozuma (Solaris Project scientist) | Rumi Ochiai (Rouge) | Taeko Kawata (Amy) | Taiten Kusunoki (Omega)
Music
Songs
All Hail Shadow | Dreams of an Absolution | His World | My Destiny | Solaris Phase 1 | Sweet Dreams AKON Mix
Albums
Sonic the Hedgehog Vocal Traxx: Several Wills | Sonic the Hedgehog Vocal Traxx: Several Wills
Other
Action Gauge | Auto Running | Chao in Space | Sonic the Hedgehog CHAOS CRUSH! | Day of Disaster | Doctor Eggman's chair | Egg Carrier | Egg train | Festival of the Sun | Havok | Health Gauge | Rank | Rimlight | Scepter of Darkness | Shop | Soleanna | Solaris Project | Super-Speed Stage
Community content is available under
CC-BY-SA
unless otherwise noted.