Arcane: League of Legends - The Loop
Play Sound
For general objects, see Barrel (object).
The Drum (ドラム[1], doramu?, lit. "drum") are gimmicks that appear in Sonic the Hedgehog series. They are cylinder-shaped barrels that are normally found floating in midair and can sometimes be used to progress with the Zones.
Description
Drums are found in amusement park-themed Zones. Its general appearance seem to be based on real-life circus cylinders and barrels used by clowns or trapeze performers. The Drum functions differently depending the game, though the common feature is to stand on it and being capable of moving it.
Game appearances
Sonic the Hedgehog 3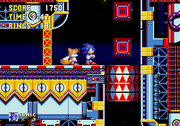 Drums in Sonic the Hedgehog 3 are the main gimmicks of Carnival Night Zone. These rotating Drums are red with rows of white diamond shapes on them and generally float in midair. While the player stands on them, the playable character will rotate with them. There are two types of this gimmicks. The first type work as moving blocks. Like the rotating pillars in Hydrocity Zone, they can move in all four cardinal directions, sometimes in square formations. However they can as well crush the characters if the player get stuck between them and an incoming surface.
Another type of Drum works as a stationary platform until the player interacts with it. By jumping on it and then pressing up and down on

, the player can make this Drum swing up and down. Depending on how long the player moves the Drum, its swinging area will increase and when the playable character gets off it, the Drum will steadily return to its original position. There are also sections in the Zone where the player has to move these Drums to reach pathways above or below them.
Sonic Advance

In Sonic Advance, yellow Drums with a blue background and yellow stars on them are found in Casino Paradise Zone. They are not common gimmicks and remain stationary. When the player stands on it, the Drum moves only slightly. However, the player can make it launch them up a little bit by pressing up and down on

, like in Sonic the Hedgehog 3.
Trivia
Near the end of Carnival Night Zone Act 2, the player comes to the room with a single Drum placed in a shaft (see the image on left of "Game appearances" section). Instruction booklets and the game itself do not give any hints to the Drum's functionality, giving the players a hard time understanding how it works. Because of this, this Drum has received the nickname "Barrel of Doom" from the fan community. A fan question related to the Drum was presented to the game's senior level designer Takashi Iizuka at the Summer of Sonic event in 2011. Iizuka mentioned it was an idea from Hirokazu Yasuhara, the lead game designer. After giving this statement, Yuji Naka commented his understatement for many players finding it hard to understand the Drum's functionality and gave his official apology for including it in the game.[2]

In Sonic the Hedgehog 3 & Knuckles, Knuckles skips this section completely by using his lower pathway to reach the end of the Zone.

The fan community's dislike of the Drum was referenced in Sonic Universe #67 where E-123 Omega blew up said Drum while passing through the Carnival Night Zone.
In LEGO Dimensions, the Drum appears several times and its infamy in the fanbase is referenced on several occasions. Omochao even refers to it as the "Barrel of Doom" in the Sonic the Hedgehog Adventure World.

An official mug based on the Drum was revealed during the official Sonic panel at SXSW 2019. It was soon available to purchase from the Sega Shop.

In Shadow the Hedgehog, there are floating Drums in Circus Park that are almost identical to the ones in Sonic the Hedgehog 3. Despite their appearance, they function as normal tubular platforms without any features.
References
---
Main articles (Sonic 3, Sonic & Knuckles, Sonic 3 & Knuckles, Sonic & Knuckles Collection) | Staff (Sonic 3, Sonic & Knuckles, Sonic & Knuckles Collection) | Manuals (Sonic 3, Sonic & Knuckles) | Glitches (Sonic 3, Sonic 3 & Knuckles, Sonic & Knuckles Collection) | Beta elements (Sonic 3, Sonic & Knuckles, Sonic 3 & Knuckles) | Galleries (Sonic 3, Sonic & Knuckles, Sonic & Knuckles Collection)
Playable characters
Sonic (Super Sonic, Hyper Sonic) | Tails (Super Tails) | Knuckles (Super Knuckles, Hyper Knuckles)
Non-playable characters
Dr. Robotnik | Rock Drill | Mecha Sonic (Mecha Sonic's Super State) | Animals (Flicky (Flicky's Super State), Pocky, Pecky, Cucky, Ricky, Rocky)
Badniks
Batbot | Blaster | Blastoid (Carnival Night Zone) | Blastoid (Hydrocity Zone) | Bloominator | Bubbles | Bugernaut | Butterdroid | Catakiller, Jr. | Chainspike | Clamer | Cluckoid | Corkey | Dragonfly | EggRobo | Fireworm | Flybot767 | Hyudoro | Iwamodoki | Jawz | Madmole | Mantis | Mega Chopper | Monkey Dude | Mushmeanie | Orbinaut | Penguinator | Pointdexter | RhinoBot | Ribot | Rock'n | Sandworm | Skorp | Snale Blaster | Spikebonker | Spiker | Star Pointer | Technosqueek | Toxomister | Turbo Spiker
Zones
Sonic 3
Angel Island Zone | Hydrocity Zone | Marble Garden Zone | Carnival Night Zone | IceCap Zone | Launch Base Zone | Special Stages | Bonus Stages
Sonic & Knuckles
Mushroom Hill Zone | Flying Battery Zone | Sandopolis Zone | Lava Reef Zone | Hidden Palace Zone | Sky Sanctuary Zone | Death Egg Zone | The Doomsday Zone | Special Stages | Bonus Stages
Competition
Azure Lake | Balloon Park | Chrome Gadget | Desert Palace | Endless Mine
Bosses
Sub-bosses
Doctor Robotnik's Flame Craft | Doctor Robotnik's Whirlpool Machine | Tunnelbot | Self D-Struct Machine | Iceball | Swing'm Spikez | Hei Hou | Gapsule | Barrier Eggman | Guardian | Heat Arms | Egg Mobile-H | Flying Eggman | Red Eye | Death Ball
Zone bosses
Doctor Robotnik's Flame Craft | Doctor Robotnik's Waterspout and Depth Charge Machine | Doctor Robotnik's Jet Drill Pod | Doctor Robotnik's Energy Ship | Doctor Robotnik's Freeze-O-Matic | Ball Shooter | Beam Rocket | Big Arm | Jet Mobile | Hang Mobile | Egg Golem | Hot Mobile | Knuckles | Mecha Sonic | Mecha Sonic's Super State | Great Eggman Robo | Final Weapon
Moves/Techniques
Bound Jump | Crouch | Double Jump | Fireball Spin Dash | Glide | Gliding Knuckles Attack | Hyper Flash | Insta-Shield | Propeller Flying | Spin Attack | Spin Dash | Spin Jump | Swim | Wall Climb
Items
Air Bubble | Balloon | Banana | Bomb | Booster | Bumper | Bumper wall | Cannon | Capsule | Change | Chaos Emerald | Cloud | Continue | Electrical emitter | Fan | Jump Stand | Monitor (Water Shield, Flame Shield, Invincibility, Lightning Shield, Super Ring, Super Shoes, Extra Life, S, Eggman) | Movable box | Mushroom | Pulley | Ring | Signpost | Self-Propelled Bomb | Slow-Down Shoes | Snowboard | Sphere | Spikes | Spring | Spinning Top | Star Post (Star Circle) | Super Emerald | Switch | Transport | Vine | Zip Line
Other
Conveyor Belt | Corkscrew loop | Crusher | Death Egg | Debug Mode | Drum | Fireball Cannon | Flipper | Floating Island | Flywheel | Freeze | Giant spear | Goal | Gravity Control Switch | Gumball | High-speed elevator | High-speed warp tube | Icicle | Iron ball | Jewel Radar | Perfect Bonus | Platform-raising Wheel | Pole Elevator | Relief | Reverse | Ring Shooter | Seesaw | Shuttle loop | Slot machine | Snowblower | Sonic & Knuckles • Sonic the Hedgehog 3 | Sonic the Hedgehog 3 (LCD) | Strange Relief | Time Attack | Tornado | Warp Point | Winding Tunnel | "Wonderman"
---
Main article | Staff | Glitches | Beta elements | Gallery | Re-releases (SonicN | Android)
Playable characters
Sonic | Tails | Knuckles | Amy
Non-playable characters
Eggman | Chao (Gold Chao) | Animals (Deer, Elephant, Flicky, Gorilla, Kangaroo, Koala, Lion, Mole, Parrot, Peacock, Penguin, Picky, Pocky, Rabbit, Ricky, Robin, Sea Otter, Seal, Skunk)
Zones
Neo Green Hill Zone | Secret Base Zone | Casino Paradise Zone | Ice Mountain Zone | Angel Island Zone | Egg Rocket Zone | Cosmic Angel Zone | X-Zone | The Moon Zone | Special Stage
Enemies
Buzzer | Drisame | GamiGami | Hanabii | Kero-Kero | Kiki | Kura | Leon | Mirror | Mogu | Oct | Pen | Pierrot | Rhinotank | Senbon | Slot | Tentou | Wamu | Yukimaru
Bosses
Egg Hammer Tank | Egg Press | Egg Ball | Egg Spider | Mecha Knuckles | Egg Snake | Egg Mobile-H | Egg Mobile-D | EGG X | Super Egg Robot
Moves/technique
Climb | Glide | Grinding | Hammer Attack | Hammer Jump | Hammer Whirl | Jump Dash | Giant Steps | Insta-Shield | Jump Attack | Look down | Propeller Flying | Skid Attack | Spin Attack | Spin Dash | Super Sonic Boost | Somersault | Swimming | Tail Swipe
Gimmicks and obstacles
Balloon | Bumper | Bumper wall | Capsule | Checkpoint | Cloud | Conveyor Belt | Dash Panel | Drum | Fan | Flipper | Goal Plate | Grind Rail | High-speed warp tube | Iron ball | Pole | Special Spring | Spikes | Spring | Zip Line
Items
Box (? Ring, 5 Rings, 10 Rings, Barrier,

Blind

, Brake, Confusion, Extra Life, Invincible, Magnetic Barrier, Speed Boots,

Transparency

, Warp) | Continue | Ring
Other
Chao Search | Moon | Pulley | Shuttle loop | Time Attack | Tiny Chao Garden | Time Over | Tornado |

Trick Point

| Winding Tunnel
---
Main article | Scripts (Main Story, Last Story) | Credits | Manuals | Glitches | Beta elements | Library Sequences | Gallery
Playable characters
Shadow (Hero Shadow, Dark Shadow, Super Shadow) | Shadow Android
Non-playable characters
Black Doom (Devil Doom) | Dr. Eggman | Sonic | Tails | Knuckles | Amy | Rouge | Omega | Team Chaotix (Vector, Espio, Charmy) | Cream | Cheese | Maria | Gerald | Commander | President | Researcher | Secretary | Chao

Stages

Air Fleet | Black Comet | Central City | Circus Park | Cosmic Fall | Cryptic Castle | Death Ruins | Digital Circuit | Final Haunt | GUN Fortress | Glyphic Canyon | Iron Jungle | Lava Shelter | Lethal Highway | Lost Impact | Mad Matrix | Prison Island | Sky Troops | Space Gadget | The ARK | The Doom | The Last Way | Westopolis
Enemies
Ark Missile Turret | Artificial Chaos (Artificial Chaos P-100, Cell) | Black Assassin | Black Hawk | Black Oak | Black Volt | Black Warrior | Black Wing | Black Worm | Big Foot Type A | Big Foot Type B | Death Leech | Death Worm | Egg Bommer | Egg Pawn | Egg Pierrot | Giant Walker | Giga Trooper | Gold Beetle | Gun Beetle | GUN Soldier | GUN Trooper | Jack Bommer | Killer Plant | Mono Beetle | Rocket Beetle | Sand Worm | Shadow Android | Spark Beetle
Bosses
Black Bull | Black Doom | Blue Falcon | Devil Doom | Diablon | Egg Breaker | Egg Dealer | Heavy Dog
Moves/Techniques
Chaos Blast | Chaos Control | Chaos Spear | Crouch | Dark Spin Dash | Grinding | Grind Step | Homing Attack | Hover | Jump Dash | Light Dash | Mid-Air Attack | Missile Fever | Overturn | Pawn Fever | Pick up | Punch | Ring Fever | Shadow Fever | Slide | Spin Dash | Spin Jump | Strafe | Swift strike | Tail Swipe | Triangle Jump
Vehicles
Air Saucer | Convertible | GUN Motorcycle | GUN Vehicle | HMMWV | Jump Vehicle
Gimmicks and obstacles
Barrier | Black Slab | Case | Cell Cannon | City annihilator bomb | Coaster | Color Panel | Drum | Electrified Rail | Fan | Firewall | Gravity Control Switch | Green energy fluid | Gun Lift | Gun ship | GUN turret | Hint Ring | Jump Panel (Prison Island) | Jump Panel (ramp) | Junction switch | Lantern | Laser field | Laser turret | Light-speed circuit | Meteorite | Pole | Pulley | Red fruit | Red Slime | Rocket | Secret Door | Shield switch | Shooting Gallery | Small bomb | Surveillance camera | Toxic marsh | Toxic river | Vine | Warp Hole | Wide spring

Items

General
Black Tank | Bomb Unit | Chaos Emerald | Container (Special Weapon Container, Steel Container, Unbreakable Container, Wooden Container) | Core program | Defense Unit | Egg Balloon | Energy Core | Floating Item Box | Goal Ring | Heal Unit | Item Box (1-Up, Barrier, Damage Recover, Heat Barrier, Invincible, Magnetic Barrier, Rings) | President's escape pod | Ring | Secret Key | Temple jewel

Weapons

4-Shot RPG | 8-Shot RPG | Bazooka | Big Worm Shooter | Big Barrel | Black Barrel | Black Sword | Bomb Fever | Egg Bazooka | Egg Gun | Egg Spear | Egg Vacuum |

Environment Objects

| Flash Shot | Gatling Gun | Grenade Launcher | Heal Cannon | Heavy Machine Gun | Heavy Shot | Laser Rifle | Light Shot | Omochao Gun | Pistol | Refractor | RPG | Samurai Blade | Satellite Gun | Semi-Auto Rifle | Shadow Rifle | Splitter | Sub-Machine Gun | Survival Knife | Tank Cannon | Vacuum Pod | Wide Worm Shooter | Worm Shooter
English voice actors
Jason Griffith (Sonic, Shadow) | Sean Schemmel (Black Doom) | Mike Pollock (Eggman, Gerald) | Amy Palant (Tails) | Dan Green (Knuckles) | Lisa Ortiz (Amy) | Kathleen Delaney (Rouge) | Rebecca Honig (Cream, Maria) | Carter Cathcart (Vector) | David Wills (Espio) | Amy Birnbaum (Charmy) | Jeff Kramer (Omega) | Andrew Rannells (GUN Soldier) | Marc Thompson (Commander) | Maddie Blaustein (President) | Bella Hudson (Secretary)
Japanese voice actors
Kōji Yusa (Shadow) | Jun'ichi Kanemaru (Sonic) | Ryūzaburō Ōtomo (Black Doom) | Chikao Ōtsuka (Eggman, Gerald) | Ryō Hirohashi (Tails) | Nobutoshi Canna (Knuckles) | Taeko Kawata (Amy) | Rumi Ochiai (Rouge) | Sayaka Aoki (Cream) | Yuri Shiratori (Maria) | Kenta Miyake (Vector) | Yūki Masuda (Espio) | Yōko Teppōzuka (Charmy) | Taiten Kusunoki (Omega) | Takashi Yoshida (GUN Soldier) | Banjō Ginga (Commander) | Yutaka Nakano (President) | Junko Kitanishi (Secretary) | Ryō Hirohashi (Additional Chao)

Music

Songs
"All Hail Shadow" | "Almost Dead" | "E.G.G.M.A.N Doc. Robeatnix Mix" | "I Am... All of Me" | "Never Turn Back" | "The Chosen One" | "Tripod Baby" | "Vengeance is Mine" | "Waking Up" | "Who I Am" (unused)
Albums
Lost and Found: Shadow the Hedgehog Vocal Trax | Shadow the Hedgehog Official Soundtrack | Shadow the Hedgehog Original Soundtrax
Other
Battle Mode | Black Comet | Central Information Agency | Eclipse Cannon | Dark Gauge | Dark Rider | Egg Monitor | Eggman Fleet | Expert Mode | Fire in the Sky Festival | Health Gauge | Hero Gauge | Mother computer | Prison Island | Prosperity ritual | Rank | Shadow the Hedgehog Flash | Space Colony ARK | Tails' Spaceship | White House