Raise a Floppa - The Loop
Play Sound
The Drill Claw (ドリルクロー, Doriru Kurō?) is a recurring move in the Sonic the Hedgehog series. It is one of Knuckles the Echidna's signature moves. When performing this move, the user does a spiraling dive in midair to attack opponents. It is the equivalent to Rouge the Bat's Drill Drive.
Description
When performing the Drill Claw, the user stops in midair and dives straight downward fist-first on any target below them while twirling around their vertical axis. As the move is performed, the user turns into a drilling projectile that can pierce through enemies. Knuckles in particular can strike with such force behind his blow that his fists catch on fire.
In gameplay, the Drill Claw is useful for reaching targets below the playable characters with an attack just as they jump/fly over them while allowing the player to damage enemies, break weak obstacles and certain platforms, and open Item Boxes in the user's path.
Game appearances
Sonic Adventure 2
The Drill Claw first appeared in Sonic Adventure 2 and its remake, Sonic Adventure 2: Battle, where it is only usable by Knuckles the Echidna and Tikal. In these games, the users move with such speed when using the Drill Claw that they leave afterimages.
To use the Drill Claw in gameplay, the player must press

/

/

while in midair. While falling due to the move, the Drill Claw can be canceled before hitting the ground, leaving the user able to either fall normally or glide. This makes the Drill Claw a quick way for the player to descend. If the user touches the ground with the Drill Claw, they will automatically perform Dig (in Knuckles' case, he must possess the Shovel Claws for this to work). In addition, Knuckles' Drill Claw can be enhanced with the Hammer Gloves, allowing it to break Steel Containers.
Sonic Advance series
Sonic Advance 2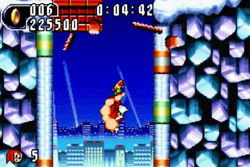 In Sonic Advance 2, the Drill Claw serves both as one of Knuckles' regular moves and his Stop 'n' Slam maneuver. When using it, Knuckles' fists will be engulfed in flames .
To use the Drill Claw as a regular move, the player must press

while in mid-jump. To use it as a Stop 'n' Slam maneuver, the player must press down on

and the R Button at the same time after being launched into midair by gimmicks such as the Spring and Ramp. When used as the latter maneuver, the Drill Claw will not cancel the momentum Knuckles receives from the Boost Mode.
Sonic Advance 3
In Sonic Advance 3, the Drill Claw returned as a standard move for Knuckles. It also retains its visual presentation from Sonic Advance 2. In this game, Knuckles can only use the Drill Claw when having Amy Rose as his partner. To use the Drill Claw in gameplay, the player must press down on

and

at the same time while in mid-jump.
---
Main article | Scripts (Hero, Dark, Last) | Staff | Manuals | Glitches | Beta elements | Gallery | Pre-releases (The Trial) | Re-releases (Battle, 2012)
Playable characters

Hero
Sonic (Super Sonic) | Tails | Knuckles
Dark
Shadow (Super Shadow) | Rouge | Eggman
Misc.
Amy* | Big*^ | Chao Walker* | Chaos* | Dark Chao Walker* | Metal Sonic* | Tikal*
Non-playable characters
Chao (Chao Principal, Chaolin, Chaoko, Chaos Chao, Chaosky, Dark Chao, Dinner, Happy, Hero Chao, Wacky) | Gerald | Maria | President | Scorpion Troop | Secretary | Sigma-Alpha 2 | Spider Troop | Researcher | Animals (Bat, Bear, Boar, Cheetah, Condor, Dragon, Gorilla, Half Fish, Parrot, Peacock, Penguin, Phoenix, Rabbit, Raccoon, Seal, Sea Otter, Sheep, Skeleton Dog, Skunk, Tiger, Unicorn)

Stages

Hero
City Escape | Wild Canyon | Prison Lane | Metal Harbor | Green Forest | Pumpkin Hill | Mission Street | Aquatic Mine | Route 101 | Hidden Base | Pyramid Cave | Death Chamber | Eternal Engine | Meteor Herd | Crazy Gadget | Final Rush
Dark
Iron Gate | Dry Lagoon | Sand Ocean | Radical Highway | Egg Quarters | Lost Colony | Weapons Bed | Security Hall | White Jungle | Route 280 | Sky Rail | Mad Space | Cosmic Wall | Final Chase
Misc.
Cannon's Core | Green Hill
2P Stages
Downtown Race | Grind Race | Planet Quest | Pool Quest | Deck Race | Pyramid Race
Enemies
G.U.N.
Blue Eagle | Bomb Beetle | Bomb Wing | Gold Beetle | Gun Hawk | Gun Beetle | Gun Hawk | Gun Hunter | Gun Wing | Hornet-3 | Hornet-6 | Hornet-9 | Laser Hawk | Laser Hornet | Laser Hunter | Mono Beetle | Phoenix | Rhino Cannon | Rhino Jet | Rhino Metal | Rhino Spike | Shield Hunter | Sky Hawk | Spark Beetle | Spring Beetle
Badniks
Buzz Bomber | Chopper | E-1000 | Gola | Unidus | Kiki
Misc.
Artificial Chaos (Artificial Chaos P-1, Artificial Chaos P-100, Cell, Float Type, Guard Type) | Boo | Boom Boo
Bosses
B-3x Hot Shot | Biolizard | Dr. Eggman | Egg Golem | F-6t Big Foot | Finalhazard | King Boom Boo | Knuckles | R-1/A Flying Dog | Rouge | Shadow | Sonic | Tails
Moves/Techniques
Amy Flash* | Black Shield* | Black Wave* | Booming Missile* | Bounce Attack | Captive Light* | Chaos Bind* | Chaos Control | Chaos Impact* | Chaos Screw* | Chaos Spear | Chaos Strike* | Charm Ray* | Crazy Rush* | Crouch | Dark Finish* | Dark Omochao* | Dig | Drill Claw | Drill Drive | Fire Somersault | Glide | Grind Step | Grinding | Hammer Punch* | Heaven's Justice* | Hell Bomber* | Hip Drop* | Hover | Homing Attack | Jump Dash | Kick/Kick Attack | Knuckle Spin* | Laser Missile* | Light Attack | Light Speed Dash | Lock-on | Lock-On Missile | Magic Hands | Omochao | Pick | Power Flash* | Power Laser* | Propeller Punch | Punch (Eggwalker) | Punch/Punch Attack | Rocket Launcher | Rumble Launcher* | Screw Kick | Somersault | Sonic Wind* | Speed Up* | Spin Jump | Spin Dash | Spiral Upper | Storming Heart* | Super Sonic Boost | Swim | Thunder Arrow* | Time Stop* | Volkan Cannon | Wrath of Gaia* | Zap Laser*
Gimmicks and obstacles
Ancient Ruin | Ball Switch | Bungie Vine | Dash Panel | Dynamite | Egg Beetle | Gravity Control Switch | Green energy fluid | Grind Rail | GUN Military Truck | High-speed warp tube | Hint Box | Hourglass | Iron ball | Jump Plate | Laser field | Missile | Pipe | Point Marker | Propeller Spring | Pulley | Ramp | Rocket | Safe | Sinking pool | Spikes | Spinning drum | Swing Bar | Time Stop Switch | Turtle | Warp Hole | Warp Wall | Weight | Wide spring

Items

General
Air Bubble | Balloon | Chao Egg | Chao Key | Chaos Emerald | Chaos Drive | Container (Cage, Chao Container, Steel Container, Unbreakable Container, Wooden Container) | Emblem | Emerald Shard | Goal Ring | Item Box (5 Rings, 10 Rings, 20 Rings, Bomb, Extra Life, Health, High-Speed Shoes, Invincibility, Magnetic Shield, Shield) | Key Stone (Gate Key) | Meteorite | Outfit | Ring | Snowboard
Level Up Items
Air Necklace | Air Shoes | Ancient Light | Bazooka | Booster | Bounce Bracelet | Flame Ring | Hammer Gloves | Iron Boots | Jet Engine | Large Cannon | Laser Blaster | Light Speed Shoes | Magic Gloves | Mystic Melody | Pick Nails | Protective Armor | Shovel Claw | Sunglasses | Treasure Scope
English voice actors
Ryan Drummond (Sonic) | Connor Bringas (Tails) | Scott Dreier (Knuckles/GUN Soldiers) | Jennifer Douillard (Amy) | David Humphrey (Shadow) | Lani Minella (Rouge/Omochao) | Deem Bristow (Eggman) | Moriah Angeline (Maria) | Marc Biagi (Gerald/GUN Soldiers) | Steve Broadie (President) | Shelly Fox (Default menu voice) | Jon St. John (Big) | Elara Distler (Tikal) | Tomoko Sasaki (Chao)
Japanese voice actors
Jun'ichi Kanemaru (Sonic) | Kazuki Hayashi (Tails) | Nobutoshi Canna (Knuckles) | Taeko Kawata (Amy) | Kōji Yusa (Shadow) | Rumi Ochiai (Rouge) | Chikao Ōtsuka (Eggman ) | Etsuko Kozakura (Omochao) | Yuri Shiratori (Maria) | Kinryū Arimoto (President) | Shun Yashiro (Big) | Shelly Fox (Default menu voice) | Tomoko Sasaki (Chao)

Music

Songs
"A Ghost's Pumpkin Soup" | "Believe In Myself" | "Deeper" | "Dive into the Mellow" | "E.G.G.M.A.N." | "Escape from the City" | "Fly in the Freedom" | "For True Story" | "It Doesn't Matter" | "Kick the Rock!" | "Live and Learn" | "My Sweet Passion" | "Rhythm And Balance" | "Space Trip Steps" | "Supporting Me" | "The Supernatural" | "Throw It All Away" | "Unknown from M.E." | "Vengeance is Mine"
Albums
Multi-Dimensional Sonic Adventure 2 Original Sound Track | Passion & Pride: Anthems with Attitude from the Sonic Adventure Era | Sonic Adventure 2 Battle - Sampler | Sonic Adventure 2 Official Soundtrack | SONIC ADVENTURE 2 OFFICIAL SOUNDTRACK VINYL EDITION | Sonic Adventure 2 Original Soundtrack 20th Anniversary Edition | Sonic Adventure 2 Vocal Collection: Cuts Unleashed
Other
2G Hi-Speed Shoes | Altar of Emerald | Angel Island | Auto Running | Black Market | Central City | Chao Adventure 2^ | Chao Garden (Dark, Hero, Neutral) | Chao in Space | Chao Kindergarten | Chao Lobby | Chao Machine | Chao Race | Chao Stadium | Chao Transporter^ | Chao World | Corkscrew | Cyclone | Eclipse Cannon | Eggman Bombom | Eggwalker | Emerald Radar | Fake Emerald | Game Over | Gerald Robotnik's diary | Health Gauge | Kart Race | Life | Loop | Prison Island | Project Shadow | Rank | Space Colony ARK | Station Square | Teleporter | Totem pole | Tunnel | Water

*Appears or is playable in only the 2P mode
^Exclusive to the Dreamcast version of Sonic Adventure 2
---
Main article | Staff | Glitches | Beta elements | Gallery
Playable characters
Sonic (Super Sonic) | Tails | Knuckles | Cream | Cheese | Amy
Non-playable characters
Dr. Eggman | Vanilla | Guard Robo | Chao | Animals (Deer, Elephant, Flicky, Gorilla, Koala, Kangaroo, Lion, Mole, Parrot, Peacock, Penguin, Rabbit, Robin, Sea Otter, Seal, Skunk)
Zones
Leaf Forest | Hot Crater | Music Plant | Ice Paradise | Sky Canyon | Techno Base | Egg Utopia | XX | True Area 53 | Special Stages
Enemies
Balloon | Bell | Buzzer | Circus | Flickey | Geji-Geji | Gohla | Hammerhead | Kiki | Koura | Kubinaga | Kura-Kura | Kyura | Madillo | Mon | Mouse | Pen | Piko-Piko | Spina | Star | Straw | Yado
Bosses
EggHammerTankII | Egg Bomber Tank | Egg Totem | Aero Egg | Egg Saucer | Egg-Go-Round | Egg Frog | Super Eggrobo Z | True Area 53 boss
Moves/
Techniques
General
Amy Dash | Boost Mode | Bound | Chao Attack | Chao Rolling Attack | Crouch | Double Spin Attack | Drill Claw | Double Punch | Flying | Grinding | Hammer Attack | Head Slide | Homing Attack | Jump Dash | Mid-Air Glide | Mid-Air Hammer Swirl | Propeller Flying | Spin Attack | Spin Dash | Spiral Attack | Skid Attack | Step Attack | Super Hammer Attack | Super Skid | Super Sonic Boost | Super Tails Swipe | Swim | Tail Swipe | Wall Climb
Mid-Air Trick Actions
Big Air (Happy Spring, Hop Jump, Petit Step, Spiral Upper) | Long Wind Jump (Burning Straight, Humming Top, Sweet Roll, Window Jump) | Stop 'n' Slam (Bound, Drill Claw, Mid-Air Hammer Swirl, Propeller Descent, Soft Bomber) | Quick Reverse (Back Attack, Back Rotor, Back Star, Milky Turn)
Gimmicks and obstacles
Bumper wall | Cannon | Checkpoint | Dash Panel | Dropping platform | Fan | Gravity Control Switch | Grind Rail | Iron ball | Jump Panel | Pole | Spikes] | Spin ring | Spring
Items
Box (1-Up, 5 Ring Bonus, 10 Ring Bonus,

Attack

, Brake, Confusion, Invincibility, Maximum Speed, Mosaic, Random Ring Bonus, Ring Magnet, Shield, Warp) | Chaos Emerald | Ring | Special Ring
Other
Auto Running | Chao Bounce | Chao Search | Corkscrew | Freeze | Life | Loop | Time Attack | Time Over | Tiny Chao Garden | Tube
---
Main article | Staff | Glitches | Gallery
Playable characters
Sonic (Super Sonic) | Tails | Knuckles | Amy | Cream | Cheese | Eggman
Non-playable characters
Vanilla | Gemerl (Ultimate Gemerl) | Chao | Omochao
Zones
Route 99 | Sunset Hill | Ocean Base | Toy Kingdom | Twinkle Snow | Cyber Track | Chaos Angel | Altar Emerald | Nonaggression | Special Stage
Enemies
Akatento | Aotento | Ape | Bu-Bu | Buzzer | Clam | Condor | Gaogao | Gekogeko | Ginpe | Guards | Guruguru | Hariisen | Jousun | Juggling | Kamaki | Kyacchaa | Marun | Minimole | Muukaden | Spina | Takkon | Uutsubo | Yadokk | Yukigasen
Bosses
Egg Hammer 3 | Egg Ball No.2 | Egg Foot | Egg Cube | Egg Chaser | Egg Pinball | Egg Gravity | Hyper Eggrobo | Ultimate Gemerl
Moves/
Techniques
General
Amy Dash | Big Hammer Attack | Boost Mode | Bound Attack | Breast Stroke |

Breathe

| Chao Attack | Chao Ball Attack | Chao Spin | Chao Spinning Attack | Dash Climb | Dog Paddle | Double Mid-Air Glide | Double Punch | Drill Claw | Fire Sliding | Flying | Floating Fall | Grinding | Hammer Attack | Hammer Jump | Hammer Propeller Flying | Head Slide | High Propeller Flying | Hip Drop | Homing Attack | Jump Dash | Leap |

Life Ring

| Look down | Mid-Air Dash Glide | Propeller Flying |

Mid-Air Chao Attack

|

Mid-Air Chao Ball Attack

|

Mid-Air Chao Spinning Attack

| Mid-Air Glide | Mid-Air Hammer Attack | Mid-Air Hammer Jump | Skid Attack | Spin |

Spin Attack

| Spin Dash | Spin Jump | Super Sonic Boost | Spinning Hammer Attack | Spiral Upper | Tag Action | Tail Spin Attack | Tail Swipe | Tornado Attack | Upper Spin | Wall Climb | Wind Attack
Mid-Air Trick Actions
Big Air (Happy Spring, Hop Jump, Petit Step) | Long Wind Jump (Humming Top, Sweet Roll, Window Jump) | Stop 'n' Slam (Bound Attack, Spinning Hammer Attack, Propeller Descent, Hip Drop)
Gimmicks and obstacles
Balloon | Bungee Rope | Checkpoint | Dash Panel | Flywheel | Gondola | Grind Rail | High-speed warp tube | Iron ball | Jump Panel | Minecart | Platform-raising Wheel | Pole | Propeller Spring | Pulley | Seesaw | Snowblower | Special Spring | Spin ring | Switch
Items
Act Ring | Box (1-Up, 5 Ring Bonus, 10 Ring Bonus, Confusion, Invincibility,

Minus Ring

, Maximum Speed, Mosaic, Random Ring Bonus, Ring Magnet, Shield, Slow, Swap, Transparency) | Capsule | Chaos Emerald | Factory Ring | Goal Medal | Ring | Special Key
English voice actors
Ryan Drummond (Sonic) | Deem Bristow (Eggman) | William Corkery (Tails) | Scott Dreier (Knuckles) | Jon St. John (Announcer) | Jennifer Douillard (Amy) | Sarah Wulfeck (Cream)
Japanese voice actors
Jun'ichi Kanemaru (Sonic the Hedgehog) | Chikao Ōtsuka (Eggman) | Ryō Hirohashi (Tails) | Nobutoshi Canna (Knuckles) | Taeko Kawata (Amy) | Sayaka Aoki (Cream)
Other
Altar of Emerald | Angel Island | Chao Playground | Corkscrew | Fly Type | Freeze | Life | Loop | Mini-Games | Power Type | Sonic Factory | Speed Type | Time Attack | Tornado 2 | Water