This article is about a subject in the real world.

Information in this article is about real-life people, companies, and objects, and does not relate to the in-universe Sonic series.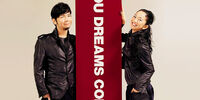 Dreams Come True (ドリームズ・カム・トゥルー, Dorīmuzu Kamu Turū?) is a music duo from Japan, formed in 1988 that has sold more than 50 million records worldwide. They were also the group responsible for a majority of the music in the games Sonic the Hedgehog and Sonic the Hedgehog 2.
Relevant history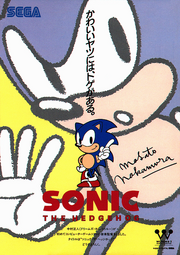 Dreams Come True was started by bassist Masato Nakamura, and is fronted by Miwa Yoshida, who is the band's main singer-songwriter. They were originally a three-piece band with Takahiro Nishikawa on keyboards, until he departed in 2002. The band is commonly known as DCT (Dreams Come True) and sometimes referred to as "Dorikamu" (ドリカム, "Dorikamu"?) by their fans. Dreams Come True released their self-titled debut album in 1989, which sold more than one million copies. Their 1992 release, The Swinging Star, was the first Japanese album to sell over three million copies, and for several years held the title of the best-selling Japanese-language album of all time.
Miwa Yoshida started a solo music career in 1995, and the following year appeared on the cover of Time Magazine. She has also appeared in advertisements for various companies (such as Sony, Visa and Coca Cola). Meanwhile Masato was hired to compose the music for television commercials, and around the same time compiled various "Dreams Come True" songs for Konami to be used in their game series Dance Dance Revolution. He had previously been hired to compose the music for the first two Sonic the Hedgehog video games on the Sega Mega Drive.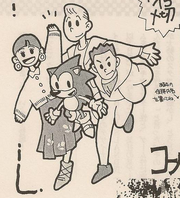 While Masato created a majority of the music in both Sonic the Hedgehog and Sonic the Hedgehog 2, financial disagreements caused him to be dropped in lieu of other composers such as Howard Drossin and Jun Senoue as of Sonic the Hedgehog 3. Despite this, Masato's classic work still appears in later games (such as Sonic Advance or Sonic Pinball Party). He also seems to be on good terms on Sega, being brought back in to work on the music for Sonic the Hedgehog Genesis as well as contributing a remixed version of the ending theme from Sonic the Hedgehog 2, "Sweet Dreams"/"Sweet Sweet Sweet", for the 2006 video game Sonic the Hedgehog.
External media
External links
Community content is available under
CC-BY-SA
unless otherwise noted.