The Dream Watcher, also referred to as the Electro-Encellographic Memory Inducer, is an object that appears in the Sonic the Hedgehog comic series and its spin-offs published by Archie Comics. It is a device that allows two people to communicate with one another through a dream state known as the "Dream Zone."[1]
Description
The device is pink with a glass cylindrical-conical container of yellow matter. It's got triangular like wings and a spiral fitted into it's base. It uses electrodes placed on both subjects foreheads in order to connect them together in The Dream Zone. A key components was a Neutron Chip, which unintentionally enabled the tyrannical Dr. Ivo Robotnik to locate Knothole Village. However, use of the device can be fatal if the process goes wrong.[1]
History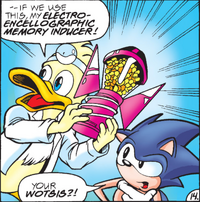 The Dream Watcher was a device created by Dr. Quack in order for Sonic to enter the mind of the comatose King Acorn, who was suffering from the side-effects of crystallization due to his exposure to the Zone of Silence. The device was used in the hope of contacting him and possibly finding the source of the crystallization process that was affecting the king.[1]
Trivia
The machine looks like The Box, a device created by Edward Nygma in the 1995 movie Batman Forever. Unlike The Dream Watcher it it a helmet like device that syphons knowledge from its host and delivers it to the Riddler.
References
External links
Community content is available under
CC-BY-SA
unless otherwise noted.