You are late Shadow... From now on, my eye shall follow and observe you for me...


— Black Doom, Shadow the Hedgehog
Doom's Eye (ドゥームズアイ, Do~ūmuzuai?) is a creature that appears in the Sonic the Hedgehog series. It is Black Doom's third eye,[2][3] separated into a Black Arms organism that acts as a "seeing eye" for Black Doom. It was presumably destroyed during Devil Doom's confrontation with Super Shadow.
Appearance
Doom's Eye takes the appearance of a black and dark purple starfish with six black-tipped squamous probes and a brutally large red-orange eye in its center. Emerging from its eye and moving along its limbs, it has six blood-red lines.
History
Shadow the Hedgehog
In Shadow the Hedgehog, Doom's Eye located Shadow and gave him Black Doom's mission to collect the seven Chaos Emeralds for him. It would then occasionally appear in Shadow's location to give missions from Black Doom, and act as a means for the alien warlord to communicate to the hedgehog as it followed him around.
During Super Shadow's battle with Devil Doom, Doom's Eye was exploited by the super-powered hedgehog to damage the otherwise invulnerable Devil Doom, forcing the organism to move between its host's heads. It presumably met its end with Devil Doom's defeat.
Powers and abilities
Doom's Eye provided more of a reconnaissance role for Black Doom and thus held skills most sufficient for these tasks. It could relay what it saw directly to Black Doom and allowed Black Doom to speak through it to the recipients not in the same location as him. It could also project talking holograms of Black Doom from its eye for more personal conversations. It was as well capable of levitation and could move through midair at super speeds.[4]
Being little more than an extension of Black Doom, Doom's Eye could exert Black Doom's hive-mind commands to his Black Arms troops on the ground and as well detach and reattach to Black Doom's body. Doom's Eyes has also an extreme awareness of its surrounding environment, such as energies and approaching dangers, which it can send back to Black Doom.
In other media
Archie Comics
In the Sonic the Hedgehog comic series and its spin-offs published by Archie Comics, Doom's Eye existed in the altered reality created by the Super Genesis Wave, and although unseen, served the same purpose as its game counterpart.
Trivia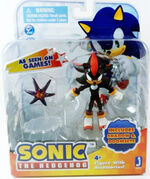 When airborne, Doom's Eye sometimes moves around like a squid, although it is only seen diving in the CGI-cutscenes.
Gallery
Artwork and models
Screenshots
References
---
Main article | Scripts (Main Story, Last Story) | Credits | Glitches | Beta elements | Library Sequences | Gallery
Playable characters
Shadow (Hero Shadow, Dark Shadow, Super Shadow) | Shadow Android
Non-playable characters
Black Doom (Devil Doom) | Eggman | Sonic | Tails | Knuckles | Amy | Rouge | Omega | Team Chaotix (Vector, Espio, Charmy) | Cream | Cheese | Maria | Gerald | Commander | President | Researcher | Secretary | Chao

Stages

Air Fleet | Black Comet | Central City | Circus Park | Cosmic Fall | Cryptic Castle | Death Ruins | Digital Circuit | Final Haunt | GUN Fortress | Glyphic Canyon | Iron Jungle | Lava Shelter | Lethal Highway | Lost Impact | Mad Matrix | Prison Island | Sky Troops | Space Gadget | The ARK | The Doom | The Last Way | Westopolis
Enemies
Ark Missile Turret | Artificial Chaos (Artificial Chaos P-100, Cell) | Black Assassin | Black Hawk | Black Oak | Black Volt | Black Warrior | Black Wing | Black Worm | Big Foot Type A | Big Foot Type B | Death Leech | Death Worm | Egg Bommer | Egg Pawn | Egg Pierrot | Giant Walker | Giga Trooper | Gold Beetle | Gun Beetle | GUN Soldier | GUN Trooper | Jack Bommer | Killer Plant | Mono Beetle | Rocket Beetle | Sand Worm | Shadow Android | Spark Beetle
Bosses
Black Bull | Black Doom | Blue Falcon | Devil Doom | Diablon | Egg Breaker | Egg Dealer | Heavy Dog
Moves/Techniques
Chaos Blast | Chaos Control | Chaos Spear | Crouch | Dark Spin Dash | Grinding | Grind Step | Homing Attack | Jump Dash | Light Dash | Mid-Air Attack | Missile Fever | Overturn | Pawn Fever | Pick up | Punch | Ring Fever | Shadow Fever | Slide | Spin Dash | Spin Jump | Strafe | Swift strike | Tail Swipe | Triangle Jump
Vehicles
Air Saucer | Convertible | GUN Motorcycle | GUN Vehicle | HMMWV | Jump Vehicle
Gimmicks and obstacles
Barrel | Barrier | Black Slab | Case | Cell Cannon | City annihilator bomb | Coaster | Color Panel | Electrified Rail | Fan | Firewall | Gravity Control Switch | Green energy fluid | Gun Lift | Gun ship | GUN turret | Hint Ring | Jump Panel (Prison Island) | Jump Panel (ramp) | Junction switch | Lantern | Laser field | Laser turret | Light-speed circuit | Meteorite | Pole | Pulley | Red fruit | Red Slime | Rocket | Secret Door | Shield switch | Shooting Gallery | Small bomb | Surveillance camera | Toxic marsh | Toxic river | Vine | Warp Hole | Wide spring

Items

General
Black Tank | Bomb Unit | Chaos Emerald | Container (Special Weapon Container, Steel Container, Unbreakable Container, Wooden Container) | Core program | Defense Unit | Egg Balloon | Energy Core | Floating Item Box | Goal Ring | Heal Unit | Item Box (1-Up, Barrier, Damage Recover, Heat Barrier, Invincible, Magnetic Barrier, Rings) | President's escape pod | Ring | Secret Key | Temple jewel

Weapons

4-Shot RPG | 8-Shot RPG | Bazooka | Big Worm Shooter | Big Barrel | Black Barrel | Black Sword | Bomb Fever | Egg Bazooka | Egg Gun | Egg Spear | Egg Vacuum | Environment Objects | Flash Shot | Gatling Gun | Grenade Launcher | Heal Cannon | Heavy Machine Gun | Heavy Shot | Laser Rifle | Light Shot | Omochao Gun | Pistol | Refractor | RPG | Samurai Blade | Satellite Gun | Semi-Auto Rifle | Shadow Rifle | Splitter | Sub-Machine Gun | Survival Knife | Tank Cannon | Vacuum Pod | Wide Worm Shooter | Worm Shooter
English voice actors
Jason Griffith (Sonic, Shadow) | Sean Schemmel (Black Doom) | Mike Pollock (Eggman, Gerald) | Amy Palant (Tails) | Dan Green (Knuckles) | Lisa Ortiz (Amy) | Kathleen Delaney (Rouge) | Rebecca Honig (Cream, Maria) | Carter Cathcart (Vector) | David Wills (Espio) | Amy Birnbaum (Charmy) | Jeff Kramer (Omega) | Andrew Rannells (GUN Soldier) | Marc Thompson (Commander) | Maddie Blaustein (President) | Bella Hudson (Secretary)
Japanese voice actors
Kōji Yusa (Shadow) | Jun'ichi Kanemaru (Sonic) | Ryūzaburō Ōtomo (Black Doom) | Chikao Ōtsuka (Eggman, Gerald) | Ryō Hirohashi (Tails) | Nobutoshi Canna (Knuckles) | Taeko Kawata (Amy) | Rumi Ochiai (Rouge) | Sayaka Aoki (Cream) | Yuri Shiratori (Maria) | Kenta Miyake (Vector) | Yūki Masuda (Espio) | Yōko Teppōzuka (Charmy) | Taiten Kusunoki (Omega) | Takashi Yoshida (GUN Soldier) | Banjō Ginga (Commander) | Yutaka Nakano (President) | Junko Kitanishi (Secretary) | Ryō Hirohashi (Additional Chao)

Music

Songs
All Hail Shadow | Almost Dead | E.G.G.M.A.N Doc. Robeatnix Mix | I Am... All of Me | Never Turn Back | The Chosen One | Tripod Baby | Waking Up | Who I Am (unused)
Albums
Lost and Found: Shadow the Hedgehog Vocal Trax | Shadow the Hedgehog Official Soundtrack | Shadow the Hedgehog Original Soundtrax
Other
Battle Mode | Black Comet | Central Information Agency | Eclipse Cannon | Dark Gauge | Dark Rider | Egg Monitor | Eggman Fleet | Expert Mode | Fire in the Sky Festival | Health Gauge | Hero Gauge | Mother computer | Prison Island | Prosperity ritual | Shadow the Hedgehog Flash | Space Colony ARK | Tails' Spaceship | White House
Community content is available under
CC-BY-SA
unless otherwise noted.