Doctor Robotnik's Whirlpool Machine[1] (ビッグシェイカー[2], Biggusheikā?, lit. "Big Shaker") is an object that appears in the Sonic the Hedgehog series. It is a whirlpool-creating device created by Dr. Robotnik that Sonic the Hedgehog and his allies fought during the Angel Island incident.
Description
Appearance
The Whirlpool Machine has a round-shaped body with red-metallic armor, and yellow lines in an X-formation on the center. Purple thruster missiles with yellow bands are attached to the lines. The machine also seems to have purple eyes.
Powers and abilities
The Whirlpool Machine main weapons in the battle are thruster missiles that protect it from the player's attacks, as they are spinning around the body until it plants itself on the cylinder to use its whirlpool attack.
Battle
Doctor Robotnik's Whirlpool Machine is the mini-boss of Hydrocity Zone and the overall third boss of Sonic the Hedgehog 3 and Sonic the Hedgehog 3 & Knuckles. It is fought at the end of Hydrocity Zone Act 1.
Boss guide
The Whirlpool Machine is fought in a bowl-shaped arena half-filled with water, which the player falls into after going around the downward guiding shuttle loop. Small missiles (which presumably are thrusters for the robot) orbit its central body acting as a shield as it charges down both sides of the arena. The player is unable to hit the robot without getting damaged during this time. After the Whirlpool Machine has charged twice, it settles down on the pole-shaped turbine in the middle of the arena, activating it to create a whirlpool underwater. This stirs up the water (and the playable character with it), rendering both the boss and the player unable to do anything until the stirring stops.
Hits can be scored either when the Whirlpool Machine begins to activate or stop the turbine pole's functionality. After starting up its thruster missiles again, the Whirlpool Machine starts repeating its attack pattern. The player can score the six hits needed to defeat this boss before the stirring starts for the first time with the help of a Water Shield. After this, the Whirlpool Machine will be destroyed along with the turbine pole itself. When the signpost falls down, two Super Ring monitors are hidden under the center part of the bottom arena, each of which have a small gap between each other.
Knuckles' battle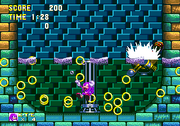 This mini-boss, like all the ones from Sonic the Hedgehog 3, can be fought with Knuckles in Sonic the Hedgehog 3 & Knuckles. Most mid-bosses and major bosses are increased in difficulty for Knuckles. In this case, the attack pattern remains the same, but is made more difficult by Knuckles' reduced jump height. He can jump over it, but only barely. Knuckles is unable to jump high enough to get above the surface of the water so must Spin Dash up one of the sides of the arena periodically to prevent drowning.
The battle can also be made a lot easier for Knuckles, however. If Knuckles climbs up the right side wall above the water before the Whirlpool Machine begins its sweeping attack, and dodges that attack by gliding to the opposite wall twice, Knuckles can jump off the wall and bounce on the Whirlpool Machine from above for an easy kill while he is doing his whirlpool attack.
Trivia
In the standalone Sonic the Hedgehog 3, the major boss BGM will unusally play instead of the usual mid-boss theme for this boss battle. This is later fixed in the locked-on version of the game.

An interesting glitch can also happen in standalone Sonic the Hedgehog 3 when the player stays on underwater until the drowning music starts playing and then jump out of the water. This time, the mid-boss music from Sonic & Knuckles will eventually start playing at the background. This glitch also works later in the boss battle with Screw Mobile, and will also work in the locked-on version.

It is possible to drown while fighting this boss, as the thirty-second limit still applies, although it is not possible to drown while the score is being tallied or during the transition to the next act.
In Sonic Mania, this mini-boss fight is referenced during the Laundro-Mobile's second phase.
Gallery
Screenshots
References
---
Main articles (Sonic 3, Sonic & Knuckles, Sonic 3 & Knuckles, Sonic & Knuckles Collection) | Staff (Sonic 3, Sonic & Knuckles, Sonic & Knuckles Collection) | Manuals (Sonic 3, Sonic & Knuckles) | Glitches (Sonic 3, Sonic 3 & Knuckles, Sonic & Knuckles Collection) | Beta elements (Sonic 3, Sonic & Knuckles, Sonic 3 & Knuckles) | Galleries (Sonic 3, Sonic & Knuckles, Sonic & Knuckles Collection)
Playable characters
Sonic (Super Sonic, Hyper Sonic) | Tails (Super Tails) | Knuckles (Super Knuckles, Hyper Knuckles)
Non-playable characters
Dr. Robotnik | Rock Drill | Mecha Sonic (Mecha Sonic's Super State) | Animals (Flicky (Flicky's Super State), Pocky, Pecky, Cucky, Ricky, Rocky)
Badniks
Batbot | Blaster | Blastoid (Carnival Night Zone) | Blastoid (Hydrocity Zone) | Bloominator | Bubbles | Bugernaut | Butterdroid | Catakiller, Jr. | Chainspike | Clamer | Cluckoid | Corkey | Dragonfly | EggRobo | Fireworm | Flybot767 | Hyudoro | Iwamodoki | Jawz | Madmole | Mantis | Mega Chopper | Monkey Dude | Mushmeanie | Orbinaut | Penguinator | Pointdexter | RhinoBot | Ribot | Rock'n | Sandworm | Skorp | Snale Blaster | Spikebonker | Spiker | Star Pointer | Technosqueek | Toxomister | Turbo Spiker
Zones
Sonic 3
Angel Island Zone | Hydrocity Zone | Marble Garden Zone | Carnival Night Zone | IceCap Zone | Launch Base Zone | Special Stages | Bonus Stages
Sonic & Knuckles
Mushroom Hill Zone | Flying Battery Zone | Sandopolis Zone | Lava Reef Zone | Hidden Palace Zone | Sky Sanctuary Zone | Death Egg Zone | The Doomsday Zone | Special Stages | Bonus Stages
Competition
Azure Lake | Balloon Park | Chrome Gadget | Desert Palace | Endless Mine
Bosses
Sub-bosses
Doctor Robotnik's Flame Craft | Doctor Robotnik's Whirlpool Machine | Tunnelbot | Self D-Struct Machine | Iceball | Swing'm Spikez | Hei Hou | Gapsule | Barrier Eggman | Guardian | Heat Arms | Egg Mobile-H | Flying Eggman | Red Eye | Death Ball
Zone bosses
Doctor Robotnik's Flame Craft | Doctor Robotnik's Waterspout and Depth Charge Machine | Doctor Robotnik's Jet Drill Pod | Doctor Robotnik's Energy Ship | Doctor Robotnik's Freeze-O-Matic | Ball Shooter | Beam Rocket | Big Arm | Jet Mobile | Hang Mobile | Egg Golem | Hot Mobile | Knuckles | Mecha Sonic | Mecha Sonic's Super State | Great Eggman Robo | Final Weapon
Moves/Techniques
Bound Jump | Crouch | Double Jump | Fireball Spin Dash | Glide | Gliding Knuckles Attack | Hyper Flash | Insta-Shield | Propeller Flying | Spin Attack | Spin Dash | Spin Jump | Swim | Wall Climb
Items
Air Bubble | Balloon | Banana | Bomb | Booster | Bumper | Bumper wall | Cannon | Capsule | Change | Chaos Emerald | Cloud | Continue | Electrical emitter | Fan | Jump Stand | Monitor (Water Shield, Flame Shield, Invincibility, Lightning Shield, Super Ring, Super Shoes, Extra Life, S, Eggman) | Movable box | Mushroom | Pulley | Ring | Signpost | Self-Propelled Bomb | Slow-Down Shoes | Snowboard | Sphere | Spikes | Spring | Spinning Top | Star Post (Star Circle) | Super Emerald | Switch | Transport | Vine | Zip Line
Other
Conveyor Belt | Corkscrew loop | Crusher | Death Egg | Debug Mode | Drum | Fireball Cannon | Flipper | Floating Island | Flywheel | Freeze | Giant spear | Goal | Gravity Control Switch | Gumball | High-speed elevator | High-speed warp tube | Icicle | Iron ball | Jewel Radar | Perfect Bonus | Platform-raising Wheel | Pole Elevator | Relief | Reverse | Ring Shooter | Seesaw | Shuttle loop | Slot machine | Snowblower | Sonic & Knuckles • Sonic the Hedgehog 3 | Sonic the Hedgehog 3 (LCD) | Strange Relief | Time Attack | Tornado | Warp Point | Winding Tunnel | "Wonderman"