For the version of this character after the Super Genesis Wave, see Doctor Eggman Nega (Archie).
Doctor Eggman Nega, or just Doctor Nega, is a character that appears in the Sonic the Hedgehog comic series and its spin-offs published by Archie Comics. He was a mysterious villain and "mad man" who waged war with the Zone Cops. Traveling across the Cosmic Highway, Nega's actions caused severe chaos across the multiverse. For this reason, the Zone Cops issued a lock-down on the various universes, leaving only a few open to maintain stability. Nega's war with the Zone Cops resulted in massive damage to No Zone.[1][2]
Appearance
Dr. Eggman Nega closely resembles his ancestor Dr. Eggman, albeit with the colors reversed, a longer nose, a white mustache (suggesting he is at an elderly age), pointy blue sunglasses, and visor-styled goggles instead of normal ones.
History
Early life
Little of Nega's early history is largely known, with several details suggesting he either comes from 3437 P.X.E. or Blaze's world. Whatever his origins, he is known to have actively sought out the Sol Emeralds, and possibly the Jeweled Scepter as well.[3] Because of Nega's conquest, many of the Sol Emeralds got lost within the multiverse.[4]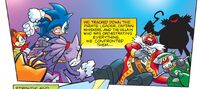 Sonic the Hedgehog, Tails, Blaze the Cat and Marine the Raccoon had a brief encounter with Dr. Eggman Nega while fighting against Captain Whisker and Johnny in Blaze's home world. Though the heroes defeated the villains, later on, it is noted by Blaze that Dr. Eggman Nega, Johnny, and Whisker survived, and still make attempts at their goal.[5]
War with the Zone Cops
Demonstrating the intelligence necessary to leave the Sol Zone, Nega became involved in a war with the Zone Cops, which resulted in a great deal of damage to the No Zone and a lockdown of the Cosmic Interstate.[1] Dr. Nega would later fly an insect-like aircraft carrying a mysterious capsule containing the cyan Sol Emerald to the Prime Zone using a portal while being chased by two Zone Cop vehicles. The Zone Cops attempted to arrest him on charges of illegally crossing 47 Zones, but Nega refused to be taken into custody. As he fired at the Zone Cops, one of them fired at the craft's legs, dislodging the capsule. Nega then escaped the Prime Zone using another portal, with the Zone Cops still in hot pursuit.[6]
Personality
Dr. Eggman Nega is described as eloquent and sophisticated, but also frightening ruthless and power mad.[3]
Powers and abilities
Eggman Nega has a genius intellect that is on par with Dr. Eggman, though he believed to have an even greater intellect, given his success with inter-dimensional travel and that he is waging a successful one-man war against the Zone Cops.[3]
Trivia
See also
References
External links
Community content is available under
CC-BY-SA
unless otherwise noted.