This article is about a subject in the real world.

Information in this article is about real-life people, companies, and objects, and does not relate to the in-universe Sonic series.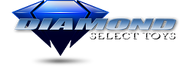 Diamond Select Toys (sister company of Diamond Comic Distributors, Inc.) is an American company founded in 1999 that creates collectibles based on pop culture properties for adult collectors. Some of properties they have produced for include Marvel Comics, Transformers, Halo, and Star Wars. Their collectibles mainly consist of items such as action figures, busts, statues, and "Minimates" and "Vinimates" figures. In 2018, it was revealed that DST would be creating collectibles for the Sonic the Hedgehog series.[1]
Sonic Minimates
Diamond Select Toys announced they would be producing Minimates based on the "Sonic" series.[1] Minimates are 2-inch tall mini-figures, that are fully posable, and have a block-like design similar to a Lego mini-figure.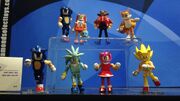 The following week of the announcement, prototypes of the first Minimates were revealed at Toy Fair New York 2018. The figures on display included Sonic, Tails, Dr. Eggman, Amy, Cream and Cheese, and Silver.[2]
In December of 2018, it was announced the first box set of Minimates would be releasing in January, 2019.[3] The figures included in the set were Sonic, Tails, Amy, and Dr. Eggman. Each figure features fourteen points of articulation, interchangeable parts, and a clear display stand.[4]
Releases
Image
Characters
SRP
Released



Series 1

Sonic
Amy
Tails
Dr. Eggman

$24.99
30 January 2019
Sonic Vinimates
Diamond Select Toys announced they would also be producing Vinimates based on the "Sonic" series.[1] Vinimates share the block-style design of Minimates, but are twice their size at 4-inches tall, and are only have posability in the head.
Three Vinimates were available for pre-order in June of 2018, and included Sonic, Tails, and Dr. Eggman.[5] They released on 9 January 2019 for $9.99 each.
Gallery PVC Diorama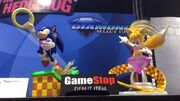 Part of DST's original announcement also mentioned gallery PVC dioramas. These were revealed at Toy Fair 2018 and were on display alongside the Minimates.[2] The dioramas shown included one of Sonic dashing through Green Hill Zone with a Ring in one hand and a Chaos Emerald in the other. The other diorama depicts Tails flying and reaching for a Chaos Emerald, above a checkerboard pattern that wraps around the scene. They released in early 2019 for $50 each, exclusively at GameStop.
A diorama of Sonic in his Speed Star for Team Sonic Racing was on display at New York Toy Fair 2019. It has a release date of Spring 2020 and a SRP of $50.
At New York Toy Fair 2020, a 5-inch diorama based on the Sonic the Hedgehog film was on display.[6][7]
| | | | | |
| --- | --- | --- | --- | --- |
| | | | | |
| Sonic PVC | Tails PVC | Team Sonic Racing Sonic | Team Sonic Racing Shadow | Sonic movie 1/6 scale Sonic |
| $49.99 | $49.99 | $49.99 | $49.99 | $75 |
| April 29 2020 | April 29 2020 | February 5 2020 | TBA | August 24 2020 |
PVC Diorama Assortment
Revealed at New York Toy Fair 2019 were diorama sets.[8] On display were four diorama sections of Green Hill Zone, each with two mini-figure characters. The characters present were two Sonics, Amy, Knuckles, Dr. Eggman, Shadow, Tails, and Metal Sonic.
Miscellaneous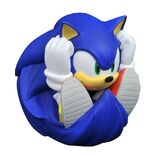 A vinyl coin bank of Sonic in a Spin Attack was released on 22 January 2020 for $24.99. At New York Toy Fair 2020, prototype concepts of action figures of Classic Sonic, Tails and Knuckles were on display.
References
Community content is available under
CC-BY-SA
unless otherwise noted.