Fire Emblem Warriors: Three Hopes - The Loop
Play Sound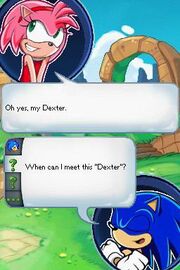 Dexter (デクスター, Dekusutā?) is a character in the Sonic the Hedgehog series. He is a fictional boyfriend that Amy Rose fabricated during the Nocturnus Clan incident in an attempt to make Sonic the Hedgehog jealous.[1] Amy does not go into detail about him and almost nothing is known about him. Depending on the player's chosen dialogue choices they make during the story, Amy can admit to Sonic that he is not real.
Overview
Sonic does actually have the chance to talk to Amy about Dexter almost every time he talks to her to make her mad or uncomfortable. Eventually in Chapter 5 when Amy says that she doesn't want Sonic to get hurt, he can tease her by asking, "Does your boyfriend know that you worry so much about me?" and she would angrily reply, "Why do you care so much about Dexter? It seems like he's your boyfriend, not mine!".
To make Amy confess to Sonic that Dexter is not real, the player must choose all of the following responses at these points of the story, most of which are quotes that are supportive towards Amy:
| Chapter | Quote[Note 1] | Correct response |
| --- | --- | --- |
| Chapter 1 | I'm so glad to see you, Sonic. But not THAT glad. I do have a BOYFRIEND now, you know. His name is Dexter! | How have you been, Amy? |
| Chapter 1 | Oh yes, my Dexter. | When can I meet this "Dexter"? |
| Chapter 1 | I... I just don't want you to embarass Sonic, that's all. | Thanks, Amy. |
| | That doesn't mean we have to like it. | I wish it were different, Amy, but we have no choice. |
| | That must be where they're keeeping Knuckles! | You're probably right. |
| | Are we really going to fly in that? It doesn't look safe. | Are you afraid to fly? Since when? |
| | If you're there with me, I know I'll be all right. We can handle it together. | What about Dexter? |
| | Dexter? Oh, yes. He won't mind. He wouldn't want me riding in a dangerous airplane without an escort, you see. | Doesn't Dexter take you flying sometimes? |
| | Oh, yes, all the time. His plane is magnificent! | How are you doing, Amy? |
| | Oh, I'm just fine! Why wouldn't I be? | I'm worried about you. |
| | But... it's good to know that you care, Sonic. Thanks for letting me know. | It's no problem. |
| | Sonic, Big is an old friend of mine. I think we should bring him along! | If he's your friend, Amy, then he's fine with me. |
| | Knuckles: Fine you can come. But don't get in my way. | Your way? We came here to save YOU, remember? |
| | Knuckles: You're not the boss around here. Not anymore. YOU decided to go away for a while. Not me. | Do the rest of you feel this way, too? |
| | Tails: But you came back when we needed you! | What about you, Amy? |
| | Point taken, smarty. | Leave Amy alone, Rouge. |
| | We keep beating him up, and he keeps returning. I wonder if it'll ever end! | Don't worry, Amy. We'll be just fine. |
| | I'm not worried. It's just... | What is it? |
| | I could wake up in the morning and worry about normal things. Birds, and flowers, and... | We save the world. That's what we do! |
| | Wait! It doesn't look dangerous. It looks... sad. | Hm. You have a point. |
| | Shadow: Stop following me, Sonic. This isn't about you. | What should we do guys? |
| | If he's working for Eggman, we have to stop him! | Exactly, Amy! |
| | You can't be serious! | Amy's right. This better be good. |
| | I never thought I'd be working with Eggman. But at least it looks like he's not behind the Marauders' crimes. | Maybe he's really changed this time. |
| | Tails: Amy... Amy! | It's okay, Amy. We'll get through, I promise. |
| | I just wanted to say thank you. I never thought you liked me before, so it's good to know you at least care a little bit! | You deserve to be treated nicely, Amy. |
| Chapter 5 | But there's already a whole army of Marauders and robots! Even Sonic can't take on an army without backup! | You don't need to worry about me, Amy. |
| Chapter 5 | But I don't want yo--er, anyone--to get hurt! | Everything will be fine, I promise. |
| Chapter 9 | Sonic, could I speak with you alone for a bit? | What about? |
| Chapter 9 | I'll tell you when we're alone. | Okay, then. Let's talk. |
| Chapter 9 | And you've been so nice to me and all, and I... well, I... | What is it? |
| Chapter 9 | I guess I wanted to know... do you like me, too? Do you feel anything for me at all? | Definitely, Amy. I care for you a lot. |
| Chapter 9 | I don't know what it all means, Sonic. But we're about to fight a 4000-year-old echidna chief, and... | What is it? |
| Chapter 9 | I can't wait to tell everyone about my new boyfriend! Yay! | And what about Dexter? |
Notes
↑

Unless specified, all lines in this column are quoted by Amy.
References
---
Main article | Staff | Gallery | Chapters (1 | 2 | 3 | 4 | 5 | 6 | 7 | 8 | 9 | 10)
Playable characters
Sonic (Super Sonic) | Amy | Tails | Rouge | Big | Knuckles | Cream | Eggman | Shadow | Omega | Shade
Non-playable characters
Dexter | G.U.N. (Commander) | Nocturnus Clan (Imperator Ix (Super State), Nestor, Gizoid, Emerl, Scylla, Charyb) | Knuckles Clan | Egg Bot | Swat Bot | Kron (Foreman Krag) | Zoah (Syrax, Raxos, Gentleman, Haniman, Telra) | N'rrgal (N'rrgal Queen) | Voxai (Thebes, Thelxe, Overmind) | Twilight Cage Pirates | Precursors | Chao | Argus | Team Chaotix (Vector) | Doctor Madden | Sal | Croesus
Chao
Common
Barbo | Cheezlet | Choo | Churdle | Ghise | Griff | Jirna | Knickt | Koolet | Korus | Oolean | Perty | Pyraz | Rugle | Seeri | Seggo | Stebsly | Stiglin | Velk | Zimba
Rare
Belgog | Bepke | Blayze | Bobo | Dusty | Fess | Gibber | Hayda | Joy | Kayla | Keroyo | Luunan | Oldarg | Radu | Zousar
Unique
Cheese | Choopaloo | Ferox | Ovus | Spartoi | Viral Chao (Baki, Farfinkle, Fimbley, Pooki, Stugs)
Areas
Green Hill Zone | Central City | Blue Ridge Zone | Mystic Ruins | Angel Island | Metropolis | Metropolis Ground Zero | Kron Colony | Twilight Cage | Zoah Colony | N'rrgal Colony | Voxai Colony Alpha | Voxai Colony Beta | Nocturne
Enemies
Assault Drone | Assault Drone Mk. II | Bomb Pawn | Colossal Worm | Dominated Voxai Citizen | Dragodon | Egg Bot | Enraged Armadillo | Giant Millipede | Giant Scorpion | Gizoid | Gizoid Centurion | Gizoid Guardian | Gizoid Mk. II | Guardian Pawn | Guardian Pawn Mk. II | Gun Pawn | Gun Pawn Mk. II | Kron Warrior | Laser Drone | Laser Drone Mk. II | Leucosia | Ligaia | Marauder Scout | Marauder Vet Scout | Nocturne Decurion | Nocturne Equites | Nocturne Hastatus | Nocturne High Praetorian | Nocturne Praetorian | Nocturne Princeps | Nocturne Triarius | Nocturnus Velite | Nrrgal Drone | Nrrgal Warrior | Power Pylon | Queen Wasp | Raptor Hawk | Riadne | Robodillo | Seeker Drone | Sentry Drone | Sentry Mk. II | Shield Pawn | Shield Pawn Mk. II | Swat Bot | Swatbot Mk. II | Voxai Conspirators | Wasp Swarm | Wild Boar | Zoah Brute
POW Moves
Sonic
Axe Kick | Blue Bomber | Fastball | Hail Storm | Super Sonic (Super Sonic only) | Triple Tornado | Whirlwind
Amy
Blow Kiss | Flower Power | Low Blow | Spin Cycle | Tantrum | Tarot Draw
Tails
Adrenaline Rush | Flash Bang | Medi Bot | Scan | Shield Bot | Tinker
Rouge
Distract | Jewel Storm | Plunder | Rising Knuckle | Shriek | Tornado Kick
Big
Battering Ram | Feel No Pain | Froggy Poison | Froggy Rain | Lure Whip | Taunt
Knuckles
Hard Line | Knuckles Express | Knuckles Sandwich | Quake Punch | Revolver Slam | Uppercut
Cream
Cure | Demoralize | Heal | Refresh | Revive | Tough
Eggman
Bombardment | Sabotage
Shadow
Atomic Strike | Chaos Blast | Chaos Rift | Chaos Spear | Focus Field | Metal Storm
Omega
Beam Cannon | Blazing Tornado | Flamethrower | Machine Gunner | Temporal Field | Wrecking Ball
Shade
Blade Drop | Blade Rush | Cloak | Echidna Rush
Enemies
Acid Spit | Air Shield | Bash | Buzz Saw | Buzz Swarm | Charging! | Crippling Arc | Crusher | Cyclone | Dark Anomaly | Doom Orb | Drain Life | Energize! |

Evading

| Feather Barrage |

Full Auto

|

Full Power

|

Hellfire

|

Immunity

|

Leech Blade

|

Leech Wave

|

Lightning Shield

|

Lock On!

|

Mega Blaster

|

Mighty Slash

| Overload |

Parry

|

Phase

|

Poison Quill

|

Power Blast

|

Power Burst

| Psi-Confuse | Psi-Dazzle | Psi-Slow | Psychic Wave | Quake |

Regenerate

|

Regeneration

|

Reinforcements

|

Rocket Volley

|

Roller Ball

|

Self Destruct

|

Self Repair

|

Shields Up!

|

Shocker

|

Slime Shot

|

Stasis Grenade

|

Super Bomb

|

Super Nova

|

Super Shot

|

Swallow

| Tail Blast | Tail Swipe | Water Shield
Status Effects
Cursed | Distracted | Empowered | Focused | Fortified | Hyper | Lucky | Poisoned | Sluggish | Stunned | Vulnerable | Weakened
Items
Equipment
Alloy Boots | Alloy Slippers | Angel Amulet | Blunt Claws | Boxing Gloves | Chao Print Dress | Cloth Gloves | Cursed Claws | Cursed Gloves | Dura-Hydraulics | Earth Ring | Economizer | Golden Gloves | Grapple Claws | Gritty Gloves | Ice Ring | Immunity Idol | Iron Claws | Iron Hydraulics | Kron Hammer | Light Boots | Light Sneakers | Lightning Ring | Lucky Gloves | Master Hydraulics | Mirror Gloves | Nimble Slippers | Nocturne Blade | Oily Hydraulics | Polymer Gloves | Power Gloves | Pretty Dress | Refresher | Replenisher | Rubber Gloves | Rusty Hydraulics | Serrated Claws | Shielded Sneakers | Sparkly Gloves | Speedy Sneakers | Spiked Gloves | Spiked Slippers | Spiked Sneakers | Spiny Claws | Spooky Charm | Steel Toe Boots | Stiff Sneakers | Swift Boots | Titanium Claws | Tough Slippers | Voxai Teleporter | Water Ring | Wind Ring | Work Boots | Work Gloves | Zoah Shield
Consumables
Antidote | Bug Spray | Clover Juice | Crazy Beans | Cure All Spray | Health Leaf | Health Root | Health Seed | Immunity Booster | Iron Tonic | Med Emitter | POW Candy | POW Drink | POW Gum | Prune Juice | Psychic Water | Revival Ring | Refresher Wave | Ring of Life | Rock Salt | Speed Bar
Quest Items
Beam Cannon | Chaos Emerald (1, 2, 3, 4, 5, 6, 7) | Communicator | Eggman Detector | Eggman Device | GUN Official | Little Boy |

Nocturnus Tech

| Pattern Generator | Precursor Tablet | Prized Stapler | Timothy |

Weapon Part

Other
Air Bubble | Argus Event | Armor Piercing | Blast | Blue Cyclone | Chao Egg | Combat statistics | Dimensional Buffer | Experience Point | Full Auto | Great Emerald | Health Gauge | Item Theft | Leech | Loop | Real-Time Interaction | Shop | Sonic Chronicles: The Dark Brotherhood (Flash) | South Island | Teleporter | Tornado | Twilight Conference | Warp Belt