This article contains information about a canceled object.

As a result, the content of the article may have been canceled or replaced by another subject.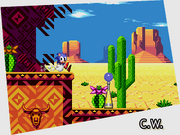 Desert Dazzle was a scrapped zone for the 2011 remastered version of Sonic the Hedgehog CD.
Development history
It was a level coined by the head developer of the 2011 Sonic CD version Christian Whitehead, who posted the information about Desert Dazzle. According to him, this level was cut so the game didn't stray too far from its original form. However, an image of it is still featured in-game.[1]
It was revealed that the Sonic CD levels were sorted in a folder and went through R1 (Palmtree Panic) to R8 (Metallic Madness). However, R2 was scrapped and R1 went straight to R3. Desert Dazzle was confirmed to be the replacement for R2.[2]
Trivia
A screenshot of this level can be accessed in the sound test by typing the code: PCM:32 DA:8.

The screenshot's soundtrack is Quartz Quadrant Good Future.

Desert Dazzle was based off the pre-release images of Dust Hill Zone, a cut level from Sonic the Hedgehog 2.
It should be noted that when you look at the Little Planet in D.A. Garden or on the 1996 PC version's loading screen, you'll notice that there is a desert area with a single cactus. This is most likely the main reason Desert Dazzle was created since there is no other level that features this area (with the exception of Wacky Workbench's past, which shows that the factory was built in a desert-like area).
Level assets intended for use in Desert Dazzle (background, land tiles, and objects) have been incorporated into Sonic Mania's Mirage Saloon Zone.
References
---
Characters
Sonic | Tails* | Amy | Dr. Eggman | Metal Sonic | Animals (Flicky, Pocky, Ricky, Pecky, Sheep, Swallow)

Rounds

Palmtree Panic | Collision Chaos | Tidal Tempest | Quartz Quadrant | Wacky Workbench | Stardust Speedway | Metallic Madness | Special Stage | Bonus Stage | R2 | Desert Dazzle*

Enemies

Amenbo | Antlion | Bigbom | Dango | Ga | Hotaru | Kabasira | Kanabun | Kemusi | Kumo-Kumo | Minomusi | Needlenose | Noro-Noro | Robot Ant | Robot Bee | Robot Beetle | Robot Butterfly | Robot Mantis | Sasori | Scarab | Semi | Taga-Taga | Tamabboh | Tentou | Tonbo | Yago
Bosses
EGG-HVC-001 | Collision Chaos Boss | Tidal Tempest Boss | Quartz Quadrant Boss | Wacky Workbench Boss | Metal Sonic | Metallic Madness boss | Final Fever*
Moves/
Techniques
Playable characters
Propeller Flying* | Spin Jump | Super Spin Attack | Super Spin Dash | Super Peel Out
NPCs
Ring Spark Field | V. Maximum Overdrive Attack
Gimmicks and obstacles
Breakaway Bumper | Bumper | Chopper Block | Conveyor Belt | Crusher | Dash Zone | Electric Generator | Electrical conduit | Emerald Block | Fan Block | Flipper | Flywheel | Goal Plate | High-speed warp tube | Iron ball | Rotating platform | Seesaw | Size Beam | Snowblower | Spring | Spring Pole | Switch | Time Warp Plate
Objects
Air Bubble | Capsule | Lamppost | Little Planet flowers | Metal Sonic Projector | Monitor (Extra Life, Invincibility, Power Sneakers, Super Ring, Shield, Time Bonus) | Ring | Robot transporter | Time Stone | UFO

Music

Songs
Cosmic Eternity - Believe in Yourself | Sonic - You Can Do Anything | Sonic Boom
Albums
Sonic the Hedgehog Boom | Sonic the Hedgehog CD Original Soundtrack 20th Anniversary Edition | Sonic CD (vinyl album)
Other
Debug Mode | Freeze | Little Planet | Never Lake | Shuttle loop | Time Attack | Winding Tunnel

*Only included in the 2011 rerelease.
Community content is available under
CC-BY-SA
unless otherwise noted.