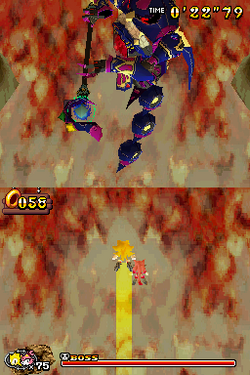 Deep Core is the final stage in Sonic Rush Adventure. It is an underground stage, accessible by obtaining all the Chaos Emeralds by racing Johnny, collecting all the Sol Emeralds by completing missions from Gardon and by defeating the Ghost Titan at Big Swell.
Story
The story starts with Doctor Eggman and Eggman Nega appearing before Sonic and the others, after obtaining the Jeweled Scepter to unleash the Power of the Stars. Tails builds the Magma Hurricane and Sonic, Blaze, Tails and Marine set off for the underground chase of the two scientists. Sonic and Blaze transform into Super Sonic and Burning Blaze and do battle with the Egg Wizard. After the battle, Eggman Nega, insane over his defeat, prepares to launch the Planet Buster Laser only to be stopped by a mysterious energy projectile from Marine the Raccoon. Sonic then puts an end to the Egg Wizard by charging through it, leading to the epilogue.
Music
Community content is available under
CC-BY-SA
unless otherwise noted.