This Death Egg Robot has... No, I have surpassed Infinite to become the complete and ultimate form. You will be crushed by this Death Egg Robot powered by the Phantom Ruby and in the end everything will be just as I planned!


— Dr. Eggman, Sonic Forces
The Death Egg Robot is the seventh and final boss of Sonic Forces. It is fought in the Eggman Empire Fortress's "VS. Death Egg Robot" stage, which is the thirtieth and final stage in Sonic Forces. It is listed as the eighth stage in the game to be played as Classic Sonic, but features all three non-DLC playable characters: Modern Sonic, Classic Sonic, and the Avatar.
Boss guide
First phase

Give it your all, Sonic! You'll always be our shining hope!


— Tails, Sonic Forces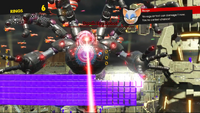 The first phase of the boss has the player control Classic Sonic and is entirely from a 2.5D perspective. The player will be standing on a floating cluster of purple blocks, and one by one, the leftmost blocks will disappear, reappearing on the right. This process will eventually reverse, with the rightmost blocks disappearing and replacing themselves on the left side, so the player must be on their toes and move quickly to stay safe.
The Death Egg Robot will loom over the player from behind the platform and will use two kinds of attacks. The first attack is a laser that sweeps across the surface, clearing away the topmost layer. This is simple enough to jump over, but as the fight goes on there can be as many as two or three lasers. The Death Egg Robot's second attack is to hurl solid rocks at Classic Sonic just like the battle against the Egg Dragoon. Unlike the aforementioned boss, these rocks will not stay sitting on the platform, but will clear away parts of it, so the player will have to jump as they are in the air to knock them back. When a rock hits the Death Egg Robot, it will rebound back so the player can hit it again for more damage.
It takes a total of six hits from solid rocks to drain the Health Gauge, destroy the shield protecting the robot's core, crack the core's casing itself, and move on to the next phase.
Second phase

Go on, rookie! I know you can do this!


— Vector, Sonic Forces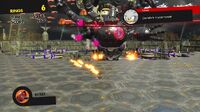 The second phase sees the player take control of the Avatar in a free-roaming third-person perspective. The way this phase is set up is similar to the battle against the Zavok replica earlier in the game. At first, the Death Egg Robot only has two attacks, the first of which is slamming its right main arm upon the platform, creating a series of red shockwaves that must be jumped over. The second attack is a barrage of missiles fired from the robot's fingers which are relatively easy to avoid, especially if the player is using a long-ranged Wispon. The boss will also summon Egg Pawns to get in the player's way.
The player has three options to damage the boss: they can wait for the boss to strike the floor with its right arm and either use their Wispon or a Wire Attack on the core, which does more damage but is dangerous to pull off. The second option is to attack its right arm directly as it slams down, which deals low damage, but is much safer. An Indigo Wisp is also provided if the player is using an Asteroid Wispon. Lightning Wispons, Hover Wispons, or Burst Wispons work to damage it but other Wispons do not. A Wispon should deal third of health damage to the Death Egg Robot. In the latter half of the fight, the Death Egg Robot will start destroying pieces of the arena by punching it with its left fist and firing lasers from its eye. These attacks will reduce how much space the player has to fight, and could potentially result in death if they do not move quickly enough. Destroyed sections of the arena will regenerate after a while.
The amount of damage it takes to shut down the Death Egg Robot depends on how the player attacks it. If they use the Wire Attack on the core, it takes two hits on each phase for a total of six hits. If they attack the arms instead, it takes three hits per phase for a total of nine hits.
Third phase

End this, Sonic! Defeat him!


— Knuckles, Sonic Forces
For the third and final phase, a white three-headed mech with eight tentacles (and the real Phantom Ruby visible in the main head's mouth) will burst out of the core of the Death Egg Robot and suck both Sonics and the Avatar into a Null Space-like dimension. All three characters go up against it together.
To attack this mech, the player must dash through piles of blue cubes to collect Rings and White Wisps to fill the Boost Gauge and use the Boost to get within range, then use the Homing Attack to hit the main head seven times. Immediately after that, they must once again use the Homing Attack to hit all three heads on the mech, resulting in a successful hit point against the boss. Classic Sonic and the Avatar will do the Homing Attack automatically after Modern Sonic. They attack like this; Modern Sonic attacks seven times then Modern Sonic attacks again and Classic Sonic Spin Jumps at it, after which the Avatar will use the Wire Attack.
The mech has three kinds of attacks to use against the player: the first attack is a series of red lasers fired from its tentacles that the player simply has to jump over (one-two hits), lest they take damage. After taking enough damage, the mech will start firing streams of crimson flames that are also easy to dodge, but they can be tricky as the streams can sometimes weave across each other in the shape of an "X", making them hard to predict (three-four hits). After dealing even more damage, the mech will start shooting its clawed hand from one of its tentacles at the player. After that it will fire two quick lasers with a wider area of effect (five-six hits).
After six full attacks against the mech, Sonic will call out to Classic Sonic and the Avatar, and the player is prompted to use the Triple Boost to land the finishing blow, destroying the mech through its core, leaving it to blow up on its own from the catastrophic damage. If the player fails the Triple Boost, they will have to boost towards the mech again for another shot.
Ranking
The following are the suggested clear points for achieving a high enough score to achieve each Rank:
| S-Rank | A-Rank | B-Rank | C-rank |
| --- | --- | --- | --- |
| 1,900,000 | 1,320,000 | 1,080,000 | <1,080,000 |
Trivia
The Death Egg Robot has the greatest health value out of any boss in Sonic Forces, it has six hit-points in the first phase, nine more hit-points in the second phase (provided the core is not attacked), and sixty hit-points in the third phase, giving the Death Egg Robot seventy-five hit-points in total.
The final phase of the fight bears a striking resemblance to the Nega-Wisp Armor.
This boss is referred to as the "Mega Death Egg Robot" (

メガデスエッグロボ

Megadesueggurobo

?

) in Sonic Forces' original soundtrack.[1]
This boss is referred to as the "Colossal Death Egg Robo" in an early script for Sonic Forces.[2]
Unlike Classic Sonic and the Avatar, who confront the Death Egg Robot each by themselves during their respective phases, the player does not directly control Modern Sonic alone during the third and final part of the battle, and instead has the three characters team up to defeat it together.
Unlike final bosses in previous titles, such as Sonic Generations and Sonic Lost World, Dr. Eggman's fate after the battle is unknown.

If the story of Team Sonic Racing is taken into consideration, it is shown Eggman survived the battle, just as in past games.

The final phase, where the player controls Sonic, Avatar, and Classic Sonic all three at the same time, shares similarities to the team-based gameplay of Sonic Heroes, although in this case, you can't switch between the characters, and Sonic is always in the lead.

The player also cannot switch between using Sonic and either Classic Sonic or the Avatar, so they are just there to perform the Homing Attack as a hit.
Music
| Name | Artist | Length | Music Track |
| --- | --- | --- | --- |
| "Battle with Mega Death Egg Robot" | Tomoya Ohtani | 4:48 | |
Video
References
---
Main article | Script | Staff | Manuals | Beta elements | Gallery
Playable characters
Sonic (Super Sonic) | Classic Sonic (Classic Super Sonic) | Avatar | Shadow (Episode Shadow)
Non-playable
characters
Resistance (Tails, Knuckles, Amy, Team Chaotix (Vector, Espio, Charmy), Silver, Team Dark (Shadow, Rouge, Omega)) | Dr. Eggman | Infinite | Orbot | Cubot | Metal Sonic | Chaos | Zavok | Animals (Cucky, Flicky, Pecky, Picky, Pocky, Ricky, Rocky)
Wisps
Blue Wisp | Green Wisp | Indigo Wisp | Ivory Wisp | Red Wisp | Violet Wisp | White Wisp | Yellow Wisp
World Map regions
Chemical Plant | City | Death Egg | Eggman Empire Fortress | Green Hill | Metropolis | Mystic Jungle
Stages

General

Lost Valley | Spaceport | Ghost Town | Prison Hall | VS. Zavok | Egg Gate | Arsenal Pyramid | Luminous Forest | VS. Infinite | Green Hill | VS. Eggman | Park Avenue | Casino Forest | Aqua Road | Sunset Heights | Capital City | VS. Infinite | Chemical Plant | Red Gate Bridge | Guardian Rock | Network Terminal | Death Egg | Metropolitan Highway | Null Space | Imperial Tower | Mortar Canyon | VS. Infinite | Iron Fortress | Final Judgement | VS. Death Egg Robot

Episode Shadow

Enemy Territory | Eggman's Facility | Virtual Reality
Secret
Fire Cannon 1 | Vanish Panel 1 | Bomb Block 1 | Plasma Cannon 1 | Laser Cannon 1 | Reverse Block 1
Extra
Flying Pod | Bomb Block 2 | Laser Cannon 2 | Reverse Block 2 | Vanish Panel 2 | Fire Cannon 2 | Plasma Cannon 2
Enemies
Aero-Chaser | Buzz Bomber | Chopper | Egg Pawn | Egg Tank | Egg Walker | Galaga Bee | Moto Bug | Missile Pod | Nebula | Sandworm | Sprinkler | Valkeen
Bosses
Death Egg Robot | Eggman | Egg Dragoon | Infinite | Metal Sonic | Zavok
Moves/Techniques
Air Boost | Boost | Crouch | Double Boost | Double Jump | Drop Dash | Grind Step | Grinding | Homing Attack | Side Step/Cartwheel | Skydiving | Slide | Super Sonic Boost | Spin Dash | Spin Jump | Stomp | Triple Boost | V. Maximum Overdrive Attack | Wall Jump | Wire Attack
Gimmicks and obstacles
Balloon | Bottomless pit | Bumper | Capsule | Conveyor Belt | Dash Panel | Dash Rail | Dash Ring | Fan | Flipper | Flywheel | Goal | Goal Plate | Grind Rail | High-speed warp tube | Hint Ring | Iron ball | Jump Panel | Laser field | List of pinball obstacles | Pulley | Rainbow Ring | Ring Shooter | Slot machine | Spikes | Spring | Spring Catapult | Spring Pole | Star Post | Wide spring | Wire Target | Zip Line
Items
General
Air Bubble | Blue Block | Blue Ring | Container (Unbreakable Container, Wooden Container) | Costume | Item Box (Bonus Rings, Invincibility, Power Sneakers, Shield) | Medal | Meteorite | Number Ring | Red Star Ring | Ring | Silver Moon Ring | Wisp Capsule
Wispons
Asteroid | Burst | Cube | Drill | Hover | Lightning | Void
English voice actors
Roger Craig Smith (Sonic) | Mike Pollock (Eggman) | Liam O'Brien (Infinite) | Colleen O'Shaughnessey (Tails, Charmy) | Travis Willingham (Knuckles, Zavok) | Cindy Robinson (Amy) | Kirk Thornton (Shadow, Orbot) | Karen Strassman (Rouge) | Vic Mignogna (Omega) | Quinton Flynn (Silver) | Keith Silverstein (Vector) | Matthew Mercer (Espio) | Wally Wingert (Cubot)
Japanese voice actors
Junichi Kanemaru (Sonic) | Kotaro Nakamura (Eggman) | Takashi Kondō (Infinite) | Ryo Hirohashi (Tails) | Nobutoshi Canna (Knuckles) | Taeko Kawata (Amy) | Kōji Yusa (Shadow) | Rumi Ochiai (Rouge) | Taiten Kusunoki (Omega) | Daisuke Ono (Silver) | Kenta Miyake (Vector) | Yūki Masuda (Espio) | Yōko Teppōzuka (Charmy) | Jōji Nakata (Zavok) | Mitsuo Iwata (Orbot) | Wataru Takagi (Cubot) | Fumihiko Tachiki (Narrator)
Music
Songs
Fading World | Fighting Onward | Fist Bump | Infinite | Justice | Moonlight Battlefield | Nowhere to Run | Rhythm And Balance | Set in Motion | Supporting Me | The Light of Hope | Virtual Enemies
Albums
Sonic Forces Original Soundtrack - A Hero Will Rise | Sonic Forces Vocal Traxx - On The Edge | Sonic Forces Hi-Res Collection | Sonic Forces Original Soundtrack The Vinyl Cutz
Other
Boost Gauge | Chaos Control | Challenge Mission | Daily Mission | Death Crab | Death Egg | Death Egg Robot | Death Egg Robot sentinel | Death Queen | Egg Dragoon | Egg Mobile | Eggman Army | Eggman Empire | Eggman Fleet | Experience | Health Gauge | Jackal Squad | Mega Mack | Miles Electric | Operation Big Wave | Phantom Ruby | Phantom Ruby prototype | Real-Time Interaction | Replica | Resistance HQ | Sandworm | Skill | Sonic Forces digital comic (Moment of Truth, Stress Test, Looming Shadow, Rise of Infinite) | Sonic Forces: Speed Battle | SOS Mission | Time Over | War to Take Back the Planet | Winding Tunnel | Wisp Gauge
Community content is available under
CC-BY-SA
unless otherwise noted.