For other uses of this term, see Death Egg Robot (disambiguation).
The Death Egg Robot (デスエッグロボ, Desueggurobo?) is an object in the Sonic the Hedgehog series. It is a giant battle robot built by Dr. Eggman in his own image which has been used by the doctor on numerous occasions to battle Sonic the Hedgehog and his allies.
Description
Appearance
The first depiction of the first Death Egg Robot model showed it as a humanoid mech whose head and torso came together in an indistinguishable egg shape. Its head and torso bore a great resemblance to Dr. Eggman during his younger days, right down to his mustache and attire, but with a metallic grey scalp and a small antennas on the sides of its head. It also had yellow shoulders with red arrow marks on them, along with red and yellow arms with three spikes for fingers, a grey jetpack on the back, and thighs made of two grey spheres each. It also had large and armored red feet with kneecaps.
Modern depictions of the first Death Egg Robot model depict it as much taller than initially shown. While still similar to the original, its modern depiction has a sturdier chassis, what that appears to be wheels installed in the feet, round shoulders, and a black and grey jetpack consisting of two rectangular cylinders. The antennas seen on the head of the original are also absent and the forearms appear to have been redesigned to be much bulkier to allow for the rotary spikes on their ends. Its lower chassis is also smaller and its legs are shorter.
The Death Egg Robot that appeared onboard the E.G.G. Station Zone was similar to the first model, but with a noticeable paint job, such as more black details and Eggman Empire shoulder tattoos, to reflect the modern Eggman design. It also had almost stubby legs.
The Death Egg Robot that appeared at the Eggman Empire Fortress came in two forms. In its first form, the Death Egg Robot was a massive grey mech with some red here and there. It had a small dome-shaped head that could open up like an eye. It also had three spike-like appendages on top of it similar to a crown, a rounded body with a red energy core in the middle, four tentacles with three-clawed hands at the end of each one on its back, large shoulder pads with silver on its upper and lower arms and large fist with four fingers on both arms, and a very serpent-like lower body. In its second form, it was a three-headed mech with a large head in the middle, two smaller heads on the sides and smaller cord-like appendages below it, each with a single eye. It looked very much like the Nega-Wisp Armor, the only differences being that it was white and that it had eight long tentacles, six of which ended with three small three-clawed hands, and two of which ended with large eight-clawed hands that could open up. This form was also smaller then its previous form.
Abilities and traits
The first Death Egg Robot model was a massive powerhouse but was incredibly slow. Its thick chassis made it highly resilient to attacks and it possessed a jetpack that made it capable of flight. It could also fire its hands as projectiles and guide them back to its arms to reattach them and deploy small bombs. Modern depictions also indicate that the first Death Egg Robot had telescopic arms, an articulated waist that let it rotate its torso 360 degrees, enough durability to be nearly impervious to attacks (even bombs could only stun it temporarily), and enough strength to jump and smash metal like paper despite its massive frame.
The second Death Egg Robot that appeared onboard the E.G.G. Station Zone had all the original model's abilities and more. In addition to being significantly faster and more durable than the original, this Death Egg Robot could generate an electrical field around itself that made it invulnerable. It could also fire lasers and energy blasts.
History
Sonic the Hedgehog 2
In Sonic the Hedgehog 2, after being chased deep into his Death Egg by Sonic the Hedgehog after the hedgehog's victory over Mecha Sonic, Dr. Robotnik entered his final trump card - the Death Egg Robot - and took his stand against Sonic. After a heated battle, Sonic defeated Eggman and his Death Egg Robot one-on-one, and the Death Egg began to explode.[1]
Sonic the Hedgehog 4: Episode I
In Sonic the Hedgehog 4: Episode I, Dr. Eggman used an updated version of the Death Egg Robot to battle Sonic the Hedgehog after the hero had chased him to his E.G.G. Station. Although this Death Egg Robot proved a more formidable foe than last time, Sonic still managed to defeat Eggman and this mech suit, causing the entire E.G.G. Station to explode.
Sonic Forces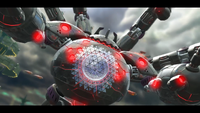 In Sonic Forces, Eggman made an alien-looking Death Egg Robot as his final trump card against the Resistance. This robot had the Phantom Ruby incorporated into it, allowing the gem to stay safe while the Resistance targeted what turned out to be a decoy.
Shortly after the decoy was destroyed, the Death Egg Robot made its appearance. Eggman viewed the machine, as well as himself, as the ultimate successor to Infinite, retaining all his abilities. Using his Phantom Ruby-empowered mech, Eggman began conjuring up thousands of replicas of Shadow, Metal Sonic, Zavok, Chaos, and Infinite. With this massive army and his remaining fleet, Eggman planned to wipe out the entire Resistance and perfect his rule over the world. Despite the odds however, Sonic the Hedgehog, Classic Sonic, and the Avatar completely destroyed the Death Egg Robot, wiping out the last of the replicas and returning peace to the world.
Variants
Death Egg Robot sentinel
The Death Egg Robot sentinel is a mass-produced version of the Death Egg Robot. Although similar in design, they are far greater in size and possess much more destructive potential. However, they appear to be much more fragile. They appear in Sonic Forces.
In other media
Sonic the Comic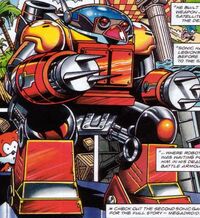 The Death Egg Robot (referred to only as Robotnik's "deadly battle armour") appeared in a flashback in Sonic the Comic #27, "Part 2: A Tale of Tails". The main events of Sonic the Comic take place after Sonic 2, and in the story in question, the Death Egg Robot is revealed to have played precisely the same role as in the game: Sonic fought Robotnik aboard the Death Egg (with Robotnik in the Death Egg robot) in order to prevent the satellite's operation.
Archie Comics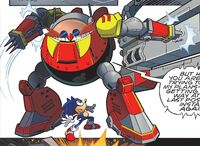 In the Sonic the Hedgehog comic series and its spin-offs published by Archie Comics, the Death Egg Robot is referred to as the Egg Destroyer Battlesuit. During Operation: Clean Sweep, it was used by Dr. Eggman to battle Sonic. However, it got destroyed once Sonic transformed into Super Sonic.
Following the events of Worlds Collide, the Egg Destroyer Battlesuit's past is now virtually identical to its game counterpart's.
IDW Publishing
In the Sonic the Hedgehog comic series and its spin-offs published by IDW Publishing, the Death Egg Robot is presented as one of the many Eggman mechs that Sonic has fought over the years.
Trivia
Gallery
References
---
Main article | Gallery | Staff | Glitches (Knuckles in Sonic 2) | Prereleases (Nick Arcade | Simon Wai) | Re-releases (2006 | 2013) | Knuckles in Sonic 2
Characters
Sonic (Super Sonic, Glitch Sonic) | Tails (Super Tails**) | Knuckles (Super Knuckles) | Dr. Robotnik | Animals (Becky, Cucky, Flicky, Pocky, Pecky, Cucky, Ricky, Picky, Rocky, Locky, Wocky, Micky, Tocky)
Badniks
Aquis | Asteron | Balkiry | Banper* | Batbot** | BFish* | Bubbler* | Bubbler's Mother* | Buzzer | Cactus* | Chop Chop | Clucker | Coconuts | Crawl | Crawlton | Flasher | Frog* | Gator* | Gohla | Grabber | Grounder | Jellygnite** | Lobster* | Masher | Nebula | Octus | Rexon | Shellcracker | Slicer | Snail* | Spiker | Spiny | Stegway** | Turtloids | Redz** | Whisp
Zones
Emerald Hill Zone | Chemical Plant Zone | Aquatic Ruin Zone | Casino Night Zone | Hill Top Zone | Mystic Cave Zone | Oil Ocean Zone | Metropolis Zone | Sky Chase Zone | Wing Fortress Zone | Death Egg Zone | Hidden Palace Zone** | Genocide City Zone* | Dust Hill Zone* | Rock World Zone* | Wood Zone* | Egg Gauntlet Zone** | Boss Attack Zone** | Proto Palace Zone** | Special Stage
Bosses
Drill Eggman | Water Eggman | Tonkachi Eggman | Catcher Eggman | Submarine Eggman | Drill Eggman II | Hidden Palace Zone boss** | Submarine Eggman II | Flying Eggman | Barrier Eggman | Mecha Sonic | Death Egg Robot
Moves/Techniques
Climb | Glide | Insta-Shield** | Propeller Flying | Spin Jump | Super Dash Attack | Super Spin Attack
Items
Air Bubble | Bomb | Booster | Bumper | Capsule | Continue | Fan | Flipper | Iron ball | Jump Panel | Metal nut | Monitor (Super Ring, Shield, Power Sneakers, Invincibility, Extra Life, Teleporter, Eggman, Lightning Shield**, Flame Shield**, Random, Water Shield**, S**) | Ring | Signpost | Spring | Spring Catapult | Star Circle | Star Post | Switch
Other
Original Soundtrack | Bumper wall | Cannon | Chaos Emerald | Conveyor Belt | Corkscrew loop | Crusher | Death Egg Robot | Debug Mode | Egg Jet | Giant spear | Gondola | High-speed elevator | High-speed warp tube | Mega Mack | Perfect Bonus | Seesaw | Shuttle loop | Slot machine | Spikes | Stone pillar | Time Attack | Tornado | Totem pole | West Side Island | Winding Tunnel

*Exclusive to the prototype versions of Sonic the Hedgehog 2.
** Exclusive to the 2013 re-release version.
---
Main article | Script | Gallery | Staff | Beta elements
Playable characters
Sonic (Super Sonic) | Classic Sonic (Classic Super Sonic) | Avatar | Shadow (Episode Shadow)
Other characters
Resistance (Tails, Knuckles, Amy, Team Chaotix (Vector, Espio, Charmy), Silver, Team Dark (Shadow, Rouge, Omega)) | Dr. Eggman | Infinite | Orbot | Cubot | Metal Sonic | Chaos | Zavok | Animals (Cucky, Flicky, Pecky, Picky, Pocky, Ricky, Rocky)
Wisps
Blue Wisp | Green Wisp | Indigo Wisp | Ivory Wisp | Red Wisp | Violet Wisp | White Wisp | Yellow Wisp
World Map regions
Chemical Plant | City | Death Egg | Eggman Empire Fortress | Green Hill | Metropolis | Mystic Jungle
Stages

Regular

Lost Valley | Spaceport | Ghost Town | Prison Hall | VS. Zavok | Egg Gate | Arsenal Pyramid | Luminous Forest | VS. Infinite | Green Hill | VS. Eggman | Park Avenue | Casino Forest | Aqua Road | Sunset Heights | Capital City | VS. Infinite | Chemical Plant | Red Gate Bridge | Guardian Rock | Network Terminal | Death Egg | Metropolitan Highway | Null Space | Imperial Tower | Mortar Canyon | VS. Infinite | Iron Fortress | Final Judgement | VS. Death Egg Robot

Episode Shadow

Enemy Territory | Eggman's Facility | Virtual Reality
Secret
Fire Cannon 1 | Vanish Panel 1 | Bomb Block 1 | Plasma Cannon 1 | Laser Cannon 1 | Reverse Block 1
Extra
Flying Pod | Bomb Block 2 | Laser Cannon 2 | Reverse Block 2 | Vanish Panel 2 | Fire Cannon 2 | Plasma Cannon 2
Enemies
Aero-Chaser | Buzz Bomber | Chopper | Egg Pawn | Egg Tank | Egg Walker | Galaga Bee | Moto Bug | Missile Pod | Nebula | Sandworm | Sprinkler | Valkeen
Bosses
Death Egg Robot | Eggman | Egg Dragoon | Infinite | Metal Sonic | Zavok
Moves/Techniques
Air Boost | Boost | Bottomless pit | Crouch | Double Boost | Double Jump | Drop Dash | Grind Step | Grinding | Homing Attack | Side Step/Cartwheel | Skydiving | Slide | Super Sonic Boost | Spin Dash | Spin Jump | Stomp | Triple Boost | V. Maximum Overdrive Attack | Wall Jump | Wire Attack
Gimmicks and obstacles
Balloon | Bumper | Conveyor Belt | Dash Panel | Dash Rail | Dash Ring | Fan | Flipper | Flywheel | Goal | Goal Plate | Grind Rail | High-speed warp tube | Hint Ring | Iron ball | Jump Panel | Laser field | List of pinball obstacles | Pulley | Rainbow Ring | Ring Shooter | Slot machine | Spikes | Spring | Spring Catapult | Spring Pole | Wide spring | Wire Target | Zip Line
Objects
General
Air Bubble | Blue Block | Blue Ring | Capsule | Container (Unbreakable Container, Wooden Container) | Costume | Item Box (Invincibility, Power Sneakers, Shield, Super Ring) | Medal | Meteorite | Number Ring | Red Star Ring | Ring | Silver Moon Ring | Star Post | Wisp Capsule
Wispons
Asteroid | Burst | Cube | Drill | Hover | Lightning | Void
English voice actors
Roger Craig Smith (Sonic) | Mike Pollock (Eggman) | Liam O'Brien (Infinite) | Colleen Villard (Tails, Charmy) | Travis Willingham (Knuckles, Zavok) | Cindy Robinson (Amy) | Kirk Thornton (Shadow, Orbot) | Karen Strassman (Rouge) | Vic Mignogna (Omega) | Quinton Flynn (Silver) | Keith Silverstein (Vector) | Matthew Mercer (Espio) | Wally Wingert (Cubot)
Japanese voice actors
Junichi Kanemaru (Sonic) | Kotaro Nakamura (Eggman) | Takashi Kondō (Infinite) | Ryo Hirohashi (Tails) | Nobutoshi Canna (Knuckles) | Taeko Kawata (Amy) | Kōji Yusa (Shadow) | Rumi Ochiai (Rouge) | Taiten Kusunoki (Omega) | Daisuke Ono (Silver) | Kenta Miyake (Vector) | Yūki Masuda (Espio) | Yōko Teppōzuka (Charmy) | Jōji Nakata (Zavok) | Mitsuo Iwata (Orbot) | Wataru Takagi (Cubot) | Fumihiko Tachiki (Narrator)
Music
Songs
Fading World | Fighting Onward | Fist Bump | Infinite | Justice | Moonlight Battlefield | Nowhere to Run | Rhythm And Balance | Set in Motion | Supporting Me | The Light of Hope | Virtual Enemies
Albums
Sonic Forces Original Soundtrack - A Hero Will Rise | Sonic Forces Vocal Traxx - On The Edge | Sonic Forces Hi-Res Collection | Sonic Forces Original Soundtrack The Vinyl Cutz
Other
Boost Gauge | Chaos Control | Challenge Mission | Daily Mission | Death Crab | Death Egg | Death Egg Robot | Death Egg Robot sentinel | Death Queen | Egg Dragoon | Egg Mobile | Eggman Army | Eggman Empire | Eggman Fleet | Experience | Health Gauge | Jackal Squad | Mega Mack | Miles Electric | Operation Big Wave | Phantom Ruby | Phantom Ruby prototype | Real-Time Interaction | Replica | Resistance HQ | Sandworm | Skills | Sonic Forces digital comic (Moment of Truth, Stress Test, Looming Shadow, Rise of Infinite) | Sonic Forces: Speed Battle | SOS Mission | Time Over | War to Take Back the Planet | Winding Tunnel | Wisp Gauge