Fire Emblem Warriors: Three Hopes - The Loop
Play Sound
All six members of the Deadly Six are fought in a boss rush as penultimate bosses in Sonic Lost World, taking place in Lava Mountain Zones 1 and 3.
Zone 1
Zazz, Zomom and Master Zik are fought in Zone 1. The battles take place on a planetoid where it is constantly being bombarded by meteors with large lava rocks rolling around on it. While fighting, the player has to watch out for meteors and lava rocks while dodging their attacks.
Zazz
Gonna beat you like a drum!
— Zazz, before the fight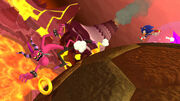 The player fights Zazz as the first boss of the three. When fighting him, Zazz's strategy consists of firing off several volleys of two energy balls that travel outward in a "V" shape, and then running away while leaving a trail of energy tacks behind. During the fight, Zazz can at any time be attacked by the player. Hit him enough times and Zazz will be defeated.
Zomom
Blue, my favorite flavor!
— Zomom, before the fight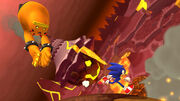 After Zazz is defeated, Zomom will appear. He can spin around rapidly, shooting multiple energy projectiles in the process. He can also burrow underground and follow the player. If the player can lure Zomom towards a lava pit, he will resurface immediately, leaving him vulnerable to attack. Upon resurfacing, he can fire even more energy blasts. As long as he is above ground, he can be attacked. Hitting him enough times will defeat him.
Master Zik
This time, I will hold nothing back!
— Master Zik, before the fight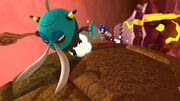 After Zomom is defeated, Master Zik will appear to fight. Before he appears, the planetoid will break apart, exposing lava that the player must avoid going into. Zik will run along the pathway, shooting out large balls of energy that can be avoided through double jumping. It is best to target Zik after he has shot the energy balls. Defeating him will complete Zone 1.

Music
| Name | Artist(s) | Length | Music track |
| --- | --- | --- | --- |
| "Boss Rushes" | Tomoya Ohtani | 2:13 | |
Zone 3
Zeena, Zor and Zavok are fought in three vertical segments of Zone 3.
Zeena
What, no flowers?
— Zeena, before the fight
Zeena is fought at the end of the first vertical-scrolling 2D tower section in Lava Mountain Zone 3. Her boss battle arena consists of a seesaw-like platform in the center of a pool of lava with a row of spikes along the ceiling.
Zeena's strategy in this battle consists of jumping about and pounding down on one side of the seesaw, raising the other side up. If Sonic is standing on the seesaw when this happens, he'll be catapulted up to the spikes above, causing the player damage. The player can avoid this by jumping before Zeena impacts.
After stomping, Zeena remains stationary for a moment where she is vulnerable to the player's attacks. She can be damaged by locking on to her and using the Homing Attack. After dealing six hits to her, Zeena will be defeated and the player can procceed to the next section of the Zone.
Zor
Do you realize how meaningless we all are? Well, mostly you.
— Zor, before the fight
Zor is encountered towards the end of the second tower in Lava Mountain Zone 3. The player will encounter him while climbing up a vertical shaft of elevator platforms. While climbing through this shaft, Zor will begin firing off various energy projectiles at the player, including one that will slowly, yet accurately, home in on the player, and will jump from platform to platform in an attempt to ram into the player.
In this boss battle, the player cannot attack Zor as he cannot be locked on to, and jumping into him will only cause damage to the player. Instead, the player has to try to avoid him and climb up the tower by jumping from platform to platform. When the player reaches the top, the lava will quickly rise up from below, making a pit of molten lava underneath the player that will cause the player to lose a life should the player fall into it. To beat Zor, the player needs to survive climbing up the elevator shaft and then pull one of the hanging switches on either side of the top of the tower to cause the elevator, along with Zor, to collapse into the lava below. Afterwards, the player can move on ahead to the final part of the Zone.
Music
| Name | Artist(s) | Length | Music track |
| --- | --- | --- | --- |
| "Boss Rushes (Guitar ver.)" | Tomoya Ohtani | 2:15 | |
Zavok
Let's put an end to this!
— Zavok, before Phase 1 of his fight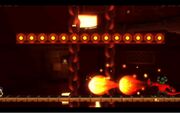 The final fight with Zavok takes place at the end of the final 2D tower section in Lava Mountain Zone 3. During this battle, Zavok will jump around and attempt to stomp down on the player, and as well as shoot off giant, slow-moving fireballs from his palm at the player. Above the battle field, there is suspended a row of red block-shaped explosive crates that Zavok will jump up on and begin stomping on, which will then cause them to be knocked down and explode upon contact with the ground.
To defeat Zavok at this point, the player has to lure Zavok off the blocks overhead. He will always stomp down on where Sonic is, so it is recommended to lure him to a hole where he has already stomped down a block. After landing on the ground Zavok will remian idle a few moments afterward, allowing the player to attack with the Homing Attack.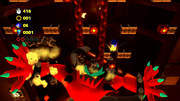 After being struck enough times with the Homing Attack, Zavok will jump into the pit below the battlefield and grows to a giant size, leading into the boss fight with Giant Zavok.
Music
| Name | Artist(s) | Length | Music track |
| --- | --- | --- | --- |
| "Battle With Zavok" | Tomoya Ohtani | 4:54 | |
---
Main article | Script | Staff | Glitches | Gallery | Re-releases (PC)
Playable characters
Sonic (Super Sonic) | Virtual Hedgehog*
Non-playable characters
Amy | Animals (Cucky, Flicky, Pecky, Picky, Pocky, Ricky, Rocky) | Clawz | Cubot | Deadly Six (Master Zik, Zavok (Giant Zavok), Zazz, Zeena, Zomom, Zor) | Dr. Eggman | Gillwing | Gulpo | Jackle | Knuckles | Link* | Nightopian | NiGHTS | Omochao | Orbot | Puffy | Reala | Tails | Wizeman | Yacker* | Yoshi*
Wisps
Black | Crimson | Cyan | Gray* | Green | Indigo | Magenta | Orange | White* | Yellow
Levels
Worlds
Windy Hill | Desert Ruins | Tropical Coast | Frozen Factory | Silent Forest | Sky Road | Lava Mountain | Hidden World
Misc.
Circus* | NiGHTMARE Zone | The Legend of Zelda Zone* | Yoshi's Island Zone*
Enemies
Badniks
Antlion | Anton | Antlion Mother | Aquis | Balkiry | Ball Hog | Batbrain | BFB | Blowfish Transporter | Blaster | Bomb | Burrobot | Buzz Bomber | Caterkiller | Chopper | Clucker | Cluckoid | Coconuts | Crabmeat | Crawl | Crawlton | Dragonfly | Dung Beetle | Egg Pawn | Galaga Bee | Gohla | Grabber | Gustav Turtle | Jaws | Laser Grabber | Madmole | Manbou | Manta | Moto Bug | Mushmeanie | Nebula | Newtron | Octus | Orbinaut (Uni Uni, Unidasu) | Pata-Bata | Penguinator | Sandworm | Slicer | Snale Blaster | Spiker | Spikes | Sprinkler | Tarantula | Tonber | Turtloids | Utsubo
Other
Baku Baku | Boo | Boom Boo | Cactus Ball | Deku Scrub* | Keese* | Piranha Plant* | Sandworm | Sheep | Shy Guy* | Stalchild* | Yeti
Bosses
Zazz (Puffy) | Zomom | Master Zik (Gulpo) | Zeena (Clawz) | Zor (Jackle) | Zavok (Gillwing) | Deadly Six | Giant Zavok | Eggrobo
Moves/
Techniques
General
Bound Jump | Charged Dash | Dash | Double Jump | Duck | Flying Kick | Focused Homing Attack | Grinding | Ring Dash | Skydiving | Spin Dash | Spin Jump | Super Sonic Boost
Parkour
Hang | Side Step | Vault | Vault Dash | Wall Climb | Wall Jump | Wall Run | Wall Spin Dash
Color Powers
Black Bomb | Crimson Eagle | Cyan Laser | Gray Quake* | Green Hover | Indigo Asteroid | Magenta Rhythm | Orange Rocket | Yellow Drill
Gimmicks and obstacles
Balloon | Billiard Ball | Bumper | Cannon | Capsule | Cloud | Coconut | Conveyor Belt | Dash Panel | Dash Rail | Drop Target | Fireball | Flipper | Grind Rail | High-speed warp tube | Hint Ring | Iron ball | Lighting switch | Metal nut | Minecart | Musical note | Prism | Seesaw* | Slot machine | Spring | Spring Catapult | Star Post | Surprise Crocodile | Truffle Cannon | Windmill
Items
General
1-Up | Apple | Asteroid Ring | Blue Chip | Bound bell | Cage | Casino Token | Chaos Emerald | Floating Item Box | Invincible | Item Box (Warp) | Number Ring | Power Sneakers | Red Star Ring | Ring | Ring (NiGHTS) | Shield | Thunder Shield
RC Vehicles
Helicopter | Fighter Jet | Stealth Jet | Hovercraft | Balloon | UFO | Omochao
English voice actors
Roger Craig Smith (Sonic) | Mike Pollock (Eggman) | Kate Higgins (Tails) | Travis Willingham (Knuckles, Zavok) | Cindy Robinson (Amy) | Kirk Thornton (Orbot, Master Zik) | Wally Wingert (Cubot) | Liam O'Brien (Zazz) | Patrick Seitz (Zomom) | Stephanie Sheh (Zeena) | Sam Riegel (Zor)
Japanese voice actors
Jun'ichi Kanemaru (Sonic) | Chikao Ōtsuka (Eggman) | Ryō Hirohashi (Tails) | Nobutoshi Canna (Knuckles) | Taeko Kawata (Amy) | Mitsuo Iwata (Orbot) | Wataru Takagi (Cubot) | Jōji Nakata (Zavok) | Yutaka Aoyama (Zazz) | Yumi Tōma (Zeena) | Makoto Terada (Master Zik) | Chafūrin (Zomom) | Yūki Tai (Zor)
Music
Sonic Lost World Bonus Soundtrack (Special Selection) | Sonic Lost World: Wonder World EP | Without Boundaries: Sonic Lost World Original Soundtrack
Other
Auto Running | Cacophonic Conch | Egg Mobile | Extractor | Havok | Life | Life (energy) | Loop | Lost Hex | Mech Dragon | Miles Electric | Mission | Moon Mech | Rank | Secret Bonus | Sonic the Hedgehog Halloween ComicFest 2013 | Time Attack | Tornado | Totem pole | Water | Wisp Away* | Wisp Gauge | Zeti

*Appears in the Wii U version only.