| | |
| --- | --- |
| | Information in this article may not be canonical to the storyline of the games or any other Sonic continuity. |
The De-Roboticizer[1] is an object that appears in the Sonic the Hedgehog television series. It is a counterpart device to the Roboticizer in development by the Knothole Freedom Fighters. Its function is to reverse the process of roboticization.
Description
Appearance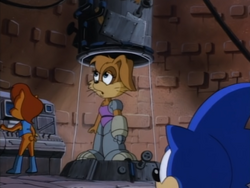 The De-Roboticzer looks like a Roboticizer, except it is smaller and simpler in design. Noticeably, it is only large enough to treat one person at a time. In terms of design, it consists of a platform where a roboticized person is to stand on. Also, on top of the aforementioned plaform is a tube-like projector from which the de-roboticization energies flow. The person that is to be treated with the De-Roboticizer can also be sealed inside a transparent capsule that can be lowered from the top of the device.
Features and abilities
A De-Roboticizer can reverse the robotization process and restore Worker-Bots (or partial Worker-Bots) to their original organic selves. However, these effects are currently only temporarily; after some time, the subjects' robotic bodies or body parts will return.[1]
History
TV series
Season two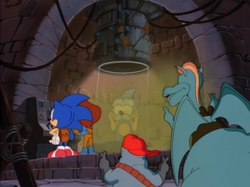 Seeking to restore Dr. Robotnik's Worker-Bots, the Knothole Freedom Fighters constructed the De-Roboticizer, which they placed in Rotor's workshop in Knothole Village. When it was deemed operational, Bunnie became the first person to try out the De-Roboticizer. When the de-robotization on Bunnie seemingly turned out successful, Sonic brought Chuck to Knothole Village to use the De-Roboticizer on him. However, the machine suffered a malfunction when the heroes tried using it on Chuck. Needing spare parts for the De-Roboticizer, Sonic got the parts they needed from the original Roboticizer. After Sonic came back with the parts, the Knothole Freedom Fighters successfully de-robotized Chuck. Chuck proceeded to help the group improve the De-Roboticizer to make it more stable. While Sally and Bunnie discussed a plan to restore more Worker-Bots however, Bunni's Worker-Bot parts returned to her. The same thing soon after happened to Chuck while he worked on the De-Roboticizer with Tails and Antoine. Worker-Bot-Chuck proceeded to kidnap the pair and destroy the De-Roboticizer. After sorting this situation out, Sally optimistically concluded that the despite the damage, they could get the De-Roboticizer up and running again.[1]
See also
References
Community content is available under
CC-BY-SA
unless otherwise noted.