Fire Emblem Warriors: Three Hopes - The Loop
Play Sound
Dark Gaia's Minions (ダークガイアのしもべ, Dāku Gaia no Shimobe?) are creatures that appear in the Sonic the Hedgehog series. They were the energy fragments of Dark Gaia, having gained physical form and life of their own after its premature awakening caused it to disperse across the earth.
Description
Anatomy
Completely composed of Dark Gaia's energy, the members of Dark Gaia's Minions are very diverse in terms of anatomy, coming in a variety of shapes and sizes. The majority of them take the appearance of animals, with the bulk of them resembling humanoid chameleons with horns and spikes, while others look like large bees, sphere-shaped bats, giant horned eels, and small bulldog-like dinosaurs. Others look like phantom-like wizards, towering cyclops, blobby humanoids and even plants.
Physical characteristics Dark Gaia's Minions share are usually freakishly appearances, blackish blue skin, and glowing body markings in different neon colors. Stronger variants of them however have neon red skin.
Characteristics and culture
Dark Gaia's Minions lack any traits of sapience and operate solely on an innate desire to cause destruction, despair and harm to others. This makes them very hostile and aggressive, as they will attack everyone nearby. They are also naturally compelled to cause psychological problems and erratic in other beings by possessing them.
Most of Dark Gaia's Minions are simple and animalistic in nature, only giving of growls and roars and possessing just enough intelligence to fight effectively or carry out their goals. There are those among Dark Gaia's Minions which are born with exceptionally high intelligence however, which lets them take on more humanoid forms. As the night and darkness are their element, Dark Gaia's Minions are exclusively nocturnal creatures and cannot stand sharp sources of light.
How Dark Gaia's Minions are created differs between each type. Usually, a minions is created when Dark Gaia's energy comes in contact with negative emotion, with the type of Dark Gaia's Minions depending on the emotion. In other cases, Dark Gaia's Minions can be the environment or flora that has been mutated by Dark Gaia's energy.
For many of Dark Gaia's Minions, there exists a stronger and tougher version of it, such as the Dark Fright and the Red Fright. These member are usually born from stronger forces and can be recognized by their neon red skin and cyan markings.
Powers and abilities
Dark Gaia's Minions possess a diversity of powers, with each variant possessing their own specific powers. This can include elastic limbs, flight, reproduction, or even energy projection for power argumentation or devastating attacks. Humanoid minions, such as the Nightmare variant, the Master variant and the Titans, have noticeable skills in ruthless hand-to-hand combat, while more animal-like members simply attack by biting or stinging.
The level of physical abilities between Dark Gaia's Minions depends on their rank; the bigger and/or more monstrous the Dark Gaia Minion, the more powerful it is. The most powerful members tend to have superhuman powers, such as super strength, super speed and other abilities.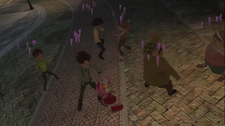 A common power amongst Dark Gaia's Minions is their ability to terrorize humans on a psychological level by possessing them. By latching onto the deepest, darkest part of the heart, the minions can generate despair, negative emotions or even erratic behavior that are completely opposite to a person's personality. As an example, the normally jolly Ice Cream Vendor would get a nervous breakdown during nighttime due to the minions. People that are possessed by Dark Gaia's Minions have small purple clouds emitting from them. Each of Dark Gaia's Minions can also teleport to other locations in a puff of purple smoke or emerge from black puddles on the ground. When Dark Gaia's Minions are defeated in battle, they dissolve back into energy form.
Dark Gaia's Minions have certain unique weaknesses. They cannot handle sharp sources of light which tend to weaken them or at least disrupt their powers. As such, they can be exorcised with the light from the blitz of a camera. Also, if a person is strong-willed enough, the psychological-changing effects from Dark Gaia's energies are nullified.
Game appearances
Sonic Unleashed
In the Xbox 360/PlayStation 3 version of Sonic Unleashed, the entirety of Dark Gaia's Minions were created at the beginning of the game. Seeking to harness Dark Gaia's limitless energies to construct Eggmanland, Dr. Eggman sought to awaken the entity within earth's core. As such, the doctor lured Super Sonic into his Chaos Energy Cannon and used the power of the seven Chaos Emeralds to force Dark Gaia to emerge from its slumber prematurely. However, because Dark Gaia had yet to reach full maturity inside the earth's core when Dr. Eggman awoke it, it was unable to support the weight of its own mass when it rose form the core, and as a result, broke into countless energy fragments that scattered across the globe. It was from these fragments Dark Gaia's Minions were born from.
From this point on, Dark Gaia's Minions began to terrorize the world as monsters that would appear at night and endanger the safety of earth's people, and making Sonic's quest to restore the world back to normal more difficult as well. This continued for some time, until Dr. Eggman, being the one at fault for the sudden appearance of these monsters, devised a machine that created a homing beacon which could make all of Dark Gaia's Minions converge in one spot, so that he could rebuild Dark Gaia.
At the time Sonic the Werehog and Chip confronted Dark Gaia in the core of the planet, the beast had presumably reabsorbed all of its rouge minions in order to restore its being. When Perfect Dark Gaia then was defeated by Super Sonic and the Gaia Colossus, it was then sent back into dormancy and sealed in the earth's core with Dark Gaia's Minions sealed along with it.
Sonic Runners
In Sonic Runners, green and red variants of both the Dark Fright and Dark Bat minions, called Crystal Monsters, can be equipped to the playable characters as Buddies. These minions carry Crystals with their tails, and have the ability to change the color of nearby Crystals when a certain combo has been reached.
List of Dark Gaia's Minions
Rex variant:
Nightmare variant:
Fright variant:
Killer Bee variant:
Bat variant:
Master Variant:
Titan variant:
In other media
Archie Comics
In the Sonic the Hedgehog comic series and its spin-offs published by Archie Comics, Dark Gaia's Minions are called Dark Gaia Creatures or Dark Gaia Monsters. In this media, they began appearing around Sonic's World during the Shattered World Crisis where they would appear at nighttime, and are created from the Dark Gaia Energy leaking from the planet. They first appeared in Sonic Universe #63 where a group of them ambushed Knuckles, but were defeated by Knuckles and the Chaotix. They went on to threaten other regions of the planet, including the undersea city of Meropis.
Music
---
Main article | Script | Credits | Glitches | Beta elements | Gallery
Playable characters
Sonic (Super Sonic, Sonic the Werehog) | Gaia Colossus
Non-playable characters
Apotos
Alexis | Anastasia | Eric | Gregorios | Hot Dog Vendor | Ice Cream Vendor | Lambros | Lucas | Milos | Sandra
Spagonia
Aida | Barbara | Ciccio | David | Denise | Dora | Elio | Federica | Franco | Gigi | Hot Dog Vendor | Ippolita | Irma | Josef | Lilli | Lucia | Marcantonio | Mauro | Natalia | Otto | Professor Pickle | Professor Pickle's Assistant | Raimondo
Mazuri
Ana | Essie | Gwek | Hog Dog Vendor | Kofi | Kwami | Kwod | Yawa | Yaya
Chun-nan
Chun | Hot Dog Vendor | Hualin | Jinlin | Lin | Shuifon | Wang | Yilin | Zonshen
Holoska
Hot Dog Vendor | Jari-Pekka | Jari-Thure | Marketa | Sarianna | Ursule
Shamar
Ara | Dimah | Ehsan | Erhan | Hizir | Hot Dog Vendor | Iman | Labib | Latif | Layla | Mufid | Musaid | Raniya | Sa'id | Sadiq | Safi | Samia | Sammar | Shadi | Utba | Yasmine
Empire City
Boss | Brenda | Charles | Def Big | Elizabeth | Hot Dog Vendor | Li'l Kate | Louie Montaine | Robert
Adabat
Hot Dog Vendor | Jamal | Kaeo | Nagi | Rudi | Teanchai
Eggmanland
EF-DC1998 | EF-MD1991 | EF-XB2006 | Hot Dog Vendor
Misc.
Amy | Chip | Dark Gaia (Perfect Dark Gaia) | Dr. Eggman | Tails | SA-55 | Su | Uh | Wentos
Town Stages
Apotos | Mazuri | Spagonia | Chun-nan | Holoska | Shamar | Empire City | Adabat | Eggmanland
Action Stages
Windmill Isle | Savannah Citadel | Rooftop Run | Dragon Road | Cool Edge | Arid Sands | Skyscraper Scamper | Jungle Joyride | Eggmanland | Tornado Defense
Enemies
Eggman's Machinery
Aero-Cannon | Aero-Chaser | Egg Blizzard | Egg Burst | Egg Fighter | Egg Fighter: Knight (Electric shield, Spring shield) | Egg Fighter: Shield (Electric shield, Spring shield) | Egg Fighter: Sword | Egg Flame | Egg Launcher (H) | Egg Launcher (H+V) | Egg Launcher (V) | Egg Shackle | Egg Shooter | Egg Typhoon | Gold Aero-Cannon | Interceptor | Little Fighter | Mole Cannon | Spinner | Thunder Ball | Thunder Spinner
Dark Gaia's minions
Big Mother | Cure Master | Dark Bat | Dark Bat Sniper | Dark Eel | Dark Fright | Deep Nightmare | Evil Flower | Fire Master | Fright Master | Killer Bee | Lightning Master | Little Rex | Nightmare | Power Master | Red Fright | Red Killer Bee | Red Rex | Thunder Bat | Titan
Bosses
Egg Beetle | Egg Cauldron | Egg Devil Ray | Egg Dragoon | Egg Lancer | Dark Gaia | Dark Gaia Phoenix | Dark Guardian | Dark Moray | Perfect Dark Gaia
Moves/
Techniques
Sonic
Air Boost | Cartwheel | Crouch | Foot Sweep | Grind Step | Grinding | Homing Attack | Hop | Jump Dash | Lightspeed Dash | Slide | Skydiving | Sonic Boost | Sonic Drift | Spin Jump | Stomp | Quick Step | Wall Jump
Werehog
Dash | Double Jump | Grab | Guard | Unleashed Mode | Wall Shuffle
Misc.
Boost | Drill Attack | Super Sonic Boost | Turbo Boost
Skills
Straight
attacks
Donkey Kick Combo | Double Axle Combo | Double Kick Combo | Feral Were-Hammer | Knuckle Sandwich Combo | Sho-Hog-Ken | Unleashed Knuckle Sandwich | Vertical Were-Hammer | Were-Hammer | Werewheel Rush
Hook
attacks
Earthshaker | Egg Scrambler | Feral Wild Whirl | Rolling Kick Combo | Sho-Claw-Ken | Ultimate Wild Combo | Unleashed Wild Combo | Wereclap | Wild Whirl | Wild Whirl Were-Hammer
Aerial
attacks
Aerial Claw Slash | Aerial Claw Slash and Spin | Aerial Piledriver | Crescent Moon Strike | Diving Bodypress | Flying Double-Punch | Flying Double-Punch Crush | Hurricane Combo | Shooting Star Combo | Typhoon Combo
Special
attacks
Comet Punch | Missile Punch | Spinning Needle Attack | Tricky Tornado Uppercut | Triple Wild Claw | Were-Claw Charge | Were-Cyclone | Were-Rush | Were-Tornado | Wild Werewhip
Gimmicks and obstacles
Balloon | Blue spring | Bobsled | Bomb | Buoy | Check Point | Conveyor Belt | Crane Lift | Crank | Dash Panel | Dash Rail | Dash Ring | Door | Fountain | Grind Rail | Hanging vine | Hint Ring | Horizontal Bar | Hourglass | Icicle | Iron ball | Jump Selector | Laser field | Lever | Movable box | Moving Crate | Rainbow Ring | Ramp | Snowblower | Spike Trap | Spikes | Springboard/Spring | Springpole | Switch | Thorn Spring | Trap Spring | Trick Jump Panel | Wide spring | Zip Line
Items
General
1UP | 5 Ring Bonus | Art Book | Audio System | Blue Tea | Bookshelf | Boss Gate | Chaos Orb | Container (Explosive crate, Steel Container, Wooden Container) | Crystal Ball | Dark Gaia Force | Edible item (Apple, Banana, Canned Juice, Chai, Chili Dog, Donut, Sundae Supreme) | Gaia Gate | Gaia Key | Goal Ring |

Gift

| Gramophone | Green Tea | Key Stone | Lovely Ring | Maiden Statue | Moon Medal | Old Necklace | Pick-Me-Up |

Pretty Bouquet

| Power Shield | Record | Red Tea | Ring | Shield Charge | Souvenir | Sun Medal | Super Claw | Super Ring | Turquoise Tea | TV | Videotape | Violet Tea | White Tea | Yellow Tea
Level Up Items
Air Boost Shoes | Light Speed Dash Shoes | Stomping Shoes | Wall Jump Shoes
English voice actors
Jason Griffith (Sonic, Werehog, Prof. Pickle's Assistant) | Amy Palant (Tails) | Lisa Ortiz (Amy) | Anthony Salerno (Chip) | Mike Pollock (Eggman, Zonshen) | Christopher Collet (SA-55) | Dan Green (Ice Cream Vendor, Prof. Pickle)
Japanese voice actors
Jun'ichi Kanemaru (Sonic) | Tomokazu Seki (Werehog) | Chikao Otsuka (Eggman) | Chō (Prof. Pickle) | Ryō Hirohashi (Tails) | Taeko Kawata (Amy) | Ryōko Shiraishi (Chip)
Music
Songs
"Endless Possibility" | "Dear My Friend"
Albums
Planetary Pieces: Sonic World Adventure Original Soundtrack
Other
Auto Running | Boost Gauge | Boost Gauge | Chao | Chaos Emerald | Chaos Energy Cannon | Chun-nan's Treasure | Collection Room | Combo | Critical Attack | Don Fachio | Dr. Eggman's chair | Earth | Eggman Fleet | Egg Dragoon | Egg Mobile | Entrance Stage | Exorcisms | Experience Point | Freeze | Gaia Manuscripts | Gaia Temple | Gaia Temple guardian | Hallowmoon | Havok | Health Gauge | Miles Electric | Mission | Real-Time Interaction | Ring Energy Gauge | Shield Gauge | Shop (Counter of Dreams 2, Eggshop, Flying Fish Beach Shop, Golden Trading Company, Josef's, Surfside Seagull Sundries, Traveling Salesman Wentos, Treeshade, Ursule's Trading Post, Wang's Emporium) | Shuttle loop | Sonic: Night of the Werehog | Sonic World Adventure (manga) | Spagonia University | SPD | Tornado-1 | Rank | Time of awakening | Unleashed Gauge