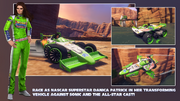 The Danicar is Danica Patrick's car in Sonic & All-Stars Racing Transformed.
Description
The car is a bright green 6-wheeled race car with Hot Wheels logos spread across it with a Sonic Team emblem on the front of the car. When water racing, it becomes a speed boat, while when flying, it becomes a jet.
Trivia
A limited edition diecast model of the Danicar was included with Sonic and All-Stars Racing Transformed exclusively at Gamestop.[1]
Gallery
References