This article is about a real-life person.

Information in this article is about real-life people, companies, and objects, and does not relate to the in-universe Sonic series.
Danica Sue Patrick is an American entrepreneur, former auto-racing driver, model and advertising spokeswoman. She is the most successful woman in the history of American open-wheel racing, being the only woman to win in the IndyCar Series, as well as holding the highest finish by a woman at the Indianapolis 500, coming in third place. She competed in the series from 2005 to 2011. As of 2017, she competes in the Monster Energy NASCAR Cup Series.
Sonic & All-Stars Racing Transformed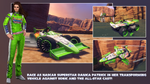 She is a playable character in Sonic & All-Stars Racing Transformed and drove a custom-painted car to advertise the game at Texas Motor Speedway on 3 November 2012. Her car in the game is called the Danicar, which she co-designed with Hot Wheels.
In other media
Archie Comics
In Sonic Universe #45, Danica Patrick was one of the few guest stars from the Sonic & All-Stars Racing Transformed to also appear in the Sonic Universe comic book adaptation of the game.
Trivia
Her All-Star move seems to be a pun on the term "Hot Wheels".
External links
---
Main article | Staff | Glitches | Gallery
Playable
characters
Sonic characters
Sonic | Tails | Knuckles | Amy | Dr. Eggman | Shadow | Metal Sonic
Sega characters
AGES | AiAi | Alex Kidd | Amigo | B.D. Joe | Beat | Gilius Thunderhead | Gum | Jacky Bryant | Joe Musashi | MeeMee | NiGHTS | Pudding | Reala | Ryo Hazuki | Ulala | Vyse
Third-party characters
Xbox Live Avatar | Mii | Danica Patrick
Tracks
Dragon Cup
Ocean View | Samba Studios | Carrier Zone | Dragon Canyon
Rogue Cup
Temple Trouble | Galactic Parade | Seasonal Shrines | Rogue's Landing
Emerald Cup
Dream Valley | Chilly Castle | Graffiti City | Sanctuary Falls
Arcade Cup
Graveyard Gig | Adder's Lair | Burning Depths | Race of Ages
Classic Cup
Sunshine Tour | Shibuya Downtown | Roulette Road | Egg Hangar
Bonus
OutRun Bay
Events
Battle Arena | Battle Race | Boost Challenge | Boost Race | Capture the Chao | Drift Challenge | Pursuit | Race | Ring Race | Sprint | Traffic Challenge | Versus
Vehicles
Ava-car 720 | Crazy Taxi | Danicar | Egg Monster | G.U.N. Auto Tread | Gum's vehicle | Land Breaker | Metal Booster | Pink Cabriolet | Spacebird 42 | Speed Star | Super Zoomer | Tails' vehicle
World Tour
Chapters
Sunshine Coast | Frozen Valley | Scorching Skies | Twilight Engine | Moonlight Park | Superstar Showdown
Misc.
Warp Gate | Gate
Moves/
Techniques
General
Drift | Start Line Boost | Stunt
All-Star Moves
Sonic's All-Star Move | Tails' All-Star Move | Knuckles' All-Star Move | Amy's All-Star Move | Eggman's All-Star Move | Metal Sonic's All-Star Move | Shadow's All-Star Move
Pickup items
Item Box (All-Star Item, Blowfish, Boost, Drone, Firework, Glove, Hot Rod, Ice Cannon, Super Glove, Swarm, Twister)
Other
Aero-Chaser | All-Star Move | Angels with Burning Hearts | Bonus Chance | Boost Pad | Custom game | Egg Squid | Freeze | License | Mod | Orca | SEGA ALL-STARS Premium Sound Collection | Slot machine | Sonic & All-Stars Racing Transformed Original Soundtrack | Sonic Universe #45 | Sticker | Transformation Gate
Community content is available under
CC-BY-SA
unless otherwise noted.