Curien Mansion is a recurring location in the Sega Superstars series. It is the main setting of the arcade game The House of the Dead and the titular house.
Game appearance
Sega Superstars Tennis
Curien Mansion appears as a tennis court in Sega Superstars Tennis. The court is set up outside the mansion with creatures watching the game from the sidelines. Overall, the court has a very dark and foggy design to it. The tennis ball appears red on this court, and the net is made up of a rickety metal fence with gargoyles on the sides holding it up.
One of the minigames played on this court involves hitting tennis balls at a horde of zombies and knocking enough zombies down before the timer ends.
Sonic & Sega All-Stars Racing
In Sonic & Sega All-Stars Racing, Curien Mansion has three race tracks located around it. The first is set around the grounds of the Curien Mansion, such as the cathedral, cemetery, woods and cliffside roads, the second leads through the underground of the mansion, and the last leads through the mansion and around the courtyard (as well as the roof of the mansion).
Sonic & All-Stars Racing Transformed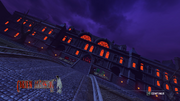 In Sonic & All-Stars Racing Transformed, the track takes place in and around Curien Mansion. Director Steve Lycett commented that the track takes place during a giant house party (Zobio's and Zobiko's wedding). During the first lap, Zobio can be seen bouncing on an inflatable castle. Zobio and Zobiko are seen at the end of the last lap on the right. Zobiko is also in a wedding dress. Many of the bosses from previous The House of the Dead games appear, including Death in a evening suit, a cartoon version of The Lovers, Hangedman and Tower.
Trivia
A House of the Dead game was in Sega Superstars, though the mansion itself was not shown.
Due to the Sega Superstar games keeping an E10+ rating, blood and violence was removed from these stages, regardless of the original games' mature contents. While Zombies have been kept, they are more cartoony in appearance.

The location is also not referred to by its franchise's name because House of the Dead is banned in Germany.

Curien Mansion is the signature stage for Zobio & Zobiko, the protagonists from The House of the Dead EX, a casual spin-off game which tones down the violence and replaces the rail-shooting gameplay with an assortment of mini-games.
External Links
---
Main article | Gallery | Staff | Glitches
Playable
characters
Sonic characters
Sonic | Tails | Knuckles | Amy | Big | Metal Sonic | Dr. Eggman | Shadow
SEGA characters
AiAi | Akira Yuki | Amigo | B.D. Joe | Billy Hatcher | Beat | Alex Kidd | Ulala | Jacky Bryant | Ryo Hazuki
Third party
Xbox Live Avatar | Mii
Tracks
Chao Cup
Whale Lagoon | Icicle Valley | Roulette Road | Sunshine Tour
Graffiti Cup
Shibuya Downtown | Outer Forest | Turbine Loop | Treetops
Egg Cup
Rampart Road | Dark Arsenal | Jump Parade | Pinball Highway
Horror Cup
Sewer Scrapes | Lost Palace | Sandy Drifts | Rokkaku Hill
Samba Cup
Rocky-Coaster | Highway Zero | Deadly Route | Ocean Ruin
Monkey Cup
Bingo Party | Lava Lair | Monkey Target | Thunder Deck
DLC
Egg Hangar
All-Star Moves
Super Sonic | Tails Tornado | Emerald Power | Piko Hammer | Giant Froggy | Maximum Overdrive | Missile Madness | Super Shadow
Items
Item Box (All-Star Item, Bowling Bomb, Confusion Star, Energy Shield, Giant Rocket, K.O. Glove, Manual Rocket, Mega Horn, Mine, Pocket Rainbow, Speed Shoes)
Vehicles
Speed Star | Tornado Racer | Land Breaker | Pink Cabriolet | Green Hopper | Metal Booster | Egg Monster | Dark Rider | Ava-car 720 | Crazy Taxi | Super Zoomer
Other
Announcer | My Sweet Passion | Throw It All Away | Sonic Says | What U Need | Totem Pole