This article is about a subject in the real world.

Information in this article is about real-life people, companies, and objects, and does not relate to the in-universe Sonic series.

Crush 40 (originally Sons of Angels) are a Japanese-American hard rock band who are best known for making music for the Sonic the Hedgehog series.
Biography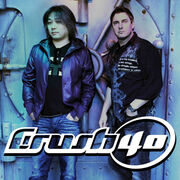 Jun Senoue (the band's guitarist) was first hired by Sega to write two songs for Sonic the Hedgehog 3. After this, he recorded more songs for other Sega games, including songs for Sonic 3D Blast. He eventually contacted singer from Hardline, Johnny Gioeli, and recorded the song "Open Your Heart", which would later be featured in Sonic Adventure. They soon released their first album, titled Thrill of the Feel.
Later in their career they hired Katsuji and Takeshi Taneda on drums and bass, respectively, and recorded Live and Learn for Sonic Adventure 2. Sonic Heroes featured two new songs by the group, the theme song, "Sonic Heroes" (a "bright, melodic song"), and "What I'm Made of..." (a "distinctly dark, hard rock song with metal sensibilities"). When Shadow the Hedgehog was released, they recorded "I Am... All of Me" and "Never Turn Back". For both these songs, Katsuji was replaced with Toru Kawamura.
They also contributed to Sonic the Hedgehog (2006), recording a cover of "All Hail Shadow", previously performed by Magna-Fi, and recorded a version of "His World", the latter only presented on the soundtrack. They covered "Seven Rings in Hand". They recorded several songs for Sonic and the Black Knight, including its main theme "Knight of the Wind", the ending theme "Live Life," "Through the Fire" (which plays when Sonic battles a Knight of the Round Table), "Fight the Knight", (which plays during the boss fights against King Arthur) and their own version of the boss battle theme "With Me."
Recently, some of their material has been released onto iTunes, including The Best of Crush 40: Super Sonic Songs and Song of Hope, their new charity single which is dedicated to the victims of the 2011 Tōhoku earthquake and tsunami incident. The iTunes edition of The Best of Crush 40: Super Sonic Songs contains three bonus tracks, "Free", "With Me -Massive Power Mix-" and "Seven Rings In Hand".
In June 2012, three songs which were intending to be released on an EP scheduled for July 4 were leaked onto iTunes. The songs were "Sonic Youth", "One Of Those Days", and "Rise Again".
On May 13, 2015, their second EP 2 Nights 2 Remember got relesaed, containing the songs "2 Nights 2 Remember", "Big Mouth", "Down & Dirty" and "Light of the Day".
On June 11, 2018, it was announced that Crush 40 would be contributing a new song called "Green Light Ride" to the then upcoming Sonic racing game, Team Sonic Racing. This was the first time Act. had performed as drummer for the band on a new track, replacing Toru Kawamura. In 2021, Crush 40 performed in the Sonic the Hedgehog 30th Anniversary Symphony.
Band members
Current members
Previous members
Discography
Studio albums
EPs
Live albums
Compilation albums
Credits
Soundtrack
Trivia
References