In other media
Sonic X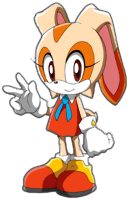 In the anime series Sonic X, Cream originates from a parallel version of Earth in another dimension. During her and their friends' battles with Dr. Eggman, Cream was captured and imprisoned in Eggman's base until Sonic tried to save her. In the process, an accidental large-scale Chaos Control sent Cream, Sonic, Dr. Eggman, and their friends to the human world. After arriving, Cream and Cheese were captured by the military for study until they were saved by Sonic and Tails. After that, she came to live with Christopher Thorndyke and his family where she built a strong bond with the housemaid Ella.
On this new world, Cream supported her friends as they fought Dr. Eggman when the doctor attempted to conquer Earth. Along the way, Cream was reunited with her mother when she came to Earth and stopped Emerl when he went on a rampage. In the end though, Cream and everyone else from her world were forced to return home as their presence threatened to freeze time.
Six months after returning home, Cream and her friends joined forces to fight the Metarex, an alien race of cyborgs who were a danger to the entire galaxy. After defeating the Metarex, Cream and her friends returned to their home planet where they resumed their ongoing battles with Eggman.
Archie Comics
In the Sonic the Hedgehog comic series and its spin-offs published by Archie Comics, Cream originally lived in the Southern Baronies with her mother, Cheese and the Chao of a local Chao Garden. When Snively attacked their home, however, they had to move to New Mobotropolis upon Amy's insistence, whom Cream made a long-standing friendship with. In New Mobotropolis, Cream proved herself Freedom Fighter material and eventually became a junior member of Team Freedom.
After the reality was rewritten by the Super Genesis Wave, Cream's history became nearly identical to her game counterpart's. Becoming an in-training member of the Freedom Fighters, Cream would work as side-support to her team during the Shattered World Crisis, as her inexperience puts her in danger.
IDW Publishing
In the Sonic the Hedgehog comic series and its spin-offs published by IDW Publishing, Cream is a friend of Sonic the Hedgehog. In this media, she lives in Floral Forest Village with her mother, her Chao friend Cheese, Chocola and Gemerl. Her past is the same as her game counterpart's up until after the events of Sonic Forces.
Reception
Some critics like Official Nintendo Magazine, GameSpy and GamesRadar dislike her because of her name, voice, and appearance. In IGN's review of Sonic Advance 2, she is respectfully called "aggressive" because of her Chao Attack. Fans of the series, overall, enjoyed her.[4][5][6][7]
Quotes
Theme songs
Trivia
Cream is the youngest female main character in the Sonic the Hedgehog series, being six years old.
Cream was one of the two characters featured in a Sonic McDonald's commercial, the other being Sonic.
Cream is the third fastest character in Sonic Advance 2 and Sonic Advance 3.
The length of Cream's ears varies in the games. For example, they were down to her feet in Sonic Generations, but they were just below her head in Mario & Sonic at the London 2012 Olympic Games, even though those games came out around the same time.
Cream is the first Sonic character living in the game continuity to have a known parent (although Tikal was Pachacamac's daughter).
Cream is the first female Sonic character to have a confirmed weight, presumably because she is quite young, and thereby not afraid to reveal it.
Curiously, Cream is unaffected by the Voxai Overmind's mind control in Sonic Chronicles.
Cream is the only character in Sonic Chronicles to lack a damaging POW move.
Cream is the only member of Team Rose who lacks her own individual theme (Amy has "My Sweet Passion" and Big has "Lazy Days").
Cream, along with her mother, Vanilla, and Cheese, were the first Sonic characters to debut on a Nintendo console.
When Cream was first shown Sonic Team made the mistake of keeping Amy's life icon complete with broken palette.
To date, Cream has only appeared in three main series console games (excluding cameos).
The only three games where Cream is not with Cheese are Sonic Adventure DX: Director's Cut, Sonic Free Riders and Shadow the Hedgehog.
In the Sonic Advance series, Cream is one of the best characters to play as in boss fights, since she can fly to avoid attacks and throw Cheese at the boss without even moving, and is a good way of not getting damaged during the final boss fight.
The Sonic Generations Bradygames strategy guide mistakenly puts Cream's first appearance as Sonic the Hedgehog CD.
Cream is the only character in the party mode in Sonic and the Secret Rings that does not have a role (or even an appearance) in the sequel apart from the fanart video.
In Sonic Jump, when Cream curls up, she seems to have two sets of ears.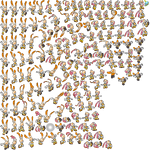 Assets were found for Cream in the data of Sonic Jump, but, along with Shadow and Vector, she never got to be released as the app ceased to get new updates. Furthermore, it was confirmed there are no plans to add any more characters to the game.[8]

Despite this, Cream and the other two unreleased characters are fully functional, and Cream has Cheese following and collecting Rings for her in the game.
References
Community content is available under
CC-BY-SA
unless otherwise noted.