Not to be confused with Cosmic Wall.

Looks like the whole ARK is falling apart around me.


— Shadow the Hedgehog, Shadow the Hedgehog
Cosmic Fall is one of the six final stages in Shadow the Hedgehog. It takes place in the ARK, which is apparently collapsing, due to the powers of the Black Arms. This level is known for its immediate difficulty. There is no main floor or ground unlike most other levels, second to that, many platforms are simply floating as they fall, alarms are blaring everywhere, and to top it off, there are only fifteen minutes to finish the stage.
Cosmic Fall is one of five sixth stages and can be reached by completing the Hero mission of Iron Jungle, the Normal mission of Space Gadget, or the Normal mission of Lost Impact.
How to approach
The player must either gun down Dr. Eggman's blimp at Iron Jungle, flee towards Prof. Gerald's lab at Lost Impact, or obtain the Chaos Emerald at Space Gadget after Hero mission is failed to arrive at Cosmic Fall.
Story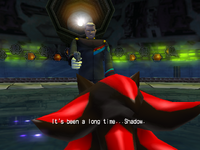 Shadow Chaos Controls himself into an area based-around the Eclipse Cannon of the ARK, expressing frustration with the confusion of his memories. This however, puts him straight into a confrontation with the G.U.N. Commander, who reveals the reason for his antipathy against him as he witnessed the Ultimate Lifeform's creation by Gerald and Black Doom fifty years ago, along with his relationship with Maria. Shadow dodges a bullet from the Commander's gun, while the Commander himself questions if Shadow really did lose his memories. Shadow on the other hand promises to submit to justice if it turns out he really was responsible for the death of the ARK's population, walking away and leaving the Commander to question his own beliefs.
Shortly after starting the level, Shadow then notices the ARK's passageways collapsing all around him. After traversing through the debris, he eventually encounters Doom's Eye, who asks Shadow to retrieve a Chaos Emerald located in the ARK's power plant. As they enter the first interior area, Vector the Crocodile makes a surprise entrance, desperately searching for the ARK's computer room. The objective Shadow chooses ultimately depends on what actions the player takes in the final room of the power plant. Fall from the doorway to the floor and you'll be forced to complete the dark mission. However, you can also Triangle Jump across breakable panels or Light Dash to an elevated platform on the other side, from which you can traverse one more section of crumbling debris before finding the computer room and completing Cosmic Fall's heroic mission.
Go the extra distance to complete the hero mission, and Black Doom manifests himself, a scuffle ensues, and Vector fights on your side for what it's worth. Settle for the dark mission and Dr. Eggman pops up with his Egg Dealer, determined to stop Shadow from tarnishing his grandfather's legacy.
Weapons
The following weapons can be found in Cosmic Fall:
Key locations
While riding the transport into the Ark the first time, hold to the left to get the key as you are whizzing by.
After the third Checkpoint, stand on the corner of the platform after a piece falls and the key will run right into you.
Jump across the rotating platforms after the Fourth Checkpoint and stay on the top portion until you reach the final one with the key.
After the Sixth Checkpoint use the Jump Vehicle to reach the top platform area using pulleys. When you reach the top, turn around and the key is in space over a spinning platform.
Using a series of Dash Panels, you will fall a long way down. Don't bother using the speed circles, but instead, fall down and get the key that is on top of the right pillar before the rocket.
Missions
Dark
| Guide | Mission | Objective | Tips |
| --- | --- | --- | --- |
| | Find the Chaos Emerald! | Reach the Goal Ring. | The Chaos Emerald will be at the first Goal Ring you see. |
| | |
| --- | --- |
| | ≥ 24,000 points |
| | 21,000 points |
| | 15,000 points |
| | 10,000 points |
| | < 10,000 points |
Leads to: Egg Dealer
Hero
| Guide | Mission | Objective | Tips |
| --- | --- | --- | --- |
| | Find the computer room! | Find the computer room! | Triangle jump across the Emergency Panels when you see the first Goal Ring. The Goal Ring is not your destination; yours is a rocket. |
Ranking:
| | |
| --- | --- |
| | ≥ 15,000 points |
| | 12,000 points |
| | 8,000 points |
| | 4,000 points |
| | < 4,000 points |
Leads to: Black Doom
Secret Door
A switch. Once activated the switch open a nearby door with an extra life and it also creates ring trails that are used to light dash through the rest of the stage. Very helpful when completing the Hero Mission and during Expert Mode due to the fact that it becomes hard to fall of near the end with the light speed dash.
Trivia
This stage led to one of Vector the Crocodile's most famous (or perhaps infamous) lines, "Find the computer room!".
The name of this stage, "Cosmic Fall", is a reference to the Sonic Adventure 2 level "Cosmic Wall". However, instead of Eggman climbing the outer rim of the ARK, Shadow is trying to survive as the colony falls apart.
The music for this stage is also used as one of the music tracks for the Egg Hangar in Sonic & Sega All-Stars Racing.
This is the only stage where Shadow spares Eggman after defeating him (provided the player fulfills the dark mission).
Music
Videos
Source
Shadow the Hedgehog Prima official guide
---
Main article | Scripts (Main Story, Last Story) | Credits | Glitches | Beta elements | Library Sequences | Gallery
Playable characters
Shadow (Hero Shadow, Dark Shadow, Super Shadow) | Shadow Android
Non-playable characters
Black Doom (Devil Doom) | Eggman | Sonic | Tails | Knuckles | Amy | Rouge | Omega | Team Chaotix (Vector, Espio, Charmy) | Cream | Cheese | Maria | Gerald | Commander | President | Researcher | Secretary | Chao

Stages

Air Fleet | Black Comet | Central City | Circus Park | Cosmic Fall | Cryptic Castle | Death Ruins | Digital Circuit | Final Haunt | GUN Fortress | Glyphic Canyon | Iron Jungle | Lava Shelter | Lethal Highway | Lost Impact | Mad Matrix | Prison Island | Sky Troops | Space Gadget | The ARK | The Doom | The Last Way | Westopolis
Enemies
Ark Missile Turret | Artificial Chaos (Artificial Chaos P-100, Cell) | Black Assassin | Black Hawk | Black Oak | Black Volt | Black Warrior | Black Wing | Black Worm | Big Foot Type A | Big Foot Type B | Death Leech | Death Worm | Egg Bommer | Egg Pawn | Egg Pierrot | Giant Walker | Giga Trooper | Gold Beetle | Gun Beetle | GUN Soldier | GUN Trooper | Jack Bommer | Killer Plant | Mono Beetle | Rocket Beetle | Sand Worm | Shadow Android | Spark Beetle
Bosses
Black Bull | Black Doom | Blue Falcon | Devil Doom | Diablon | Egg Breaker | Egg Dealer | Heavy Dog
Moves/Techniques
Chaos Blast | Chaos Control | Chaos Spear | Crouch | Dark Spin Dash | Grinding | Grind Step | Homing Attack | Jump Dash | Light Dash | Mid-Air Attack | Missile Fever | Overturn | Pawn Fever | Pick up | Punch | Ring Fever | Shadow Fever | Slide | Spin Dash | Spin Jump | Strafe | Swift strike | Tail Swipe | Triangle Jump
Vehicles
Air Saucer | Convertible | GUN Motorcycle | GUN Vehicle | HMMWV | Jump Vehicle
Gimmicks and obstacles
Barrel | Barrier | Black Slab | Case | Cell Cannon | City annihilator bomb | Coaster | Color Panel | Electrified Rail | Fan | Firewall | Gravity Control Switch | Green energy fluid | Gun Lift | Gun ship | GUN turret | Hint Ring | Jump Panel (Prison Island) | Jump Panel (ramp) | Junction switch | Lantern | Laser field | Laser turret | Light-speed circuit | Meteorite | Pole | Pulley | Red fruit | Red Slime | Rocket | Secret Door | Shield switch | Shooting Gallery | Small bomb | Surveillance camera | Toxic marsh | Toxic river | Vine | Warp Hole | Wide spring

Items

General
Black Tank | Bomb Unit | Chaos Emerald | Container (Special Weapon Container, Steel Container, Unbreakable Container, Wooden Container) | Core program | Defense Unit | Egg Balloon | Energy Core | Floating Item Box | Goal Ring | Heal Unit | Item Box (1-Up, Barrier, Damage Recover, Heat Barrier, Invincible, Magnetic Barrier, Rings) | President's escape pod | Ring | Secret Key | Temple jewel

Weapons

4-Shot RPG | 8-Shot RPG | Bazooka | Big Worm Shooter | Big Barrel | Black Barrel | Black Sword | Bomb Fever | Egg Bazooka | Egg Gun | Egg Spear | Egg Vacuum | Environment Objects | Flash Shot | Gatling Gun | Grenade Launcher | Heal Cannon | Heavy Machine Gun | Heavy Shot | Laser Rifle | Light Shot | Omochao Gun | Pistol | Refractor | RPG | Samurai Blade | Satellite Gun | Semi-Auto Rifle | Shadow Rifle | Splitter | Sub-Machine Gun | Survival Knife | Tank Cannon | Vacuum Pod | Wide Worm Shooter | Worm Shooter
English voice actors
Jason Griffith (Sonic, Shadow) | Sean Schemmel (Black Doom) | Mike Pollock (Eggman, Gerald) | Amy Palant (Tails) | Dan Green (Knuckles) | Lisa Ortiz (Amy) | Kathleen Delaney (Rouge) | Rebecca Honig (Cream, Maria) | Carter Cathcart (Vector) | David Wills (Espio) | Amy Birnbaum (Charmy) | Jeff Kramer (Omega) | Andrew Rannells (GUN Soldier) | Marc Thompson (Commander) | Maddie Blaustein (President) | Bella Hudson (Secretary)
Japanese voice actors
Kōji Yusa (Shadow) | Jun'ichi Kanemaru (Sonic) | Ryūzaburō Ōtomo (Black Doom) | Chikao Ōtsuka (Eggman, Gerald) | Ryō Hirohashi (Tails) | Nobutoshi Canna (Knuckles) | Taeko Kawata (Amy) | Rumi Ochiai (Rouge) | Sayaka Aoki (Cream) | Yuri Shiratori (Maria) | Kenta Miyake (Vector) | Yūki Masuda (Espio) | Yōko Teppōzuka (Charmy) | Taiten Kusunoki (Omega) | Takashi Yoshida (GUN Soldier) | Banjō Ginga (Commander) | Yutaka Nakano (President) | Junko Kitanishi (Secretary) | Ryō Hirohashi (Additional Chao)

Music

Songs
All Hail Shadow | Almost Dead | E.G.G.M.A.N Doc. Robeatnix Mix | I Am... All of Me | Never Turn Back | The Chosen One | Tripod Baby | Waking Up | Who I Am (unused)
Albums
Lost and Found: Shadow the Hedgehog Vocal Trax | Shadow the Hedgehog Official Soundtrack | Shadow the Hedgehog Original Soundtrax
Other
Battle Mode | Black Comet | Central Information Agency | Eclipse Cannon | Dark Gauge | Dark Rider | Egg Monitor | Eggman Fleet | Expert Mode | Fire in the Sky Festival | Health Gauge | Hero Gauge | Mother computer | Prison Island | Prosperity ritual | Shadow the Hedgehog Flash | Space Colony ARK | Tails' Spaceship | White House
Community content is available under
CC-BY-SA
unless otherwise noted.