Raise a Floppa - The Loop
Play Sound
The Cop Speeder[1] (コップスピーダー[2] , Koppu Supīdā?) is an enemy that appears in the Sonic the Hedgehog series. It is a mass-produced robot created by Dr. Eggman that is designed as a Kiki driving a hovering police car.
Appearance
The Cop Speeder is evidently based on a police car. It consists of a rounded white floating transporter-like car piloted by a Kiki. In Sonic Adventure, its face is blocked by a black cover. However, the face of the Badnik is opened in Sonic Generations.
Games appearances
Sonic Adventure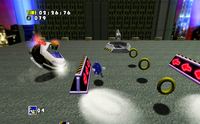 The Cop Speeders' first appearance was in Sonic Adventure and later its remake, Sonic Adventure DX: Director's Cut. In this game, they are only found in Sonic, Tails and Knuckles' version of Speed Highway. Here, they are either positioned on the edges of the areas where they remain in standby mode until the player approaches, or are just patrolling areas until the player arrives. Upon activating, their sirens start flashing and blaring.
Cop Speeders are rather difficult enemies. Once spotting the player, they start driving haphazardly around in arcs, which makes them hard to get a lock on. Meanwhile, they will try to hit the player from above. Sometimes, not even the Homing Attack can catch up with them.
Sonic Generations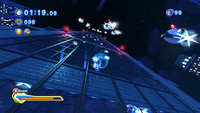 In the console/PC version of Sonic Generations, Cop Speeders from somewhere across spacetime appear as enemies in both Acts of Speed Highway. In gameplay, their movements are stabler than in Sonic Adventure and they are easier to take out. However, their still-random movements make it unwise to use the Boost against them.
In Speed Highway Act 1, Cop Speeders mostly appear by themselves. In Speed Highway Act 2 though, they tend to show up in never-ending groups. Additionally, the player can unlock a statue of a Cop Speeder in the secret Statue Room.
Mario & Sonic at the Sochi 2014 Olympic Winter Games
In Mario & Sonic at the Sochi 2014 Olympic Winter Games, Cop Speeders appear as obstacles. In this game, they possess their design from Sonic Generations.
In gameplay, the Cop Speeders are encountered along the route on the Roller Coaster Bobsleigh Dream Event, which takes place on a snowy Speed Highway. If the playable character makes contact with one while racing, the Cop Speeder will explode and slow down the playable character in the process.
Sonic Runners
In Sonic Runners, a Cop Speeder makes a cameo appearance on the cheat menu icon.
Powers and abilities
The Cop Speeders are capable of midair levitation and can move at speeds nearing that of Sonic's.[3]
In other media
Archie Comics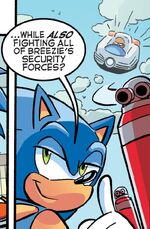 In the Sonic the Hedgehog comic series published by the Archie Comics, a Cop Speeder appeared in Sonic the Hedgehog #271. In this media, they are part of Breeze Media's security system.
Trivia
In Sonic Adventure, Cop Speeders do not have torsos as their head can be only seen floating above the police car's cockpit.
The Cop Speeder always uses its light when activated, even if it is in a daytime.
Gallery
Concept artwork
Artwork
Models
Screenshots
References
↑ Bryan Stratton (17 June 2003). "Sonic the Hedgehog's Action Stages".

Sonic Adventure DX: Director's Cut: Prima's Official Strategy Guide

. Prima Games. p. 31. ISBN 978-0761542865.
↑ "敵キャラクター紹介" (in Japanese).

ソニックアドベンチャー オペレーションガイド

. SoftBank. January 1999. p. 151. ISBN 978-4757203006.
↑ Sonic Team (4 November 2011). Sonic Generations. PlayStation 3. Sega. Area/level: Speed Highway Act 2.
---
Main article | Scripts (Sonic, Tails, Knuckles, Amy, Big, Gamma, Super Sonic) | Staff | Glitches | Beta elements | Gallery | Re-releases (DX, 2010)
Playable characters
Sonic (Super Sonic) | Tails | Knuckles | Amy | Gamma | Big | Metal Sonic**^
Non-playable characters
Dr. Eggman | Beta (E-101 Mark II) | Birdie | Chao (Dark Chao**, Hero Chao**) | Chaos (Chaos 1, Chaos 2, Chaos 4, Chaos 6, Perfect Chaos) | Cream** | Delta | Epsilon | Froggy | Grandma | Knuckles Clan (Pachacamac, Tikal) | Mr. Know-It-All | NiGHTS | Station Square Police Department | Unnamed Sonic robot | ZERO | Zeta | Animals (Deer, Elephant, Gorilla, Kangaroo, Koala, Lion, Mole, Parrot, Peacock, Penguin, Rabbit, Robin, Seal, Sea Otter, Skunk)
Adventure Fields
Egg Carrier | Mystic Ruins | Station Square
Action Stages
Emerald Coast | Windy Valley | Casinopolis | Icecap | Twinkle Park | Speed Highway | Red Mountain | Sky Deck | Hot Shelter | Lost World | Final Egg
Sub Games
Sky Chase | Sand Hill | Hedgehog Hammer | Twinkle Circuit | Boss
Enemies
Beat | Bladed Spinner | Boa-Boa | Buyoon | Cart Kiki | Cop Speeder | Egg Keeper | Electro Spinner | Fighter Aircraft A | Fighter Aircraft B | Gola | Ice Ball | Icecap's unnamed aircraft | Kiki | Leon | Mechanical fish | Pirate | Rhinotank | Sky Deck's unnamed jet fighter | Spiky Spinner | Sweeper
Bosses
Chaos 0 | Chaos 2 | Chaos 4 | Chaos 6 | Beta | Mark II | Gamma | Delta | Epsilon | Zeta | Egg Carrier | Egg Hornet | Egg Viper | Egg Walker | Knuckles | Perfect Chaos | Sonic | ZERO
Moves/
Techniques
Playable characters
Bolt of lightning | Climb | Dig | Flight Mode | Glide | Hammer Attack | Hammer Jump | Hover | Homing Attack | Homing Missile Launch | Jump Attack | Laser Gun | Light Speed Attack | Light Speed Dash | Lure Attack | Maximum Heat Knuckles Attack | Pick | Propeller Flight | Punch Attack | Rapid Tails Attack | Spin Attack | Spin Dash | Spin Hammer Attack | Spin Jump | Tails Attack
NPCs
Arm Punch | Bomb Attack | Bomb Gun Attack | Charge | Double Punch | Earthquake Attack | Electric Arm | Energy Ball Attack | Flame Thrower Attack | Guiding Missiles | Instantaneous Liquefaction | Laser Beam Attack | Homing Tail Slice | Inhale Attack | Marble Attack | Phantom Shadow Move | Punch | Quarter Attack | Scorpion Attack | Shockwave Attack (Chaos 6) | Sonic Boom | Spin Attack | Spinning Spike Attack | Spouting Attack | Squash Roll Attack | Swing Punch
Gimmicks and obstacles
Bumper | Bumper Car | Cannon | Capsule | Car | Conveyor Belt | Crank | Dash Panel | Dash Ring | Drum Can | Explosion Trap | Fan | Flame dart | Flipper | Fountain | Giant Ring* | Goal Balloon | Hanging Bell | Helicopter | Hint Box | Hint Orb | Icicle | Iron ball | Jump Panel (plate) | Jump Panel (ramp) | Jump Ramp | Laser field | Lit Panel | Mirror | Monkey Detonation Switch | Orca | Point Marker | Power cube | Rocket | Satellite | Slot machine | Spiked bar | Spring | Spring Catapult | Switch | Teleporter | Wide spring | Wind Path | Zip Line
Items
General
Air Bubble | Cart pass | Chao Egg | Chaos Emerald | Doll | Emblem | Emerald Shard | Employee ID Card | Item Box (5 Rings, 10 Rings, Extra Life, High-Speed Shoes, Invincibility, Magnetic Shield, Random Rings, Shield, Smart Bomb) | Key Stone (Gold statue, Ice Stone, Silver statue, Wind Stone) | Ring | Sandboard | Snowboard | Sonic Token
Level Up Items
Ancient Light | Crystal Ring | Fighting Gloves | Jet Anklet | Jet Booster | Laser Blaster | Life Belt | Light Speed Shoes | Long Hammer | Lure | Power Rod | Rhythm Badge | Shovel Claw | Warrior Feather
English voice actors
Ryan Drummond (Sonic) | Corey Bringas (Tails) | Michael McGaharn (Knuckles) | Deem Bristow (Eggman) | Jennifer Douillard (Amy) | Jon St. John (Big) | Elara Distler (Tikal, Station Square train voice, default menu voice) | Steve Broadie (Gamma, Pachacamac, Mystic Ruins train voice) | Tomoko Sasaki (Chao)
Japanese voice actors
Jun'ichi Kanemaru (Sonic) | Kazuki Hayashi (Tails) | Nobutoshi Canna (Knuckles) | Chikao Ōtsuka (Eggman) | Taeko Kawata (Amy) | Shun Yashiro (Big) | Kaori Asoh (Tikal) | Jōji Nakata (Gamma) | Tōru Ōkawa (Pachacamac) | Kaho Kōda (Station Square train voice) | Nobutoshi Canna (Mystic Ruins train voice) | Elara Distler (Default menu voice) | Tomoko Sasaki (Chao)
Music
Songs
"Believe In Myself" | "It Doesn't Matter" | "Lazy Days (Livin' in Paradise)" | "My Sweet Passion" | "Open Your Heart" | "Unknown from M.E."
Albums
Passion & Pride: Anthems with Attitude from the Sonic Adventure Era | Sonic Adventure: Songs With Attitude Vocal Mini-Album | SONIC ADVENTURE OFFICIAL SOUNDTRACK VINYL EDITION | Sonic Adventure Original Soundtrack 20th Anniversary Edition | Sonic Adventure Original Sound Track (Digi-Log Conversation) | Sonic Adventure Remix
Other
777 Slots Pinball | Altar of Emerald | Angel Island | Auto Running | Black Market | Card & Pinball | Chao Adventure* | Chao Garden (Station Square Garden, Mystic Ruins Garden, Egg Carrier Island) | Chao Race | Chao Stadium | Chao in Space | Chao Machine | Chao Search* | Corkscrew | Debug Mode | E-100 Series | Eggmobile | Egg Carrier | Egg Carrier 2 | Emerald Radar | Freeze | Game Over | Life | Life gauge | Loop | Master Emerald | Mission Mode**^ | Mystic Ruins | Shrine of Knuckles's race | Sonic Adventure (LCD) | Sonic Adventure: Navigation Guide | Station Square | Tails's Work Shop | Tornado | Tornado 2 | Transporter Machine | Water

* Appears in only the original Dreamcast version
** Appears in only Sonic Adventure DX
^ Appears in only the Sonic Adventure DX DLC of the 2010 remaster
---
Main article | Script | Staff | Glitches | Beta elements | Gallery
Playable characters
Sonic (Modern) (Super Sonic (Modern)) | Sonic (Classic) (Super Sonic (Classic))
Non-playable characters
Amy | Animals (Flicky, Picky, Pecky, Cucky) | Blaze | Cheese | Cream | Cubot | Dr. Eggman (Classic) | Dr. Eggman (Modern) | Knuckles | Metal Sonic | Omochao | Orbot | Perfect Chaos | Rouge | Shadow | Silver | Tails (Classic) | Tails (Modern) | Team Chaotix (Charmy, Espio, Vector) | Time Eater
Wisps
Orange | Pink
Stages
Green Hill | Chemical Plant | Sky Sanctuary | Speed Highway | City Escape | Seaside Hill | Crisis City | Rooftop Run | Planet Wisp | Casino Night
Challenge Acts
Doppelganger Race! | The Buzz Bombers' Revenge! | Knuckles: Horde of Enemies | Swingset Circus | High Speed Challenge | Look Out Below! | Tails: Way Past Fast | Jump Rush | 300% Boost Gauge Challenge | Tails: Toxic Skies | Which Switch is Which? | Aqua Shield Challenge | Invincibility Challenge | One Ring Challenge | Amy: Taking the Leap Together! | Grappling with Grabbers | Underwater Ring Machine | Eggrobo Rush | Aerial Paradise | Ring Time Challenge | Amy: Topsy Turvy | Knuckles: Buried Treasure | 200% Boost Gauge Challenge | Balloon Bonanza | High-Speed Hijinks (Modern) | Cream: Chao Hunt | Hot Pursuit (Classic) | High Speed Challenge 2 | Resisting Arrest | Overdrift | Hot Pursuit (Modern) | Drill Baby Drill | Espio: Master of Camouflage | Lord of the Board | Thunder Shield Challenge | Rouge: The Bombardier | Rite of Spring | Cream: Helping Hand | Dash Ring 1-2-3 (Modern) | Topsy-Turvy | High-Speed Hijinks 2 | Rescue the Animals! | Espio: Way of the Ninja | High-Speed Hijinks (Classic) | Underwater Challenge | Rouge: The Temptress | Trick Island | Surf, Sea, and Sand | Terror From the Deep | Goal Post Juggle | Vector: Through the Storm | Flame Shield Challenge | Ring Time Challenge 2 | Power Stomp Challenge | Switcheroo | Blaze: Piercing the Flames | Four-way Cannon Cavalcade | High-Rise Balloon Climb | Dash Ring 1-2-3 (Classic) | Charmy: Don't Bug Me! | One Ring Challenge 2 | Barrel Ring Bonus | Rooftop Rail Grind | Endless Boost | Vector: Pick Up the Beat | With Your Powers Combined | Goal Post Juggle 2 | Chase After Blaze | Rescue the Animals 2! | Cart Challenge | Charmy: High in the Sky | Action Master | Orange Rocket, Blast Off!
Enemies
Aero-Cannon | Buzz Bomber (Classic) | Buzz Bomber (Modern) | Buzzer (Classic) | Buzzer (Modern) | Chopper (Classic) | Chopper (Modern) | Cop Speeder | Crabmeat (Classic) | Crabmeat (Modern) | Egg Chaser | Egg Fighter | Egg Fighter: Sword | Egg Launcher (H) | Egg Launcher (H+V) | Egg Launcher (V) | Egg Pawn | Eggrobo | Giant Chopper | Grabber | Gun Beetle | Gun Hunter | Iblis's Minions (Iblis Biter, Iblis Taker, Iblis Worm) | Mono Beetle | Moto Bug (Classic) | Moto Bug (Modern) | Sandworm | Spinner | Spiny | Sprinkler | Thunder Spinner
Bosses
Metal Sonic | Death Egg Robot | Shadow | Perfect Chaos | Silver | Egg Dragoon | Time Eater
Moves/
Techniques
Playable characters
Air Boost | Atomic Spin | Boost | Bound Jump | Cartwheel | Crouch | Double Jump | Drift | Freestyle Tricks | Grind Step | Grinding | Homing Attack | Hop | Insta-Shield | Jump Dash | Kick boost | Lightspeed Dash | Mid-Air Dash | Quick Step | Slide | Skydiving | Spin | Spin Dash | Spin Jump | Stomp | Super Sonic Boost | Super Sonic Missile | Wall Jump
NPCs
Chaos Spear | Dig | Drill Attack | Fire Beam | Heart Effect | Ice Wave | Meteor Smash | Ninja Arts: Camouflage | Propeller Flying | Psychic Knife | Restraint Trap | Ring Spark Field | Sun Burst | V. Maximum Overdrive Attack | Warping arm attack | Whirlwind
Color Powers
Orange Rocket | Pink Spikes
Skills
Aqua Shield | Flame Shield | Thunder Shield | Twin Spin Attack | Invincible Start | Shield | Power Sneakers | Long Spin Dash | Treasure Scanner | Homing Attack | Hercules Muscles | Breath Holder | Boardmaster | Ring Time | Blast Off | Speed Up | Direct Jump | Power Stomp | Quick Slide | Acceleration | Smasher Bonus | Ring Energy Bonus | Boost Gauge Up | Serial Homing | Auto-Gauge | Gauge Rebooter | Trick Mastery | Endless Boost | Power Brake | Sure-Footed | Safety Net | Last Chance | 10-Second Rings | Athleticism | Time Break | Super Sonic | Sega Genesis Controller*
Gimmicks and obstacles
Balloon | Barrel | Big Balloon | Bomb | Bonus Bell | Bottomless pit | Bumper | Cannon | Capsule | Car | Cart | Cloud | Crusher | Dash Panel | Dash Rail | Dash Ring | Dimensional Bomb | Explosion Trap | Fan | Flipper | Four-way Cannon | Gear Platform | Goal Plate | Gondola | GUN Military Truck | Hanging Bell | Heart bomb | Helicopter | High-speed warp tube | Horizontal Bar | Iron ball | Jump Panel | Kao | Laser field | Meteorite | Movable box | Pole Elevator | Propeller Spring | Pulley | Rainbow Ring | Rocket | Route Signal | Saw | Seesaw | Slot machine | Spike Trap | Spikes | Spinning Top | Spinning Platform | Spotlight | Spring | Spring Catapult | Spring Pole | Star Post | Switch | Trap Spring | Trick Jump Panel | Wall Jump Block | Warp Point | Wide spring | Zip Line
Items
Air Bubble | Boss Gate | Boss Gate Key | Buoy | Chaos Emerald | Container (Case, Spike Block, Steel Container, Unbreakable Container, Wooden Container) | Energy Core | Goal Ring | Information Pod | Item Box (1-Up, Aqua Shield, Flame Shield, Invincible, Power Sneakers, Skateboard, Super Ring, Thunder Shield) | Medal | Mega Mack | Musical note | Red Star Ring | Ring | Snowboard | Time Bonus | Wisp Capsule
English voice actors
Roger Craig Smith (Sonic (Modern), Wisp announcer) | Mike Pollock (Eggman (Classic), Eggman (Modern)) | Kate Higgins (Tails (Classic), Tails (Modern)) | Travis Willingham (Knuckles) | Cindy Robinson (Amy) | Kirk Thornton (Shadow) | Quinton Flynn (Silver) | Laura Bailey (Blaze, Omochao) | Karen Strassman (Rouge) | Michelle Ruff (Cream) | Keith Silverstein (Vector) | Troy Baker (Espio) | Colleen O'Shaughnessey (Charmy)
Japanese voice actors
Jun'ichi Kanemaru (Sonic (Modern)) | Chikao Ōtsuka (Eggman (Classic), Eggman (Modern)) | Ryō Hirohashi (Tails (Modern)) | Takuto Yoshinaga (Tails (Classic)) | Nobutoshi Canna (Knuckles) | Taeko Kawata (Amy) | Kōji Yusa (Shadow) | Rumi Ochiai (Rouge) | Daisuke Ono (Silver) | Nao Takamori (Blaze) | Sayaka Aoki (Cream) | Kenta Miyake (Vector) | Yūki Masuda (Espio) | Yōko Teppōzuka (Charmy) | Etsuko Kozakura (Omochao) | Fumihiko Tachiki (Wisp announcer)
Music
Songs
"Escape from the City" | "You're My Hero"
Albums
20 Years of Sonic Music | Blue Blur: Sonic Generations Original Soundtrack | History of the 1st Stage Original Soundtrack White Edition
Other
Boost Gauge | Chao in Space | Collection Room | Combo | Corkscrew | Death Egg (Classic) | Death Egg (Modern) | Death Egg Robot | Egg Dragoon | Egg Gun | Egg Mobile | Egg Spear | Havok | Lair of the Time Eater | Life | Loop | Miles Electric | Orca | Perfect Bonus | Rank | Sonic's birthday | Sonic Generations (manga) | Sonic Generations of Skate | Statue Room | Time Hole | Tornado-1 | Totem pole | Tunnel | Water | White Space

*Exclusive to the Xbox 360/PlayStation 3 version