This object exists primarily within the Sonic Boom continuity.

Information in this article may not be canonical to the storyline of the games or any other Sonic continuity.
The Communicators[1] are objects that appear in the Sonic Boom franchise. They are smartwatches created by Tails with technology derived from the Ancients' Enerbeam devices[2] and are used by the majority of Team Sonic's members during missions and in daily life.
Description
Appearance
Each Communicator resembles a wristwatch and features its own unique design:

| Image | Owner | Description |
| --- | --- | --- |
| | Sonic | This Communicator is a gray triangle with round corners and a black wrist strap. Its touchpad is black and in the middle is the cyan outline of a triangle with an extra cyan outline around each corner. |
| | Tails | This Communicator is a golden circular bezel with a brown wrist strap. Small red and green wires can be seen on the side, and its touchpad is yellow. |
| | Amy | This Communicator is a lightbulb-shaped golden pad with a white underside and a brown wrist strap. On the lower half are three dark pink buttons with a white circle on the top one, and on the upper half is a circular pink touchpad with a white frame and light purple semi-circles along the upper edges. |
| | Knuckles | This Communicator is a dark gray square with a grey wrist strap. Its touchpad is a smaller red square with a gray frame, and on each side is a small red rectangular plate (with a small white square in the middle of the one directly behind the hand). |
| | FriendBot | This Communicator is very similar to Sonic's. A gray triangle, it has round corners and a black wrist strap. Its touchpad is black and in the middle is a cyan triangle. |
Features and traits
The Communicators are essentially mobile devices, all capable of a variety of functions. Their primary function is radio communication (equipped with alarms) between each other, allowing Team Sonic's members to stay in contact. They can as well connect to other communication devices, like Tails' headset, walkie-talkies and regular telephones.[3][4][5][6] If another Communicator is being used when contact is made though, they make a busy signal.[7] Their signal range is very wide, extending far into space.[8] However, their signal is vulnerable to magnetic interference and cannot move through the ground.[8][9]
In addition to being waterproof,[10] the Communicators can interface wirelessly with different machines and gadgets, such as the Luminous Suits and Sonic's Mech Suit, allowing them to operate such devices remotely.[10][11][12] The Communicators can as well hook up to the internet and run mobile apps.[7] Tails' Communicator in particular has shown capabilities akin to a multi-functional computer, being capable of conducting analyses, upgrading the Communicators' shared systems, and hacking programs.[9][13] Other features these devices have include a clock,[14] holo-displays,[15] a text message application,[16] and Enerbeam generators.[17] The Communicators also come with their own tracking devices.[18]
After absorbing the Fire and Ice energy from a fissure, the Communicator allowed their wearers to utilize Fire Mode and Ice Mode.[13]
History
Games
Sonic Boom: Rise of Lyric
In Sonic Boom: Rise of Lyric, Tails made the Communicators by replicating the Ancients' Enerbeam bracelets, but made them into things that were even more useful.[2] Shortly after Lyric the Last Ancient's defeat, Team Sonic would wear them during their celebration in the Village.
Sonic Boom: Fire & Ice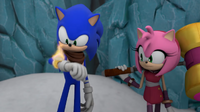 In Sonic Boom: Fire & Ice, Team Sonic would utilize their Communicators during their mission to undo Dr. Eggman's environmental damage. Early on, Sonic and Amy's Communicators absorbed the Fire and Ice energy from a fissure, granting their wearers incredible powers. Tails later updated the Communicators so their whole team could tap into these powers too. Along the way, Tails would also keep tabs on his research findings using his own Communicator.
TV series
During their adventures, Team Sonic would use their Communicators for several purposes. This has included mission-related activities, everyday communication, timekeeping and casual daywear.[3][4][5][14][19][20][21][22][23][24][25][26][27]
One time, Sonic's Communicator got sabotaged by Eggman's Tomato Sauce cans who had infiltrated the Village.[1][16] When FriendBot later became a part of Team Sonic, he was given his own Communicator so the team could reach him whenever they needed him.[28]
Archie Comics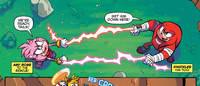 Sonic would wear his Communicator, but never used it for much.[29] During the Go-kart Pan-island Grand Prix though, Knuckles and Amy used their Communicators to form an Enerbeam safety net for Sonic.[17]
Other game appearances
Sonic Dash 2: Sonic Boom

In Sonic Dash 2: Sonic Boom, Sonic's Communicator is depicted on the item capsules for the Enerbeam powerup.
Trivia
Sticks does not own a Communicator because she does not trust technology.[30] Instead, she uses an old-fashion telephone.[5]
Unlike the other members on Team Sonic who wears their Communicator on their right wrists, Tails wears his on his left wrist.
Eggman has a similar gadget called the wrist controller, which shares time keeping and communication features alongside unique features better suited for combat.
See also
References
↑ 1.0 1.1 Denton, Alan; Hahn, Greg (21 March 2015). "Dr. Eggman's Tomato Sauce". Sonic Boom. Season 1. Episode 18. Cartoon Network.
↑ 2.0 2.1 Steven Frost on Twitter. Twitter (18 December 2015). Retrieved on 19 December 2015. "Alexander Soerensen: In Sonic Boom: Rise of Lyric, was Team Sonic's wrist communicators made from the Enerbeam bracelets? / Steven Frost: General idea was that Tails replicated the Enerbeam bracelets but made them into things that were even more useful."
↑ 3.0 3.1 Banker, Mark; Lieblich, Doug (8 November 2014). "The Sidekick". Sonic Boom. Season 1. Episode 1. Cartoon Network.
↑ 4.0 4.1 Banker, Mark; Denton, Alan; Hahn, Greg (7 February 2015). "Circus of Plunders". Sonic Boom. Season 1. Episode 12. Cartoon Network.
↑ 5.0 5.1 5.2 Denton, Alan; Hahn, Greg (22 July 2015). "Just a Guy". Sonic Boom. Season 1. Episode 34. Cartoon Network.
↑ Baraou, Anne (18 March 2017). "Robot Employees". Sonic Boom. Season 2. Episode 71. Boomerang.
↑ 7.0 7.1 Saisselin, Peter (2 September 2017). "Chain Letter". Sonic Boom. Season 2. Episode 95. Boomerang.
↑ 8.0 8.1 Sellner, Joelle (19 November 2016). "Spacemageddonocalypse". Sonic Boom. Season 2. Episode 54. Boomerang.
↑ 9.0 9.1 Denton, Alan; Hahn, Greg (4 February 2017). "Mech Suits Me". Sonic Boom. Season 2. Episode 65. Boomerang.
↑ 10.0 10.1 Raut-Sieuzac, Natalys (24 December 2016). "I Can Sea Sonic's Fear From Here". Sonic Boom. Season 2. Episode 59. Boomerang.
↑ Raut-Sieuzac, Natalys (4 March 2017). "Blackout". Sonic Boom. Season 2. Episode 69. Boomerang.
↑ Freiberger, Sam (22 July 2017). "Return of the Buddy Buddy Temple of Doom". Sonic Boom. Season 2. Episode 89. Boomerang.
↑ 14.0 14.1 Gutierrez, Freddie (2 May 2015). "Late Fees". Sonic Boom. Season 1. Episode 24. Cartoon Network.
↑ Gutierrez, Freddie (30 September 2017). "Three Minutes or Less". Sonic Boom. Season 2. Episode 97. Boomerang.
↑ 16.0 16.1 Sellner, Joelle (4 April 2015). "Hedgehog Day". Sonic Boom. Season 1. Episode 20. Cartoon Network.
↑ 17.0 17.1 Sonic Boom #7, "Everybody's Super Sonic Racing Part 2"
↑ Lachenaud, Marine; Lachenaud, Cedric (22 April 2017). "Eggman's Brother". Sonic Boom. Season 2. Episode 76. Boomerang.
↑ Banker, Mark; Denton, Alan; Hahn, Greg (29 November 2014). "Double Doomsday". Sonic Boom. Season 1. Episode 7. Cartoon Network.
↑ Derrien, Jean-Christophe; Liemt, Romain Van (6 December 2014). "Eggheads". Sonic Boom. Season 1. Episode 8. Cartoon Network.
↑ Harrison, Reid (14 March 2015). "Don't Judge Me". Sonic Boom. Season 1. Episode 17. Cartoon Network.
↑ Harrison, Reid (13 July 2015). "Chez Amy". Sonic Boom. Season 1. Episode 27. Cartoon Network.
↑ Raut-Siezac, Natalys (15 July 2015). "Curse of the Cross Eyed Moose". Sonic Boom. Season 1. Episode 29. Cartoon Network.
↑ Grenier, Benoit (24 July 2015). "Beyond the Valley of the Cubots". Sonic Boom. Season 1. Episode 36. Cartoon Network.
↑ Denton, Alan; Hahn, Greg (15 August 2015). "Battle of the Boy Bands". Sonic Boom. Season 1. Episode 39. Cartoon Network.
↑ Harrison, Reid (22 August 2015). "Tails' Crush". Sonic Boom. Season 1. Episode 40. Cartoon Network.
↑ Denton, Alan; Hahn, Greg (14 November 2015). "It Takes a Village to Defeat a Hedgehog". Sonic Boom. Season 1. Episode 52. Cartoon Network.
↑ Denton, Alan; Hahn, Greg (11 February 2017). "FiendBot". Sonic Boom. Season 2. Episode 66. Boomerang.
↑ Sonic Boom #1, "Getting a Little Boulder Part One of... Er... One"
↑ Bill Freiberger on Twitter. Twitter (16 December 2015). Retrieved on 16 December 2015. "Alexander Soerensen: Why does Sticks not have a wrist communicator? / Bill Freiberger: She doesn't trust technology."