For the character in Sonic the Comic, see Commander (dinosaur).
I will avenge those whose blood has spilled!

— Commander, Shadow the Hedgehog[1]
The Commander (司令官, Shireikan?) is a fictional character from the Sonic the Hedgehog series. He is a human military leader and the G.U.N. federation's currently highest-ranking commander, as well one of the most respected. During his childhood, his family was aboard the Space Colony ARK, he befriended Maria Robotnik and witnessed the creation of Shadow the Hedgehog. After the ARK was invaded by G.U.N., the Commander blamed Shadow for his family's death and carried a grudge against him for fifty years until he discovered the truth about Shadow and Gerald Robotnik, the latter of which he had considered insane. He now leads G.U.N. in homage to Professor Gerald and even tried to make amends with Shadow.
History
Early life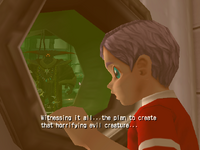 The Commander grew up with his family on the Space Colony ARK, and was a good friend of Maria Robotnik. One day while playing with her, the Commander saw Shadow being created by Black Doom and Gerald Robotnik. He was terrified at the sight of Shadow. His family and Maria were later killed in the G.U.N. military's attack. He harbored a deep personal hatred towards Shadow the Hedgehog for this, blaming him for their deaths.
Shadow the Hedgehog
The Commander follows the events of the Black Arms attack on earth from the GUN Fortress. After being informed of how badly Westopolis was attacked and the rumors of Shadow's involvement, he ordered his troops to be deployed and hunt down the Black Arms and Shadow, informing the messenger that Shadow was designated as the enemy and must be captured, dead or alive.
Possible Events
There are various events that happen in Shadow the Hedgehog due to the story going whichever way the player chooses. Almost all the Commander's scenes seem to link together when put in the right order.
Should the player then complete the level The ARK whether by the normal or dark mission, they will go against Blue Falcon and the Commander will be heard responding to the pilot and ordering him to take Shadow out. After Blue Falcon is defeated, the Commander will hear the rants of Black Doom declaring humans pathetic and say "Damn you!" from his station.
If the player goes to GUN Fortress, the Commander will support the President and put him in his own chair, asking if he's alright. The President will ask about what happened to the residents of Central City and the Commander will inform him everyone has been evacuated to the safe zone due to orders being issued yesterday. The alarm then goes off, and a G.U.N captain that serves as the Commander's messenger will then come in and inform him that over a thousand aliens are heading for the base after breaking their outer perimeter and that Shadow had been spotted with the Black Arms. Enraged, the Commander takes control of the situation and orders everyone to prepare for battle and mobilize Diablon, despite the captain's protests that it was incomplete. The Commander then grabs his pistol and says that after fifty years, justice will finally be served. He and Sonic will then go against Shadow if the dark mission on GUN Fortress is taken, declaring Shadow the one who destroyed the ARK and killed everyone on it. Despite his best efforts, the Commander will be defeated.
If the player chooses to go to Death Ruins, a cutscene will play beforehand of the Commander being informed of Shadow and the Black Arms being forced into the forest in the level. He will authorize the use of all tactical weapons in Sector B once he learns of Shadow and the Black Arms all being in the one place, saying that he wants both dead and failure is not an option. He then says to himself that the hedgehog will be exposed for the evil he is.
Should the player choose to play the Air Fleet level, the Commander will arrive at the White House to escort the President to his ship. While the President sees himself as a failure for not protecting his nation, the Commander tries to motivate him, saying they will continue to fight the aliens, rally to restore themselves and that the President must keep his people united. While thinking on the Commander's words, the President looks at a photograph of Sonic and Shadow. The Commander urges him to go to his transport with the G.U.N soldiers, and when he leaves, the Commander looks at the picture and declares, "The black creatures will feel their own bloody hell!" before following him.
If the player completes the dark mission of Black Comet, they will face off against Sonic and Diablon, the Commander declaring Shadow the one who destroyed the ARK and killed everyone on it. He will inevitably be defeated.
If the player completes the dark mission of Final Haunt, the Commander will fight alongside Sonic using Diablon, but will say nothing during the opening cutscene. He will inevitably be defeated.
Should the player go to the level Cosmic Fall, as Shadow thinks over all he has learned in the game, the Commander approaches him with a pistol, declaring him the one responsible for killing his family and Maria. He explains that Maria was like a sister to him and the only family he knew, and that Shadow was responsible for her death. He goes on further to explain that he witnessed Gerald and Black Doom create Shadow, dubbing the Ultimate Life-form a horrifying evil creature. Due to Shadow's amnesia, he doesn't remember any of this, and the Commander believes it to be a trick. He says that because of Shadow, everyone he knew and loved was killed when the ARK was destroyed. He declares justice to be served and fires on Shadow. Shadow uses his speed to avoid the bullet and tells the Commander if what he says is true, he will accept his fate. At this point, the Commander believes that Shadow has truly lost his memory and lets him go, falling to his knees in guilt as the hedgehog leaves the room.
True Ending
In the final story of Shadow the Hedgehog, Shadow confronts Black Doom on the Black Comet, and after learning part of the truth about himself thinks back upon all he'd learned, the Commander's vows of vengeance echoing in his head among other things.
Then the Commander and the President see a message of Professor Gerald to Shadow being broadcast to G.U.N. and the Black Comet by Team Chaotix on the ARK. The message was recorded before G.U.N.'s raid and Gerald explained how everything was his fault for making contact with the comet. Gerald revealed Shadow's past and that he and the Eclipse Cannon were made to put a stop to the Black Arms' attempts to destroy the planet by decimating the Black Comet. After Shadow defeats Devil Doom and destroys the Black Comet, the President states how ironic it was that people treated Gerald like he was evil, and he ended up saving them all in the end. The Commander and the President realize they were wrong about Gerald's intentions and that he was truly a good-hearted person. The President declared they would pay homage to Gerald by working for a brighter future, and the Commander thought it an excellent idea.
In the Expert Mode of Space Gadget, it is revealed that the Commander had become a grandfather one week earlier and invited Shadow over as part of his apology to the hedgehog.[2]
==Other game appearances
Sonic Chronicles: The Dark Brotherhood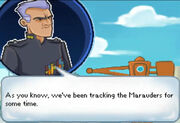 The Commander made an appearance in Sonic Chronicles: The Dark Brotherhood with a new design. He has a short role and only briefly appears in the first two chapters. After G.U.N. had spent much time tracking the Marauders and their exploits,[3] Rouge the Bat provided the means for Tails[4] to meet with the Commander in Central City under her escort and Tails brought along Sonic and Amy Rose, though while the Commander was glad to see Sonic, he did not pay much attention to Amy, telling her to have a glass of milk and sit down while she was in the middle of speaking.[5]
Assuming they were already briefed, the Commander got straight to it. He informed them though they did not know why the Marauders wanted the Chaos Emeralds and that now they had all seven they were likely to go after the Master Emerald next. With G.U.N. troops guarding Angel Island, Tails' mission was to take his friends to find the person with the greatest intel in the Marauders: Knuckles the Echidna. With the information he knew, they could very well stop the Marauders. The Commander then got them started on where to start searching by providing them with the locations of four of Dr. Eggman's old hideouts in Green Hill Zone and Central City found by Team Chaotix and G.U.N.'s own satellites. These bases were currently being occupied by the Marauders and were likely where Knuckles was being held, so the Commander ordered the trio and Rouge (as their G.U.N. contact) to investigate the four hideouts and find Knuckles. The Commander wished them good luck and ordered them to go.[6] For the rest of the game, the player will not see him again, since a G.U.N. soldier will claim he's busy.
Personality
The Commander is described as having a "heart of stone", an unshakable resolve, complete confidence and an iron will. This is something of a misnomer, as he is in fact passionate, though it has mainly been shown through his want for vengeance at those he cared for being killed. During Shadow the Hedgehog he is determined and willing to sacrifice anything to stop Shadow and the Black Arms, but mainly the former.
In Sonic Chronicles: The Dark Brotherhood, the Commander shows another side of personality, presumably due to the different situation. Here, he shows himself as a basic military leader, stoic, wanting to get straight to the mission, dealing only with facts and ordering civilians around like soldiers. He does seem to show appreciation for those who do good work and confidence in those with a good reputation.
Relationships
Allies
Enemies
In other media
Archie Comics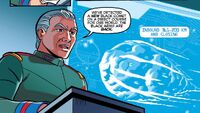 In the Sonic the Hedgehog comic book series and its spin offs published by Archie Comics, the Commander is named Abraham Tower. Originally, he was an Overlander who was born in MegaCentral and lived with his scientist parents on the Space Colony ARK. There, he befriended Maria Robotnik, as well as witnessing the nightmarish creation of Shadow the Hedgehog. Shortly after Shadow's birth, Abraham was whisked back to Mobius as the ARK went under military lockdown. Maria was one of the casualties cited, and the young Abraham blamed both G.U.N. for its seemingly incompetence and Shadow. Abraham later joined the Overland Military and took part in the "Heritage Project" designed to restore ties between the Overland their ancestral kin in the United Federation. He later served as a general during the Great War. After the war, he helped lead immigrating Overlanders and his military experiences saw him quickly rise through the ranks of G.U.N., eventually to become supreme commander of the organization. As commander, Abraham made sweeping changes to G.U.N., diminishing its ruthlessness and self-importance, and making it the military force he wanted it to. Despite their past, Abraham later allowed Shadow to join G.U.N., where he act as his superior and arranging the formation of Team Dark.
After the Super Genesis Wave following the end of Worlds Collide, Abraham and his history became virtually identical to that of his game counterpart.
Quotes
Trivia
Gallery
See also
References
---
Main article | Gallery | Script (Main Story) | Script (Last Story) | Library Sequences | Credits | Glitches
Characters
Shadow (Hero Shadow, Dark Shadow, Super Shadow) | Black Doom (Devil Doom) | Eggman | Sonic | Tails | Knuckles | Amy | Rouge | Omega | Team Chaotix (Vector, Espio, Charmy) | Cream | Cheese | Maria | Gerald | Commander | President | Researcher | Secretary | Chao
Enemies
Ark Missile Turret | Artificial Chaos (Artificial Chaos P-100, Cell) | Black Assassin | Black Hawk | Black Oak | Black Volt | Black Warrior | Black Wing | Black Worm | Big Foot Type A | Big Foot Type B | Death Leech | Death Worm | Egg Bommer | Egg Pawn | Egg Pierrot | Giant Walker | Giga Trooper | Gold Beetle | Gun Beetle | GUN Soldier | GUN Trooper | Jack Bommer | Killer Plant | Mono Beetle | Rocket Beetle | Sand Worm | Shadow Android | Spark Beetle

Stages

Air Fleet | Black Comet | Central City | Circus Park | Cosmic Fall | Cryptic Castle | Death Ruins | Digital Circuit | Final Haunt | GUN Fortress | Glyphic Canyon | Iron Jungle | Lava Shelter | Lethal Highway | Lost Impact | Mad Matrix | Prison Island | Sky Troops | Space Gadget | The ARK | The Doom | The Last Way | Westopolis
Bosses
Black Bull | Black Doom | Blue Falcon | Devil Doom | Diablon | Egg Breaker | Egg Dealer | Heavy Dog
Moves/Techniques
Chaos Arrow | Chaos Blast | Chaos Control | Chaos Spear | Crouch | Dark Spin Dash | Grinding | Grind Step | Homing Attack | Jump Dash | Light Dash | Mid-Air Attack | Missile Fever | Overturn | Pawn Fever | Pick up | Punch | Ring Fever | Shadow Fever | Slide | Spin Dash | Spin Jump | Super Sonic Boost | Swift strike | Tail Swipe | Triangle Jump

Weapons

4-Shot RPG | 8-Shot RPG | Bazooka | Big Worm Shooter | Big Barrel | Black Barrel | Black Sword | Bomb Fever | Egg Bazooka | Egg Gun | Egg Spear | Egg Vacuum | Environment Objects | Flash Shot | Gatling Gun | Grenade Launcher | Heal Cannon | Heavy Machine Gun | Heavy Shot | Laser Rifle | Light Shot | Omochao Gun | Pistol | Refractor | RPG | Samurai Blade | Satellite Gun | Semi-Auto Rifle | Shadow Rifle | Splitter | Survival Knife | Tank Cannon | Vacuum Pod | Wide Worm Shooter | Worm Shooter

OST

/

Lost and Found

All Hail Shadow | Almost Dead | Chosen One | E.G.G.M.A.N. | I Am... All of Me | Never Turn Back | Tripod Baby | Vengeance is Mine | Waking Up | Who I Am
English voice actors
Jason Griffith (Sonic, Shadow) | Sean Schemmel (Black Doom) | Mike Pollock (Eggman, Gerald) | Amy Palant (Tails) | Dan Green (Knuckles) | Lisa Ortiz (Amy) | Kathleen Delaney (Rouge) | Rebecca Honig (Cream, Maria) | Carter Cathcart (Vector) | David Wills (Espio) | Amy Birnbaum (Charmy) | Jeff Kramer (Omega) | Andrew Rannells (GUN Soldier) | Marc Thompson (Commander) | Maddie Blaustein (President) | Bella Hudson (Secretary)
Japanese voice actors
Kōji Yusa (Shadow) | Jun'ichi Kanemaru (Sonic) | Ryūzaburō Ōtomo (Black Doom) | Chikao Ōtsuka (Eggman, Gerald) | Ryō Hirohashi (Tails) | Nobutoshi Canna (Knuckles) | Taeko Kawata (Amy) | Rumi Ochiai (Rouge) | Sayaka Aoki (Cream) | Yuri Shiratori (Maria) | Kenta Miyake (Vector) | Yūki Masuda (Espio) | Yōko Teppōzuka (Charmy) | Taiten Kusunoki (Omega) | Takashi Yoshida (GUN Soldier) | Banjō Ginga (Commander) | Yutaka Nakano (President) | Junko Kitanishi (Secretary) | Ryō Hirohashi (Additional Chao)
Other
Air Saucer | Barrel | Barrier | Battle Mode | Black Comet | Black Slab | Black Tank | Bomb Unit | Case | Cell Cannon | Chaos Emerald | Central Information Agency | City annihilator bomb | Coaster | Color Panel | Container (Special Weapon Container, Steel Container, Unbreakable Container, Wooden Container) | Convertible | Core program | Eclipse Cannon | Dark Gauge | Dark Rider | Defense Unit | Egg Balloon | Egg Monitor | Eggman Fleet | Electrified Rail | Energy Core | Expert Mode | Fan | Fire in the Sky Festival | Firewall | Flash game | Floating Item Box | Goal Ring | Gravity Control Switch | Green energy fluid | Gun Lift | GUN Motorcycle | Gun ship | GUN turret | GUN Vehicle | Heal Unit | Health Gauge | Hero Gauge | Hint Ring | HMMWV | Item Box (1-Up, Barrier, Damage Recover, Heat Barrier, Invincible, Rings) | Jump Panel (Prison Island) | Jump Panel (ramp) | Jump Vehicle | Junction switch | Lantern | Laser field | Laser turret | Light-speed circuit | Magnetic Barrier | Meteorite | Mother computer | Pole | President's escape pod | Prison Island | Prosperity ritual | Pulley | Red fruit | Red Slime | Ring | Rocket | Secret Door | Secret Key | Shield switch | Shooting Gallery | Small bomb | Surveillance camera | Tails' Spaceship | Temple jewel | Toxic marsh | Toxic river | Vine | Warp Hole | White House | Wide spring
---
Main article | Gallery | Staff | Chapters (1 | 2 | 3 | 4 | 5 | 6 | 7 | 8 | 9 | 10)
Playable characters
Sonic (Super Sonic) | Amy | Tails | Rouge | Big | Knuckles | Cream | Eggman | Shadow | Omega | Shade
Non-playable characters
Dexter | G.U.N. (Commander) | Nocturnus Clan (Imperator Ix (Super State), Nestor, Gizoid, Emerl, Scylla, Charyb) | Knuckles Clan | Egg Bot | Swat Bot | Kron (Foreman Krag) | Zoah (Syrax, Raxos, Gentleman, Haniman, Telra) | N'rrgal (N'rrgal Queen) | Voxai (Thebes, Thelxe, Overmind) | Twilight Cage Pirates | Precursors | Chao | Argus | Team Chaotix (Vector) | Doctor Madden | Sal | Croesus
Chao
Common
Barbo | Cheezlet | Choo | Churdle | Ghise | Griff | Jirna | Knickt | Koolet | Korus | Oolean | Perty | Pyraz | Rugle | Seeri | Seggo | Stebsly | Stiglin | Velk | Zimba
Rare
Belgog | Bepke | Blayze | Bobo | Dusty | Fess | Gibber | Hayda | Joy | Kayla | Keroyo | Luunan | Oldarg | Radu | Zousar
Unique
Cheese | Choopaloo | Ferox | Ovus | Spartoi | Viral Chao (Baki, Farfinkle, Fimbley, Pooki, Stugs)
Areas
Green Hill Zone | Central City | Blue Ridge Zone | Mystic Ruins | Angel Island | Metropolis | Metropolis Ground Zero | Kron Colony | Twilight Cage | Zoah Colony | N'rrgal Colony | Voxai Colony Alpha | Voxai Colony Beta | Nocturne
Enemies
Assault Drone | Assault Drone Mk. II | Bomb Pawn | Colossal Worm | Dominated Voxai Citizen | Dragodon | Egg Bot | Enraged Armadillo | Giant Millipede | Giant Scorpion | Gizoid | Gizoid Centurions | Gizoid Guardian | Gizoid Mk. II | Guardian Pawn | Guardian Pawn Mk. II | Gun Pawn | Gun Pawn Mk. II | Kron Warrior | Laser Drone | Laser Drone Mk. II | Leucosia | Ligaia | Marauder Scout | Marauder Vet Scout | Nocturne Decurion | Nocturne Equites | Nocturne Hastatus | Nocturne High Praetorian | Nocturne Praetorian | Nocturne Princeps | Nocturne Triarius | Nocturnus Velite | Nrrgal Drone | Nrrgal Warrior | Power Pylon | Queen Wasp | Raptor Hawk | Riadne | Robodillo | Seeker Drone | Sentry Drone | Sentry Mk. II | Shield Pawn | Shield Pawn Mk. II | Swat Bot | Swatbot Mk. II | Voxai Conspirators | Wasp Swarm | Wild Boar | Zoah Brute
POW Moves
Sonic
Axe Kick | Blue Bomber | Fastball | Hail Storm | Super Sonic (Super Sonic only) | Triple Tornado | Whirlwind
Amy
Blow Kiss | Flower Power | Low Blow | Spin Cycle | Tantrum | Tarot Draw
Tails
Adrenaline Rush | Flash Bang | Medi Bot | Scan | Shield Bot | Tinker
Rouge
Distract | Jewel Storm | Plunder | Rising Knuckle | Shriek | Tornado Kick
Big
Battering Ram | Feel No Pain | Froggy Poison | Froggy Rain | Lure Whip | Taunt
Knuckles
Hard Line | Knuckles Express | Knuckles Sandwich | Quake Punch | Revolver Slam | Uppercut
Cream
Cure | Demoralize | Heal | Refresh | Revive | Tough
Eggman
Bombardment | Sabotage
Shadow
Atomic Strike | Chaos Blast | Chaos Rift | Chaos Spear | Focus Field | Metal Storm
Omega
Beam Cannon | Blazing Tornado | Flamethrower | Machine Gunner | Temporal Field | Wrecking Ball
Shade
Blade Drop | Blade Rush | Cloak | Echidna Rush
Enemies
Acid Spit | Air Shield | Bash | Blast | Buzz Saw | Buzz Swarm | Charging | Crippling Arc | Crusher | Cyclone | Drain Life | Evade | Feather Barrage | Full Auto | Full Power | Hellfire | Immunity | Leech Blade | Leech Wave | Lightning Shield | Lock-On | Mega Blaster | Overload | Parry | Phase | Poison Quill | Power Blast | Psi-Confuse | Psi-Dazzle | Psi-Slow | Psychic Wave | Quake | Regenerate | Regeneration | Rocket Volley | Roller Ball | Self Destruct | Shields Up | Shocker | Stasis Grenade | Super Bomb | Super Shot | Swallow | Tail Blast | Tail Swipe | Water Shield
Status Effects
Cursed | Distracted | Empowered | Focused | Fortified | Hyper | Lucky | Poisoned | Sluggish | Stunned | Vulnerable | Weakened
Objects
Equipment
Alloy Boots | Alloy Slippers | Angel Amulet | Blunt Claws | Boxing Gloves | Chao Print Dress | Cloth Gloves | Cursed Claws | Cursed Gloves | Dura-Hydraulics | Earth Ring | Economizer | Golden Gloves | Grapple Claws | Gritty Gloves | Ice Ring | Immunity Idol | Iron Claws | Iron Hydraulics | Kron Hammer | Light Boots | Light Sneakers | Lightning Ring | Lucky Gloves | Master Hydraulics | Mirror Gloves | Nimble Slippers | Nocturne Blade | Oily Hydraulics | Polymer Gloves | Power Gloves | Pretty Dress | Refresher | Replenisher | Rubber Gloves | Rusty Hydraulics | Serrated Claws | Shielded Sneakers | Sparkly Gloves | Speedy Sneakers | Spiked Slippers | Spiked Sneakers | Spiny Claws | Spooky Charm | Steel Toe Boots | Stiff Sneakers | Swift Boots | Titanium Claws | Tough Slippers | Voxai Teleporter | Water Ring | Wind Ring | Work Boots | Work Gloves | Zoah Shield
Consumables
Antidote | Bug Spray | Clover Juice | Crazy Beans | Cure All Spray | Health Leaf | Health Root | Health Seed | Immunity Booster | Iron Tonic | Med Emitter | POW Candy | POW Drink | POW Gum | Prune Juice | Psychic Water | Revival Ring | Refresher Wave | Ring of Life | Rock Salt | Speed Bar
Quest Items
Beam Cannon | Chaos Emerald 1 | Chaos Emerald 2 | Chaos Emerald 3 | Chaos Emerald 4 | Chaos Emerald 5 | Chaos Emerald 6 | Chaos Emerald 7 | Communicator | Eggman Detector | Eggman Device | GUN Official | Little Boy | Nocturnus Tech | Pattern Generator | Precursor Tablet | Prized Stapler | Timothy | Weapon Part
Other
Air Bubble | Argus Event | Armor Piercing | Blast | Blue Cyclone | Chao Egg | Combat statistics | Dimensional Buffer | Experience Point | Full Auto | Great Emeralds | Health Gauge | Item Theft | Leech | Real-Time Interaction | Roboticization | Shuttle loop | South Island | Teleporter | Tornado | Twilight Conference | Warp Belt | West Side Island
Community content is available under
CC-BY-SA
unless otherwise noted.