The Combine Ring[1] (コンバインリング[2], Konbain Ringu?) or Hyper Ring[3] (ハイパーリング[4], Haipā Ringu?) is a Item Box power-up in the Sonic the Hedgehog series. When obtained, it combines the player's collected Rings.
Description
The Combine Ring's icon on a monitor's screen is represented by a dark blue ring. When obtained, this power-up causes the Rings the player hold upon taking damage to merge together into larger Ring(s) as they are dropped. Should the player then re-obtain such Rings, they will regain Rings equivalent to either the entirely of the Rings they lost or just a portion of it, similar to a Super Ring.
Game appearances
Knuckles' Chaotix

The Combine Ring first appeared in Knuckles' Chaotix. When picking up the Combine Ring, it will combine all of the player's Rings into one larger Ring. To indicate this, its icon will appear at the bottom of screen and stay there until the player receives damage. Upon taking damage, the playable character will drop the large Ring, which will return all the Rings they just lost upon taking damage. If the player does not obtain the large Ring within a few seconds though, it will burst into the usual shower of Rings that occurs when the player takes damage.
Sonic Mania

In Sonic Mania, and its expansion Sonic Mania Plus, the Combine Ring is called the Hyper Ring[3] (ハイパーリング[4], Haipā Ringu?). In this game, the Hyper Ring works slightly different compared to how it worked in Knuckles' Chaotix. Instead of an icon appearing at the bottom of the screen when a character is holding a Hyper Ring, the Ring counter on the HUD will turn blue and a blue ring icon will appear next to the Ring counter. Also, instead of combing all the player Rings into one large Ring when taking damage, it combines the Rings into a maximum of eight large Rings, each worth a fraction of the player's total ring count that is returned when they are re-obtained. Eventually though, these Rings will fade away instead of exploding.
Interestingly, if the player has collected more than one hundred rings and has earned an extra life from doing so, they can recollect the larger Rings and earn another extra life from collecting one hundred rings.
Trivia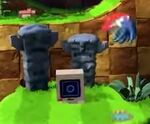 In Sonic the Hedgehog CD, an Item Box with the Combine Ring's icon exists for an unused monitor in the game. However, should the player spawn the blue ring monitor using Debug Mode, breaking it will have no effect. In the 510 prototype, the monitor would simultaneously give the player Invincible and Power Sneakers similar to the "S" monitor, while in the 712 prototype it would function like an invisible shield, allowing the player to take a hit without losing their Rings, and even stack with a regular Shield.
In LEGO Dimensions, the Combine Ring's icon would be used for a different Item Box that awards the player with twenty blue Rings when cracked open.
Gallery
References
---
Main article | Staff | Glitches | Beta elements | Gallery
Playable characters
Knuckles | Vector | Mighty | Charmy | Espio | Heavy | Bomb | **********
Non-playable characters
Dr. Robotnik | Metal Sonic | Sonic | Tails | Amy
Stages
Isolated Island | Botanic Base | Speed Slider | Amazing Arena | Techno Tower | Marina Madness | World Entrance | Special Stage | Bonus Stage
Enemies
Amazing Arena Badnik 1, 2 | Bombbearer | Botanic Base Badnik 1, 2, 3 | Bushbubble | Dribbler | Gotcha | Hoverby Mk II | Isolated Island Badnik | Marina Madness Badnik 1, 2 | Motorspike | Needlenose | Piranha | Poptank | Ringleader | Spiketower | Techno Tower Badnik 1, 2, 3 | Ticktock
Bosses
Amazing Arena boss | Amazing Arena sub-boss | Botanic Base boss | Marina Madness boss | Speed Slider boss | Techno Tower boss | World Entrance Level 1 | World Entrance Level 2
Moves/
Techniques
Playable characters
Climb | Crouch | Dash | Glide | Double Jump | Spin Dash | Spin Jump | Super Spin | Wall Jump
NPCs
V. Maximum Overdrive Attack | Plasma Pulse Attack
Gimmicks and obstacles
Balloon | Bumper Ball | Chopper Block | Goal Plate | Exit | High-speed warp tube | Iron ball | Ring Power | Spring | Switch | "X" Bumper
Objects
Chaos Ring | Dark Ring | Monitor (Change, Combi Catcher, Combine Ring, Grow, Invincible, Power Sneakers, Shield, Shrink, Stage Select, Super Ring, Swap) | Ring | Sphere
Other
1207 Beta version | Archie Knuckles' Chaotix | Combi Catcher | Debug Mode | Newtrogic High Zone | Sonic Crackers
---
Main article | Staff | Glitches | Beta elements | Gallery | Re-releases (Plus)
Playable characters
Sonic the Hedgehog (Super Sonic) | Miles "Tails" Prower (Super Tails) | Knuckles the Echidna (Super Knuckles) | Mighty the Armadillo* (Super Mighty)* | Ray the Flying Squirrel* (Super Ray)*
Non-playable characters
Dr. Eggman | Hard Boiled Heavies (Heavy King, Heavy Gunner, Heavy Shinobi, Heavy Magician, Heavy Rider) | Phantom Heavies (Phantom King, Phantom Gunner, Phantom Shinobi, Phantom Magician, Phantom Rider) | Metal Sonic (Giga Metal) | Animals (Becky, Cucky, Flicky, Locky, Micky, Pecky, Picky, Pocky, Ricky, Rocky, Tocky, Wocky) | Jimmy
Zones
Angel Island Zone* | Green Hill Zone | Chemical Plant Zone | Studiopolis Zone | Flying Battery Zone | Press Garden Zone | Stardust Speedway Zone | Hydrocity Zone | Mirage Saloon Zone | Oil Ocean Zone | Lava Reef Zone | Metallic Madness Zone | Titanic Monarch Zone | Egg Reverie Zone | Special Stage | Bonus Stage | Pinball Stage*
Enemies
Armadiloid | Aquis | Asteron | Ball Hog | Batbrain | Blaster | Blastoid | Bloominator* | Bugernaut | Bumpalo | Buzz Bomber | Cactula | Canister | Catakiller, Jr. | Chopper | Clucker | Crabmeat | Dango | Dragonfly | Eggrobo | Fireworm | Flasher mk.II | Gohla | Grabber | Hotaru | IceBomba | Iwamodoki | Jawz | Jellygnite | Juggle Saw | Kabasira | Kanabun | Madmole | Matryoshka-Bom | Mega Chopper | Mic Drop | Monkey Dude* | Moto Bug | Newtron | Octus | Pointdexter | Rattlekiller | Rexon | RhinoBot* | Robot Bee | Robot Beetle | Roller mk.II | Scarab | Sentry Bug | Shutterbug | Silver Sonic | Spiny | Splats | Sweep | Technosqueek | Toxomister | Tubinaut | Turbo Spiker | Turbo Turtle | Vultron | Woodrow
Bosses
Mini-bosses
DD Wrecker | Amoeba Droid | Heavy Gunner | Big Squeeze | Shiversaw | Hotaru Hi-Watt | Dive Eggman | Uber Caterkiller | Meter Droid | Drillerdroid | Egg Pistons mk.II | Crimson Eye
Zone bosses
Death Egg Robot | Mean Bean Machine | Weather Globe | Spider Mobile | Heavy Shinobi | Metal Sonic | Laundro-Mobile | Heavy Magician | Mega Octus | Heavy Rider | Heavy King | Gachapandora | Phantom Egg | Phantom King and Klepto Mobile
Moves/Techniques
Air Glide* | Bounce Jump | Climb | Crouch | Double Jump | Drop Dash | Fireball Spin Dash | Glide | Hammer Drop* | Insta-Shield | Propeller Flying | Ring Spark Field | Spin Attack | Spin Dash | Spin Jump | Super Peel Out | V. Maximum Overdrive Attack
Gimmicks and obstacles
Beanstalk | Bomb | Bumper | Bungee Rope | Bumper wall | Conveyor Belt | Crusher | Dash Panel | Electrical conduit | Fan | Fireball Cannon | Flipper | Flywheel | Goal Plate | High-speed warp tube | Ice Spring | Iron ball | Jump Panel | Platform-raising Wheel | Pulley | Ruby Mist | Seesaw | Size Beam | Snowblower | Spikes | Spring | Switch | Transport | Vine | Zip Line
Objects
Air Bubble | Capsule | Chaos Emerald | Giant Ring | Giant spear | Item Box (1-UP, Blue Shield, Bubble Shield, Character*, Hyper Ring, Eggman Mark, Fire Shield, Invincible, Lightning Shield, Player Swap, Power Sneakers, Random, S, Super Ring) | Little Planet flowers | Master Emerald | Metal Sonic Projector | Medallion | Ring | Robot transporter | Schrodinger's Capsule* | Sphere | Star Circle | Star Post | Time Warp sign | UFO | Warp Point
Music
Sonic Mania (vinyl album) | Sonic Mania Original Soundtrack (Selected Edition) | Sonic Mania Plus Original Soundtrack
Other
Angel Island | Auto Running | Continue | Death Egg Robot | Debug Mode | Egg Mobile | Freeze | Hang Glider | Klepto Mobile | Level Select | Little Planet | Mega Mack | Perfect Bonus | Phantom Ruby | Rock Drill | Shuttle loop | Sonic Mania Adventures (Sonic Returns, Sonic and Tails, & Knuckles, Mighty and Ray, Metal Mayhem, From: A. Rose, The Complete Mini-Series) | Time Attack | Time Over | Tornado | Winding Tunnel

*Appears in Sonic Mania Plus only
Community content is available under
CC-BY-SA
unless otherwise noted.