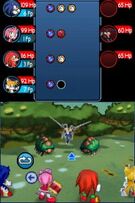 Sonic Chronicles: The Dark Brotherhood is the first Sonic RPG, and the first game in the series to have (visible) quantitative stats for allies and opponents. Listed here are various tables detailing the combat statistics for the friends and foes encountered in the game.
Class List
Class Name
Elemental Susceptibilities
Notes
Fire
Ice
Lightning
Water
Wind
Earth
Robots (flying)
R
R
R
W
W
R
Eggman's airborne robots
Robots (ground)
R
R
R
W
R
W
Gizoids, and Eggman's ground robots
Kron
R
W
W
W
W
R
Rock-based creatures from the Twilight Cage
Organic (flying)
W
W
W
R
W
R
Flying animals; Nocturne airborne troops
Organic (ground)
W
W
W
R
R
W
Ground animals; Nocturne ground troops
N'rrgal
W
W
R
R
W
W
Gelatinous green aliens from Sector Scylla
Voxai
W
R
W
R
R
W
Psychic jellyfish from Sector Charybdis
Zoah
W
R
R
W
R
W
Electric giants from Sector Scylla
* W means the enemies are Weak to this element. R means the enemies are Resistant to this element.
Character Pow List
Move Name
User(s)
Description
PP cost
Effects (LvIII)
Axe Kick
Sonic
Sonic spinballs into an enemy, then follows up with a powerful air-kick.
4
2x 200% of Attack damage
Whirlwind
Sonic
Sonic performs a Tornado move, damaging everyone caught inside.
6
125% of Attack damage to all enemies
Can't miss, Element: Wind
Blue Bomber
Sonic
Tails
Tails lifts Sonic up, then throws him onto a target. Sonic then bounces off and hits the target a second time.
4
2x 250% of Attack damage
Weakened 1 (80% chance)
Fastball
Sonic
Amy
Amy uses her hammer to hit Sonic into a foe three times in a row.
5
3x 225% of Attack damage
Sluggish 1
Triple Tornado
Sonic
Tails
Knuckles
In a variation of the aforementioned Whirlwind move, Sonic, Knuckles, and Tails get propelled in the air in a Tornado move, then fall down and hit all enemies. This may leave targets Sluggish.
5
3x 225% of Attack damage to all enemies
Can't miss, Sluggish 1 (80%), Element: Wind
Hail Storm
Sonic
Tails
Knuckles
Amy
Knuckles, Tails, and Amy smash a spinballing Sonic careening at a single target, potentially stunning the foe.
6
7x 225% of Attack damage
Stun (40% chance)
Low Blow
Amy
Amy leaps up and hits an enemy with her Piko Piko Hammer.
4
175% of Attack damage
Vulnerable 1 (80% chance)
Spin Cycle
Amy
Cream
Cream lifts up Amy, then spins her around before throwing her at a group of enemies.
4
200% of Attack damage
Can't miss
Tantrum
Amy
Amy charges at an enemy, spinning like a tornado.
5
150% of Attack damage
Sluggish 1 (40% chance)
Blow Kiss
Amy
Amy blows a kiss to a friend, empowering the friend to do his or her best.
4
Empowered 3
Tarot Draw
Amy
Amy forsees the future with her tarot deck, cursing a single foe.
4
Cursed 3
Flower Power
Amy
Cream
Big
Big rushes forward and falls flat on his face. Cream then pushes Amy, who bounces off Big's back and lands, hammer first, on top of an enemy and stun it.
5
350% of Attack damage
Stun (60% chance)
Scan
Tails
Tails scans a target to find weak points, leaving it vulnerable.
4
Vulnerable 3
Tinker
Tails
Tails sabotages enemy robots to leave them distracted and weakened.
4
Weakened 3, Sluggish 3, Robots only
Medi Bot
Tails
Tails summons a small droid that will regenerate HP and PP to a selected friend for three turns.
5
Regenerate 60 HP and 6 PP for 3 rounds
Shield Bot
Tails
Tails summons a small droid equipped with a forcefield to fortify a friend.
5
Fortified 3
Flash Bang
Tails
Tails flies up to deploy a flash grenade that leaves a target sluggish and distracted.
5
Sluggish 3, Distracted 3, Non-robots only
Adrenaline Rush
Tails
Tails deploys a temporal field that gives a friend an extra action and makes the friend hyper.
5
Hyper 3, Extra Action
Tornado Kick
Rouge
Rouge delivers a rapid series of kicks that create a damaging wind attack.
4
145% of Attack damage
Element: Wind
Jewel Storm
Rouge
Rouge throws a handful of counterfeit gems at the opposing team. These gems, while small, are armor piercing.
5
125% of Attack damage to all enemies
Armor piercing
Rising Knuckle
Rouge
Knuckles
Rouge hauls Knuckles up into the air, then they both dive-bomb the foe in an attack which may stun the target.
5
2x 225% of Attack damage
Stun (50% chance)
Plunder
Rouge
Rouge feints an attack while stealing an item from her target.
4
Item Theft level 3
Distract
Rouge
Rouge tempts the enemy with her feminine wiles to keep their mind off the fight.
4
Distracted 3
Shriek
Rouge
Rouge directs a shrill scream at her foe, leaving the target sluggish.
4
Sluggish 3
Lure Whip
Big
Big casts his line out to trip up a foe from the ground, potentially leaving the target stunned.
4
100% of Attack damage
Stun (80% chance)
Battering Ram
Big
Big charges at an opponent, hitting it three times with his fists.
5
3x 180% of Attack damage
Distracted 1 (80% chance)
Taunt
Big
Big attracts one foe's attention away from Big's friends and fortifies himself against damage.
6
Fortify 3, target will only attack Big
Froggy Poison
Big
Big deploys Froggy to kiss a target, leaving the foe poisoned.
5
100% of Attack damage
Poison 3
Feel No Pain
Big
Big gets so excited about the fight that he hardly even notices incoming damage.
5
50% Regeneration for three rounds
Froggy Rain
Big
Big asks Froggy to summon his friends, causing a rain of frogs to drop on the opposing team.
6
150% of Attack damage to all enemies
Can't miss
Uppercut
Knuckles
Knuckles hits an enemy with a powerful uppercut.
4
175% of Attack damage
Armor Piercing
Quake Punch
Knuckles
Knuckles jumps extremely high, then pounds the ground, causing an unavoidable earthquake that may stun the entire opposing team.
6
100% of Attack damage to all enemies
Can't miss, Stun (50% chance), Element: Earth
Revolver Slam
Knuckles
Sonic
Sonic spinballs into Knuckles, sending him flying and landing fist first for a devastating punch that ignores armor and may leave the target vulnerable.
4
250% of Attack damage
Armor Piercing, Vulnerable 1 (80% chance)
Knuckles Express
Knuckles
Shadow
Shadow uses Chaos Control to propel Knuckles on a gliding arc across the entire opposing team.
5
250% of Attack damage to all enemies
Distracted 1 (40% chance)
Knuckles Sandwich
Knuckles
Sonic
Amy
Knuckles forcefully throws both Sonic and Amy as energized spheres. The impacts may stun the target.
5
2x 175% of Attack damage
Stun (80% chance)
Hard Line
Knuckles
Shadow
Shade
Knuckles hurls Shade up into the air; at the apex of her ascent, Shadow teleports above Shade, and throws her up even higher. Shade then comes cannoning down on top of the opponent fists-first, delivering a considerable amount of damage and likely distracting the target.
5
350% of Attack damage
Distracted 1 (70% chance)
Refresh
Cream
Cream performs a cheer that restores PP to her team.
8
Replenish 15 PP to all party members
Demoralize
Cream
Cream performs a cheer that distracts the opposing team.
5
Distracted 3 (all enemies)
Cure
Cream
Cream performs a cheer that will cure negative status effects on her friends.
4
Antidote for 3 rounds
Revive
Cream
Cream performs a cheer that can revive a KO'd friend.
5
Revive 1 ally with 100% of HP.
Heal
Cream
Cream performs a cheer that restores HP to her team.
6
Replenish 150 HP to all party members
Tough
Cream
Cream performs a cheer that fortifies a friend.
5
Fortified 3
Bombardment
Eggman
Eggman uses a complex semaphore dance to call down an artillery barrage on the opposing team, potentially leaving them sluggish.
5
250% of Attack damage to all enemies
Can't miss, Sluggish 1 (50% chance)
Sabotage
Eggman
Tails
Tails joins Eggman to dismantle a robot target.
6
Instant Death (100%), Robots Only
Chaos Spear
Shadow
Shadow hurls two spears of raw Chaos energy at an enemy. These spears may either hit a single enemy, or tail off and hit a second enemy.
4
2x 150% of Attack damage
Armor Piercing
Chaos Rift
Shadow
Shadow opens a rift in time and space, then launches it at a foe in an attempt to banish it.
8
KO (60% chance), Distracted 1 (100% chance)
Chaos Blast
Shadow
Shadow delivers a concentrated beam of chaos energy that may weaken affected targets.
6
170% of Attack damage
Blast, Weakened 1 (40% chance)
Atomic Strike
Shadow
Sonic
Shadow and Sonic rapidly spinball around the opposing team, creating an electrical field around the opposing team and damaging everyone inside.
4
250% of Attack damage to all enemies
Can't miss, Element: Electricity
Focus Field
Shadow
Omega
Shadow hits a foe with a Chaos Blast as Omega simultaneously fires with his machine guns, in a dual attack which can leave the foe vulnerable.
4
275% of Attack damage
Vulnerable 1 (50% chance)
Metal Storm
Shadow
Rouge
Omega
Shadow lifts Omega using Chaos Control, and Rouge tornado-kicks the robot into a foe, with a chance to stun them.
5
350% of Attack damage
Stun (40% chance)
Flamethrower
Omega
Omega reconfigures his claws to flamethrowers to deliver a fire attack that hits multiple targets.
4
150% of Attack damage to all enemies
Element: Fire
Beam Cannon
Omega
Omega reconfigures his claws to deliver a devastating laser beam that ignores armor.
5
300% of Attack damage
Armor Piercing, Vulnerable 1 (100% chance)
Blazing Tornado
Omega
Rouge
Omega covers Rouge in fire, granting her a fire aura. She then kicks the enemy for fire damage.
4
250% of Attack damage
Element: Fire
Wrecking Ball
Omega
Big
Omega throws Big at a target, causing damage to and possibly distracting adjacent foes.
5
250% of Attack damage
Distracted 1 (80% chance)
Temporal Field
Omega
Omega deploys a machine that can phase himself or a friend and makes that friend hyper.
5
Hyper 3, Phase
Machine Gunner
Omega
Omega reconfigures his claws as gatling guns, delivering full-auto attacks to the target and adjacent opponents.
6
12x 75% of Attack damage
Full Auto
Cloak
Shade
Shade activates her cloaking field, making her faster and harder to hit in combat.
4
Hyper 3
Blade Rush
Shade
Shade delivers a stab, punch, and then a crippling vertical strike against her opponent, replenishing her own health.
5
3x 200% of Attack damage
Leech
Echidna Rush
Shade
Knuckles
Shade hurls an explosive grenade at her enemy, and, while they're reeling, she and Knuckles close in to simultaneously punch the foe.
5
3x 250% of Attack damage
Armor Piercing, Distract 3
Blade Drop
Shade
Sonic
Sonic spin-dashes into an opponent, and Shade ricochets off him to deliver a powerful leech-blade slash from above.
5
2x 250% of Attack damage
Armor Piercing, Leech
Enemy List
Enemy Attacks List
| Name | Used by | Effects |
| --- | --- | --- |
| Parry | Wild Boar | User counters the attacks of opponents, damaging the aggressor |
| Buzz Swarm | Wasp Swarm | |
| Poison Quill | Queen Wasp | User fires two quills at the target, which deal damage and poison the target. |
| Crusher | Swat Bots | User jumps up and smashes the target from above, lowering the target's attack if the attack is successful. |
| Tail Swipe | Dragodon | User swipes its tail across all four opponents, dealing at least 1 damage to each and possibly putting them to sleep. |
| Swallow | Colossal Worm | User swallows an opponent and attempts to deal damage to him/her while he/she is inside. |
| Acid Spit | Colossal Worm | |
| Dark Matter | Imperator Ix | |
| Super Shot | Guardian Pawn Mk. II | Hits 3 adjacent opponents; may stun |
| Full Power | Laser Drones | Insta-KO |
| Full Auto | Assault Drones | Fires rapid fire at all opponents |
| Shields Up! | Shield Pawn | Massively boosts defense |
| Charging | Bomb Pawn | |
| Super Bomb | Bomb Pawn | |
| Phase | Marauder scouts | Massively improves dodging and reduces damage taken |
| Self Repair | Swat Bots; Robodillos | Automatic revival at end of round |
| Regenerate | Giant Millipede; Charyb; Gizoids | Automatic health gain at end of round |
| Buzz Saw | Eggman Drones | User attacks the opponents with the propeller on its underside. |
| Stasis Grenade | Marauder scouts | May send target to sleep |
| Tail Blast | Giant Scorpion | |
| Feather Barrage | Raptor Hawk | Hits all four opponents at once |
| Bash | Kron | |
| Cyclone | Robodillo | |
| Quake | Shield Pawn | Hits all four opponents; May cause sleep |
| Roller Ball | Giant Millipede | User curls into a loose ball and rolls into the opponent. |
| Psychic Wave | Voxai | Hits three adjacent characters at once |
| Air Shield | Voxai | Air attacks heal the opponent rather than damaging it |
| Psi-Slow | Overmind Leucosia | |
| Psi-Dazzle | Overmind Ligaia | |
| Psi-Confuse | Overmind Riadne | May send target to sleep |
| Quake Punch | Gizoids; Knuckles | Hits all opponents with Earth damage; May send enemies to sleep |
| Blade Rush | Procurator Shade, Gizoids | Three powerful health-draining strikes |
| Immunity | Nocturnus (ground); Ix; Gizoids | Massively improves dodging and reduces damage taken |
| Hellfire | Nocturnus (ground); Gizoids | Hits 3 adjacent targets |
| Evading | Nocturnus (flying) | User counters the attacks of opponents, damaging the aggressor |
| Leech Blade | Nocturnus (ground) | 3 health-sapping strikes |
| Leech Wave | Nocturnus (flying) | Fires 2 health-sapping waves at a single target |
| Tornado Kick | Gizoids; Rouge | Wind damage |
| Blade Rush | Gizoids; Shade | 3 health-sapping strikes |
| Mighty Slash | Charyb; Scylla | Massive damage to all opponents; May cause sleep |
| Doom Orb | Gizoids | Insta-KO |
| Reinforcements | Imperator Ix, Shade | Revives KO-ed allies |
| Dark Anomoly | Imperator Ix | Massive damage; Causes stun |
| Crippling Arc | Gizoid Guardians | |
| Overload | Super Ix | Super Ix's special technique |
---
Main article | Staff | Gallery | Chapters (1 | 2 | 3 | 4 | 5 | 6 | 7 | 8 | 9 | 10)
Playable characters
Sonic (Super Sonic) | Amy | Tails | Rouge | Big | Knuckles | Cream | Eggman | Shadow | Omega | Shade
Non-playable characters
Dexter | G.U.N. (Commander) | Nocturnus Clan (Imperator Ix (Super State), Nestor, Gizoid, Emerl, Scylla, Charyb) | Knuckles Clan | Egg Bot | Swat Bot | Kron (Foreman Krag) | Zoah (Syrax, Raxos, Gentleman, Haniman, Telra) | N'rrgal (N'rrgal Queen) | Voxai (Thebes, Thelxe, Overmind) | Twilight Cage Pirates | Precursors | Chao | Argus | Team Chaotix (Vector) | Doctor Madden | Sal | Croesus
Chao
Common
Barbo | Cheezlet | Choo | Churdle | Ghise | Griff | Jirna | Knickt | Koolet | Korus | Oolean | Perty | Pyraz | Rugle | Seeri | Seggo | Stebsly | Stiglin | Velk | Zimba
Rare
Belgog | Bepke | Blayze | Bobo | Dusty | Fess | Gibber | Hayda | Joy | Kayla | Keroyo | Luunan | Oldarg | Radu | Zousar
Unique
Cheese | Choopaloo | Ferox | Ovus | Spartoi | Viral Chao (Baki, Farfinkle, Fimbley, Pooki, Stugs)
Areas
Green Hill Zone | Central City | Blue Ridge Zone | Mystic Ruins | Angel Island | Metropolis | Metropolis Ground Zero | Kron Colony | Twilight Cage | Zoah Colony | N'rrgal Colony | Voxai Colony Alpha | Voxai Colony Beta | Nocturne
Enemies
Assault Drone | Assault Drone Mk. II | Bomb Pawn | Colossal Worm | Dominated Voxai Citizen | Dragodon | Egg Bot | Enraged Armadillo | Giant Millipede | Giant Scorpion | Gizoid | Gizoid Centurion | Gizoid Guardian | Gizoid Mk. II | Guardian Pawn | Guardian Pawn Mk. II | Gun Pawn | Gun Pawn Mk. II | Kron Warrior | Laser Drone | Laser Drone Mk. II | Leucosia | Ligaia | Marauder Scout | Marauder Vet Scout | Nocturne Decurion | Nocturne Equites | Nocturne Hastatus | Nocturne High Praetorian | Nocturne Praetorian | Nocturne Princeps | Nocturne Triarius | Nocturnus Velite | Nrrgal Drone | Nrrgal Warrior | Power Pylon | Queen Wasp | Raptor Hawk | Riadne | Robodillo | Seeker Drone | Sentry Drone | Sentry Mk. II | Shield Pawn | Shield Pawn Mk. II | Swat Bot | Swatbot Mk. II | Voxai Conspirators | Wasp Swarm | Wild Boar | Zoah Brute
POW Moves
Sonic
Axe Kick | Blue Bomber | Fastball | Hail Storm | Super Sonic (Super Sonic only) | Triple Tornado | Whirlwind
Amy
Blow Kiss | Flower Power | Low Blow | Spin Cycle | Tantrum | Tarot Draw
Tails
Adrenaline Rush | Flash Bang | Medi Bot | Scan | Shield Bot | Tinker
Rouge
Distract | Jewel Storm | Plunder | Rising Knuckle | Shriek | Tornado Kick
Big
Battering Ram | Feel No Pain | Froggy Poison | Froggy Rain | Lure Whip | Taunt
Knuckles
Hard Line | Knuckles Express | Knuckles Sandwich | Quake Punch | Revolver Slam | Uppercut
Cream
Cure | Demoralize | Heal | Refresh | Revive | Tough
Eggman
Bombardment | Sabotage
Shadow
Atomic Strike | Chaos Blast | Chaos Rift | Chaos Spear | Focus Field | Metal Storm
Omega
Beam Cannon | Blazing Tornado | Flamethrower | Machine Gunner | Temporal Field | Wrecking Ball
Shade
Blade Drop | Blade Rush | Cloak | Echidna Rush
Enemies

Acid Spit

|

Air Shield

|

Bash

|

Blast

|

Buzz Saw

|

Buzz Swarm

|

Charging!

|

Crippling Arc

| Crusher |

Cyclone

|

Dark Anomaly

|

Doom Orb

|

Drain Life

|

Energize!

|

Evading

| Feather Barrage |

Full Auto

|

Full Power

|

Hellfire

|

Immunity

|

Leech Blade

|

Leech Wave

|

Lightning Shield

|

Lock On!

|

Mega Blaster

|

Mighty Slash

| Overload |

Parry

|

Phase

|

Poison Quill

|

Power Blast

|

Power Burst

| Psi-Confuse | Psi-Dazzle | Psi-Slow | Psychic Wave | Quake |

Regenerate

|

Regeneration

|

Reinforcements

|

Rocket Volley

|

Roller Ball

|

Self Destruct

|

Self Repair

|

Shields Up!

|

Shocker

|

Slime Shot

|

Stasis Grenade

|

Super Bomb

|

Super Nova

|

Super Shot

|

Swallow

| Tail Blast | Tail Swipe |

Water Shield

Status Effects
Cursed | Distracted | Empowered | Focused | Fortified | Hyper | Lucky | Poisoned | Sluggish | Stunned | Vulnerable | Weakened
Items
Equipment
Alloy Boots | Alloy Slippers | Angel Amulet | Blunt Claws | Boxing Gloves | Chao Print Dress | Cloth Gloves | Cursed Claws | Cursed Gloves | Dura-Hydraulics | Earth Ring | Economizer | Golden Gloves | Grapple Claws | Gritty Gloves | Ice Ring | Immunity Idol | Iron Claws | Iron Hydraulics | Kron Hammer | Light Boots | Light Sneakers | Lightning Ring | Lucky Gloves | Master Hydraulics | Mirror Gloves | Nimble Slippers | Nocturne Blade | Oily Hydraulics | Polymer Gloves | Power Gloves | Pretty Dress | Refresher | Replenisher | Rubber Gloves | Rusty Hydraulics | Serrated Claws | Shielded Sneakers | Sparkly Gloves | Speedy Sneakers | Spiked Gloves | Spiked Slippers | Spiked Sneakers | Spiny Claws | Spooky Charm | Steel Toe Boots | Stiff Sneakers | Swift Boots | Titanium Claws | Tough Slippers | Voxai Teleporter | Water Ring | Wind Ring | Work Boots | Work Gloves | Zoah Shield
Consumables
Antidote | Bug Spray | Clover Juice | Crazy Beans | Cure All Spray | Health Leaf | Health Root | Health Seed | Immunity Booster | Iron Tonic | Med Emitter | POW Candy | POW Drink | POW Gum | Prune Juice | Psychic Water | Revival Ring | Refresher Wave | Ring of Life | Rock Salt | Speed Bar
Quest Items

Beam Cannon

| Chaos Emerald 1 | Chaos Emerald 2 | Chaos Emerald 3 | Chaos Emerald 4 | Chaos Emerald 5 | Chaos Emerald 6 | Chaos Emerald 7 | Communicator | Eggman Detector | Eggman Device | GUN Official | Little Boy |

Nocturnus Tech

| Pattern Generator | Precursor Tablet | Prized Stapler | Timothy |

Weapon Part

Other
Air Bubble | Argus Event | Armor Piercing | Blast | Blue Cyclone | Chao Egg | Combat statistics | Dimensional Buffer | Experience Point | Full Auto | Great Emerald | Health Gauge | Item Theft | Leech | Real-Time Interaction | Roboticization | Shop | Shuttle loop | Sonic Chronicles: The Dark Brotherhood (Flash) | South Island | Teleporter | Tornado | Twilight Conference | Warp Belt | West Side Island