Arcane: League of Legends - The Loop
Play Sound
This article is about a real-life person.

Information in this article is about real-life people, companies, and objects, and does not relate to the in-universe Sonic series.
Christian Whitehead, professionally known as The Taxman, is an independent game developer who lives in Melbourne, Australia. He is known for working with Sega and Headcannon to produce remakes and enhanced ports of the original Sonic the Hedgehog games for the Sega Genesis/Sega Mega Drive console since 2011. His success with the ports led him along with Headcannon and PagodaWest Games to develop Sonic Mania which was released in 2017.
Overview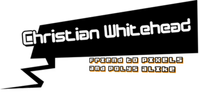 Christian Whitehead has been a longtime and well-known user on Sonic Retro, where he has been creating several fan games, the most well known being Retro Sonic. In 2009, Whitehead recorded a video about a concept demo for Sonic the Hedgehog CD, that is running on Whitehead's own game engine called the Star Engine, then known as the Retro Engine. In the concept video, the game has been played on the iPod Touch.[1] In July of the same year, he contacted Sega to tell them about his re-release plans.
In August 2011, Christian Whitehead confirmed the re-release of Sonic the Hedgehog CD, powered by his Retro Engine.[2] The port was successful, as in March 2013, the Windows Phone version of the re-release has won the Game of the Year category of the Pocket Gamer Awards.[3] The original Sonic the Hedgehog has also been re-released in 2013 and is powered by Retro Engine with Christian Whitehead behind the re-release.[4] In 21 October Sonic the Hedgehog 2 was announced to be re-released on 12 December for iOS and Android in 2013.[5] During San Diego Comic-Con in 2016, Christian Whitehead, along with Headcannon and PagodaWest Games, announced the development of a new Sonic game titled Sonic Mania, which was released on 15 August 2017.[6]
Credits
Games
References
External links