The Chopper Block (ダメージブロック, Damēji Burokku?, lit. "Damage Block")[1][2][3] is a recurring obstacle in the Sonic the Hedgehog series. Found in Special Stages or Bonus Stages, these hazardous blocks can snatch Rings from the player.
Description
Chopper Blocks are booby-trapped blocks with either rectangular or round-shaped holes on the top. These holes have sharp hatchways which are constantly chopping the hole's hatch. When making contact with a Chopper Block, the player will be robbed of a certain amount of their Rings in addition to another negative effect, which depends on the game.
Game appearances
Sonic the Hedgehog CD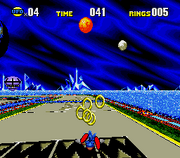 In Sonic the Hedgehog CD, Chopper Blocks are found in every Special Stage, appearing in rows on the terrains' roads. If Sonic passes through the Chopper Blocks, he comes to a complete stop and falls flat on his face in addition to losing Rings. The player can avoid these blocks by Spin Jumping over them.
Knuckles' Chaotix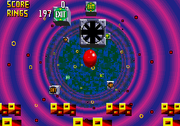 In Knuckles' Chaotix, Chopper Blocks are found in the Bonus Stages, although they are referred to as Damage (ダメージ, Damage?) in Japanese material.[4] Here, Chopper Blocks fly randomly around and will reduce the player's time in the Bonus Stage in addition to subtracting ten Rings from the player.
References
---
Characters
Sonic | Tails* | Amy | Dr. Eggman | Metal Sonic | Animals (Flicky, Pocky, Ricky, Pecky, Sheep, Swallow)

Rounds

Palmtree Panic | Collision Chaos | Tidal Tempest | Quartz Quadrant | Wacky Workbench | Stardust Speedway | Metallic Madness | Special Stage | Bonus Stage | R2 | Desert Dazzle*

Enemies

Amenbo | Antlion | Bigbom | Dango | Ga | Hotaru | Kabasira | Kanabun | Kemusi | Kumo-Kumo | Minomusi | Needlenose | Noro-Noro | Robot Ant | Robot Bee | Robot Beetle | Robot Butterfly | Robot Mantis | Sasori | Scarab | Semi | Taga-Taga | Tamabboh | Tentou | Tonbo | Yago
Bosses
EGG-HVC-001 | Collision Chaos Boss | Tidal Tempest Boss | Quartz Quadrant Boss | Wacky Workbench Boss | Metal Sonic | Metallic Madness boss | Final Fever*
Moves/
Techniques
Playable characters
Propeller Flying* | Spin Jump | Super Spin Attack | Super Spin Dash | Super Peel Out
NPCs
Ring Spark Field | V. Maximum Overdrive Attack
Gimmicks and obstacles
Breakaway Bumper | Bumper | Chopper Block | Conveyor Belt | Crusher | Dash Zone | Electric Generator | Electrical conduit | Emerald Block | Fan Block | Flipper | Flywheel | Goal Plate | High-speed warp tube | Iron ball | Rotating platform | Seesaw | Size Beam | Snowblower | Spring | Spring Pole | Switch | Time Warp Plate
Objects
Air Bubble | Capsule | Lamppost | Little Planet flowers | Metal Sonic Projector | Monitor (Extra Life, Invincibility, Power Sneakers, Super Ring, Shield, Time Bonus) | Ring | Robot transporter | Time Stone | UFO

Music

Songs
Cosmic Eternity - Believe in Yourself | Sonic - You Can Do Anything | Sonic Boom
Albums
Sonic the Hedgehog Boom | Sonic the Hedgehog CD Original Soundtrack 20th Anniversary Edition
Other
Debug Mode | Freeze | Little Planet | Never Lake | Shuttle loop | Time Attack | Winding Tunnel

*Only included in the 2011 rerelease.
---
Main article | Gallery | Beta elements | Staff | Glitches
Playable characters
Knuckles | Vector | Mighty | Charmy | Espio | Heavy | Bomb | **********
Non-playable characters
Dr. Robotnik | Metal Sonic | Sonic | Tails | Amy
Stages
Isolated Island | Botanic Base | Speed Slider | Amazing Arena | Techno Tower | Marina Madness | World Entrance | Special Stage | Bonus Stage
Enemies
Amazing Arena Badnik 1, 2 | Bombbearer | Botanic Base Badnik 1, 2, 3 | Bushbubble | Dribbler | Gotcha | Hoverby Mk II | Isolated Island Badnik | Motorspike | Needlenose | Piranha | Poptank | Ringleader | Spiketower | Techno Tower Badnik 1, 2, 3 | Ticktock
Bosses
Amazing Arena boss | Amazing Arena sub-boss | Botanic Base boss | Marina Madness boss | Speed Slider boss | Techno Tower boss | World Entrance Level 1 | World Entrance Level 2
Moves/
Techniques
Playable characters
Climb | Dash | Glide | Double Jump | Spin Dash | Spin Jump | Super Spin | Wall Jump
NPCs
V. Maximum Overdrive Attack | Plasma Pulse Attack
Gimmicks and obstacles
Balloon | Bumper Ball | Chopper Block | Goal Plate | Exit | High-speed warp tube | Iron ball | Ring Power | Spring | Switch | "X" Bumper
Objects
Chaos Ring | Dark Ring | Monitor (Change, Combi Catcher, Combine Ring, Grow, Invincible, Power Sneakers, Shield, Shrink, Stage Select, Super Ring, Swap) | Ring | Sphere
Other
1207 Beta version | Archie Knuckles' Chaotix | Combi Catcher | Debug Mode | Newtrogic High Zone | Sonic Crackers