Fire Emblem Warriors: Three Hopes - The Loop
Play Sound
| | |
| --- | --- |
| | Information in this article may not be canonical to the storyline of the games or any other Sonic continuity. |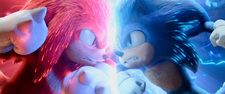 Chaos energy[1][2] is a force that appears in the Sonic the Hedgehog film series produced by Paramount Pictures and its spin-offs. It is an extraordinary and powerful form of energy generated by certain alien creatures. It allows its wielders to enhance their physical skills.
Concept and creation
The term "chaos energy" originates from writer Kiel Phegley's work on Sonic the Hedgehog: The Official Movie Novelization. According to Phegley, the term was added as a purely thematic easter egg. When he wrote the novel, he wanted a way to express how Sonic felt in his head about being chaotic and out of control, so he added the term as a nod to the classic Sonic games.[3] When later writing Sonic the Hedgehog 2: The Official Movie Pre-Quill, the term was added as a minor extension of his work on the novel.[4] He further added that the crew behind the Sonic the Hedgehog film series could easily change the usage of the term in the future.[5]
Description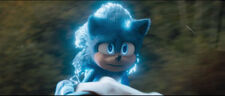 Chaos energy refers to an extraordinary, chaotic, and highly potent form of energy that is generated inside of certain individuals of great power. As seen in Sonic and Knuckles' cases, their chaos energies manifest as a vast and highly potent form of bio-electromagnetic energy that takes the appearance of an electric aura of some sort that has surges around it. The color of the chaos energy depends on the user; Sonic's is blue while Knuckles' is red.
The properties of chaos energy are not clearly defined. However, it is incredibly powerful; when Sonic's chaos energy got built up once, it displayed enough power to release an electromagnetic pulse that expanded beyond Earth, eventually reaching Tails' home planet. Users of chaos energy can harness their own chaos energies to enhance their physical attributes, such as speed and strength. Furthermore, it can also serve as a power source for machines, being capable of supercharging them and providing them with nearly unparalleled power boosts. Chaos energy-wielders like Sonic, or just one of his quills, can as well generate an unlimited amount of chaos energy. In addition, chaos energy seems to be generated excessively when the wielder feels strong emotions.
Chaos energy-wielders can leave behind residues of their chaos energy in objects they come into contact with. Furthermore, residual chaos energy can remain in existence for at least a decade. Different chaos energy signatures can as well be traced across an entire galaxy.[2]
History
Film series
Past
A decade ago, Longclaw took care of Sonic the Hedgehog, a being with powers over chaos energy that were unlike anything Longclaw had ever seen. It was Sonic's chaos energy that drew the echidnas to come after him in an attempt seize his powers for themselves, which led to Sonic's escape to Earth.
Sonic the Hedgehog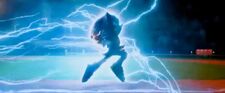 While playing baseball with himself, a frustrated Sonic would run around, his chaos energy building up as his anger over his loneliness intensified, until he released it in a form of an electromagnetic pulse that covered the entire Pacific Northwest, which caught the attention of the United State's government. A few days later, during car chase with one of Dr. Robotnik's Badniks, Sonic's chaos energy began fluctuating again due to his anger over Tom Wachowski's decision to leave Green Hills. However, he ended up putting his chaos energy to use when he accidentally got sent flying into the pursuing Badnik with a chaos energy-fueled spin attack, destroying it. In the meantime, Robotnik learned how to harness Sonic's chaos energy for his Eggpod by using one of his quills as a battery. Later, when cornered by Robotnik's Eggpod in Green Hills, Sonic unleashed his chaos energies again after hearing Tom declare him his friend. Having gained control over his chaos energy now, Sonic used it to defeat Robotnik and sent him to the Mushroom Planet.
Sonic the Hedgehog 2
For his plan to attract someone to the Mushroom Planet that he was stranded on, Dr. Robotnik would hook Sonic's chaos energy-infused quill up to an energy beacon he made made from Eggpod parts. This created a vast pulse of chaos energy that knocked Robotnik out and spread far into space. Attracting the attention of Knuckles, he quietly tapped into his chaos energies as he met Robotnik.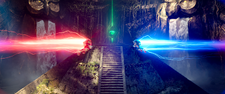 Back on Earth, Sonic would use his chaos energies while he tried stopping some bank robbers. When Knuckles later found Sonic, the two of them used their chaos energies to empower themselves while they fought each other, although Knuckles' greater experience won out in the end. When Tails rescued Sonic however, Knuckles used his chaos energies to chase after Sonic and Tails' escape car. He would later do it again while engaging Sonic on the mountain slopes in Siberia. When he then had to reach the Labyrinth from Hawaii, Sonic tapped into his chaos energies in order to bolster his his speed enough to let him run across the Pacific Ocean. When Sonic and Knuckles soon after confronted each other in their final fight, the two of them would unleash the full scope of their chaos energies as they clashed with one another. When later facing the Giant Eggman Robot, Knuckles used his chaos energies to launch his best attack at the robot's fist, but it did nothing. Soon after though, Knuckles used a chaos energy-fueled punch to dislodge the Master Emerald from Robotnik's form.
Comics
Sonic the Hedgehog: The Adventures of Sonic & Donut Lord
While playing baseball by himself, Sonic accidentally generated so much chaos energy that he created an massive electromagnetic pulse that drew the attention of Dr. Robotnik. Later, when cornered by Robotnik's Eggpod in Green Hills, Sonic unleashed his chaos energies again after Tom and Maddie declare him his friend. With this power, Sonic defeated Robotnik.[6]
Sonic the Hedgehog 2: The Official Movie Pre-Quill
While working on stopping a robbery in the first bank of Walla Walla, Washington, Sonic made use of his chaos energy to break down a bank vault door.[7]
Knuckles the Echidna later utilized his own chaos energy to break free of his energy shackles and then used it to deliver a devastating blow punch on his giant alien monster opponent in Casino Night.[8]
Coming to Longclaw and Sonic's old home in Green Hill Zone, Tails found a match for Sonic's chaos energy in an old drawing. Using that, he was able to narrow Sonic's whereabouts down to a few planets by tracing his chaos energy signature across the galaxy with his Miles Electric. During his search however, he accidentally ended up following Rava the Destroyer's chaos energy signature for a while. He later hit another dead end by following a chaos energy signature to Aquatic Ruin Zone, which held remnants of chaos energy in its ruins. Eventually, Tails narrowed Sonic's chaos energy signature down to two planets: the Mushroom Planet and Earth, prompting him to go investigate his leads.[2]
List of chaos energy wielders
Gallery
Merchandise
See also
References