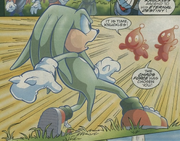 The Chaos Force is a subject that appears in the Sonic the Hedgehog comic series and its spin-offs published by Archie Comics. It is the embodiment of all Chaos energy, the mystical power wielded by many inhabitants of Mobius and the all-encompassing energy of the universe.
Description
It can be accessed through two known methods: by a natural link to the Chaos Force itself or by drawing upon a magical object that has such a link, such as a Chaos Emerald.
Certain individuals call upon Tikal's Prayer to help amplify their connection to the Chaos Force.
Links
In Objects
In Beings