Chaos 0 is a transformation that appears in the Sonic the Hedgehog series. It is the base state of Chaos, which it can attain without possessing any Chaos Emeralds, and is perhaps Chaos' most recognized form.
Appearance
As Chaos 0, Chaos possesses a humanoid form with disproportionally long arms and legs compared to its torso. It has thick forearms with three large fingers on each hand, a short stump for a tail, and long feet with two large toes each. It also has two fin-like protrusions on the back of its head, sharp flaps on each side of its head, and a tall bulge on top of its head. It also possesses no facial features, except for two pupil-less lime green eyes. Lastly, it has a round pink brain inside its transparent head, with a brain stem on the bottom.
History
Past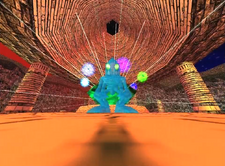 Approximately 3,000 years ago, Chaos would stay in its Chaos 0 form from the time it met Tikal and up the events where the Altar of Emerald came under attack by Pachacamac and his men from the Knuckles Clan. As the attackers trampled over the altar's native Chao and Tikal, Chaos, in a fury over seeing its friends getting hurt by the invaders, appeared before Pachacamac and his men in its Chaos 0 form as they went for the Master Emerald, before using the seven Chaos Emeralds in the altar to become Perfect Chaos. However, Chaos was eventually stripped of its power and sealed inside the Master Emerald with Tikal.
Sonic Adventure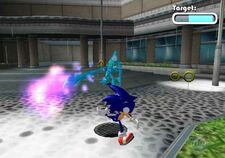 In Sonic Adventure, its enhanced port Sonic Adventure DX: Director's Cut, and the 2010 remaster, when Chaos was released from the Master Emerald by Dr. Eggman, Chaos was resurrected as Chaos 0. Shortly after its revival in the Altar of Emerald however, Chaos was attacked by Knuckles the Echidna, the guardian of the Master Emerald and the last descendant of the Knuckles Clan. After knocking Knuckles away, Chaos 0 made its way to Station Square. Appearing at City Hall, it caught the attention of the Station Square Police Department. Though the officers were armed with handguns, the shots they took at Chaos 0 simply bounced off its body. As the police fell back though, Chaos 0 met Sonic the Hedgehog when the latter arrived to stop it. Upon being defeated by Sonic, Chaos 0 turned into a puddle and escaped into the sewers. The next day however, Chaos 0 appeared at Dr. Eggman's order after the doctor had taken a Chaos Emerald from Sonic and Tails. Receiving the Chaos Emerald from Eggman, Chaos 0 transformed into Chaos 1. Chaos was later reverted back to Chaos 0 again after Knuckles managed to take the Chaos Emeralds it had absorbed back, but Chaos 0 soon after managed to acquire all seven Chaos Emeralds and transform into Perfect Chaos.
After Super Sonic defeated Perfect Chaos, Chaos was neutralized, and as such reverted back to its Chaos 0 form.
Sonic Battle
In Sonic Battle, Chaos 0 would be the form Chaos assumed while observing the Death Egg from the Estuary in Holy Summit.
Sonic Forces
In Sonic Forces, when Dr. Eggman tested the Phantom Ruby on Angel Island, he created an physical illusion of the village of the Knuckles Clan that included a Phantom Copy of Chaos 0, which emerged from the Master Emerald to fight Knuckles and Silver. However, it disappeared as soon as Knuckles and Silver defeated it.[3]
Chaos 0, alongside Metal Sonic, Shadow and Zavok, was soon after Phantom Copied by Infinite, Eggman's newest servant, with his Phantom Ruby. The Phantom Copy of Chaos 0 itself was made a part of the Eggman Army's foremost soldiers. The Chaos 0 Phantom Copy soon after made its debut alongside the other three Phantom Copies to assist Infinite in defeating Sonic. Afterward, the Chaos 0 Phantom Copy helped Eggman conquer over 99% of the world.
Six months later, a Chaos 0 Phantom Copy ambushed Tails in the City while he tended to E-123 Omega. However, it was defeated by Classic Sonic when he emerged from a wormhole. Hundreds of Chaos 0 Phantom Copies were later present on the outskirts of the Eggman Empire Fortress where they took part in the final battle between the Eggman Army and the Resistance until all the sources of Eggman's Phantom Copies were neutralized for good, ending the Chaos 0 Phantom Copies' existence.
Other game appearances
Sonic Adventure 2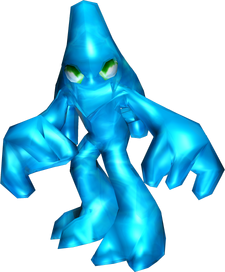 In Sonic Adventure 2 and its enhanced port Sonic Adventure 2: Battle, Chaos 0 is a playable character in the games' multiplayer Treasure Hunt mode. In Sonic Adventure 2, it is unlocked by getting an A-Rank in all of Rouge's missions. In Sonic Adventure 2: Battle, on the other hand, it is unlocked from the beginning of the game.
In gameplay, Chaos 0 can glide and dig like Knuckles and Rouge. In Sonic Adventure 2, it borrows its special attacks from Rouge, namely the Hip Drop, Black Wave and Charm Ray. In Sonic Adventure 2: Battle on the other hand, it has its own special attacks, namely the Chaos Impact, Chaos Bind and Chaos Strike. It also the slowest among the characters in the multiplayer, but its special attacks hit harder with longer-lasting effects. Its brain is also not visible in these games.
Sonic Rivals series
Sonic Rivals
In Sonic Rivals, Chaos 0 is used to represent Chaos on the 44th collectible card in the game.
Sonic Rivals 2
In Sonic Rivals 2, Chaos 0 is once more used to represent Chaos, this time on the 137th collectible card in the game.
Super Smash Bros. series
Super Smash Bros. Brawl
In Super Smash Bros. Brawl, Chaos 0 is used as Chaos' likeness for his Sticker.
Super Smash Bros. Ultimate
In Super Smash Bros. Ultimate, Chaos 0 is used to illustrate Chaos for its Primary Spirit.
Mario & Sonic at the Olympic Winter Games
In the Wii version of Mario & Sonic at the Olympic Winter Games, Chaos appears in its Chaos 0 form as a VIP member that gives the player 100 Star Points when spotted among the audience.
Sonic & All-Stars Racing Transformed
In Sonic & All-Stars Racing Transformed, Chaos' Chaos 0 form is used to represent Chaos on its Sticker.
Sonic Runners
In Sonic Runners, the Chaos Buddy takes the form of Chaos' Chaos 0 form.
Sonic Forces: Speed Battle
In Sonic Forces: Speed Battle, Chaos 0 appears as the form Chaos takes throughout the game.
Team Sonic Racing
In Team Sonic Racing, Chaos 0 itself does not appear. However, near the end of the track in the underground section of Sky Road and Haunted Castle, carvings of its head can be seen on the walls.
Powers and abilities
A liquid being, Chaos 0 has hydrokinetic abilities that gives it complete control over its physical structure, allowing it limited shapeshifting and the capacity to liquify its body for a small boost.[4] It can even transform into animal-like figures, such as dolphins.[5] If dissipated, it can also reconstitute itself in a matter of seconds, making it nearly indestructible. Additionally, Chaos can, through its powers, provide clean water in a chosen location[6] and hide in ponds without being spotted. Its hydrokinetic abilities also allow it to create mysterious ripples and even freeze the air around its foes. Also, in addition to its indestructability, it is an immortal being.[7]
To further add to its abilities, Chaos possesses the uncanny ability to harness various types of elementals in combat for defensive moves, such as using water elementals to heal damage[8] and block attacks.[9] For offense, it can harness the power of water spirits to summon morphed hands[10] and fountains; make powerful claps;[11] extend its arms; or perform other impressive attacks.[12][13][14] Chaos can even use this power to place puddles that will attack nearby enemies.[15] Curiously, it can also harness air spirits to perform high jumps that allow it to reach tall lampposts with ease,[16][17] and can even use said spirits to fly in midair for a short period of time.[18] In addition, it can climb, glide, and breathe underwater.
Battle
Chaos 0 is the first boss of Sonic's storyline in Sonic Adventure, its enhanced port Sonic Adventure DX: Director's Cut, and the 2010 remaster. In Adventure Mode, it is fought right at the start of Sonic's story. In Trial mode, it is the first boss in the Boss Sub Game as Sonic.
Chaos 0 is fought as Sonic by default. In Sonic Adventure DX: Director's Cut and the 2010 remaster though, it can also be battled as Metal Sonic in the Boss Sub Game.
Boss guide
To defeat Chaos 0, all the player has to do is jump onto its brain to deal out damage. The player must dodge Chaos 0's attacks, while it is mainly extending its arms in an attempt to hit the player. After each hit, Chaos 0 will turn into a puddle and move to a different location in the battlefield.
After one hit to the brain, it spins around its axis while attacking with energy-charged fists. After two hits to the brain, Chaos 0 will jump onto street lights surrounding the player and attempt to hit the player by extending its arms. After dodging these hits, it will eventually jump back to the surface, leaving him vulnerable for an attack. Once the player hits Chaos 0 for the third time, it is defeated and the battle has been won. If the player fails to attack when Chaos 0 returns to the ground, it will use the same attack when it has been hit two times.
Trivia
Despite appearing before Emerald Coast, Chaos 0 cannot be fought in the demo version on the Xbox 360.

If the player fights this boss again in the Boss Sub Game after gaining the Ancient Light, it is possible to use the Light Speed Attack on Chaos 0 while it is on the pole and finish it there. This can trigger a rare animation of Chaos 0 where it will fall from the pole until it puddles on the ground.
Music
| Name | Artist(s) | Length | Music track |
| --- | --- | --- | --- |
| "Boss: CHAOS ver.0, 2, 4" | Jun Senoue | 2:27 | |
Video
In other media
Animation
Sonic X
In the Sonic X anime series and its comic series published by Archie Comics, Chaos 0 is the base form of Chaos. In this media, it appeared during the Chaos Saga, where its history is virtually identical to its game counterpart's. In the comics, Chaos 0 would make a few more appearances in the stories proceeding the Chaos Saga.
Books and comics
Archie Comics
In the Sonic the Hedgehog comic series and its spin-offs published by Archie Comics, Chaos 0 was Chaos' most basic form. It used this form to interact with Tikal centuries ago, but later abandoned that form to become Perfect Chaos and take revenge on the Knuckles Clan when they incurred its wrath until it was sealed in the Ancient Onyx. Centuries later, Chaos was released by Dr. Eggman, but in a weakened state initially, but thanks to Eggman, it was eventually able to assume its complete Chaos 0 form. Chaos 0 soon after had a battle with Sonic, before later being transformed into Chaos 2. It was soon after forced back into its Chaos 0 state, but quickly became Perfect Chaos again after seizing the Super Emeralds until it was reverted back to its Chaos 0 form again by Super Sonic.
After the Super Genesis Wave rewrote history, Chaos 0's past became virtually identical to its game counterpart's. This form would also appear during the Shattered World Crisis where Chaos would use this form's power to keep the oceans of Sonic's World from draining.
Gallery
Screenshots
References
---
Main article | Scripts (Sonic, Tails, Knuckles, Amy, Big, Gamma, Super Sonic) | Story Screens (Sonic, Tails, Knuckles, Amy, Big, Gamma) | Credits | Glitches | Beta elements | Gallery | Pre-releases (original version,

Limited Edition

) | Re-releases (DX, 2010)
Playable characters
Sonic (Super Sonic) | Tails | Knuckles | Amy | Gamma | Big | Metal Sonic**^
Non-playable characters
Dr. Robotnik | Beta (E-101 Mark II) | Birdie | Chao (Dark Chao**, Hero Chao**) | Chaos (Chaos 1, Chaos 2, Chaos 4, Chaos 6, Perfect Chaos) | Cream** | Delta | Epsilon | Froggy | Grandma | Knuckles Clan (Pachacamac, Tikal) | Mr. Know-It-All | NiGHTS | Station Square Police Department | Unnamed Sonic robot | ZERO | Zeta | Animals (Deer, Elephant, Gorilla, Kangaroo, Koala, Lion, Mole, Parrot, Peacock, Penguin, Rabbit, Robin, Seal, Sea Otter, Skunk)
Adventure Fields
Egg Carrier | Mystic Ruins | Station Square
Action Stages
Emerald Coast | Windy Valley | Casinopolis | Icecap | Twinkle Park | Speed Highway | Red Mountain | Sky Deck | Hot Shelter | Lost World | Final Egg
Sub Games
Sky Chase | Sand Hill | Hedgehog Hammer | Twinkle Circuit | Boss
Enemies
Beat | Bladed Spinner | Boa-Boa | Buyoon | Cart Kiki | Cop Speeder | Egg Keeper | Electro Spinner | Fighter Aircraft A | Fighter Aircraft B | Gola | Ice Ball | Icecap's unnamed aircraft | Kiki | Leon | Mechanical fish | Pirate | Rhinotank | Sky Deck's unnamed jet fighter | Spiky Spinner | Sweeper
Bosses
Chaos 0 | Chaos 2 | Chaos 4 | Chaos 6 | Beta | Mark II | Gamma | Delta | Epsilon | Zeta | Egg Carrier | Egg Hornet | Egg Viper | Egg Walker | Knuckles | Perfect Chaos | Sonic | ZERO
Moves/
Techniques
Playable characters
Bolt of lightning | Climb | Dig | Flight Mode | Glide | Hammer Attack | Hammer Jump | Hover | Homing Attack | Homing Missile Launch | Jump Attack | Laser Gun | Light Speed Attack | Light Speed Dash | Lure Attack | Maximum Heat Knuckles Attack | Pick | Propeller Flight | Punch Attack | Rapid Tails Attack | Spin Attack | Spin Dash | Spin Hammer Attack | Spin Jump | Tails Attack
NPCs
Arm Punch | Bomb Attack | Bomb Gun Attack | Charge | Double Punch | Earthquake Attack | Electric Arm | Energy Ball Attack | Flame Thrower Attack | Guiding Missiles | Instantaneous Liquefaction | Laser Beam Attack | Homing Tail Slice | Inhale Attack | Marble Attack | Phantom Shadow Move | Punch | Quarter Attack | Scorpion Attack | Shockwave Attack (Chaos 6) | Sonic Boom | Spin Attack | Spinning Spike Attack | Spouting Attack | Squash Roll Attack | Swing Punch
Gimmicks and obstacles
Bumper | Bumper Car | Cannon | Capsule | Car | Conveyor Belt | Crank | Dash panel | Dash Ring | Drum Can | Explosion Trap | Fan | Flame dart | Flipper | Fountain | Giant Ring* | Goal Balloon | Hanging Bell | Helicopter | Hint Box | Hint Orb | Icicle | Iron ball | Jump Panel (plate) | Jump Panel (ramp) | Jump Ramp | Laser field | Lit Panel | Mirror | Monkey Detonation Switch | Orca | Point Marker | Power cube | Rocket | Satellite | Sling Shot | Slot machine | Spiked bar | Spring | Spring Catapult | Switch | Teleporter | Wide spring | Wind Path | Zip Line
Items
General
Air Bubble | Cart pass | Chao Egg | Chaos Emerald | Doll | Emblem | Emerald Shard | Employee ID Card | Item Box (5 Rings, 10 Rings, Extra Life, High-Speed Shoes, Invincibility, Magnetic Shield, Random Rings, Shield, Smart Bomb) | Key Stone (Gold statue, Ice Stone, Silver statue, Wind Stone) | Ring | Sandboard | Snowboard | Sonic Token
Level Up Items
Ancient Light | Crystal Ring | Fighting Gloves | Jet Anklet | Jet Booster | Laser Blaster | Life Belt | Light Speed Shoes | Long Hammer | Lure | Power Rod | Rhythm Badge | Shovel Claw | Warrior Feather
English voice actors
Ryan Drummond (Sonic) | Corey Bringas (Tails) | Michael McGaharn (Knuckles) | Deem Bristow (Eggman) | Jennifer Douillard (Amy) | Jon St. John (Big) | Elara Distler (Tikal, Station Square train announcer, default menu voice) | Steve Broadie (Gamma, Pachacamac, Mystic Ruins train announcer) | Tomoko Sasaki (Chao)
Japanese voice actors
Jun'ichi Kanemaru (Sonic) | Kazuki Hayashi (Tails) | Nobutoshi Canna (Knuckles) | Chikao Ōtsuka (Eggman) | Taeko Kawata (Amy) | Shun Yashiro (Big) | Kaori Asoh (Tikal) | Jōji Nakata (Gamma) | Tōru Ōkawa (Pachacamac) | Kaho Kōda (Station Square train announcer) | Nobutoshi Canna (Mystic Ruins train announcer) | Elara Distler (default menu voice) | Tomoko Sasaki (Chao)
Music
Songs
"Believe In Myself" | "It Doesn't Matter" | "Lazy Days (Livin' in Paradise)" | "My Sweet Passion" | "Open Your Heart" | "Unknown from M.E."
Albums
Passion & Pride: Anthems with Attitude from the Sonic Adventure Era | Sonic Adventure: Songs With Attitude Vocal Mini-Album | SONIC ADVENTURE OFFICIAL SOUNDTRACK VINYL EDITION | Sonic Adventure Original Soundtrack 20th Anniversary Edition | Sonic Adventure Original Sound Track (Digi-Log Conversation) | Sonic Adventure Remix
Other
777 Slots Pinball | Altar of Emerald | Angel Island | Auto Running | Black Market | Card & Pinball | Chao Adventure* | Chao Garden (Station Square Garden, Mystic Ruins Garden, Egg Carrier Island) | Chao Race | Chao Stadium | Chao in Space | Chao Machine | Chao Search* | Corkscrew | Debug Mode | E-100 Series | Eggmobile | Egg Carrier | Egg Carrier 2 | Emerald Radar | Freeze | Game Over | Life | Life gauge | Loop | Master Emerald | Mission Mode**^ | Mystic Ruins | Shrine of Knuckles's race | Sonic Adventure (LCD) | Sonic Adventure: Navigation Guide | Station Square | Tails's Work Shop | Tornado | Tornado 2 | Transporter Machine | Water

*Appears in only the original Dreamcast version
**Appears in only Sonic Adventure DX
^Appears in only the Sonic Adventure DX DLC of the 2010 remaster