For the power-up in Sonic Forces: Speed Battle, see Chao Attack (Item).
The Chao Attack (チャオアタック, Chaoatakku?), also called the Cheese Attack, is the signature move of Cream the Rabbit and Cheese, and the duo's primary form of offense. When performing this technique, the user orders Cheese to attack enemies from afar.
Game appearances
Sonic Advance series
Sonic Advance 2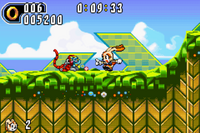 Making its first appearance in Sonic Advance 2, Cream is the only character to use the Chao Attack. When performing it, Cream points forward, commanding Cheese to quickly turn around and back, charging towards the enemy at moderate speed and destroy/damage the enemy.
To perform Chao Attack in gameplay, the player must press

. This can be done either on the ground or while in mid-air. This attack can easily defeat the bosses of this game.
Sonic Advance 3
In Sonic Advance 3, the Chao Attack is performed like in Sonic Advance 2. In addition, Cream's Tag Action transforms Cheese into a Chao version of her partner and allows them to use the Chao Attack for a limited time as well.
A similar move called the Chao Ball Attack can be performed by Cream and Cheese when partnered with Sonic the Hedgehog, where Cheese is launched forward in a blue aura instead of homing onto nearby enemies. When Cream is in Boost Mode (she must be partnered with Sonic to enable this), Cream can perform this attack without interrupting her speed, allowing her to remain at Boost Mode. While partnered with Amy though, Cream can only perform Chao Attack while in mid-air.
Sonic Heroes
In Sonic Heroes, the Chao Attack is called the Cheese Attack. In this game, it serves as the Fly Formation and Solo Attack for Team Rose. When using the Cheese Attack, Cream sends Cheese into enemies and destroys them on contact (unlike other Solo Attacks for the Fly Formation which only stuns enemies), though this attack is the slowest of them all. It is very useful during Battles and boss battles with other teams, capable of knocking the opposing team off the platform.
To use the Cheese Attack in gameplay, the player has to press

/

/
when Cream is without her teammates.
Step Attack
The Step Attack (ステップアタック, Suteppuatakku?) is basically the Chao Attack performed at high speeds. It is a move used only by Cream the Rabbit and Cheese. It has so far only appeared in Sonic Advance 2.
In order to perform the Step Attack, Cream must perform the Chao Attack while in Boost Mode. The resulting speed from the Boost Mode will then transform the Chao Attack into the Step Attack.
When using the Step Attack, Cream will take a long stride forward, while Cheese circles around her as a shield at high speeds and as a result, it will destroy or damage any enemies Cheese makes contact with. Most importantly though, the Step Attack allows Cream to maintain the speed she is running at and remain in Boost Mode, unlike the normal Chao Attack which would make her slow down.
In other media
Sonic X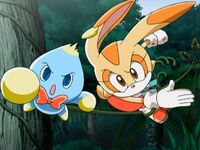 In the Sonic X anime, Cream and Cheese, though rarely participating in any fighting, have used the Chao Attack. It first appeared when Emerl went on a rampage and appeared unstoppable due to his ability to copy others' moves. By using multi-attacks with Cheese however, the Chao Attack included, Cream was able to defeat Emerl since he could not copy two skills at once.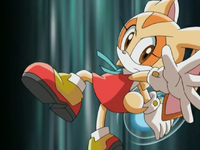 Cream and Cheese have also developed a Spin Attack variant of the Chao Attack. When using this attack, Cream throws Cheese as he dashes towards enemies in ball form.
Trivia
In Sonic Advance 2, the Chao Attack can be used to collect Special Rings.
Cheese is able to attack armored and spiky foes with little effort and has never been injured by attempting this attack.
---
Main article | Beta elements | Gallery | Staff | Glitches
Playable characters
Sonic (Super Sonic) | Tails | Knuckles | Cream | Cheese | Amy
Non-playable characters
Dr. Eggman | Vanilla | Guard Robo | Chao | Animals (Deer, Elephant, Gorilla, Koala, Kangaroo, Lion, Parrot, Peacock, Penguin, Rabbit, Seal, Sea Otter, Skunk, Swallow) | Flicky
Zones
Leaf Forest | Hot Crater | Music Plant | Ice Paradise | Sky Canyon | Techno Base | Egg Utopia | XX | True Area 53 | Special Stages
Enemies
Balloon | Bell | Buzzer | Circus | Flickey | Geji-Geji | Gohla | Hammerhead | Kiki | Koura | Kubinaga | Kura-Kura | Kyura | Madillo | Mon | Mouse | Pen | Piko Piko | Spina | Star | Straw | Yado
Bosses
EggHammerTankII | Egg Bomber Tank | Egg Totem | Aero Egg | Egg Saucer | Egg-Go-Round | Egg Frog | Super Eggrobo Z | True Area 53 boss
Moves/
Techniques
Regular moves
Amy Dash | Boost Mode | Bound | Chao Attack | Chao Rolling Attack | Double Spin Attack | Drill Claw | Double Punch | Flying | Grinding | Hammer Attack | Head Slide | Homing Attack | Jump Dash | Mid-Air Glide | Mid-Air Hammer Swirl | Propeller Flying | Spin Attack | Spin Dash | Spiral Attack | Skid Attack | Step Attack | Super Hammer Attack | Super Skid | Super Sonic Boost | Super Tails Swipe | Tail Swipe | Wall Climb
Mid-Air Trick Actions
Big Air (Happy Spring, Hop Jump, Petit Step, Spiral Upper) | Long Wind Jump (Burning Straight, Humming Top, Sweet Roll, Window Jump) | Stop 'n' Slam (Bound, Drill Claw, Mid-Air Hammer Swirl, Propeller Descent, Soft Bomber) | Quick Reverse (Back Attack, Back Rotor, Back Star, Milky Turn)
Gimmicks and obstacles
Bumper wall | Cannon | Dash Panel | Fan | Gravity Control Switch | Grind Rail | Gymnastic Bar | Iron ball | Jump Panel | Pole | Rotating platform | Spikes | Spring
Objects
Box (1-Up, Attack, Brake, Confusion, Invincibility, Magnetic Barrier, Mosaic, Power Sneakers, Shield, Super Ring, Warp) | Chaos Emerald | Checkpoint | Ring | Special Ring
Other
Auto Running | Chao Bounce | Chao Search | Corkscrew loop | Freeze | Time Attack | Time Over | Tiny Chao Garden | Shuttle loop | Winding Tunnel
---
Main article | Gallery | Beta elements | Staff | Glitches
Playable
characters
Team Sonic
Sonic | Tails | Knuckles
Team Rose
Amy | Cream | Cheese | Big
Team Dark
Shadow | Rouge | Omega
Team Chaotix
Espio | Charmy | Vector
Team Super Sonic
Super Sonic | Super Tails | Super Knuckles
Non-playable characters
Eggman | Metal Sonic (Neo Metal Sonic) | Chocola | Froggy | Shadow Android | Omochao
Stages
1P stages
Sea Gate | Seaside Hill | Ocean Palace | Grand Metropolis | Power Plant | Casino Park | BINGO Highway | Rail Canyon | Bullet Station | Frog Forest | Lost Jungle | Hang Castle | Mystic Mansion | Egg Fleet | Final Fortress | Special Stage
2P stages
BINGO Highway | Casino Course | City Course | City Top | Casino Ring | Egg Fleet | Egg Treat | Frog Forest | Grand Metropolis | Hot Elevator | Mad Express | Pinball Match | Rail Canyon | Road Rock | Seaside Course | Seaside Hill | Special Stage | Terror Hall | Turtle Shell
2P Play Mode
Action Race | Battle | Bobsled Race | Expert Race | Quick Race | Ring Race | Special Stage
Enemies
Bomb Flapper | Cameron | Cannon Flapper | E-2000 | E-2000R | Egg Bishop | Egg Hammer | Egg Knight | Egg Magician | Egg Pawn | Egg Pawn (Casino version) | Falco | Flapper | Gold Cameron | Gold Klagen | Gun Flapper | Heavy-Egg Hammer | Klagen | Laser Flapper | Needle Flapper | Pumpkin ghost | Rhinoliner | Search Flapper | Solid Flapper | Solid Pawn
Bosses
Egg Albatross | Egg Emperor | Egg Hawk | Metal Madness | Metal Overlord | Robot Carnival | Robot Storm | Team Chaotix | Team Dark | Team Rose | Team Sonic
Moves/
Techniques
Speed
Maneuvers
Homing Attack | Jump Dash | Kick | Light Dash | Lightspeed Attack | Propeller Hammer | Rocket Accel | Shuriken | Spin | Spin Jump | Swinging Hammer Attack | Tornado Jump (Black Tornado, Blue Tornado, Leaf Swirl, Tornado Hammer) | Triangle Jump
Power
Maneuvers
Auto Homing | Body Press | Bubblegum Descent | Fire Combination | Fire Dunk | Fire Launcher | Fireball Jump | Forward Power Attack | Hammer Down | Jump Fire Knock | Jump Fireball | Remote Power Attack (Fireball, Fire Knock) | Spin Jump | Triangle Dive | Umbrella Descent | Wide Power Attack (Big Fishing, Omega Arm, Vector Breath, Volcanic Dunk)
Fly
Maneuvers
Ascending Flight | Cheese Attack | Dummy Ring Bomb | Spin Jump | Sting Attack | Thunder Shoot | Quick Ascent
Team Blasts
Sonic Overdrive | Chaos Inferno | Flower Festival | Chaotix Recital | Super Sonic Power
Misc.
Chaos Control | Crouch | Crystal Attack | Grind Step | Grinding
Gimmicks and obstacles
Ball Switch | Bingo | Bobsled | Bomb | Bumper | Bumper wall | Cannon | Conveyor Belt | Dash Panel | Dash Rail | Dash Ring | Detonator Switch | Fan | Fireball | Flipper | Flower | Formation Change Gate | Giant Frog | Giant Switch | Grind Rail | Hint Ring | Iron ball | Jump Panel | Kao | Laser field | Mushroom | Orb switch | Pole | Power Gong | Propeller | Pulley | Rainbow Ring | Slot machine | Spring | Target Switch | Trolley | Vine | Warp Flower | Weight | Wide spring
Objects
Capsule | Car | Casino chip | Castle Key | Cell Key | Chaos Emerald | Check Point | Container (Cage, Case, Steel Container, Unbreakable Container, Wooden Container) | Emblem | Engine Core | Floating Item Box | Goal Ring | Hermit crab | Item Box (Barrier, Fly Charge, High Speed, Invincible, Rings, Power Core, Team Blast Ring, 1-Up) | Light spider marking | Ring | Special Stage Key | Sphere | Torch
English voice actors
Ryan Drummond (Sonic, Metal Sonic) | Deem Bristow (Eggman) | William Corkery (Tails) | Scott Drier (Knuckles) | David Humphrey (Shadow) | Lani Minella (Rouge, Omochao) | Jon St. John (Omega, Big) | Jennifer Douillard (Amy) | Sarah Wulfeck (Cream) | Bill Corkery (Espio) | Marc Biagi (Vector) | Emily Corkery (Charmy)
Japanese voice actors
Jun'ichi Kanemaru (Sonic, Metal Sonic) | Chikao Ōtsuka (Eggman) | Ryō Hirohashi (Tails) | Nobutoshi Canna (Knuckles) | Kōji Yusa (Shadow) | Rumi Ochiai (Rouge) | Taiten Kusunoki (Omega) | Taeko Kawata (Amy) | Sayaka Aoki (Cream) | Takashi Nagasako (Big) | Yūki Masuda (Espio) | Kenta Miyake (Vector) | Yōko Teppōzuka (Charmy) | Etsuko Kozakura (Omochao)
Music
Songs
Sonic Heroes | We Can | This Machine | Follow Me | Team Chaotix | What I'm Made of...
Albums
Complete Trinity: Sonic Heroes Original Soundtrax | Triple Threat: Sonic Heroes Vocal Trax | Sonic Heroes Official Soundtrack | Sonic Heroes Original Soundtrack 20th Anniversary Edition
Other
Armored train | Dummy Ring | Egg Bazooka | Egg Fleet | Egg Gun | Egg Spear | Fly Type | Health Gauge | HEXAeco | Moon | Palm Plants | Power Type | Rank | Sonic Heroes Puzzle | Shuttle loop | Speed Type | Super Hard Mode | Team Blast Gauge | Tornado 2
---
Main article | Gallery | Staff | Glitches
Playable characters
Sonic (Super Sonic) | Tails | Knuckles | Amy | Cream | Cheese
Non-playable characters
Eggman | Vanilla | G-merl (Ultimate G-merl) | Chao | Omochao
Zones
Route 99 | Sunset Hill | Ocean Base | Toy Kingdom | Twinkle Snow | Cyber Track | Chaos Angel | Altar Emerald | Nonaggression | Special Stage
Enemies
Akatento | Aotento | Ape | Bu-bu | Buzzer | Clam | Condor | Gaogao | Gekogeko | Ginpe | Guards | Guruguru | Hariisen | Jousun | Juggling | Kamaki | Kyacchaa | Marrun | Minimole | Muugaden | Spina | Takkon | Uutsubo | Yadokka | Yukigasen
Bosses
Egg Hammer 3 | Egg Ball No.2 | Egg Foot | Egg Cube | Egg Chaser | Egg Pinball | Egg Gravity | Hyper Eggrobo | Ultimate G-merl
Moves/
Techniques
Regular moves
Amy Dash | Big Hammer Attack | Boost Mode | Bound Attack | Chao Attack | Chao Ball Attack | Chao Spinning Attack | Dash Climb | Double Mid-Air Glide | Double Punch | Drill Claw | Fire Sliding | Flying | Floating Fall | Grinding | Hammer Attack | Hammer Jump | Hammer Propeller Flying | Head Slide | High Propeller Flying | Hip Drop | Homing Attack | Jump Dash | Leap | Mid-Air Dash Glide | Propeller Flying | Mid-Air Chao Attack | Mid-Air Chao Ball Attack | Mid-Air Chao Spinning Attack | Mid-Air Glide | Mid-Air Hammer Attack | Mid-Air Hammer Jump | Skid Attack | Spin | Spin Dash | Spin Jump | Super Sonic Boost | Spinning Hammer Attack | Spiral Upper | Tag Action | Tail Spin Attack | Tail Swipe | Tornado Attack | Upper Spin | Wall Climb | Wind Attack
Mid-Air Trick Actions
Big Air (Happy Spring, Hop Jump, Petit Step) | Long Wind Jump (Humming Top, Sweet Roll, Window Jump) | Stop 'n' Slam (Bound Attack, Spinning Hammer Attack, Propeller Descent, Hip Drop)
Gimmicks and obstacles
Balloon | Bungee Rope | Dash Panel | Flywheel | Grind Rail | Gymnastic Bar | High-speed warp tube | Iron ball | Jump Panel | Minecart | Platform-raising Wheel | Pole | Pulley | Propeller Spring | Seesaw | Snowblower | Special Spring | Switch
Objects
Act Ring | Box (1-Up, 5/10/Random Ring Bonus, Confusion, Invincibility, Minus Ring, Maximum Speed, Mosaic, Ring Magnet, Shield, Slow, Swap, Transparency) | Capsule | Chaos Emerald | Checkpoint | Factory Ring | Goal Medal | Ring | Special Key
English voice actors
Ryan Drummond (Sonic) | Deem Bristow (Eggman) | William Corkery (Tails) | Scott Dreier (Knuckles) | Jon St. John (Announcer) | Jennifer Douillard (Amy) | Sarah Wulfeck (Cream)
Japanese voice actors
Jun'ichi Kanemaru (Sonic the Hedgehog) | Chikao Ōtsuka (Eggman) | Ryō Hirohashi (Tails) | Nobutoshi Canna (Knuckles) | Taeko Kawata (Amy) | Sayaka Aoki (Cream)
Other
Angel Island | Chao Playground | Corkscrew loop | Fly Type | Freeze | Mini-Game | Power Type | Shuttle loop | Sonic Factory | Speed Type | Time Attack | Tornado 2