Raise a Floppa - The Loop
Play Sound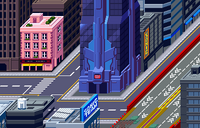 Central City is an explorable overworld in Sonic Battle.
Description
In this large city, there is an apartment where Amy Rose and Cream the Rabbit live, a skyscraper (named Central Lab) with a library and a famous database , and a highway called Battle Highway. Tails goes here to find out more about Emerl. Another part of Central City named Night Babylon also appears as a casino district where Rouge owns her own club and Dr. Eggman has one of his numerous bases.
Arenas
Amy's Room
Amy's Room is a rectangular-shaped pink arena with eight dresser-like blocks scattered around the field. The arena tells the story about Amy's infatuation with Sonic in the form of the heart-framed Sonics embroided into the arena's carpet. Amy Rose remains here for training in Emerl's Episode.
Battle Highway
Battle Highway is an apparently dangerous and square-shaped highway-like area with containers and walls that divide the arena into five sections: an area for each corner and a open space in the middle. Shadow the Hedgehog remains here for training in Emerl's Episode.
Library
Library is a square-shaped arena with a T-rex skeleton embedded in the floor and two blocks on the eastern and western side of the arena respectively. This makes the Library a fairly open battlefield for the game's fighters. Cream the Rabbit remains here for training in Emerl's Episode.
Trivia
See also