The Cell Key[1] is an object that appears in Sonic Heroes. They are a set of keys that can unlock Dr. Eggman's prison cell on Final Fortress. Team Chaotix's main objective in Final Fortress is to collect these keys.
Description
The Cell Keys resemble mostly keys for lever-type locks. They have a flat, hexagon-shaped white bow with a red rim and a symbol resembling the Eggman Empire's on it. They also possess a short shaft and two teeth for a head. They are usually found afloat on the ground.
Overview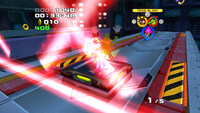 The Cell Keys are found exclusively in Team Chaotix's version of Final Fortress where ten of them can be found hidden in the Stage. In the normal Mission for the Final Fortress, the objective is to collect only five Cell Keys, while in the Stage's Extra Mission, all ten must be collected.
When touching a Cell Key, they will give off a small "ping" and then slowly fade away. In most cases, they are found in cages that the player must unlock, usually by destroying surrounding enemies.
Cell Keys locations
| Number | Description | Image |
| --- | --- | --- |
| Cell Key #1 | Hit the gong switch at the start and grind the electrified rail. At the end, the player will land on a platform with two Egg Pawns. Destroy them to release Cell Key. | |
| Cell Key #2 | After the first checkpoint, Hit the Power Gong to get to the narrrow hallway, then Triangle Jump across to the other side. Once the player is on the new path, run down past the laser beams and ride the Jump Plate. After that, destroy the Heavy-Egg Hammer to release the Cell Key. | |
| Cell Key #3 | When the player reaches a deactivated Pole encaced into a Fan section, use the Cannon on the section before it to destroy the unbreakable containers below the fan, in order to find the switch that activates the Fan. After that, use the Fan to glide up to the highest point and onto the platform with the Cell Key on it. | |
| Cell Key #4 | At the top of the section before the Detonator Switch is a E-2000R. Destroy it and the door will open revealing the Cell Key and Check Point. | |
| Cell Key #5 | After the second checkpoint and crossing the electrified rails, is another E-2000R. Defeat this one and the Cell Key will be unlocked. | |
| Cell Key #6 | When the player comes to a wide area with six cannons and a Heavy-Egg Hammer. Defeat the foe to release the gong switch. Then Hit the gong switch to land on a ledge, then use the Ramp to land on another electrified rail. At the end of the grind, defeat the E- 2000R and two Egg Pawns with shields to release the Cell Key. | |
| Cell Key #7 | After that, when the player gets to the top section, two Heavy-Egg Hammers will drop down. Use Team Blast to get rid of them. Get the Cell, then touch the Check Point. After the Check Point, use the Warp Flower. | |
| Cell Key #8 | When the player emerges from the Warp Flower, jump onto the platform and destroy everything around the playable characters. In the center is the Cell Key. | |
| Cell Key #9 | Hit the Gong on the front of the previous key to run to the collapsible path on the right, and fly over to the narrow hallway. Triangle Jump quickly after landing to grab a 1up. Upon reaching the spiked ball, land and then run before the platforms fall. Switch to Charmy and fly up to the Egg pawn. Destroy the foe to get the Cell key. | |
| Cell Key #10 | Warp from the Warp Flower at the end of the previous key, then after warping from the flower, the player will be in the top portion of a corridor. Ahead is a laser barrier and a Egg Knight. When the enemy is at a high point, bounce off it and then Triangle Jump to the other end over the barrier. Grind the electrified rail and then land on the center platform where the final Cell Key is locked up. To get the last Cell Key, the player will need to work for it. The player must defeat a Heavy-Egg Hammer on the two ledges to the right and left, and the one on the U-shaped ledge to get the final Cell Key. | |
Trivia
Although Eggman has told Chaotix that will need those keys in order to open his prison cell, in the final scene in Team Chaotix's story, Vector was punching the cell's door down instead of using the keys.
References
---
Main article | Scripts (Team Sonic, Team Dark, Team Rose, Team Chaotix, Last) | Staff | Glitches | Beta elements | Gallery
Playable
characters
Team Sonic
Sonic (Super Sonic) | Tails (Super Tails) | Knuckles (Super Knuckles)
Team Dark
Shadow | Rouge | Omega
Team Rose
Amy | Cream | Cheese | Big
Team Chaotix
Espio | Charmy | Vector
Non-playable characters
Dr. Eggman | Metal Sonic (Neo Metal Sonic) | Chocola | Froggy | Shadow Android | Omochao | Dark Chao | Hero Chao
Stages
1P stages
Sea Gate | Seaside Hill | Ocean Palace | Grand Metropolis | Power Plant | Casino Park | BINGO Highway | Rail Canyon | Bullet Station | Frog Forest | Lost Jungle | Hang Castle | Mystic Mansion | Egg Fleet | Final Fortress | Special Stage
2P stages
BINGO Highway | Casino Course | City Course | City Top | Casino Ring | Egg Fleet | Egg Treat | Frog Forest | Grand Metropolis | Hot Elevator | Mad Express | Pinball Match | Rail Canyon | Road Rock | Seaside Course | Seaside Hill | Special Stage | Terror Hall | Turtle Shell
2P Play Mode
Action Race | Battle | Bobsled Race | Expert Race | Quick Race | Ring Race | Special Stage
Enemies
Bomb Flapper | Cameron | Cannon Flapper | E-2000 | E-2000R | Egg Bishop | Egg Hammer | Egg Knight | Egg Magician | Egg Pawn | Egg Pawn (Casino version) | Falco | Flapper | Gold Cameron | Gold Klagen | Gun Flapper | Heavy-Egg Hammer | Klagen | Laser Flapper | Needle Flapper | Pumpkin ghost | Rhinoliner | Search Flapper | Solid Flapper | Solid Pawn
Bosses
Egg Albatross | Egg Emperor | Egg Hawk | Metal Madness | Metal Overlord | Robot Carnival | Robot Storm | Team Chaotix | Team Dark | Team Rose | Team Sonic
Moves/
Techniques
Speed
Maneuvers
Homing Attack | Jump Dash | Kick | Light Dash | Lightspeed Attack | Propeller Hammer | Rocket Accel | Shuriken | Spin | Spin Jump | Swinging Hammer Attack | Tornado Jump (Black Tornado, Blue Tornado, Leaf Swirl, Tornado Hammer) | Triangle Jump
Power
Maneuvers
Auto Homing | Body Press | Bubblegum Descent | Fire Combination | Fire Dunk | Fire Launcher | Fireball Jump | Forward Power Attack | Hammer Down | Jump Fire Knock | Jump Fireball | Remote Power Attack (Fireball, Fire Knock) | Spin Jump | Triangle Dive | Umbrella Descent | Wide Power Attack (Big Fishing, Omega Arm, Vector Breath, Volcanic Dunk)
Fly
Maneuvers
Ascending Flight | Cheese Attack | Dummy Ring Bomb | Spin Jump | Sting Attack | Thunder Shoot | Quick Ascent
Team Blasts
Sonic Overdrive | Chaos Inferno | Flower Festival | Chaotix Recital | Super Sonic Power
Misc.
Chaos Control | Crouch | Crystal Attack | Grind Step | Grinding
Gimmicks and obstacles
Ball Switch | Bingo | Bobsled | Bomb | Bumper | Bumper wall | Cannon | Check Point | Conveyor Belt | Dash Panel | Dash Rail | Dash Ring | Detonator Switch | Fan | Fireball | Flipper | Flower | Formation Change Gate | Giant Frog | Giant Switch | Grind Rail | Hint Ring | Iron ball | Jump Panel | Kao | Laser field | Mushroom | Orb switch | Pole | Power Gong | Propeller | Pulley | Rainbow Ring | Slot machine | Spring | Target Switch | Trolley | Vine | Warp Flower | Weight | Wide spring
Items
Capsule | Car | Casino chip | Castle Key | Cell Key | Chaos Emerald | Chaotix Detective Agency | Container (Cage, Case, Steel Container, Unbreakable Container, Wooden Container) | Emblem | Engine Core | Floating Item Box | Goal Ring | Hermit crab | Item Box (Barrier, Fly Charge, High Speed, Invincible, Rings, Power Core, Team Blast Ring, 1-Up) | Light spider marking | Power Core | Ring | Special Stage Key | Sphere | Torch
Voice actors
English
Ryan Drummond (Sonic, Metal Sonic) | Deem Bristow (Eggman) | William Corkery (Tails) | Scott Drier (Knuckles) | David Humphrey (Shadow) | Lani Minella (Rouge, Omochao) | Jon St. John (Omega, Big) | Jennifer Douillard (Amy) | Sarah Wulfeck (Cream) | Bill Corkery (Espio) | Marc Biagi (Vector) | Emily Corkery (Charmy)
Japanese
Jun'ichi Kanemaru (Sonic, Metal Sonic) | Chikao Ōtsuka (Eggman) | Ryō Hirohashi (Tails) | Nobutoshi Canna (Knuckles) | Kōji Yusa (Shadow) | Rumi Ochiai (Rouge) | Taiten Kusunoki (Omega) | Taeko Kawata (Amy) | Sayaka Aoki (Cream) | Takashi Nagasako (Big) | Yūki Masuda (Espio) | Kenta Miyake (Vector) | Yōko Teppōzuka (Charmy) | Etsuko Kozakura (Omochao)
Music
Songs
Sonic Heroes | We Can | This Machine | Follow Me | Team Chaotix | What I'm Made of...
Albums
Complete Trinity: Sonic Heroes Original Soundtrax | Triple Threat: Sonic Heroes Vocal Trax | Sonic Heroes Official Soundtrack | Sonic Heroes Original Soundtrack 20th Anniversary Edition
Other
Armored train | Dummy Ring | Egg Bazooka | Egg Fleet | Egg Gun | Egg Spear | Fly Type | Health Gauge | HEXAeco | Moon | Orca | Palm Plants | Power Type | Rank | Sonic Heroes Puzzle | Shuttle loop | Speed Type | Super Hard Mode | Team Blast Gauge | Tornado 2
Community content is available under
CC-BY-SA
unless otherwise noted.