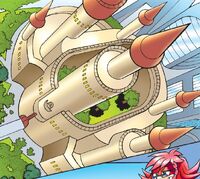 Castle Mobius is the castle from which the king and queen of Mobius rule.
History
Mobius: 25 Years Later (altered)
After Shadow took over, he moved the world capital to Portal, a merchant city on Angel Island. From there, Shadow and Sally ruled from Castle Mobius. The castle then had a dungeon, which held prisoners, most notably Rotor, Cobar, Sonic, Tails and Lara-Su. Cobar was presumably killed while in the dungeon, while the other 4 were freed by Knuckles. The castle was also home to Sonic's coup d'etat that same day. (StH: #166, #167; SU: #5)
Mobius: 30 Years Later
Following the Shadow fiasco, the castle was home to Sonic and his royal family. The site was also the scene of a celebration for Sonic's five-year reign (the Five Years of Peace). The family was nearly killed by Lien-Da and the Dark Presence, but Silver showed up and blew up the missile. (SU: #5)
Notable Residents
Trivia
The design of Castle Mobius is similar to Castle Acorn in some ways.
Community content is available under
CC-BY-SA
unless otherwise noted.