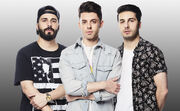 Cash Cash is a band who performed music for Sonic Colors and Sonic Generations.
Biography
Cash Cash is an American band from Roseland, New Jersey.
Members Alex Luke Makhlouf and Jean Paul Makhlouf performed the theme song of Sonic Colors, "Reach For The Stars", and the ending theme "Speak With Your Heart". They performed these songs on the Tokyo Game Show and Sonic Boom respectively in 2011.
For the 20th anniversary edition of the Sonic the Hedgehog CD soundtrack, Cash Cash remixed "Stardust Speedway" (Present/U.S.) with Jun Senoue and "Sonic Boom" with Crush 40. They also performed many remakes for both the Nintendo 3DS and Console/PC version of Sonic Generations. These versions include classic remixes of Speed Highway, City Escape, Radical Highway, the Big Arm boss battle, Modern Water Palace, Super Sonic Racing, among others.
Current members
Past members
Community content is available under
CC-BY-SA
unless otherwise noted.