Carrier Zone is an aircraft carrier from the arcade After Burner series. It is a reoccurring location in the Sega Superstars series.
Game appearances
Sega Superstars Tennis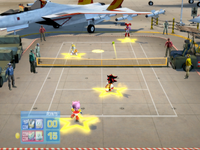 Carrier Zone is a ship-based tennis course in Sega Superstars Tennis. An area of the flight deck is made into a tennis court surrounded by vehicles and ship workers spectating the match. An F-14 Tomcat is seen parked near the court.
Sonic & All-Stars Racing Transformed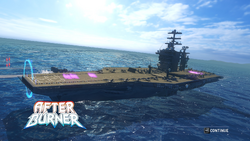 Carrier Zone is the third track of the Dragon Cup in Sonic & All-Stars Racing Transformed, representing the After Burner series as seen in its most recent game, After Burner: Climax. It takes place in the middle of a war zone in the ocean, with jets and ships in the heat of battle. Racers drive on aircraft carriers, boat through hazardous waters, and fly with F-14 Tomcats.
Trivia
---
Main article | Gallery | Staff | Glitches
Playable
characters
Sonic characters
Sonic | Tails | Knuckles | Amy | Dr. Eggman | Shadow | Metal Sonic
Sega characters
AGES | AiAi | Alex Kidd | Amigo | B.D. Joe | Beat | Gilius Thunderhead | Gum | Jacky Bryant | MeeMee | NiGHTS | Pudding | Reala | Ryo Hazuki | Ulala | Vyse
Third-party characters
Xbox Live Avatar | Mii | Danica Patrick
Tracks
Dragon Cup
Ocean View | Samba Studios | Carrier Zone | Dragon Canyon
Rogue Cup
Temple Trouble | Galactic Parade | Seasonal Shrines | Rogue's Landing
Emerald Cup
Dream Valley | Chilly Castle | Graffiti City | Sanctuary Falls
Arcade Cup
Graveyard Gig | Adder's Lair | Burning Depths | Race of Ages
Classic Cup
Sunshine Tour | Shibuya Downtown | Roulette Road | Egg Hangar
Bonus
OutRun Bay
Events
Battle Arena | Battle Race | Boost Challenge | Boost Race | Capture the Chao | Drift Challenge | Pursuit | Race | Ring Race | Sprint | Traffic Challenge | Versus
Vehicles
Ava-car 720 | Crazy Taxi | Danicar | Egg Monster | G.U.N. Auto Tread | Land Breaker | Metal Booster | Pink Cabriolet | Speed Star | Super Zoomer | Tails' vehicle
World Tour
Chapters
Sunshine Coast | Frozen Valley | Scorching Skies | Twilight Engine | Moonlight Park | Superstar Showdown
Misc.
Warp Gate | Gate
Moves/
Techniques
General
Drift | Start Line Boost | Stunt
All-Star Moves
Sonic's All-Star Move | Tails' All-Star Move | Knuckles' All-Star Move | Amy's All-Star Move | Eggman's All-Star Move | Metal Sonic's All-Star Move | Shadow's All-Star Move
Pickup items
Item Box (All-Star Item, Blowfish, Boost, Drone, Firework, Glove, Hot Rod, Ice Cannon, Super Glove, Swarm, Twister)
Other
Aero-Chaser | All-Star Move | Angels with Burning Hearts | Bonus Chance | Boost Pad | Custom game | Egg Squid | Freeze | License | Mod | Orca | SEGA ALL-STARS Premium Sound Collection | Slot machine | Sonic & All-Stars Racing Transformed Original Soundtrack | Sonic Universe #45 | Stickers | Transformation Gate
Community content is available under
CC-BY-SA
unless otherwise noted.