Carnival Town is a recurring location in the Sega Superstars series. It is based on the video game Samba de Amigo and the signature stage of Amigo. It is a spanish-mexican town known for its carnivals.
Game appearances
Sega Superstars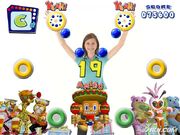 In Sega Superstars, buildings from Carnival Town appear in the background of one of the mini-games. On the left side of Carnival Town in this game, Chumba and Wumba play while Rio dance, and on the right side, Bingo and Bongo dance with Linda. Meanwhile, Amigo shakes to the song on the middle of the screen. Using the EyeToy, the player can shake their hands to the music in the gameplay of the mini-game (like in the actual game) to shake along to the beat.
Sega Superstars Tennis
In Sega Superstars Tennis, a tennis court is set on the rooftop plaza of Carnival Town. Cacti people and mariachi players watch the match from the sidelines while Bingo and Bongo are playing the drums. Chumba and Wumba are set at the sides of the net playing music. Party confetti and balloons also appear everywhere during the match.
Sonic & Sega All-Stars Racing
In Sonic & Sega All-Stars Racing, Samba de Amigo's race courses take place in Carnival Town. Studio Amigo replaces Sunshine Tour on the Nintendo DS version of the game, but both take place in the streets of Carnival Town. Jump Parade lead over the rooftops of the town, and Rocky-Coaster consist of caves and railroads built around the mountains wearing sunglasses. The third course was replaced with the Sun Fair in Nintendo DS.
Sonic & All-Stars Racing Transformed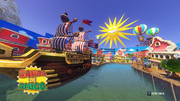 In Sonic & All-Stars Racing Transformed, one of the race tracks takes place around various movie studios in Carnival Town. The player is greeted by Linda, Bingo, Bongo, Rio, Chumba, and Wumba. Throughout the race, the racers speed through various sets, such as a pirate set, a jungle movie (not unlike King Kong), a western set, a city, and a 50's Sci-Fi set. As the player approaches the finish line, they pass through an orange lava-like substance.
Trivia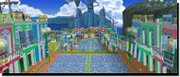 While Sonic Riders is not part of the Sega Superstars series, the first portion of the unlockable course Sega Carnival is based on Carnival Town, with Samba and his friends dancing on a corner-turn and the buildings moving to the rythm.
The manual for the Wii version of Samba de Amigo address the location as Maracas City.
The announcer of Sonic & Sega Superstar Racing calls it Carnival Island.
---
Main article | Gallery | Staff | Glitches
Playable
characters
Sonic characters
Sonic | Tails | Knuckles | Amy | Big | Metal Sonic | Dr. Eggman | Shadow
SEGA characters
AiAi | Akira Yuki | Amigo | B.D. Joe | Billy Hatcher | Beat | Alex Kidd | Ulala | Jacky Bryant | Ryo Hazuki
Third party
Xbox Live Avatar | Mii
Tracks
Chao Cup
Whale Lagoon | Icicle Valley | Roulette Road | Sunshine Tour
Graffiti Cup
Shibuya Downtown | Outer Forest | Turbine Loop | Treetops
Egg Cup
Rampart Road | Dark Arsenal | Jump Parade | Pinball Highway
Horror Cup
Sewer Scrapes | Lost Palace | Sandy Drifts | Rokkaku Hill
Samba Cup
Rocky-Coaster | Highway Zero | Deadly Route | Ocean Ruin
Monkey Cup
Bingo Party | Lava Lair | Monkey Target | Thunder Deck
DLC
Egg Hangar
All-Star Moves
Super Sonic | Tails Tornado | Emerald Power | Piko Hammer | Giant Froggy | Maximum Overdrive | Missile Madness | Super Shadow
Objects
Item Box (All-Star Item, Bowling Bomb, Confusion Star, Energy Shield, Giant Rocket, High Speed Shoes, K.O. Glove, Manual Rocket, Mega Horn, Mine, Pocket Rainbow)
Vehicles
Speed Star | Tornado Racer | Land Breaker | Pink Cabriolet | Green Hopper | Metal Booster | Egg Monster | Dark Rider | Ava-car 720 | Crazy Taxi | Super Zoomer
Music
My Sweet Passion | Throw It All Away | What U Need
Other
Announcer | Sonic Says | Totem Pole
---
Main article | Gallery | Staff | Glitches
Playable
characters
Sonic characters
Sonic | Tails | Knuckles | Amy | Dr. Eggman | Shadow | Metal Sonic
Sega characters
AGES | AiAi | Alex Kidd | Amigo | B.D. Joe | Beat | Gilius Thunderhead | Gum | Jacky Bryant | MeeMee | NiGHTS | Pudding | Reala | Ryo Hazuki | Ulala | Vyse
Third-party characters
Xbox Live Avatar | Mii | Danica Patrick
Tracks
Dragon Cup
Ocean View | Samba Studios | Carrier Zone | Dragon Canyon
Rogue Cup
Temple Trouble | Galactic Parade | Seasonal Shrines | Rogue's Landing
Emerald Cup
Dream Valley | Chilly Castle | Graffiti City | Sanctuary Falls
Arcade Cup
Graveyard Gig | Adder's Lair | Burning Depths | Race of Ages
Classic Cup
Sunshine Tour | Shibuya Downtown | Roulette Road | Egg Hangar
Bonus
OutRun Bay
Vehicles
Ava-car 720 | Crazy Taxi | Danicar | Egg Monster | G.U.N. Auto Tread | Land Breaker | Metal Booster | Pink Cabriolet | Speed Star | Super Zoomer | Tails' vehicle
World Tour
Chapters
Sunshine Coast | Frozen Valley | Scorching Skies | Twilight Engine | Moonlight Park | Superstar Showdown
Events
Battle Race | Boost Challenge | Drift Challenge | Pursuit | Race | Ring Race | Traffic Challenge | Versus
Misc.
Warp Gate | Gate
All-Star Moves
Sonic's All-Star Move | Tails' All-Star Move | Knuckles' All-Star Move | Amy's All-Star Move | Eggman's All-Star Move | Metal Sonic's All-Star Move | Shadow's All-Star Move
Pickup items
Item Box (All-Star Item, Blowfish, Boost, Drone, Firework, Glove, Hot Rod, Ice Cannon, Super Glove, Swarm, Twister)
Other
Aero-Chaser | All-Star Move | Angels with Burning Hearts | Bonus Chance | Custom game | Egg Squid | Freeze | License | Mods | Slot machine | Sonic & All-Stars Racing Transformed Original Soundtrack | Sonic Universe #45 | Stickers | Transformation Gate