This article is about a subject in the real world.

Information in this article is about real-life people, companies, and objects, and does not relate to the in-universe Sonic series.

Carl's Jr. is an American fast-food restaurant and has done promotions with the Sonic the Hedgehog series. Carl's Jr. was founded by Carl Karcher and his wife Margaret Karcher in Los Angeles in 1941, but the brand was only a hotdog cart at the time. Later in 1945 they opened the first Carl's Drive-In Barbecue, then eventually in 1956 opened the first two Carl's Jr. restaurants.
Sonic the Hedgehog and Pals Mini-Viewer (1996)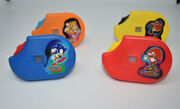 In 1996, Carl's Jr. did a promotion with the Sonic series for their "Cool Combos for Kids" meals.[1] The deal was to promote various Sonic games at the time, which included Sonic's Schoolhouse, Sonic 3D Blast, Sonic the Hedgehog's Gameworld, Sonic Blast, and the PC version of Sonic the Hedgehog CD.[2] Four Sonic toys of "mini-viewers" based on the View-Master were available, and consisted of Sonic, Tails, Dr. Robotnik and Knuckles.[3]
From October to November of 2015, Carl's Jr. produced a set of Sonic toys for their Cool Kids Combos to promote Sonic Boom: Fire & Ice.[4]
The game ended up being delayed and didn't release until almost a year later, but the promotion proceeded and included four different toys.
References
External links
Community content is available under
CC-BY-SA
unless otherwise noted.