The Burst Dash (バーストダッシュ, Bāsuto Dasshu?) is one of Blaze the Cat's signature moves. It first appeared in Sonic Rush and later reappeared in Sonic Rush Adventure. It is Blaze's version of Sonic the Hedgehog's famous Spin Dash and Spin Attack techniques.[Note 1] When used, Blaze charges up fire at her feet to send her off as a fiery tornado at high speed.
Description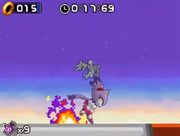 The performance of the Burst Dash is strikingly similar to the Spin Dash. When performing the Burst Dash, Blaze crouches down and starts charging fire at her feet using her pyrokinesis to build up speed and momentum. Once charged, Blaze will release the charge and dashes forward at high speed while executing a fire-enveloped top spin, thus turning her into a destructive mini-tornado of fire. This allows Blaze to attack enemies, break through walls or dash up steep slopes without having to build up running momentum. The duration of the Burst Dash is not as long as a Spin Dash though. Unlike the Spin Dash, Blaze is still vulnerable to enemy contact while charging up the move.
To perform Burst Dash in gameplay, the player must hold down the down button on the

Control Pad and pressing

/

at the same time. The player then has to release the down button launch the Burst Dash. To build up speed for the Burst Dash, the player has to repeatedly press the

/

before releasing the down button. Alternatively, the player can press the down button on the

Control Pad while running to make Blaze twirl along the ground without the need to charging up, though its duration will be shorter.
Trivia
Notes
↑ Both Japanese and North American instruction manuals of Sonic Rush and Sonic Rush Adventure consider Spin Attack and Spin Dash as the one move despite both of them being required to perform differently. Similar way manuals describe Burst Dash being able to function two ways.
---
Main article | Staff | Script (Sonic, Blaze, Extra) | Glitches | Beta elements | Gallery
Playable characters
Sonic (Super Sonic) | Blaze (Burning Blaze)
Non-playable characters
Tails | Knuckles | Amy | Cream | Cheese | Vanilla | Dr. Eggman | Eggman Nega | Animals (Camel, Cat, Elephant, Gorilla, Koala, Kangaroo, Lion, Mole, Monkey, Parrot, Peacock, Penguin, Rabbit, Robin, Seal, Skunk, Flicky, Ricky, Pocky, Wocky)
Stages
Leaf Storm | Water Palace | Mirage Road | Night Carnival | Huge Crisis | Altitude Limit | Dead Line | Unknown | Exception | Special Stage
Enemies
Battle Flapper | Bomb Hawk | Cannon Flapper | Egg Bishop | Egg Hammer | Egg Pawn | Egg Pawn Bunny | Egg Pawn Manager (gun) | Egg Pawn Manager (SF gun) | Falco | Flapper | Gun Hunter | Klagen | Knight Pawn | Laser Flapper | Rhino Cannon | Sea Pawn | Solid Pawn
Bosses
Egg Hammer Mega | Egg Turtle | Egg Scarab | Egg Libra | Egg Hammer Fortress | Egg Eagle | Sonic/Blaze | Egg King | Egg Salamander
Moves/Techniques
Axel Jump | Axel Tornado | Boost Mode | Burning Fire Boost | Burst Dash | Burst Hover | Fire Boost | Grinding | Homing Attack | Hop Jump | Humming Top | Jump Dash | Jump Step | Scroll Screen | Spin Attack | Spin Dash | Spin Jump | Super Boost | Super Sonic Boost | Trick Action
Gimmicks and obstacles
Bungee Rope | Cannon | Checkpoint Marker | Dash Panel | Dash Rail | Dash Ring | Electrical emitter |

Giant Waterwheel

| Grind Rail | Hang Glider | High-speed warp tube | Jump Panel | Rainbow Ring | Special Generator | Spring | Spring Pole | Switch | Winding Rope | Zip Line
Items
Air Bubble | Chaos Emerald | Floating Item Box | Goal Ring | Item Box (5 Ring Bonus, Attract, Barrier, Confusion, Invincible, Magnetic Barrier, Max Tension Bonus, Max Tension Bonus (multiplayer), Random Ring Bonus, Slow, Tension Bonus) | Ring | Sol Emerald
English voice actors
Jason Griffith (Sonic) | Mike Pollock (Eggman, Eggman Nega) | Amy Palant (Tails) | Rebecca Honig (Cream) | Bella Hudson (Blaze)
Japanese voice actors
Jun'ichi Kanemaru (Sonic) | Chikao Ōtsuka (Eggman, Eggman Nega) | Ryō Hirohashi (Tails) | Sayaka Aoki (Cream) | Nao Takamori (Blaze)
Music
Songs
A New Day | Right There, Ride On | Back 2 Back | Ethno Circus | Ska Cha Cha | Jeh Jeh Rocket | Get Edgy | What U Need | Metal Scratchin' | Vela Nova | Bomber Barbara | Wrapped in Black | Raisin' Me Up
Albums
Original Groove Rush
Other
Blaze's world | Corkscrew | Health Gauge | Life | Loop | Rank | Real-Time Interaction | Time Attack | Tension Gauge | Water
---
Main article | Script | Staff | Gallery
Playable characters
Sonic (Super Sonic) | Blaze (Burning Blaze)
Non-playable characters
Tails | Marine | Coconut Crew (Colonel, Daikun, Gardon, Kylok, Muzy, Setter, Tabby) | Norman | Captain Whisker | Mini & Mum | Johnny | Dr. Eggman | Eggman Nega
Stages
Whale Point | Plant Kingdom | Machine Labyrinth | Coral Cave | Haunted Ship | Blizzard Peaks | Sky Babylon | Pirates' Island | Big Swell | Deep Core | Hidden Islands (1, 2, 3, 4, 5, 6, 7, 8, 9, 10, 11, 12, 13, 14, 15, 16) | Johnny's Race
Enemies
Barrier Angler | Bomb Ghost | Crystal Head | Dive Bat | Eleki Angler | Kaizoku Bomb | Kaizoku Glider | Kaizoku Gun | Kaizoku Hogan | Kaizoku Hover Bomb | Kaizoku Hover Gunner | Kaizoku Skeleton | Kaizoku Snowball | Kaizoku Sword | Nibbles | Ptera | Rapid Crab | Shisaku-gata Dump | Shisaku-gata Jet | Shisaku-gata Spanner | Skull Fire | Sky Moon | Triceratank
Bosses
Ghost Rex | Ghost Pendulum | Ghost Kraken | Ghost Pirate | Ghost Whale | Ghost Condor | Captain Whisker and Johnny | Ghost Titan | Egg Wizard
Moves/Techniques
Axel Jump | Axel Tornado | Boost Mode | Burning Fire Boost | Burst Dash | Burst Hover | Deflect | Fire Boost | Grind Step | Hop Jump | Homing Attack | Humming Top | Jump Dash | Jump Step | Scroll Screen | Spin Attack | Spin Dash | Spin Jump | Super Boost | Super Sonic Boost | Trick Action
Vessels
Wave Cyclone | Ocean Tornado | Aqua Blast | Deep Typhoon | Magma Hurricane | SS Tornado EX | SS Marine | SS Super-Marine
Gimmicks and obstacles
Bomb | Bungee Rope | Checkpoint Marker | Dash Panel | Dash Rail | Dash Ring | Fountain | Hang Glider | High-speed warp tube | Icicle | Iron ball | Jump Panel | Minecart | Mushroom | Rainbow Ring] | Spin ring | Spring | Spring Pole | Vine | Winding Rope
Items
General
Chaos Emerald | Item Box (1UP, 5 Ring Bonus, Attract, Barrier,

Boost Up

, Confusion,

High Speed

, Invincible, Magnetic Barrier, Maximum Tension Bonus, Random Ring Bonus, Repair,

Score Bonus

, Slow, Tension Bonus, Tension Bonus (multiplayer)) | Medal | Sol Emerald | Switch | Ring | Snowboard | Treasure chest
Materials
Aqua Material | Black Material | Blue Material | Bronze Material | Gold Material | Green Material | Iron Material | Red Material | Silver Material
English voice actors
Jason Griffith (Sonic) | Mike Pollock (Eggman, Eggman Nega) | Amy Palant (Tails) | Bella Hudson (Blaze) | Lonnie Hirsch (Captain Whisker) | Christopher Pellegrini (Johnny)
Japanese voice actors
Jun'ichi Kanemaru (Sonic) | Chikao Ōtsuka (Eggman, Eggman Nega) | Ryō Hirohashi (Tails) | Nao Takamori (Blaze) | Shinya Fukumatsu (Captain Whisker) | Kota Nemoto (Johnny)
Music
Songs
"A New Venture"
Albums
Sonic Rush Adventure Original Soundtrack
Other
Blaze's world | Corkscrew | Combo | Freeze | Health Gauge | Jeweled Scepter | Life | Loop | Missions | Sea Chart | Sol Empire | Southern Island | Power of the Stars | Rank | Real-Time Interaction | Sonic Rush Adventure Flash | Tension Gauge | Time Attack | Water