Raise a Floppa - The Loop
Play Sound
Bomb[1] is a character that appears in Knuckles' Chaotix. He is a robot mechanic created by Dr. Robotnik who, together with Heavy the Robot, form Robotnik's Mechanix.[1] Apparently, he later left Robotnik's forces to help Robotnik's enemies.
Appearance
Bomb has a spherical body resembling a cherry bomb. The top half of his body is black and the bottom half of his body is red. He also has no facial features and a white fuse on the top of his body. He has also silver metallic limbs with yellow gloves and white and red shoes.
History
Knuckles' Chaotix
During Dr. Robotnik's operations in the Newtrogic High Zone, Bomb worked as one of Robotnik's mechanics alongside Heavy the Robot. Claiming to have escaped Robotnik's clutches, Bomb and Heavy joined up with Knuckles and his crew to help them challenge Robotnik's machinations, although it is speculated that the duo's true goal was to slow the heroes down for Robotnik.[1] Regardless of Bomb and Heavy's true allegiance, Knuckles and his allies succeeded in foiling Robotnik's plans. What happened to Bomb afterward remains undisclosed.
Personality
Bomb has a tendency to blow up when things look bleak.[1]
Powers and abilities
Bomb is able to induce harmful explosions by detonating himself. Bomb's explosions have little effect on himself, however, as he is able to recover from them fairly quickly.
Weakness
As his small stature would imply, Bomb is not very strong or quick.[1]
In other media
Archie Comics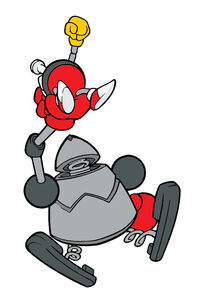 In the Sonic the Hedgehog comic series and its spin-offs published by Archie Comics, Bomb and his partner, Heavy, were created by Dr. Ivo Robotnik but defected upon becoming self-aware. After temporarily joining the Chaotix, Bomb and Heavy disappeared. They eventually came back, serving in Royal Secret Service under Geoffrey St. John. However, on one mission, the two were reprogrammed to assassinate the Acorn family, and were destroyed by the defending Sonic and co. Later, rebuilt versions of the two were sent to assassinate Mina Mongoose. However, they were also thwarted and seemingly destroyed. Bomb and Heavy were later rebuilt and reprogrammed back to their sentient selves by Rotor to protect New Mobotropolis as members of Team Freedom.
Trivia
Bomb was one of the first robots to turn on Eggman and help Sonic's allies. Others to follow were Heavy, Gamma and Omega.
Bomb's abilities are the reverse of that of Heavy: He is very weak, and explodes when hit (the explosion can damage both enemies and his ally), but is faster on his feet and has a decent height jump.
In Knuckles' Chaotix, Heavy and Bomb can be paired up with any of the other characters, but not with each other (unless the level select code is used).
If an Action Replay code is used, the player can select Heavy and Bomb at the bottom of the character select screen, where their names are listed as ""Heavy the Mechanic" and "Bomb the Mechanic".
Multiple copies of Bomb can be seen in the Combi Catcher, implying Robotnik may have built more than one model of him.
Gallery
Sprites
References
---
Main article | Staff | Glitches | Beta elements | Pre-releases (1207 Beta) | Gallery
Playable characters
Charmy | Espio | Knuckles | Mighty | Vector | Bomb | Heavy | **********
Non-playable characters
Dr. Robotnik | Metal Sonic (Metal Sonic Kai) | Amy | Tails | Sonic
Stages
Isolated Island | Botanic Base | Speed Slider | Amazing Arena | Techno Tower | Marina Madness | World Entrance | Special Stage | Bonus Stage
Enemies
Am-Bush | Beatal | Blitz | Bombbearer | Burboom | Bushbubble | Catalurcher | Dribbler | Floatsam | Gotcha | Gut Buster | Hoverby Mk II | Liftor | Marina Madness Badnik 1, 2 | Motorspike | Needlenose | Piranha | Poptank | Ringleader | Spiketower | Triclod | Ticktock | Trundull
Bosses
Amazing Arena boss | Amazing Arena sub-boss | Botanic Base boss | Marina Madness boss | Speed Slider boss | Techno Tower boss | Metal Sonic | Metal Sonic Kai
Moves/
Techniques
Playable characters
Axel Spin | Climb | Crouch | Dash | Glide | Power Boost | Spin Dash | Spin Jump | Super Spin | Wall Jump
NPCs
V. Maximum Overdrive Attack | Plasma Pulse Attack
Gimmicks and obstacles
"X" Bumper | Balloon | Bumper Ball | Chopper Block | Elevator | Exit | Giant Ring | Goal Plate | High-speed warp tube | Iron ball | Ring Power | Saw | Spring | Switch
Items
Bound Rings | Chaos Ring | Dark Ring | Monitor (Change, Combi Catcher, Combine Ring, Grow, Invincible, Power Sneakers, Shield, Shrink, Stage Select, Super Ring, Swap) | Ring | Sphere
Other
Archie Knuckles' Chaotix | Combi Catcher | Debug Mode | Loop | Newtrogic High Zone | Sonic Crackers