The Boa-Boa[1] (ボアボア[2], Boa-Boa?), also spelled Boa Boa[3] or BoaBoa,[4] is an enemy that appears in the Sonic the Hedgehog series. It is a mass-produced, worm-based robot created by Dr. Eggman.
Appearance
Based on Worms, Boa-Boas are successors to the Caterkiller. They have purple and gray armor and a body consisting of nine segments, with the head on one end and a small tail on the other. Except for their head, all the Boa-Boas' body segments have hatches on both lateral sides that spit out flames.
Game appearances
Sonic Adventure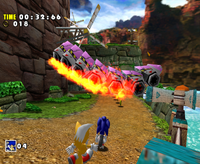 In Sonic Adventure and Sonic Adventure DX: Director's Cut, the Boa-Boas appear in the following Action Stages for each character:
In gameplay, Boa-Boas constantly glide gracefully through the air, spouting puffs of flame from their sides. In Sonic's chase, the player can attack a Boa-Boa from above or below using the Homing Attack when it is not spitting flames (doing so will damage Sonic). Hitting any segment on a Boa-Boa will blow the entire robot up. When playing as E-102 Gamma, the player can take advantage of the Boa-Boas; for each body segment the player locks onto and hits, they are granted a Time Bonus.
Sonic Rivals

In Sonic Rivals, the Boa-Boa appears as a collectible card.
In other media
Books and comics
IDW Publishing
In the Sonic the Hedgehog comic series and its spin-offs published by IDW Publishing, the Boa-Boas are Badniks created by Dr. Eggman. Their past is virtually identical to their game counterparts', up until after the events of Sonic Forces.
Trivia
The Boa-Boas' name may be allusion to boas, a family of non-venomous, constricting snakes.
The appearance of the Boa-Boas seem to be mix of the Catakiller, Jr. and Fireworm.
See also
References
---
Main article | Scripts (Sonic, Tails, Knuckles, Amy, Big, Gamma, Super Sonic) | Story Screens (Sonic, Tails, Knuckles, Amy, Big, Gamma) | Credits | Glitches | Beta elements | Gallery | Pre-releases (original version,

Limited Edition

) | Re-releases (DX, 2010)
Playable characters
Sonic (Super Sonic) | Tails | Knuckles | Amy | Gamma | Big | Metal Sonic**^
Non-playable characters
Dr. Robotnik | Beta (Mark II) | Birdie | Chao (Dark Chao**, Hero Chao**) | Chaos (Chaos 0, Chaos 1, Chaos 2, Chaos 4, Chaos 6, Perfect Chaos) | Cream** | Delta | Epsilon | Froggy | Grandma | Knuckles Clan (Pachacamac, Tikal) | Mr. Know-It-All | NiGHTS | Station Square Police Department | Unnamed Sonic robot | ZERO | Zeta | Animals (Deer, Elephant, Gorilla, Kangaroo, Koala, Lion, Mole, Parrot, Peacock, Penguin, Rabbit, Robin, Seal, Sea Otter, Skunk)
Adventure Fields
Egg Carrier | Mystic Ruins | Station Square
Action Stages
Emerald Coast | Windy Valley | Casinopolis | Icecap | Twinkle Park | Speed Highway | Red Mountain | Sky Deck | Hot Shelter | Lost World | Final Egg
Sub Games
Sky Chase | Sand Hill | Hedgehog Hammer | Twinkle Circuit | Boss
Enemies
Beat | Bladed Spinner | Boa-Boa | Buyoon | Cart Kiki | Cop Speeder | Egg Keeper | Electro Spinner | Fighter Aircraft A | Fighter Aircraft B | Gola | Ice Ball | Icecap's unnamed aircraft | Kiki | Leon | Mechanical fish | Pirate | Rhinotank | Sky Deck's unnamed jet fighter | Spiky Spinner | Sweeper
Bosses
Chaos 0 | Chaos 2 | Chaos 4 | Chaos 6 | Beta (Mark II) Gamma | Delta | Epsilon | Zeta | Egg Carrier | Egg Hornet | Egg Viper | Egg Walker | Knuckles | Perfect Chaos | Sonic | ZERO
Moves/
Techniques
Playable characters
Bolt of lightning | Climb | Dig | Flight Mode | Glide | Hammer Attack | Hammer Jump | Hover | Homing Attack | Homing Missile Launch | Jump Attack | Laser Gun | Light Speed Attack | Light Speed Dash | Lure Attack | Maximum Heat Knuckles Attack | Pick | Propeller Flight | Punch Attack | Rapid Tails Attack | Spin Attack | Spin Dash | Spin Hammer Attack | Spin Jump | Tails Attack
NPCs
Arm Punch | Bomb Attack | Bomb Gun Attack | Charge | Double Punch | Earthquake Attack | Electric Arm | Energy Ball Attack | Flame Thrower Attack | Guiding Missiles | Instantaneous Liquefaction | Laser Beam Attack | Homing Tail Slice | Inhale Attack | Marble Attack | Phantom Shadow Move | Punch | Quarter Attack | Scorpion Attack | Shockwave Attack (Chaos 6) | Sonic Boom | Spin Attack | Spinning Spike Attack | Spouting Attack | Squash Roll Attack | Swing Punch
Gimmicks and obstacles
Bumper | Bumper Car | Cannon | Capsule | Car | Conveyor Belt | Crank | Dash panel | Dash Ring | Drum Can | Explosion Trap | Fan | Flame dart | Flipper | Fountain | Giant Ring* | Goal Balloon | Hanging Bell | Helicopter | Hint Box | Hint Orb | Icicle | Iron ball | Jump Panel (plate) | Jump Panel (ramp) | Jump Ramp | Laser field | Lit Panel | Mirror | Monkey Detonation Switch | Orca | Point Marker | Power cube | Rocket | Satellite | Sling Shot | Slot machine | Spiked bar | Spring | Spring Catapult | Switch | Teleporter | Wide spring | Wind Path | Zip Line
Items
General
Air Bubble | Cart pass | Chao Egg | Chaos Emerald | Doll | Emblem | Emerald Shard | Employee ID Card | Item Box (5 Rings, 10 Rings, Extra Life, High-Speed Shoes, Invincibility, Magnetic Shield, Random Rings, Shield, Smart Bomb) | Key Stone (Gold statue, Ice Stone, Silver statue, Wind Stone) | Ring | Sandboard | Snowboard | Sonic Token
Level Up Items
Ancient Light | Crystal Ring | Fighting Gloves | Jet Anklet | Jet Booster | Laser Blaster | Life Belt | Light Speed Shoes | Long Hammer | Lure | Power Rod | Rhythm Badge | Shovel Claw | Warrior Feather
English voice actors
Ryan Drummond (Sonic) | Corey Bringas (Tails) | Michael McGaharn (Knuckles) | Deem Bristow (Eggman) | Jennifer Douillard (Amy) | Jon St. John (Big) | Elara Distler (Tikal, Station Square train announcer, default menu voice) | Steve Broadie (Gamma, Pachacamac, Mystic Ruins train announcer) | Tomoko Sasaki (Chao)
Japanese voice actors
Jun'ichi Kanemaru (Sonic) | Kazuki Hayashi (Tails) | Nobutoshi Canna (Knuckles) | Chikao Ōtsuka (Eggman) | Taeko Kawata (Amy) | Shun Yashiro (Big) | Kaori Asoh (Tikal) | Jōji Nakata (Gamma) | Tōru Ōkawa (Pachacamac) | Kaho Kōda (Station Square train announcer) | Nobutoshi Canna (Mystic Ruins train announcer) | Elara Distler (default menu voice) | Tomoko Sasaki (Chao)
Music
Songs
"Believe In Myself" | "It Doesn't Matter" | "Lazy Days (Livin' in Paradise)" | "My Sweet Passion" | "Open Your Heart" | "Unknown from M.E."
Albums
Passion & Pride: Anthems with Attitude from the Sonic Adventure Era | Sonic Adventure: Songs With Attitude Vocal Mini-Album | SONIC ADVENTURE OFFICIAL SOUNDTRACK VINYL EDITION | Sonic Adventure Original Soundtrack 20th Anniversary Edition | Sonic Adventure Original Sound Track (Digi-Log Conversation) | Sonic Adventure Remix
Other
777 Slots Pinball | Altar of Emerald | Angel Island | Auto Running | Black Market | Card & Pinball | Chao Adventure* | Chao Garden (Station Square Garden, Mystic Ruins Garden, Egg Carrier Island) | Chao Race | Chao Stadium | Chao in Space | Chao Machine | Chao Search* | Corkscrew | Debug Mode | E-100 Series | Eggmobile | Egg Carrier | Egg Carrier 2 | Emerald Radar | Freeze | Game Over | Life | Life gauge | Loop | Master Emerald | Mission Mode**^ | Mystic Ruins | Shrine of Knuckles's race | Sonic Adventure (LCD) | Sonic Adventure: Navigation Guide | Station Square | Tails's Work Shop | Tornado | Tornado 2 | Transporter Machine | Water

*Appears in only the original Dreamcast version
**Appears in only Sonic Adventure DX
^Appears in only the Sonic Adventure DX DLC of the 2010 remaster