Fire Emblem Warriors: Three Hopes - The Loop
Play Sound
Blowfish Transporter is an enemy that appears in the Sonic the Hedgehog series. It is a mass-produced, pufferfish-based Badnik model created by Dr. Eggman. Designed for multiple purposes, the Blowfish Transporters usually serve as transport vessels for regular Badnik troops for assault operations.
Appearance
Blowfish Transporters are based on the pufferfish. They have round bodies with purple armor and white underbellies. They also have a pair of wing-like fins with purple and white turbine engines, along with a pair of smaller turbine engines on the bottom of their bellies. Blowfish Transporters have as well two cyan eyes, a flat orange beak and a small caudal fin on their rears.
Some Blowfish Transporters have hatches on their front bellies which lead to a wide storage room inside their bodies.
Game appearances
Sonic Lost World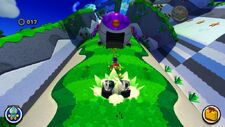 In the Wii U version, PC version and Nintendo 3DS version of Sonic Lost World, the Blowfish Transporters appear as enemies with different patterns and purposes. In the Wii U/PC version, they are first found in Tropical Coast Zone 1, acting as empty shells that Sonic can enter and control. While inside the Blowfish Transporter, the player can pick up Rings and Item Boxes, and defeat other Badniks by rolling it over the desired target. However, hitting iron balls damages the Blowfish Transporter. After getting hit by iron balls three times or controlling this Badnik for eighteen seconds, the Blowfish Transporter will blow up without hurting the player.
In Tropical Coast Zone ?, Blowfish Transporters serve a floating obstacles that the player should avoid colliding with. In Sky Road Zone 3, Blowfish Transporters fly by while dropping Egg Pawns with parachutes from inside of them. These Blowfish Transporters also appear in Hidden World Zone 2, where they rise up from the clouds and fly forward while dropping Egg Pawns. The player is unable to defeat the Blowfish Transporters in these situations, although they can crash senselessly into structures in Hidden World Zone 2, freeing the Animals inside of them.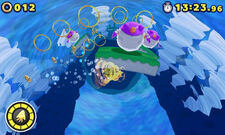 In the Nintendo 3DS version, Blowfish Transporters mostly appear in the underwater sections of Tropical Coast Zone 1 and 3. In gameplay, they remain stationary until the player's arrival, where they will start deploying Jaws. Hit the Blowfish Transporter with a Focused Homing Attack and then wait for it to protrude its spikes for a short time. Follow this method twice to defeat it. Sometimes, it is required to defeat a Blowfish Transporter to open Cases, which are needed to proceed with the Zones. Blue Blowfish Transporters that fire missiles appear in Sky Road Zone 3.
Sonic Runners
In Sonic Runners, the Blowfish Transporter appears as a Rare Fly Type buddy which puts a random item in the player's inventory upon reaching a certain combo.
Powers and abilities
Blowfish Transporters have the ability to both fly in mid-air and swim underwater. With the endless amount of space inside them, the Blowfish Transporters can carry cargos to different locations and deploy them from any position.
Variants
BFB
The BFB is a larger variant of the Blowfish Transporters. These models can fly, fire missiles and cause short-ranged shockwaves. They first appeared in both the Wii U version and Nintendo 3DS version of Sonic Lost World
In other media
Archie Comics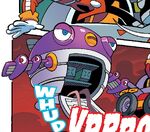 In the Sonic the Hedgehog comic series and its spin-offs published by Archie Comics, the Blowfish Transporter is a Badnik unit in Dr. Eggman's Badnik Horde. Its purpose is to transport cargo.
IDW Publishing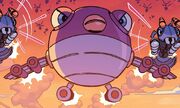 In the Sonic the Hedgehog comic series and its spin-offs published by IDW Publishing, the Blowfish Transporter is a Badnik unit in Dr. Eggman's Badnik army that is used to transport smaller Badniks. Their past is virtually identical to their game counterparts', up until after the events of Sonic Forces.
Trivia
In the Wii U version of Sonic Lost World, the Blowfish Transporter is simply referred to as the BFA in the game's files.[1]
Gallery
Screenshots
Notes
---
Main article | Script | Staff | Glitches | Gallery | Re-releases (PC)
Playable characters
Sonic (Super Sonic) | Virtual Hedgehog*
Non-playable characters
Amy | Animals (Cucky, Flicky, Pecky, Picky, Pocky, Ricky, Rocky) | Clawz | Cubot | Deadly Six (Master Zik, Zavok (Giant Zavok), Zazz, Zeena, Zomom, Zor) | Dr. Eggman | Gillwing | Gulpo | Jackle | Knuckles | Link* | Nightopian | NiGHTS | Omochao | Orbot | Puffy | Reala | Tails | Wizeman | Yacker* | Yoshi*
Wisps
Black | Crimson | Cyan | Gray* | Green | Indigo | Magenta | Orange | White* | Yellow
Levels
Worlds
Windy Hill | Desert Ruins | Tropical Coast | Frozen Factory | Silent Forest | Sky Road | Lava Mountain | Hidden World
Misc.
Circus* | NiGHTMARE Zone | The Legend of Zelda Zone* | Yoshi's Island Zone*
Enemies
Badniks
Antlion | Anton | Antlion Mother | Aquis | Balkiry | Ball Hog | Batbrain | BFB | Blowfish Transporter | Blaster | Bomb | Burrobot | Buzz Bomber | Caterkiller | Chopper | Clucker | Cluckoid | Coconuts | Crabmeat | Crawl | Crawlton | Dragonfly | Dung Beetle | Egg Pawn | Galaga Bee | Gohla | Grabber | Gustav Turtle | Jaws | Laser Grabber | Madmole | Manbou | Manta | Moto Bug | Mushmeanie | Nebula | Newtron | Octus | Orbinaut (Uni Uni, Unidasu) | Pata-Bata | Penguinator | Sandworm | Slicer | Snale Blaster | Spiker | Spikes | Sprinkler | Tarantula | Tonber | Turtloids | Utsubo
Other
Baku Baku | Boo | Boom Boo | Cactus Ball | Deku Scrub* | Keese* | Piranha Plant* | Sandworm | Sheep | Shy Guy* | Stalchild* | Yeti
Bosses
Zazz (Puffy) | Zomom | Master Zik (Gulpo) | Zeena (Clawz) | Zor (Jackle) | Zavok (Gillwing) | Deadly Six | Giant Zavok | Eggrobo
Moves/
Techniques
General
Bound Jump | Charged Dash | Dash | Double Jump | Duck | Flying Kick | Focused Homing Attack | Grinding | Ring Dash | Skydiving | Spin Dash | Spin Jump | Super Sonic Boost
Parkour
Hang | Side Step | Vault | Vault Dash | Wall Climb | Wall Jump | Wall Run | Wall Spin Dash
Color Powers
Black Bomb | Crimson Eagle | Cyan Laser | Gray Quake* | Green Hover | Indigo Asteroid | Magenta Rhythm | Orange Rocket | Yellow Drill
Gimmicks and obstacles
Balloon | Billiard Ball | Bumper | Cannon | Capsule | Cloud | Coconut | Conveyor Belt | Dash Panel | Dash Rail | Drop Target | Fireball | Flipper | Grind Rail | High-speed warp tube | Hint Ring | Iron ball | Lighting switch | Metal nut | Minecart | Musical note | Prism | Seesaw* | Slot machine | Spring | Spring Catapult | Star Post | Surprise Crocodile | Truffle Cannon | Windmill
Items
General
1-Up | Apple | Asteroid Ring | Blue Chip | Bound bell | Cage | Casino Token | Chaos Emerald | Floating Item Box | Invincible | Item Box (Warp) | Number Ring | Power Sneakers | Red Star Ring | Ring | Ring (NiGHTS) | Shield | Thunder Shield
RC Vehicles
Helicopter | Fighter Jet | Stealth Jet | Hovercraft | Balloon | UFO | Omochao
English voice actors
Roger Craig Smith (Sonic) | Mike Pollock (Eggman) | Kate Higgins (Tails) | Travis Willingham (Knuckles, Zavok) | Cindy Robinson (Amy) | Kirk Thornton (Orbot, Master Zik) | Wally Wingert (Cubot) | Liam O'Brien (Zazz) | Patrick Seitz (Zomom) | Stephanie Sheh (Zeena) | Sam Riegel (Zor)
Japanese voice actors
Jun'ichi Kanemaru (Sonic) | Chikao Ōtsuka (Eggman) | Ryō Hirohashi (Tails) | Nobutoshi Canna (Knuckles) | Taeko Kawata (Amy) | Mitsuo Iwata (Orbot) | Wataru Takagi (Cubot) | Jōji Nakata (Zavok) | Yutaka Aoyama (Zazz) | Yumi Tōma (Zeena) | Makoto Terada (Master Zik) | Chafūrin (Zomom) | Yūki Tai (Zor)
Music
Sonic Lost World Bonus Soundtrack (Special Selection) | Sonic Lost World: Wonder World EP | Without Boundaries: Sonic Lost World Original Soundtrack
Other
Auto Running | Cacophonic Conch | Egg Mobile | Extractor | Havok | Life | Life (energy) | Loop | Lost Hex | Mech Dragon | Miles Electric | Mission | Moon Mech | Rank | Secret Bonus | Sonic the Hedgehog Halloween ComicFest 2013 | Time Attack | Tornado | Totem pole | Water | Wisp Away* | Wisp Gauge | Zeti

*Appears in the Wii U version only.
---
Main article | Script | Staff | Glitches | Gallery
Playable characters
Sonic (Super Sonic) | Virtual Hedgehog
Non-playable characters
Amy | Animals (Cucky, Flicky, Pecky, Picky, Pocky, Ricky, Rocky) | Cubot | Deadly Six (Master Zik, Zavok, Zazz, Zeena, Zomom, Zor) | Dr. Eggman | Knuckles | Tails | Orbot
Wisps
Cyan | Gray | Indigo | Ivory | Red | Yellow
Worlds
Windy Hill | Desert Ruins | Tropical Coast | Frozen Factory | Silent Forest | Sky Road | Lava Mountain | Special Stage
Enemies
Badniks
Antlion | Balkiry | Batbrain | BFB | Blowfish Transporter | Buzz Bomber | Caterkiller | Clucker | Crawl | Crawlton | Egg Pawn | Gohla | Grabber | Gustav Turtle | Jaws | Moto Bug | Newtron | Orbinaut (Uni Uni, Unidasu) | Penguinator | Sandworm | Slicer | Spinner | Thunder Spinner
Other
Cactus Ball | Sandworm
Bosses
Zazz | Zomom | Master Zik | Zeena | Zor | Zavok | Eggrobo
Moves/
Techniques
General
Bound Jump | Dash | Double Jump | Focused Homing Attack | Grind Step | Grinding | Skydiving | Somersault | Spin Dash | Spin Jump
Parkour
Side Step | Wall Climb | Wall Jump | Wall Run | Wall Spin Dash
Color Powers
Cyan Laser | Gray Quake | Indigo Asteroid | Ivory Lightning | Red Burst | Yellow Drill
Gimmicks and obstacles
Bingo | Bumper | Capsule | Cloud | Dash Panel | Dash Rail | Dash Ring | Drop Target | Fan | Flipper | Flywheel | Giant Ring | Grind Rail | Hint Ring | Iron ball | Jump Panel | Minecart | Prism | Rainbow Ring | Snowball | Snowblower | Spring | Star Post | Underground pipe
Items
General
5 Ring Bonus | Air Bubble | Asteroid Ring | Chaos Emerald | Gate Capsule | Item Box (1-Up, Aqua Shield, Big 50 Ring, Flame Shield, Invincible, Power Sneakers, Super Ring, Thunder Shield) | Orb | Red Star Ring | Ring | Snowboard
RC Vehicles
Helicopter | Fighter Jet | Stealth Jet | Hovercraft | Balloon | UFO | Omochao
Material
Black Material | Blue Material | Bronze Material | Gold Material | Green Material | Iron Material | Red Material | Silver Material | White Material | Yellow Material
English voice actors
Roger Craig Smith (Sonic) | Mike Pollock (Eggman) | Kate Higgins (Tails) | Travis Willingham (Knuckles, Zavok) | Cindy Robinson (Amy) | Kirk Thornton (Orbot, Master Zik) | Wally Wingert (Cubot) | Liam O'Brien (Zazz) | Patrick Seitz (Zomom) | Stephanie Sheh (Zeena) | Sam Riegel (Zor)
Japanese voice actors
Jun'ichi Kanemaru (Sonic) | Chikao Ōtsuka (Eggman) | Ryō Hirohashi (Tails) | Nobutoshi Canna (Knuckles) | Taeko Kawata (Amy) | Mitsuo Iwata (Orbot) | Wataru Takagi (Cubot) | Jōji Nakata (Zavok) | Yutaka Aoyama (Zazz) | Yumi Tōma (Zeena) | Makoto Terada (Master Zik) | Chafūrin (Zomom) | Yūki Tai (Zor)
Music
Sonic Lost World Bonus Soundtrack (Special Selection) | Sonic Lost World: Wonder World EP | Without Boundaries: Sonic Lost World Original Soundtrack
Other
Cacophonic Conch | Egg Mobile | Extractor | Freeze | Health Gauge | Life | Life (energy) | Loop | Lost Hex | Mech Dragon | Miles Electric | Moon Mech | Rank | Sonic the Hedgehog Halloween ComicFest 2013 | Tails' Lab | Tornado | Totem pole | Water | Wisp Gauge | Zeti